Visions of conjuring up a mini tornado and laying waste to thousands of leafs, my arch nemeses, filled my head as I prepared to test the STIHL BR 200 backpack blower. Designed as a type of prosumer (blend of consumer and professional) machine, the BR 200 is more powerful than typical home use blowers. Living in the northeast in a densely treed neighborhood, I was going to need all the help I could get.
When I picked up the equipment from my local hardware store and STIHL retailer, the helpful and courteous staff gave me the run down of everything I'd need to know to make the most of my experience. They explained to me the importance of proper fuel system maintenance, true for any 2 cycle engine, and provided me with some pre-mixed gas+oil from STIHL and extra STIHL HP Ultra oil, the use of which doubles your warranty from 2 to 4 years. After a quick instructional demo, they sent me off to get busy – with proper ear, hand, and eye protection of course.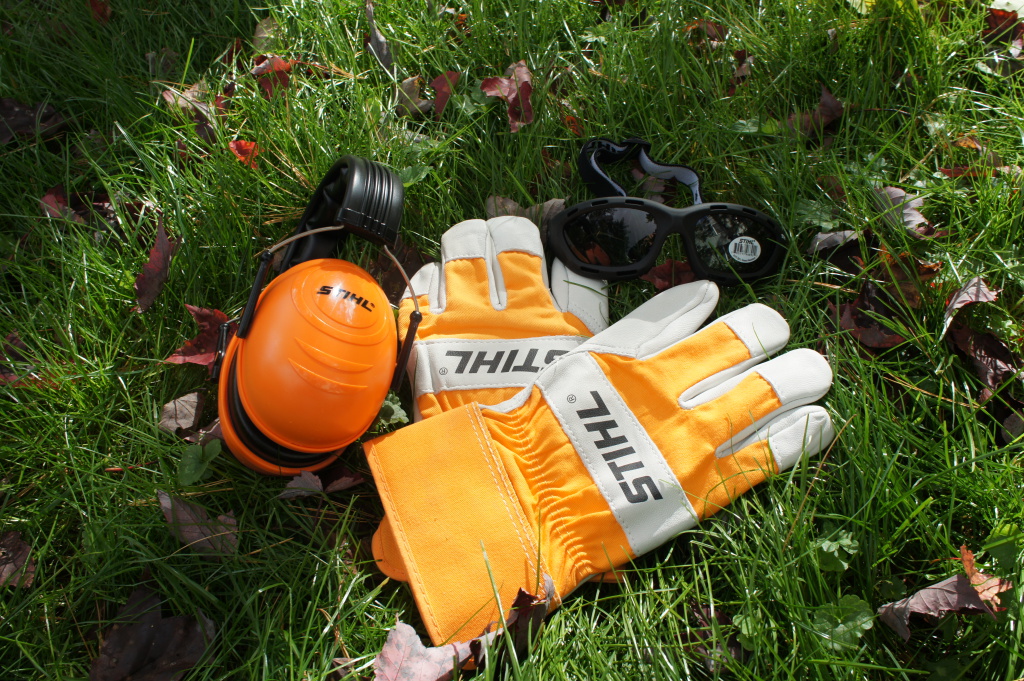 I don't have the right words to describe my leaf situation, but let's just say it's apocalyptic. I have to rake every single weekend, 15,000 sq. ft of grass, for 6 weeks in the fall and another 2 in the spring. Every session has the grass completely covered in leaves at the start. It's madness. It's also a great test for a leaf blower and I've used my share of weak blowers in the past.
Key Features:
Multi-Function Control Handle – Having easy access to all of the controls on one comfortable handle makes it easy to complete tasks so the operator's hand never has to leave the handle.
Anti-Vibration System – STIHL has a system for minimizing the vibration levels of handheld outdoor power equipment. The STIHL anti-vibration system helps reduce operator fatigue and provides a more comfortable working experience.
Adjustable Support Harness – STIHL backpack blowers and sprayers are equipped with an adjustable support harness that distributes weight evenly across the shoulders and back, reducing user fatigue.
Upright Fuel Tank – For easy filling
Built in the USA
Specs:
Air Velocity: 132 mph
Weight: 12.6 lbs
Displacement: 27.2 cc
Engine Power: 1.10 bhp
Sound Pressure Rating: 70 dB (A)
STIHL BR 200 Review Breakdown
Fuel:
To prepare the BR 200 for use, the first thing you need to do is fuel it up. The 2-cycle engine uses a 50:1 gas/engine oil mix and getting this mix right is important to the operation of the blower. It takes a little practice but you can hear and feel the blower working properly when you have the mix right. If you're new to this process, you can buy pre-mixed fuel instead and always have the perfect ratio. The tank holds a healthy 35.5 oz of fuel which I found to be good for over an hour of full power use, or a couple hours of moderate use. It's a good blend of weight vs. capacity.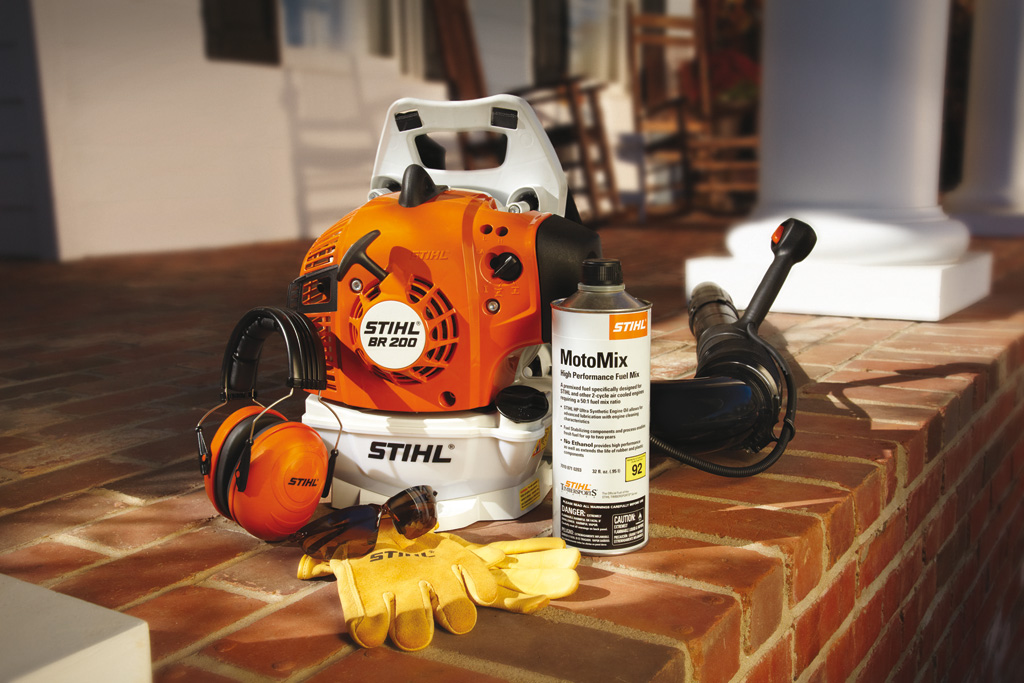 Set up:
Before running the machine the first time, you need to size up the backpack straps and the trigger control position. Both are extremely easy to do. If you've ever adjusted a backpack, well you know how to set that up. As for the trigger control on the blower tube, STIHL includes a hex tool to loosen/tighten the fitting that holds the tube sections together. Loosen the bolt and slide the trigger control to a comfortable position, then tighten it back up. It makes a big difference during long sessions.
Next, to fire it up, press the primer a few times until you see fuel flowing in it, and set the choke to full. The BR 200 has a handy feature that auto shifts the choke for you using the trigger control. After a pull or two the blower will start and upon pressing the trigger, the choke will automatically be moved to the mid followed by the off position. It's a thoughtful addition. Speaking of thoughtful additions, the motor is mounted on top of four springs which keep it isolated from the backpack harness. The result is an extreme reduction in vibration. In fact, I could barely feel the vibration even when running it full out. If you've ever been vibrated into numbness by another blower or similar tool, you'll greatly appreciate the engineering here.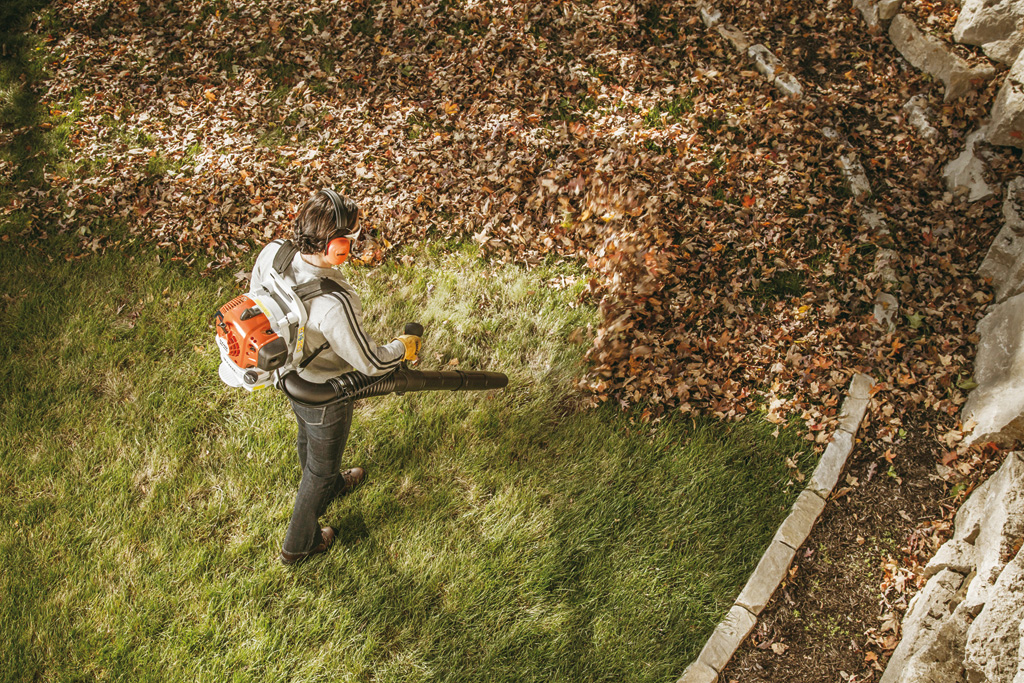 Power:
Let's get to the real topic when it comes to leaf blowers, power. The STIHL BR 200 has a 1.1 bhp engine that blows air at a velocity of 132 mph and at a volume of 406 cfm. To put that in perspective, that's the same air velocity as a F-2 tornado. It's not the most powerful blower STIHL makes (the BR 600 Magnum is a beast), but it's plentiful for the vast majority of homeowners. More importantly, it will blow leafs to kingdom come – a lot of them.
Any blower can blow a few dry leaves on a nice day across your driveway, but I took this thing to the extreme. I had recently installed a brand new yard so it's imperative that I keep it leaf free. This meant that, no matter what, I need to get the leafs off, even in the pouring rain. Well, one such day filled with rain pouring, I went out with the BR 200 to clear leafs. These are the most damaging times for a new lawn and the pounding rain mashed the leaves all the way down to the soil, smothering the new grass. I honestly didn't expect this backpack blower to succeed. After all, it's damn near impossible to get those leaves out with a rake once they've settled. To my amazement, the STIHL blower made short work of the soaking wet leafs, even buried under new, long grass. I don't know a better way to speak to the performance of a leaf blower than that.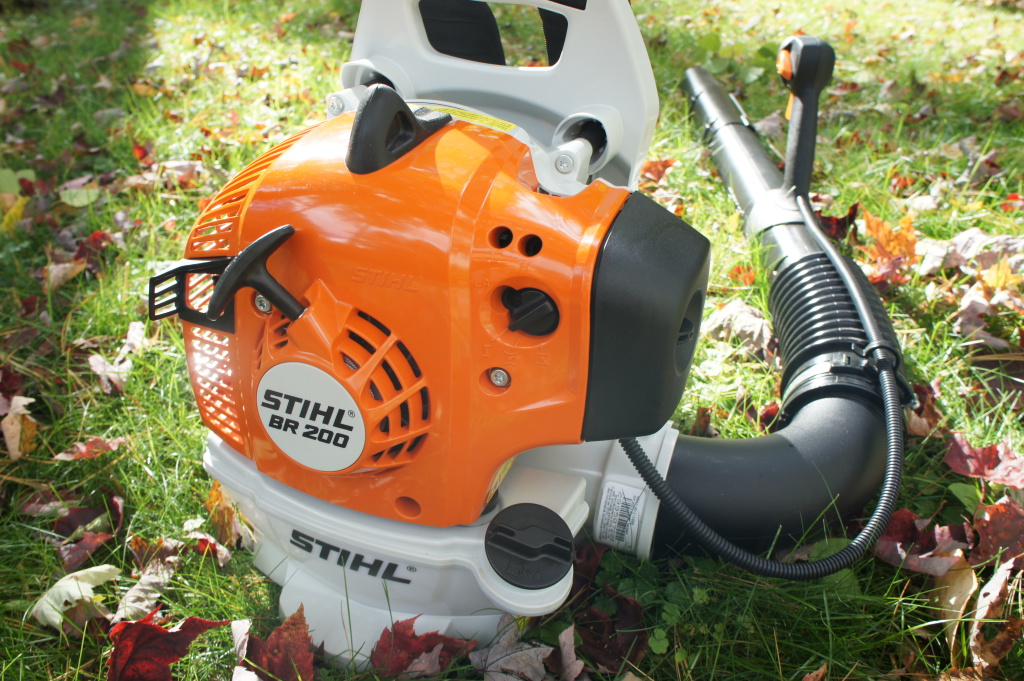 All the while the machine was reasonably quite and very comfortable. Unlike a hand blower or even a noise, shaky backpack blower, you hardly fatigue at all using this. It's construction is very high quality and it uses durable materials. You can feel the engineering work and quality that went into the BR 200 when you loosen or tighten a fitting and rearrange a component, it's like shutting a car door on a BMW. As indicated by the generous 4 year warranty on the machine, if you take care of it, especially the fuel system, it will last you a very long time and send many a leaf to its maker.
A Busted Wallet recommended buy for any homeowner with a yard to clean up.
STIHL BR 200 Backpack Blower Review
While not as powerful as a professional model, the BR 200 is much more capable than the weak equipment homeowners have been used to for so long.
PROS
Quiet and Comfortable
Enough power for most tasks
Decent fuel economy
CONS
More expensive than some
Could be more powerful
No mini tornadoes