Many times, when hiking or camping in remote areas, cell phone service is limited. For some of us, this is a blessing, because it gives us a legitimate excuse not to answer emails or take calls. However, especially on longer treks, there may still be times that you wish you had a way to check-in with family and friends, just to let them know you are okay.
The SPOT Gen3 uses satellite technology to bring you this ability, even in the remote wilderness. Furthermore, it provides satellite tracking that you can use to give others an idea of where you are, as well as the ability to send an S.O.S. distress signal to notify local emergency responders that you need help. We were lucky enough to have the opportunity to take the SPOT Gen3 with us on our latest trip, allowing us to check in with our families and give the peace of mind that we were okay, as well as see GPS coordinates of where we were and where we hiked and canoed.
Key Features:
Ability to send an "OK" message with GPS coordinates to specified people via email or SMS.
Ability to send a custom message with GPS coordinates to specified people via email or SMS.
Ability to send a "Need Assistance" (non-emergency) message that you need assistance to specific people.
Ability to send an S.O.S. distress signal, which notifies emergency responders of your position.
Tracking capabilities, that create a history of where you are, and allows others to track your progress in real time via a website link.
Tech Specs:
Weight: 4oz (with Lithium batteries)
Dimensions: 2.43'' x 2.56'' x 1''
Operating Temperature: -30°C (-22°F) to 60°C (140°F)
Battery: 4 AAA Energizer™ Lithium Ultimate 8X Or 4 AAA Energizer™ NiMH Rechargeable
SPOT Gen3 Review Breakdown
Design:
The SPOT Gen3 feels like a solid device. It is lightweight, but feels sturdy enough that I wasn't ever concerned about banging it around. Not that I would ever hit it against something on purpose, but when I was hiking, I hung it on the outside of my pack using the provided carabiner. I wasn't worried about it, and didn't even realize it was attached.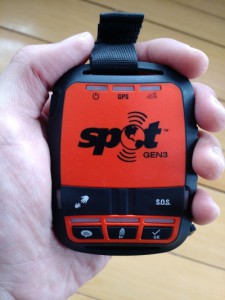 When I was first reading about all of the features, the first thought I had was, "What if you accidentally press one of the buttons?" If you have this same thought, don't worry. The device is designed so that the buttons will trigger actions only after they are pressed and held in for a few seconds. The custom message, OK message, and tracking buttons are all exposed, but the Need Assistance + S.O.S. buttons are covered. In order to activate those buttons, you must first flip the button cover up, then press and hold the button.
When you activate an action, a green LED will flash directly above the button that you pressed letting you know that you activated it. Once a button is activated, you can cancel the action you just sent by pressing and holding the button for 5 seconds. So if for some reason the button cover for the S.O.S. button was flipped up, and somehow the button was pressed and held in for 5 seconds, you could still cancel the call for help by pressing and holding in the button. When an action is canceled, the LED light above the button will turn red.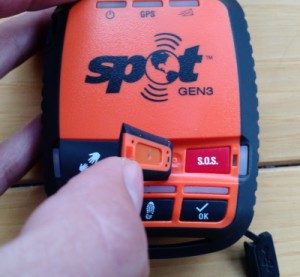 One thing I would have liked to see was some kind of battery indicator. Not only is there no percentage value that is displayed, there is no battery indicator at all. The device manual says that when the batteries get low, the LED above the power button will start to blink red. In other words, I really have no idea how much battery power is currently left in the batteries I used. It could be 90%, it could be 40%.
Setup:
When you receive the device, you need to create an account with SPOT and register the Gen3 under your account. This can be done by first creating an account, then entering in serial numbers located in the battery compartment of the device. Once it is activated under your account, you have the ability to customize your "OK" message, your custom message, and your need assistance message. You can specify what the message says, as well as who receives the message. You can enter in mobile phone numbers as well as email addresses. I opted for email messages, because the included message provided a link with your GPS coordinates so that someone could see where you are on a map. The SMS message did include your GPS coordinates, but if you are sending this information to less technical people who might not know how to enter GPS coordinates into their computer to see a map, the email option provides a direct link to Google Maps.
The next option you might want to configure is the tracking rate. The unlimited tracking mode allows you to send your GPS coordinates every 5, 10, 30, or 60 minutes. The extreme tracking mode lets you track your location every 2.5 minutes. I used this option in order to see how accurate of a map I could get, as well as test the batteries.
The only major complaint I had about the setup process was that after you set a tracking interval on the website, you have to plugin the SPOT via a USB cable to your computer, download the SPOT software (one time install), and sync your device in order for the new settings to take place. I understand the technical limitations behind this, but it would be great if I could choose my tracking interval directly on the device.
Tracking:
As I noted above, I set the tracking interval to 2.5 minutes. This means that every 2.5 minutes, the Gen3 would send my GPS coordinates to their server and would track my route. When you login to your account, you have the option to share your trip, so I sent my family the link to the map so that they could follow my progress and see where I was. Unfortunately, that link has now expired, and tells me that no messages could be found. This is unfortunate because I can no longer share my entire trip with friends/family.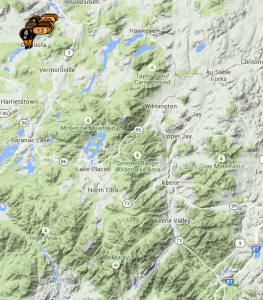 If I login to the website, I can see all of the locations I uploaded. I see a list of all the spots where my GPS position was updated, as well as the TYPE of message that was sent (tracking, OK, or custom). There is an option to map points and share your locations, which I thought would eliminate the concern that I had in the previous paragraph. The bad news is, the list of locations is 6 pages long. If I tell the website to map all of the locations on page 1, then go to page 2 and do the same, when I press "Map It", it removes all of the GPS points I had selected from page 1, and maps just the GPS coordinates on page 2. There is no way I can see my entire trip on the map. What makes things worse is that regardless of how many points I map, when I click "Share" and create a share page to send to family and friends, that page has no points on it.
If this is confusing, maybe this pictures will clear it up. First, I will select all of the options from page 1, and press "Map It":
Now, if I go back to the main location page, map all of the locations from page 1, then go to page 2 and map all of those locations, I lose all of the locations from page 1 on the map.
Clearly, these are two distinct locations. The first map was tracking my canoeing, while the second was when I was in the mountains. However, my trip in the mountains is now broken up in 3 pages. I cannot map the entire trek at one time. Here are two different sets of locations from that trip, both are on separate pages.
It is important to note that you can download all of the GPS points in GPX, CSV, or KML formats. If you want to send your family/friends a quick map, however, the share functionality on the website is limited.
Messaging:
Before I left for my trip, I setup a basic OK message that said I had reached my next checkpoint. I then configured a custom message that read, "I am at the top of a mountain." Both of these messages, when sent via email, include a link to view the GPS coordinates on a map. I wrote an email to my family members and explained some of the various OK messages they might receive. I was camping on an island, so I told them that when they get an OK message from the island, it means I've arrived back at camp for the night. The one day, a group of us had planned a trip on the mainland to hike some mountains and stay in the backcountry, so I told them when you got an OK message from the woods, that was the location of our basecamp. We climbed two mountains, so when I reached the summit of each, I sent the custom message that said I was at the summit.
When I got home, my family told me that they loved receiving the messages. Not only were they glad that I was checking in to let them know I was okay, they enjoyed looking at the maps and seeing the various locations I was checking in from. Looking back, it is cool seeing the exact location I checked in from at the top of the mountain, or seeing how far out I was on the lake when canoeing.
Accuracy:
The GPS coordinates seemed very accurate. Obviously they are not going to be perfect, but, especially in the case of an emergency, having a rough idea of where someone is should be good enough.
In the image below, I canoed around the entire island. The map only has me reaching a certain point well before the island, before looping back around. This is probably impart due to GPS location accuracy, as well as the 2.5 min tracking interval (although I wasn't canoeing that fast).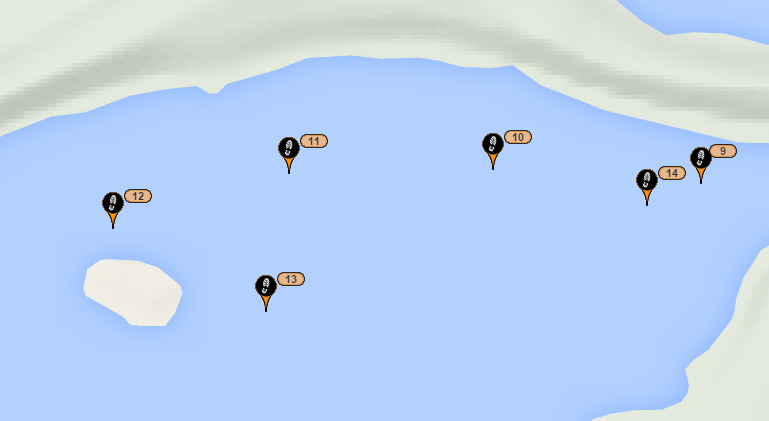 When climbing mountains, I checked in at the summit of Mt. Colvin and the summit of Blake Mountain.
Battery:
I used 4 AAA batteries that came with device during my entire trip.  It is tough to get an exact figure on how much battery is left because not only is there no percentage value, there is no battery indicator at all. With that said, I tracked 150 points throughout the week, and had the extreme tracking on continuously for a 9 hour hike.
Value:
The SPOT Gen3 has an MSRP of $149.95. In order to use it, you are also required to buy a SPOT service plan. There are two basic service plans. The most basic plan, which does not offer any tracking but will allow you to send S.O.S., Help, Check-in, and Custom messages costs $99.99/yr or $9.99/mo. The other basic plans which includes all of the above, as well as basic tracking costs $149.99/yr or $14.99/mo.
SPOT Gen3 - Gear Review
If you are looking for a device to keep track of your trips without downloading and importing all of the GPS coordinates into another piece of software, the issues with mapping GPS coordinates using the web tool were discouraging. However, being able to check-in with family members and let them know I was okay was an awesome feature that my family loved.
Pros
Ability to check-in with family and friends from the remote wilderness
Design to press and hold buttons to perform actions is smart, and prevents unwanted alerts from being sent
Messages sent via email contain a Google Map marking your location
Cons
Tracking system on the website could be much more robust.
No battery indicator, other than "low battery"