Out here on the shores of Lake Michigan everyone owns a pair of Sperry's.  They are perfect for sailing along our beautiful lakeshores, and traipsing around the quaint little beach-towns.  Sperry was built on boat shoes.  The company's founder, Paul Sperry had a passion for sailing and after a near-death experience on a slippery deck, he set out on a quest to create slip-proof boat shoes.  The grooved-tread design was actually inspired by the pads on his dog's foot, after Paul noticed that the pup had no problem scampering across slippery surfaces.
Wait, rewind… isn't this a review for boots?  From slippery boat deck to icy sidewalk, it seems like an obvious transition to me, and apparently Sperry thought so too.  Hence was born Sperry's winter line, including the women's Winter Harbor Boots which we were eager to try out.  Michigan may be a boater's dream in the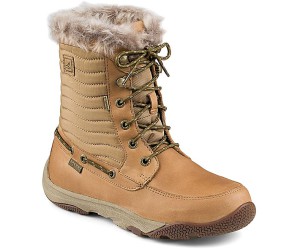 summer but our winters can be brutal, and with this winter just gearing up it is high time we got our winter boot situation figured out.
Key Features:
Super lightweight and waterproof
WaterBlock™ (breathable waterproof membrane)
Quilted uppers, micro-fleece lining and faux fur accents
100gr insulation for warmth
Removable full-length compression molded EVA
EVA and rubber bottom provides lugged traction
Winter Harbor Boot Review Breakdown
Design:
Michigan winters are long, cold, and snowy.  Did I say long?  Depending on the temperature, depth of snow, and level of activity, we might have 3 or 4 different go-to boots for the season.  When we heard "Sperry Boots", we were envisioning a fall-to-winter transitional boot, but Sperry's Winter Harbor Boots are really so much more than that.  They are marketed as a "three-season" boot, and boast 100 gr insulation for added warmth which will keep your toes toasty well into the winter.  The average temps here lately have been in the 30's, and we haven't had any "cold feet" complaints yet.
Not only are they functional, but they're super stylish.  The Winter Harbor Boots have the classic clean lines and leather you're used to seeing from Sperry.  The leather on the foot bed part of the boot looks soft and almost suede-like, while the quilted upper part has more of a smooth nylon feel.  The boots are embellished with the Sperry logo and grommet accents, contributing to the overall "Sperry" look and feel.  To be honest, they looked so nice we were reluctant to get them wet and really put them to the test.  Alas, we had to test out the Sperry WaterBlock™ technology, so out into slushy, sloppy, December rain we went.
Functionality:
I'm not just talking splashing around in some puddles in the parking lot, we put these boots to the test with a long hike through the wooded sand dunes in intermittent sleet and rain.  As promised, the WaterBlock technology provided a breathable waterproof membrane that kept our feet dry and comfortable.  Michigan is tragically void of snow so far this year (am I the only one sad about this?), though after that test I would not hesitate to wear these out after our first snow storm.  The front lace up closure provides a snug fit that will keep the snow out.  However, with a 6 ¼ inch shaft height these might not be the best option for trudging through a foot of snow.
The Winter Harbor's boast a super lightweight EVA and rubber bottom which provides lugged traction while adding minimal height.  You know how sometimes winter boots make you feel like you're walking in giant clod-hoppers?  That's definitely not the case with these.   The fit is more agile and sporty, perfect for tackling outdoor winter adventures.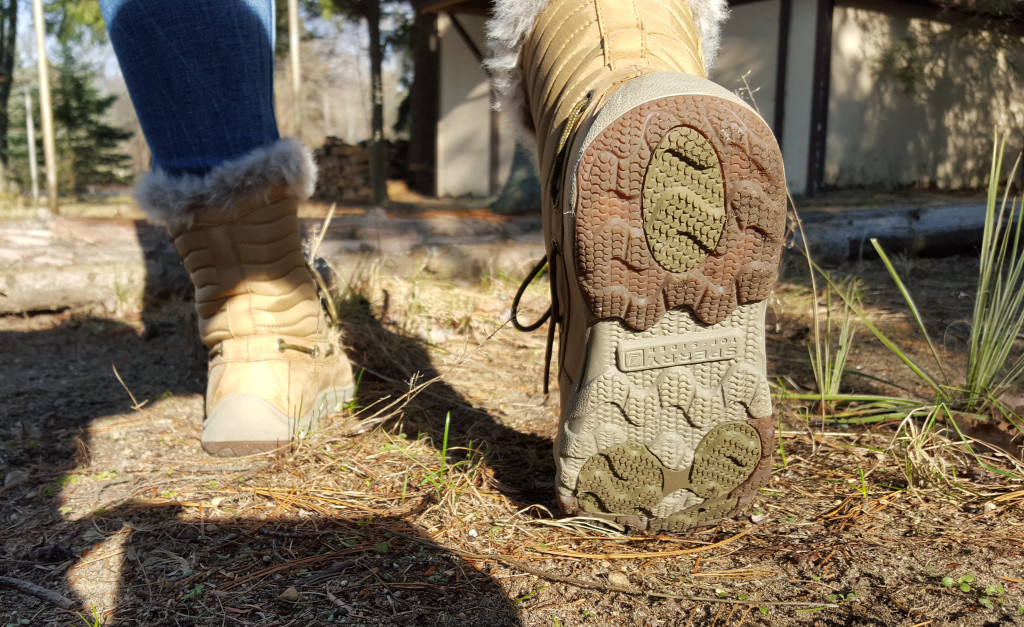 True to Paul Sperry's quest for superior traction, the tread on these boots is legit.  The Winter Harbor boots showcase SON-R Technology™ (thanks Fido) on the tread with a unique outsole/midsole design that provides natural sensory feedback for greater stability and agility.  The result is great traction on a variety of terrain.  Hiking sand dunes can be tricky regardless, but it's especially tough when they're covered in a layer of wet, half frozen leaves.  These boots made it much easier.  Sand, snow or ice, these boots will keep you safe (and warm) while out enjoying the elements.
Style:
The Winter Harbor's sporty functionality puts these boots perfectly at home on the hiking trail, but the faux-fur accent makes them stylish enough to wear virtually anywhere.  They are surprisingly light-weight, which makes them suited for a variety of activities.  We even wore them to the office one afternoon; my only complaint was that my feet were too warm, but it was totally worth all the compliments.  They really are a versatile boot.
After a few hikes, we did notice a few scrapes and marks on the beautiful leather.  We would recommend applying some kind of protecting spray before wearing; Sperry conveniently has a variety of cleaning and conditioning lotions that would suit this purpose.
Comfort:
The fit is true and comfortable.  We didn't notice any areas where there was pinching or rubbing.  If you are the type that likes to wear thick winter socks, you may want to consider getting a half-size larger.  The foot bed isn't overly cushy, but instead offers a removable full-length compression molded EVA foot bed to maximize comfort.  The longer you wear them, the more "molded" they get to your foot which means more comfort with every step.  Plus the foot bed liner has ridges in it, to keep your feel stimulated when out in the cold.
Value:
At $130 these boots are more than worth it.  They will keep your feet warm and dry all winter, and into the sloppy mess that is spring.  They are practical for every-day tasks like running errands and walking the dog, but are fully capable of holding up to hiking and shoveling snow.  Plus they have the timeless look of Sperry's so you know they'll be in style for years to come!
Buy Now: $130 or to learn more, check out: Sperry.com
Sperry Winter Harbor Boot - Gear Review
A super lightweight and versatile boot that will keep your feet warm and dry through a variety of outdoor winter activities.
The Good:
Super light weight
Waterproof
Sperry style