And here we are…We've hit that critical stage of Fall where it's now or never. The boat has gone into storage, and we begin our wait until next season. But there's still plenty to be done! Perhaps there are some cosmetic projects you want to do on the boat or there's some upkeep to do on the slip. And there will always be the casual social engagement to pop into after a day's work where you'll want to keep it as comfortable as possible while remaining trendy. This Fall we stepped away from the boat and took care of all the business that needed tending wearing the Sperry AO Lugg Boot, putting them to the test from rocky shores to the boardwalk.
Features:
A rugged, lugged nautical casual shoe ideal for autumn
Full membrane, Waterproof construction keeps feet dry in wet conditions
Genuine hand-sewn Waterproof leather uppers to ensure longevity of wear
EVA heel cup enhances shock absorption for added comfort
Non-marking, molded rubber cupsole with heavy lugs and Wave-Siping™ delivers traction from boat to boardwalk to bluff
Design
Technically categorized as part of Sperry's Top-Sider series, this boot's main construction from the ankle down is really no different than the boat shoes of decades past. It's a formula that has worked well to gain the company a real reputation for quality and style, but in this case it's a morphs into a boot from the ankle up. The AO Lugg Boot has a full membrane upper leather construction, fully weatherproofed and prepared for the elements. We've found little to be disappointed in when it comes to keeping the moisture out. The inner lining of the boot is constructed with a thick, seamless felt lining, so your feet will indeed remain warm. Maybe not the ideal boot for trudging through heavy snow, it will do the job for you well into winter as casual footwear. Although the combination of full leather and thick felt is good for warmth, it's not the most breathable option for the warmer days of fall, and definitely capable of bring it's wearer to a sweat in well heated environments.
The lacing system is very much the same as your classic boat shoe, but in this case the lace itself is made a tightly woven material with a light wax treatment, so it acts similarly to classic leather laces but with added grip and durability. Also, much like standard boat shoes, the laces run through eyelets along the boot's leather quarter, but then at the top they run through loose D-rings. This is definitely helpful for a more comfortable and adjustable lacing above the ankle, but if you're the type who doesn't prefer to lace boots all the way to the top, be prepared for for a noticeable light clanking of metal from the loose D-rings as you walk.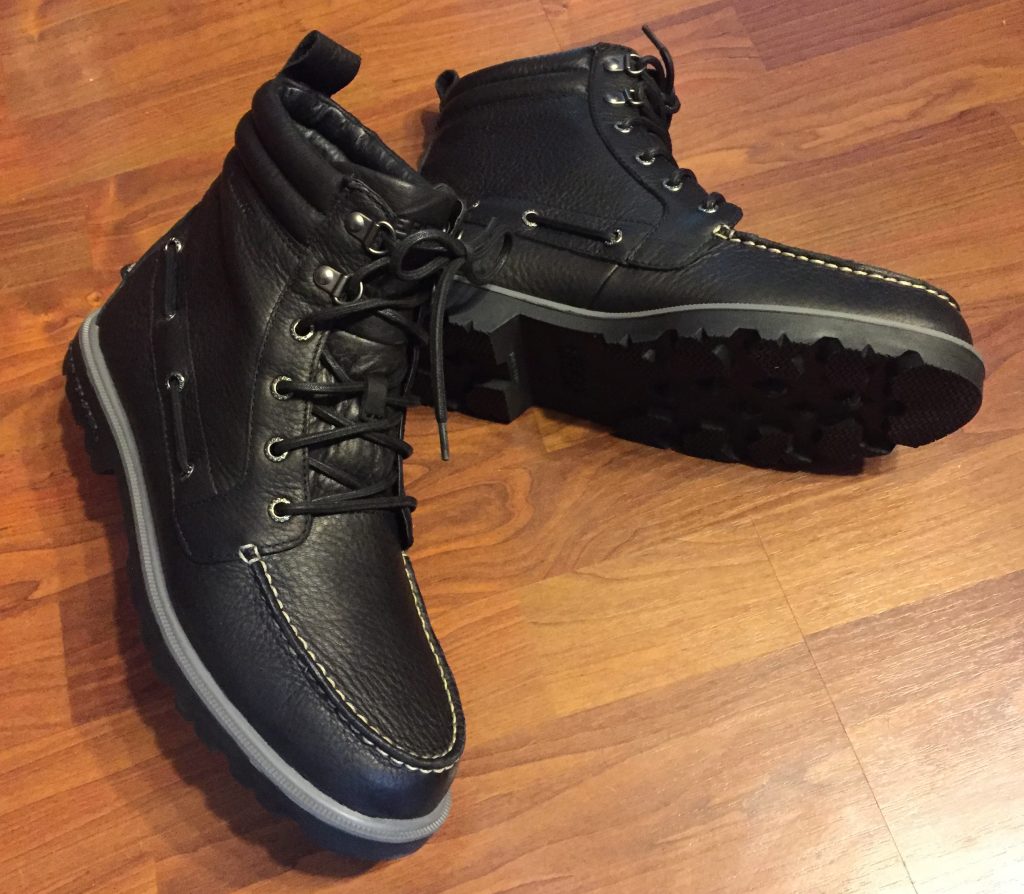 Style
A terrific blend of boat shoe and work boot, the beauty of the AO Lugg Boot is in its usefulness in a wide range of scenarios. If you want to keep it solely as a work boot for use at the dock, you'll certainly get your money's worth. At the same time though, getting from point A to Point B in just about any outdoor condition is no problem, and a night on the town or a comfortable boot for an office environment is just a quick polishing away.
Comfort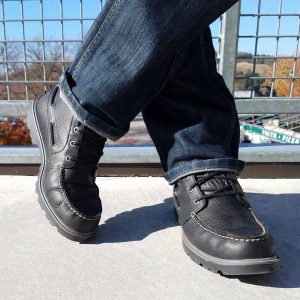 These boots are highly comfortable! We've already mentioned the weatherproofing, but in addition to a well designed barrier from moisture, the full leather construction and minimal stitching make for a snug fit with the give needed to remain comfortable for longer periods of time. The inner felt lining is insanely soft and plush, so if the need arises to wear a slightly thicker sock on the cooler days, the AO Lugg Boot will handle the extra volume without becoming uncomfortably tight. The EVA heel cup construction in the sole also helps to provide comfort upon the impact of steps taken, but there's little else to provide support around the back and sides of the heel, and we have experienced some looseness as we brought our heels up while walking. The AO Lugg Boot will handle regular walking and work conditions just fine, but don't expect to hike the dunes for long without experiencing some discomfort.
Traction
When your taking care of work down on the docks this time of year, probably in rainy conditions at times, it is well advised to have a good degree of traction. Traditionally though, it's odd to see much for traction in a boat shoe, but Sperry was good enough to build the AO Lugg Boot with almost a quarter inch depth in traction. This would look awkward in a typical boat shoe, but as a boot it works rather well, in function and appearance. In the case of an early winter, we wouldn't
expect optimal traction on ice and slush, but with the slick leaves and mud of fall we've had little issue staying safe on our feet.
Durability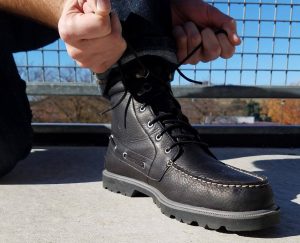 We've been wearing the AO Lugg Boot all fall, and we must say their holding together quite nicely. Sperry's genuine hand-sewn construction still looks as it did right out of the box. The ringlets and D-rings in the lacing system are still strongly embedded in the leather, and the leather outsole itself is looking great. We would definitely suggest keeping an eye on the leather and being prepared for some normal maintenance over the years, but if treated right, these boots should have a good long life.
Value
Not just stylish and useful in a range of environments, the Sperry AO Lugg Boot will last for the Fall season and many more to come. It will handle all the weather that Autumn has to offer and it will get you through it warm and comfortably. Sperry continues to impress us with their solid construction and the great materials they use, and for these reasons we definitely see the AO Lugg Boot as a worth while item this Fall as we prep for another Winter.
Buy Now: $160 or to learn more, check out: Sperry.com
SPERRY AO LUGG BOOT – GEAR REVIEW
More than just a boat shoe, and more than just a boot, your feet will be well protected and quite comfortable for all of the conditions this Autumn may bring.
The Good
Great Weatherproofing
Comfortable and Warm
Sturdy and Durable Construction
The Not-So-Good
Not Very Breathable
D-Rings Make Noise When Unlaced
Some Looseness in the Heel