Snow is here. In the northeast, it's here with gusto. Not even Christmas yet and we have 3' of snow on the ground over the past 5 days. This is the perfect opportunity to try out the top-of-the-line Smith I/OX Goggles from their vaporator series.
I've been skiing and snowboarding for nearly 25 years now, so it's fair to say I know what makes a solid goggle. It's not looks, although good looks are appreciated (and the I/OX have them), it's function.
When it comes to function, the most important elements are:
Fog resistance
Optical accuracy and field of view
Depth perception and light control
Comfort
Fog Resistance
Let me spoil this right out of the gate. I've yet to experience fogging with these goggles. The lenses are outfitted with a new Smith technology called 5x Anti-fog. What they've done here is increase the surface area of the lens by 5x by using a micro-etching technique. This allows for greater moisture absorption over standard lenses which prevents fogging longer to allow time for evaporation.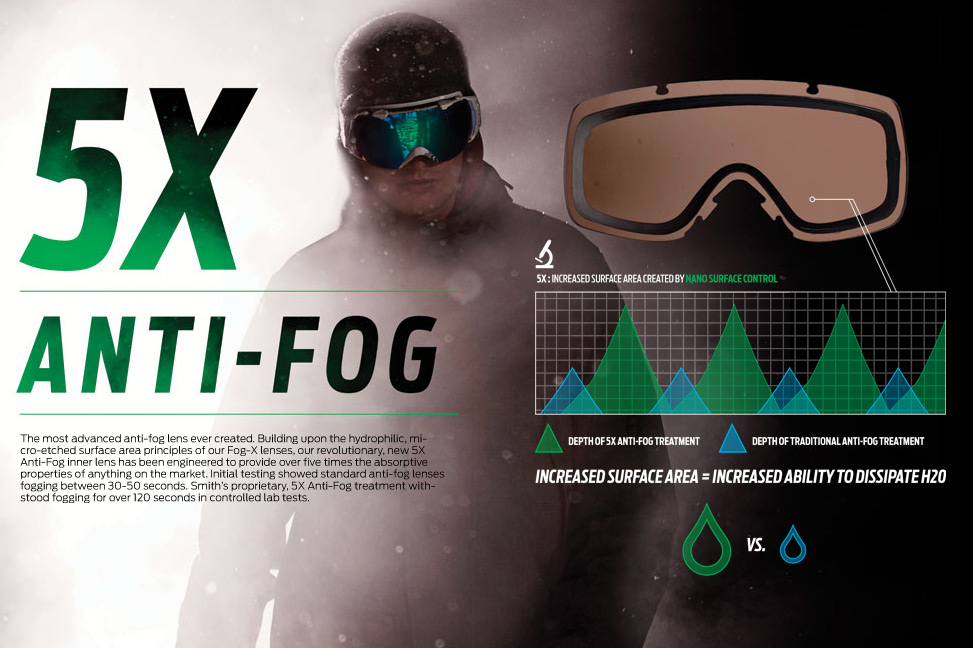 In addition, the Vaporator series implements an evaporation system on top of the anti-fog tech. Two Porex filters on each side of the goggle allow moisture from the inner lens to escape through the front of the goggle without allowing the elements access into the lens.

The result is a fantastic resistance to fogging. No goggle can completely eliminate fogging if you don't use them properly however. Here's a quick tip for all goggles, put them on and keep them on. Don't lift them onto your forehead. When you go inside, take them completely off.
Optical Accuracy and Field of View
While goggles are great at keeping the snow out of your eyes, they're not always the best at maintaining an accurate view of what's beyond them. In order to make sure you're seeing the terrain in an unobstructed way, it's important that a goggle use the proper optics in the lens as well as a frame construction which offers a wide field of view.
Here again, the Smith I/OX do not disappoint. Smith has paired this goggle with their spherical carbonic TLT (Tapered lens technology) lens which allows refraction free light to enter your eye in the same way as it would had you not been wearing goggles. The lenses come in a variety of finishes for different conditions. In our tests, we used the all around Ignitor Mirror lens which excels under almost any lighting condition.

Where field of view is concerned, the over-sized frames serve their purpose. While the I/OX might be considered massive by some, that giant surface area of lens provides the best possible field of view you can get short of wearing a space helmet. In my opinion, they look badass anyway.
Depth Perception and Light Control
This is all about the lens. If you live somewhere that is graced with bluebird days all week, you're going to want to pair the goggles with a bright light lens. On the flip side, if you do most of your riding at night or under flat light conditions, you'll want a lens that allows more light to pass through. Most people are probably dealing with a middle ground between those two extremes.
For the bright, sunny days, you'll want to check out the Blackout lens or the SOL-X series of lenses which are the most protective available. For flat light to night riding, have a look at the all around performance of the Sensor Mirror series of lenses.
In our tests with the Ignitor Mirror, we have an extremely positive experience while riding at night. With some lenses, divots and ruts can really sneak up on you when you're provided poor depth perception. With the Ignitor Mirror lenses however, we saw those puppies coming well ahead of time and nollied them instead. What else do you expect from the top of the line lens by a world renowned optics company?
Comfort
It's the little things that count when it comes to comfort. Pretty much all goggles use a similar type of hypoallergenic foam that presses onto your face, but the I/OX use a floating frame method that keeps pressure off of your temples while still keeping the goggles secure. They also employ an extra wide head band (with a non slip rubber grip) to further add to the pressure relief and comfort.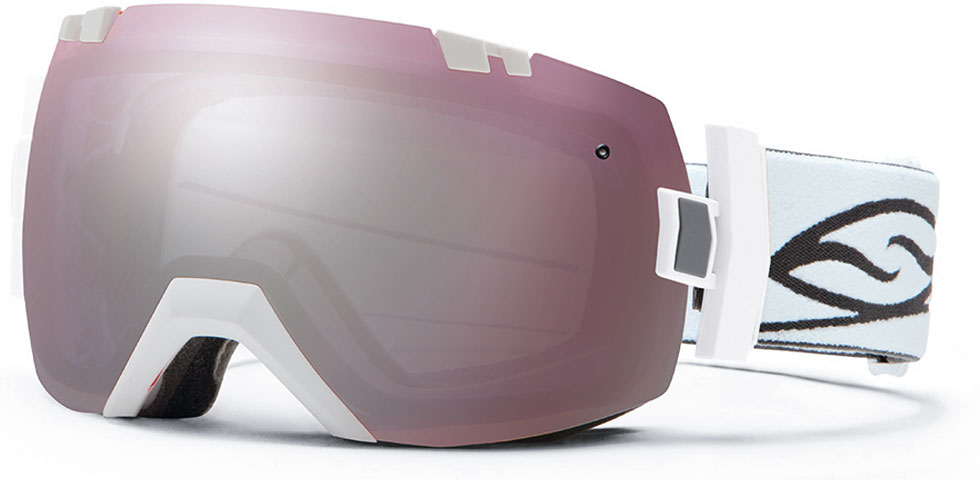 Finally, and my biggest pet peeve with goggles, the frame needs to control the flow of air properly. Some goggles, in an effort to reduce fogging, allow a jet of air to rush into the inner lense when you're moving fast. The result is a stinging blast of air straight to your eyeball. I already covered how great the anti-fog technology is with the I/OX and, thanks to that, there is no need to allows excessive air flow into the frame and I didn't notice any piercing discomfort.
Wrapping Up
You may not think goggle technology has changed much over the years, but if you're still rocking a 5+ year old pair of frames, you're missing out. These are easily the best goggles I've ever owned, and I've been through dozens of them in my 20 years of riding. With an MSRP of $175, they just might be the best value for a high end goggle on the market today.
Smith I/OX Goggles - Snow Tech Review
A superior goggle ready for anything you can throw at it. Paired with the proper lens, it's hard to do any better than the Smith I/OX.
Pros
Fantastic fog control
Giant field of view
Comfortable
Cons
Too big for some
Lens options can be confusing
Higher end of price scale