Is that an incoming nuke? A sign of an inevitable air strike? Nope, just the ultra portable Skullcandy Air Raid. Delivering surprising clarity, this rugged Bluetooth speaker is outfitted with retro styling and is available in slew of color combos. Recently we were given an opportunity to fully test and review this rugged boombox. Over the course of a month we put it though the paces. Back yard parties, tailgates, pool parties, camping… basically any event or adventure we encountered we had the Air Raid by our side.
Produced by Skullcandy, the Air Raid was designed for adventures, parties, laid back chill sessions and just about anything you can throw at it. The Air Raid defines durability for a portable speaker without sacrificing on sound. Over the past month we learned a lot about this little speaker. Here's what we discovered…
Features:
Water resistant
Supreme Sound™ technology
Aux cable in
"Military Inspired" design
Visible battery indicator
Protective sleeve
Tech Specs:
Battery life of up to 14 hours
Wall charger
Dimension (H x W x D): 5.6 x 2.9 x 8.5 (inches)
Weight: 1.7 pounds
Skullcandy Air Raid Breakdown
Design:
This speaker has a very rugged look and isn't surprising that it is based off of a military design. The Air Raid not only feels like a durable piece of equipment, but the look fits the function, there isn't a clean line on this speaker, but it is something that you can get dirty. There are a handful of colors that range from black to grey/hot blue an very military olive green and even Realtree camo.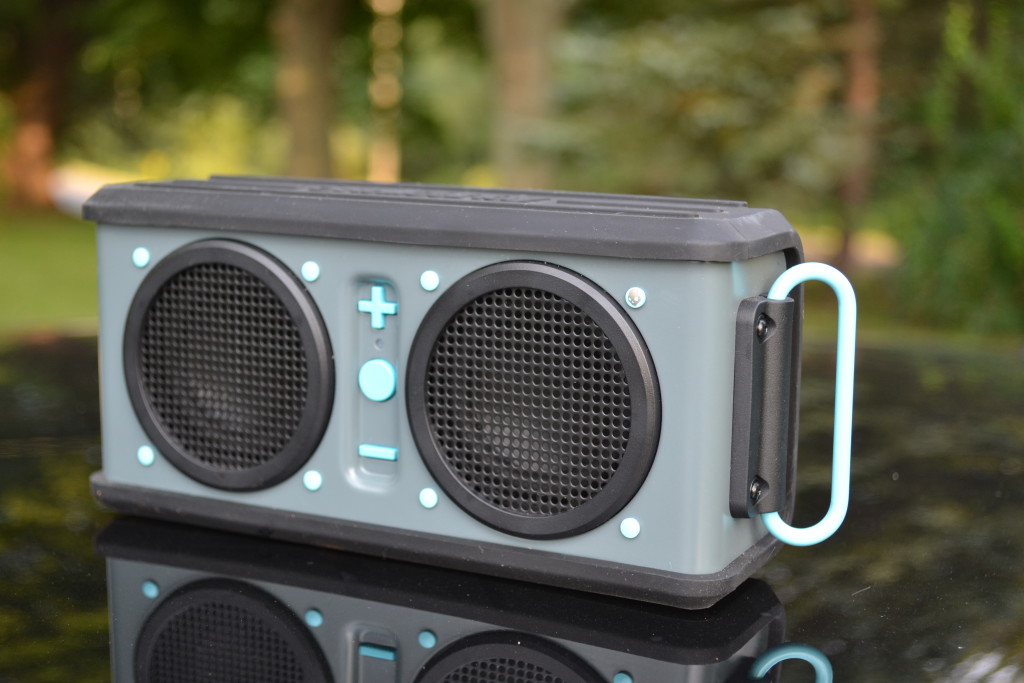 Overall, this speaker emits toughness along with a solid acoustics – the perfect look for camping,  tailgating job sites and anywhere else.
Functionality:
The Air Raid has some very nice features that others don't. Water resistance, "drop proof-ness" and a rugged handle. It should be noted that the one feature missing from this box o' sound is a remote. In order to make a switch tracks or play/pause, you have to set down your Bud Heavy and actually touch the speaker itself. <sigh> First World Problems <sigh>
The number one reason folks will look to this speaker is likely the toughness and the Air Raid cuts no corners on durability. If you are looking for a speaker solid as Sears, you've found the right product.
The other major benefit to the Air Raid is the battery life. With up to 14 hours, this puppy can get you through your work day and even cover your OT shift!
Acoustics:
The sound that emanates from Skullcandy's double 50mm drivers and can rock a full on BBQ. The sound is also quite clear and sharp (a contrast to the look) thanks in large part to Skullcandy's Supreme Sound technology. We expected an overly bass-y sound, but the mids and highs hammered hard with little distortion. For some the bass may actually be too low. While the claim was an "attacking, powerful bass" it was more of a medium bass that didn't impact the overall sound quality — which isn't  a bad thing.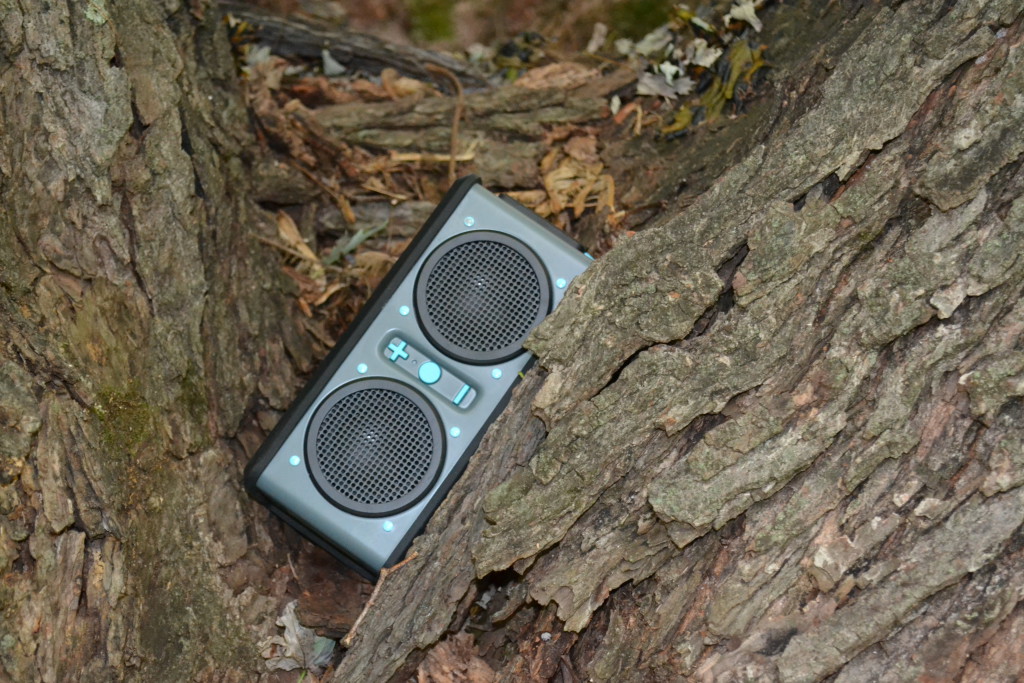 Value:
With a MSRP of $149.99, the Skullcandy Air Raid is priced a tad high in mid tier no-remote portable speaker category. But with sales pricing $40-50 bucks off, this speaker is priced right for the performance. For a buyer that is looking for durability, this should be your speaker of choice. It can get wet, it can be dropped and it still can rock!
Buy Now: $99.99 or to learn more, go to: Skullcandy.com
Skullcandy Air Raid - Tech Review
The Air Raid is a perfect solution if you are looking for a durable, bluetooth speaker that falls in the mid-rang price category and don't need a remote.
The Good:
Battery Life
Durability
Aux Out & Wall Power In
The Not so Good:
No Remote
Bass Doesn't Boom
Aesthetically Rugged (maybe too rugged?)