Have you ever stepped away from a campfire on a cold fall night and immediately thought about that warm feeling you get after climbing into your sleeping bag and zipping yourself up? Well, what if I told you your sleeping bag didn't have any zippers?
Have you ever climbed into your bag on a cold night and and rushed to zip up only to snag the zipper multiple times to the point where you feel helpless? Now what if I told you your sleeping bag didn't have any zippers?
Both of these thoughts crossed our minds when we received the Sierra Design Backcountry Bed 700 – 20 degree sleeping bag. With an oversized comforter and a patent pending zipperless design, the Sierra Design Backcountry Bed is designed to keep you warm without the fuss of zipping yourself up at night. So did this bag keep us warm? Read the review below to find out!
Key features:
Zipperless design – slip your legs in and pull the comforter over you! Don't worry about snagging any zippers on the sleeping bag material (there are none!).
Cinch cord system keeps the comforter over you if you toss or turn in the middle of the night
Sleeping pad sleeve provides and easy way to keep your sleeping pad aligned with the bag while you sleep.
Oversized comforter provides warmth and makes you feel right at home.
Self-sealing foot fent allows you to slip your feet out of the bad if you get to warm.
Tech specs:
EN Limit Temp Rating:  16F / -9C
EN Comfort Temp Rating:  28F / -2C
Fill: 700-fill PFC-Free Dridown
Weight: 2lbs 8oz
Length: 80in / 203 cm
Shoulder Circumference: 61″ / 155 cm
Hip Circumference: 60″ / 152 cm
Footbox Circumference: 41″ / 104 cm
Shell Fabric: 20d polyester risptop
Liner Fabric: 20d polyester taffeta
Sierra Designs Backcountry Bed 700 Review Breakdown
Design:
Unlike every other sleeping bag I have ever used, the Backcountry Bed does not have any zippers. I was skeptical about this at first because there is nothing more comforting to me than climbing in my bag and zipping up on a cold night. However, after seeing how easy it is to slide your feet in and use the integrated hand pockets in the comforter to tuck yourself in, I am entirely sold on the concept. You don't have to worry about snagging your zipper as you zip up your bag, and the oversized comforter provides plenty of warmth. On warmer nights, you can simply fold the comforter over the bag, allowing you to vent the entire top half of your body.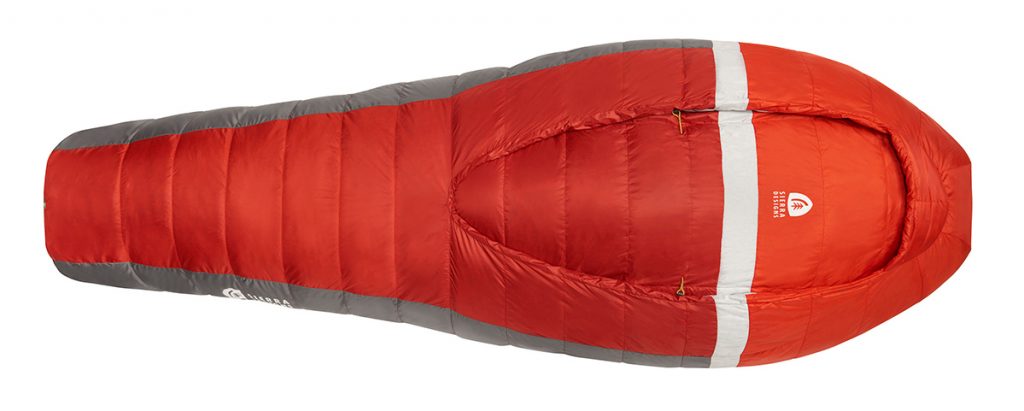 The top/shoulder area of the bag is wider than the foot of the bag, which makes the bag feel roomy. There is plenty of room to transition yourself to your side or stomach if you need to adjust yourself in the middle of the night.
At the foot of the bag, there is a zipperless foot vent that allows you to slip your feet out of the bag if you get too warm and need to get your feet out. Simply raise your knees and slip your feet out of the vent.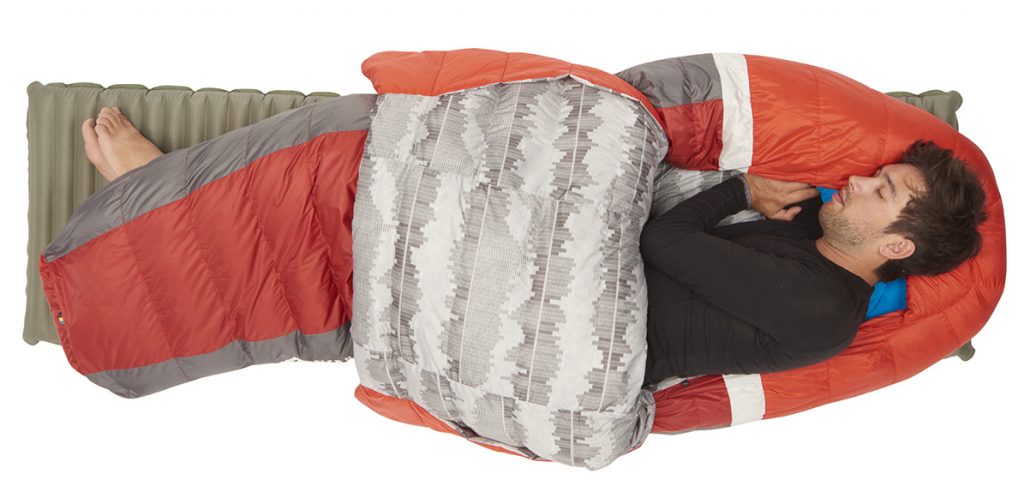 There is an integrated half sleeve on the bottom of the bag for a sleeping pad. This allows you to tuck your sleeping pad into the bag, keeping it aligned with the bag as you toss and turn in your sleep. I toss and turn quite a bit and have woken up in the middle of the night because part of my body was off of my pad and on the cold tent floor. Having this sleeve kept me on the pad the entire night.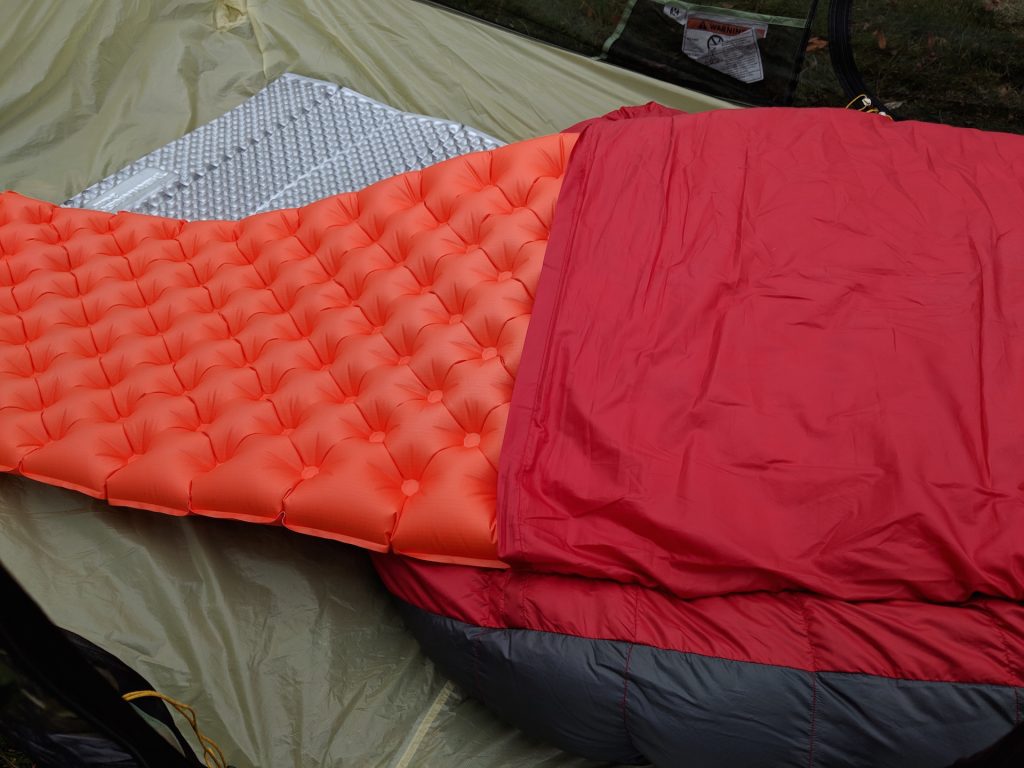 Comfort:
The oversized comforter on this bag made it feel different than other bags I have used. As the name suggests, tucking myself into the bag made me feel like I was tucking myself into my bed. The comforter is soft and warm, and truly feels cozy. After a long day of hiking, you will be relieved to tuck yourself in for a good night's sleep.
While we were out testing the bag, the temperatures at night dipped down into the mid-30s, and the Backcounty Bed 700 kept me warm the entire night. This is not surprising seeing as the bag has an EN comfort rating of 28 (F) and an EN limit of 16 degrees (F).
Since the no-zipper concept was new to me, I was worried that the comforter might become untucked, or that I would have to keep adjusting it throughout the night. I turn over several times as I am trying to fall asleep (not restlessly, but occasionally) and the cinch cord system kept the comforter over the top half of my body.
Packability:
At 2lbs 8oz, the bag is light for a 20-degree bag. You might find lighter quilt options, but they might lack the comfort and warmth of having an oversized comforter.
The bag packs down to an acceptable size. Here is a comparison with a 30-degree down bag (on the left).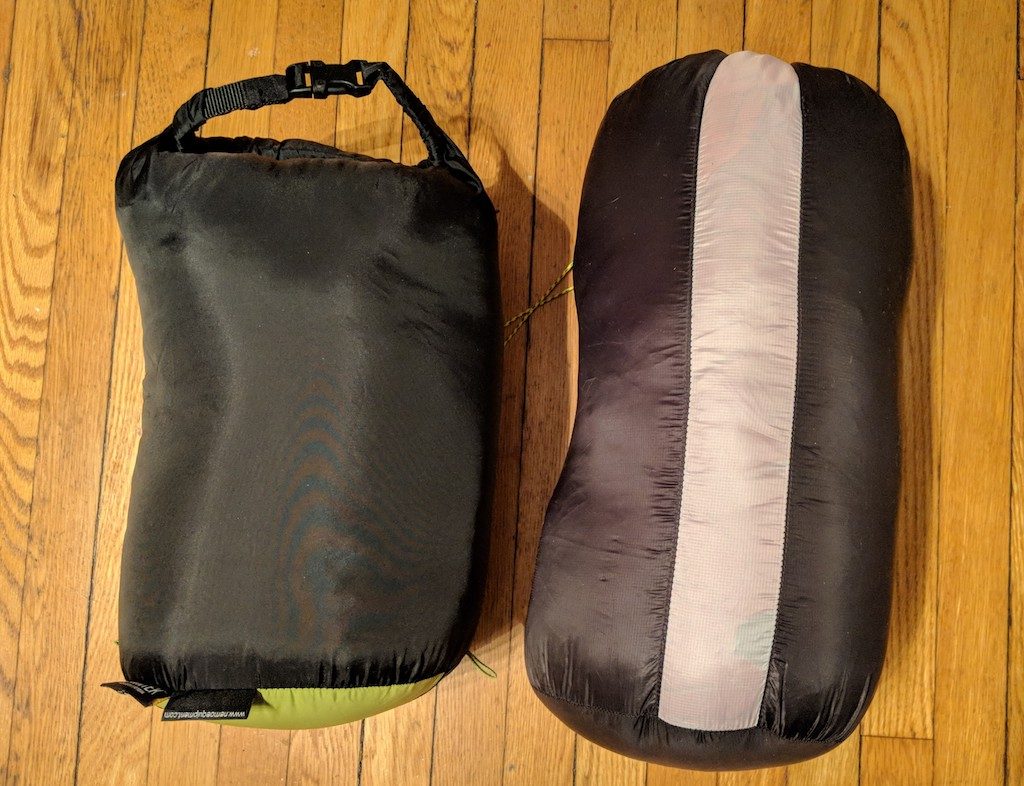 Value:
At $289.95, the Backcountry Bed 700 is not cheap, but it isn't that much more expensive when compared to other quality bags in the 20-degree range. The EN limit is slightly lower, so consider it a warm 20-degree bag. It is tough to do a true price comparison due to the unique style of this bag. As I mentioned in the design section, I was originally skeptical of the zipperless design, but now having used the bag, I am entirely sold on the concept, and even prefer it over zipping myself up. Because of this, and the high quality materials used, I find the price totally worth it.
Buy Now: $289.95 or to learn more head over to: SierraDesigns.com
Sierra Designs Backcountry Bed - Gear Review
The Backcountry Bed 700 has a unique zipperless design. The oversized comforter will keep you warm on cool nights without weighing your pack down.
The Good:
Zipperless design means no struggling with snagged zippers
Lightweight and warm
Bed-like feel
The Not So Good:
Might not pack down as small as traditional mummy bags, but gives you significantly more room