Whether we want to admit it or not, we are all materialistic beings.  There is something valuable we all cherish and want to protect.  From diamonds and bling to precious photographs and important documents, we must protect what we can.  Luckily SentrySafe has some excellent options to safely secure your precious valuables.  Recently we were able to get our hands on the XX Large Digital Alarm Fire Safe, and so far… we like what we see.
Key features:
Fire Proof
Loud Audible Alarm
Touch Key Pad Access
Water Protection
$50,000 Fire Replacement Guarantee
After Fire Replacement Guarantee
Adjustable Shelf and Drawer
Interior light
Made in the USA
SentrySafe Digital Alarm Fire Safe Review
Design: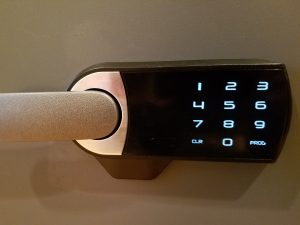 The overall design is simple and secure.  With a minimal design, comes less vulnerable areas and opportunities for tampering and break ins.  The Touch Key Pad is a nice feature and helps with the clean minimal design.  I have a smaller SentrySafe model that uses a traditional keypad and the batteries are accessible from the front (along with the wiring for the keypad).  This new Digital model however holds the batteries on the inside of the safe hiding all wires for better security (takes 4 AAA batteries).  If for some reason the batteries die while the safe is locked, you can still power the keypad by inserting a 9 Volt battery along the side of the keypad to power and open after your code has been entered. Once the door is open, an interior light turns on so you can easily see what you are searching for.  The light itself is timed and can be adjusted.
Storage: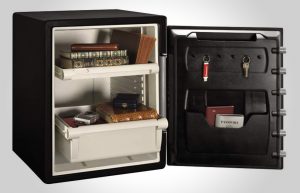 The XX Large frame with 4+ inch wall thickness still allows for ample storage space (2.0 cu. ft).  There is also a deep drawer and shelf that are removable and/or adjustable allowing you to move them higher or lower within the safe as needed.  The door also has a slot for smaller and thinner documents such as passports and a 6 hook key rack for keys and thumb drives.  Because my line of work is in the media, I have a ton of hard drives that I can easily fit into this safe.
Protection & Durability: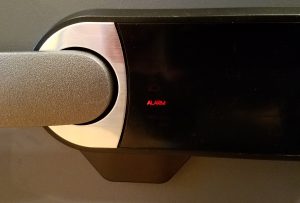 Having a 1700 degree fire rating up to 1 hour is impressive as well as a water protection in up to 8 inches. Plus the safe is able to withstand a 1 story fall (not exactly sure about the contents inside).  Although we did not test these features ourselves, we are taking the SentrySafe's word for it.   The Door has a pry resistant hinge bar and 6 large 1 inch bolts.  The Audible alarm is also activated when there is any movement of the safe (sensitivity levels are adjustable).  The alarm will sound if someone tries to move, pry, or enter the wrong code 5 times in a row.  If that level of protection isn't enough, the safe also comes with bolt down hardware that you can attach for even more protection.
Value:
The SentrySafe can be purchased online or in store at your local Home Depot for $349.00.  Assuming your valuables are worth more than the safe itself, I'd say it is a great deal and has features and protection that most customers will appreciate.  I know we sure do!
Buy Now: $349.00 or to learn more, check out:  Sentrysafe.com
SentrySafe XX Large Digital Alarm Fire Safe
SentrySafe proves they can continue to innovate and protect with their XX Large Digital Alarm Fire Safe.
The Good
Fire and Water Resistant
Loud Audible Alarm
Touch Key Pad Access
The Not So Good
Haven't really found any!