I thought all luggage was the same – ya know, a suitcase is a suitcase is a suite case – well . . . . SAMONITE, I was WAY off (I know, I know, but I had to do it . . . ) Luggage is a part of you when you think about it . . . have you ever had your luggage lost?  Or thought it was for just a brief second?  It is a horrible feeling!  Your luggage contains YOUR stuff – your clothes, your shoes, your toiletries, and – if you're like me – half contents of your home.
Have you ever traveled with crappy luggage? I have, and it's a miserable experience.  Not that flying is fun anymore anyhow, but when you go to the check-in counter and your bag falls over because one of the stands is broken, or when it's "clunking" as you try to roll it because one of the wheels is just a little scuffed, the level of crappiness that is flying increases exponentially!
Samsonite gets that your luggage contains your personal possessions, and that having functional luggage is key in having a pleasant traveling experience.  The Samsonite Spin Trunk Spinner series looks good, feels good, and works so well you won't even think about it . . . which is really how it should be!
Key Features:
80/20 Volumax boasting a maximized base compartment and lighter lid compartment.
Four Hinomoto, virtually silent, multi-directional wheels allow 360 degree upright rolling.
Retractable handle.
Constructed of Bayer Makrolon impact-resistant polycarbonate for strength and durability.
Flush mounted TSA combination lock.
Large self-mending #10 coil zippers.
Light weight.
Samsonite Spin Trunk Luggage Review Breakdown
Storage:
Another great thing about the Samsonite Spin Trunk storage capabilities is the 80/20 Volumax.  The bottom compartment is spacious and has a mesh cover that zippers over the top, separating it out from the top half.  The top half of the suitcase also has a zipper compartment, and that mesh cover has a smaller zipper compartment on it as well – so in total, you have three distinct compartments for storage, and you can squish stuff (like jackets) between the two as well.
I tend to over pack – on purpose – as I like to have options!  In the 25" Spin Trunk I put 5 pairs shoes in the top zippered area (2 pairs of Sperry's, a pair of tennis shoes, some sandals and a pair of heels), undergarments in the smaller zippered area, and a LOT of clothes in the bottom compartment… I might have had to push on the lid to get it to close, but it did!  Even though it's a hard-sided case, there is some flexibility and you can pack it to the max!
Comfort:
Like I said, the Samsonite Spin Trunk suitcases work so well that you won't even think about them when you're using them.  The Hinomoto multi-directional wheels glide like butter – so much so that I was able to kick it down the isle of the plane and it went ahead without an issue (and provided with the flight attendants with some entertainment)!
The carrying handles have a very comfortable rubber grip and the retractable steering handle also fits well in your hand and locks in place easily.
Design: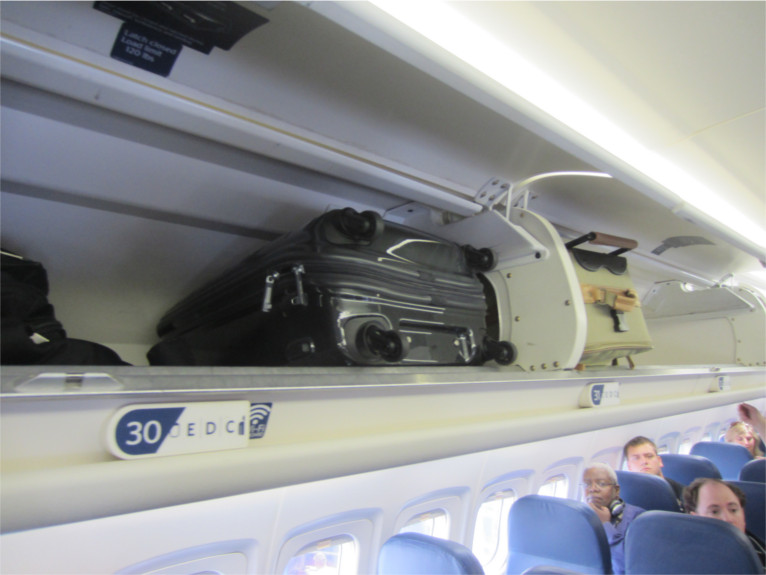 The Samsonite Spin Trunks are lightweight, durable, and easy to use – I think Samsonite nailed it in the design category.
The lightweight carbonite shell is sturdy, yet flexible, allowing for some give when packing.  Additionally, because of its light weight design, I was able to easily throw the 21" Spin Trunk into the overhead compartment without an issue, and it fit perfectly.
There are ton of amazing features – big and small – but by far my favorite design feature is the four Hinomoto multi-directional wheels.  The wheels worked so well that you could literally spin it in a complete 360 like a top.
Accessibility:
The three compartments offer the ability to section off different items, which is nice and makes it a bit easier to find a specific item.  So that is a plus. The one downside is that there are no compartments on the outside of the case, so if you want quick access to anything, you really do not have that option.
There is a locking mechanism on the case – the zippers actually fit into a combination locking mechanism in the side of the case. At first I thought this seemed useless when using it for flying, until I read that the locks are compatible with the TSA – the TSA actually has a code that they can use to unlock the case.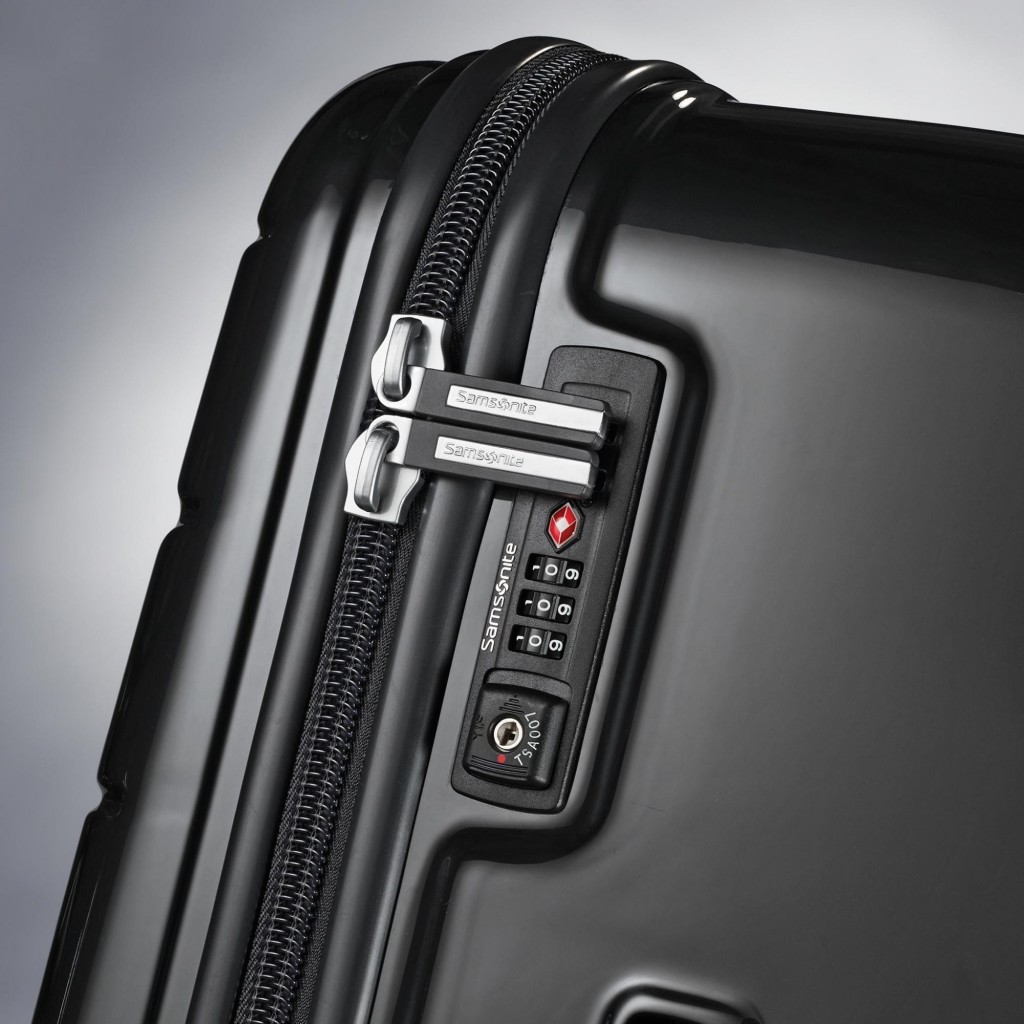 Durability:
If you've checked a bag in the past few years you know that the people handling the luggage pretty much don't give a damn about your cargo.  When I traveled to Acapulco, the suitcase I had used at that time was new, but when I returned it was missing a zipper pull, had a tear in the canvass and would no longer stand up because it had lost a stand on the bottom.  So even though the first time I used this luggage it was just for a weekend trip and carry-on was all I would've needed, I grabbed my Samsonite 25" Spin Trunk and checked it to put it to the ultimate test!
My first trip with the Spin Trunk was to Pennsylvania, and I had to change planes both on the way to Pennsylvania and on the back to Michigan – that's right, 4 flights and my luggage had to endure being chucked from check-in, flight changes, baggage claim and back again . . . and we all know how gentle the baggage handlers are. So when I got my luggage off the belt and saw that while it had some scuffs down the side (obviously handled with the utmost of care) yet was fully intact, all zippers were in place, and all wheels still attached, I was impressed.  However, I was REALLY impressed as I was watching the man from the airport shuttle pull on the handle of the Samsonite Spin Trunk with all of his strength (and my bag was at the bottom of a huge pile of suitcases) and nothing broke – I was expecting a cartoon-esque scene where the handle would pop off and the gentleman would go flying unceremoniously onto the pavement!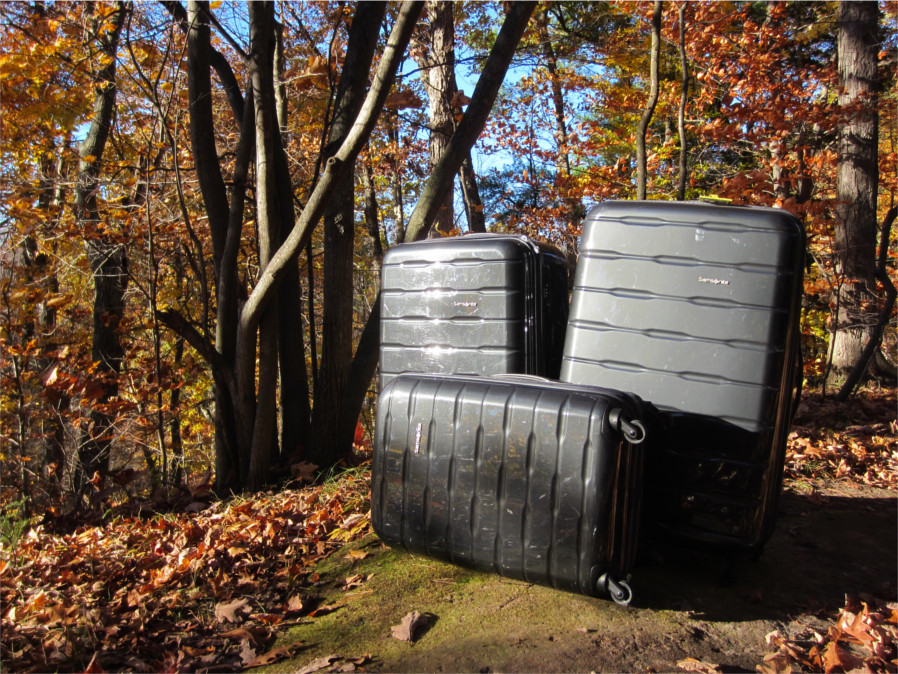 I think it's safe to say that the Samsonite Spin Trunk luggage can handle almost anything that the people in the travel industry can throw at it (including being thrown from plane to plane to luggage claim).
Value:
The list prices on the Samsonite website for the three pieces I have are:
You may think that this a lot to pay for a piece of luggage, and it is, however, with how durable the Samsonite Spin Trunk luggage is, this is likely the last piece of luggage you will have to buy!
Samsonite Spin Trunk Luggage - Gear Review
To sum it all up the Samsonite Spin Trunks wheel around without a flaw, they can hold a lot and compartmentalize well, and are lightweight and durable. If you're looking to invest in a good set of luggage that looks good, feels good, and will stand the test of time, the Samsonite Spin Trunks are of the top shelf variety. . . take one for a spin yourself, you won't be disappointed!