Consisting of six stages and a narrow winding track that clocks in at 6.14 miles, the 2015 Mt. Hood Rally is a throwback to the event's early years in the beautiful Mt. Hood National Forest. A couple weeks ago Busted Wallet was on the scene in Oregon with Toyota to see what their stock 2015 2WD RAV4 rally car could do against some stiff competition. Having never attended a rally race I was excited to experience some off-road racing and see what the RAV4 was made of.
Our journey began two days before the rally race. Where were able to test drive factory AWD RAV4s through the switch back roads of Hood River and Portland, OR. The experience was wonderful, the RAV4s handled great and we were able to get off-road for some real fun! For more on that, check out my behind the wheel article featuring the 2015 Toyota RAV4. But now, let's get back to the rally race.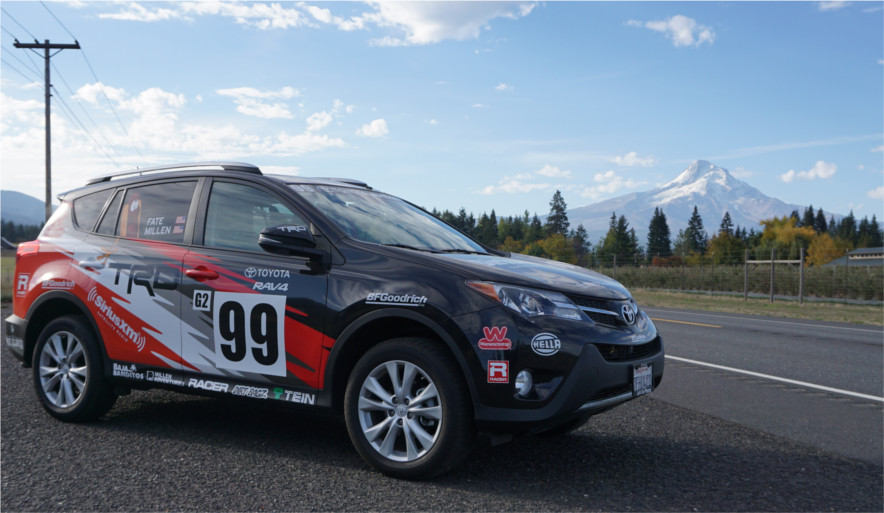 Behind the wheel, Ryan Millen and his navigator Christina Fate were ready to push this front-wheel drive SUV to the limit. 24 hours before race day I was given the privilege to ride along with Ryan and Christina as they mapped the course in shocking detail.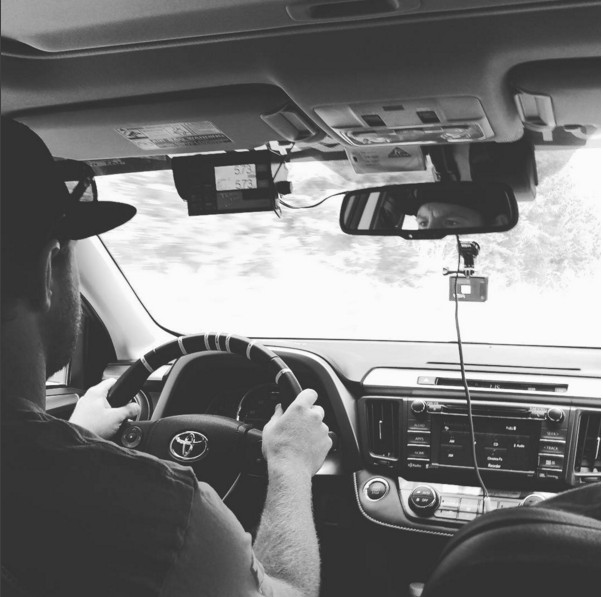 While cooped up in backseat, I had so many questions to ask, but understanding that they were only given a 2-pass recce, I shut hell up, snapped some pictures, enjoyed the ride and incredible communications skills these two shared.
While Ryan drives Christina is calling out directions. A lot of directions.  "5 and a half left – 170," "7 right, and 7 crest 50," "6 and a half right." I didn't quite understand what was going on at first, but if you look at Ryan's steering wheel (pictured on the right) you'll see he has it labeled with tape that is numbered. Each number corresponding to the amount right or left he needs to turn the wheel coming into the next turn. While he can see the turns and undulation in the track on recce day, when the real race beings dust is flying everywhere, and at 80 MPH stuff can get squirrely fast. The pace notes that Christina calls out are priceless to Ryan.
Once they had the course mapped there was nothing left to do but race. After a good night sleep, the next day they hit the course in a stock front-wheel drive RAV4. Sure the cockpit and back seat were totally gutted, the suspension was upgraded and some serious Pirelli rally tires were slapped on, but this RAV4 was rocking the same 2.5 liter, 176 hp engine we were driving around the scenic roads of Oregon earlier that day.
If you've never been to a rally race, i'm not surprised. As a spectator sport it can be difficult watch, but if you get a chance, you should go. It's like nothing you've ever seen. Staged 1 minute apart, rally cars rip down the track – hitting speeds of 80 MPH! At times you feel so far away from the action, and then moments later you feel way too close. It's a rush.
Throughout race day it was hard to know exactly who was in the lead and what was happening down the track. There were a few wrecks, but nothing life threatening, thankfully.
Each time Ryan hit the turn we were staged at, it seemed like he was carrying the most speed of any driver. I wasn't sure if it was because I was rooting for him or if he was going really, really fast. During stage 2, I was taking pictures of the race from a berm about 50 feet from the track near a long wide curve. The rally cars were screaming through this section. When Ryan came around I inched a little closer to get some good shots and then it hit me… gravel. Yep, out of 23 drivers he was the only driver to spray me with rocks. He was FLYING!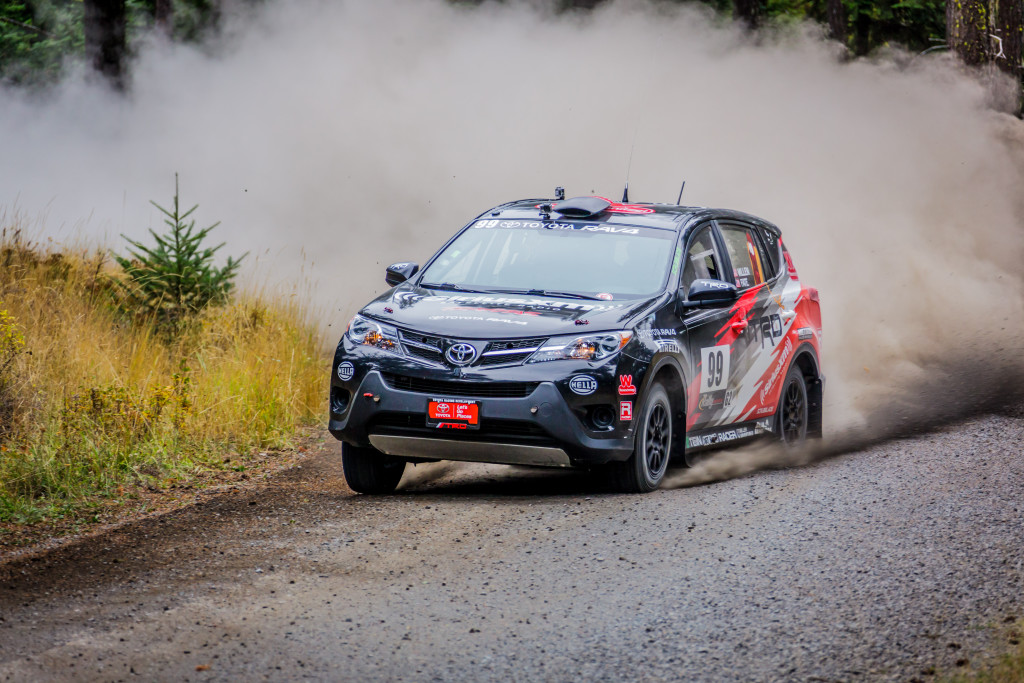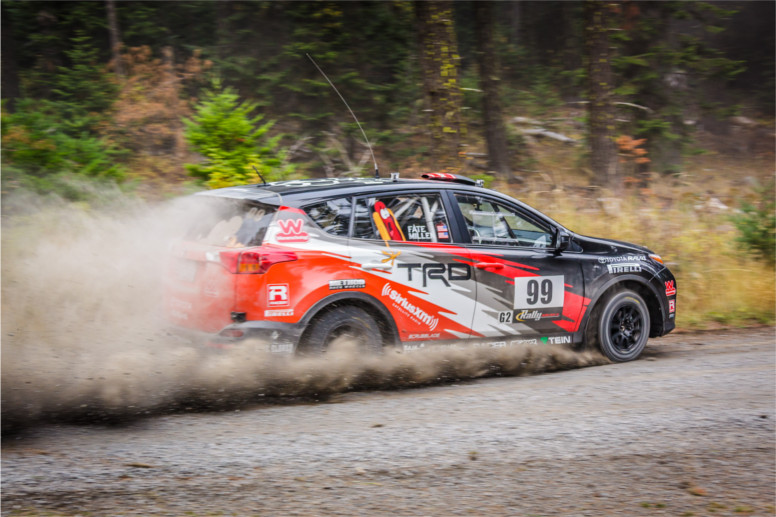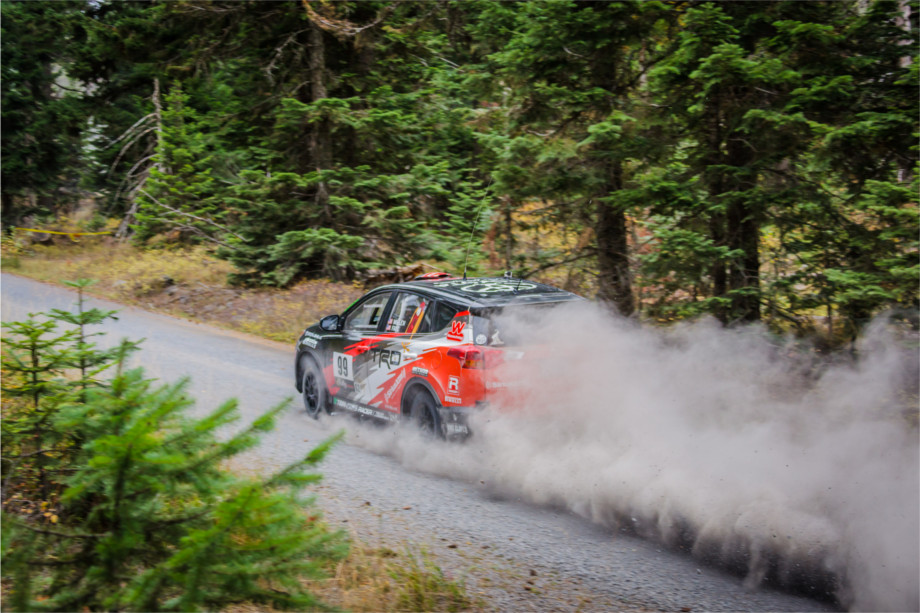 And when I say Ryan was flying, it's no overstatement. Check out the in-car GoPro footage from the RAV4. If you don't want to get into your car and stomp on the gas pedal after this – you better check your pulse…
After the 6th and final stage of the race all the drivers drove back to the pits and waited to hear their times. When it was all said and done Ryan, Christina and the RAV4 took 1st place in their class (G2) and 3rd place overall. Running against some stiff competition, I was truly impressed with Ryan's driving skills and what this front-wheel drive RAV4 could do off-road.
I said it earlier and I'll say it again, if you get the opportunity, go out and support these events. There's no stadium seating and no concession stands, but it's a real rush! These drivers put it all on the line and when the dust settles everyone leaves smiling.
To find out more about the RAV4 check out Toyota.com/RAV4 and to check out where and when you can catch Ryan and Christina next, head over to Rally-America.com