The Canopy Graphite Wood Sunglasses by Rainforest Sunglasses strikes the balance between classic wayfarer with a modern wood finish. The comfortable, lightweight design is ideal for the active man or woman. Each Rainforest Sunglass purchase not only dresses up a man or woman in modern style, the company also donates a portion of each purchase to rainforest conservation. The company has also developed the "Tree 1 Tree" project "to lead revitalization projects in our home city of Detroit." Look good while doing good…what's not to love?
Key Features:
For men or for women

Designed to be ultra-lightweight so they float

Flex-hinges to comfortably adjust to multiple face shapes

Polarized, scratch resistant, UV400 lenses

Handcrafted and artisan etched

Hardwood carrying case and microfiber-lined soft case included

Portion of every purchase is donated to rainforest/wildlife conservation!
Rainforest Canopy Graphite Wood Sunglasses – Review Breakdown
Style:
Rainforest Sunglasses are right on trend with its wooden design. I like the "wooden" look that many sunglass companies are offering today. These don't just look wooden…they ARE wooden. Made from sustainable zebra wood, the glasses stay lightweight yet remain firmly on your face.
The frames are wide and have a classic wayfarer look that we love. The lenses are lightweight, scratch resistant, and polarized making them good for outdoor activity. The lenses are, however, quite thin. Seeing as they are so thin, I  worry about the long lasting durability of the lenses.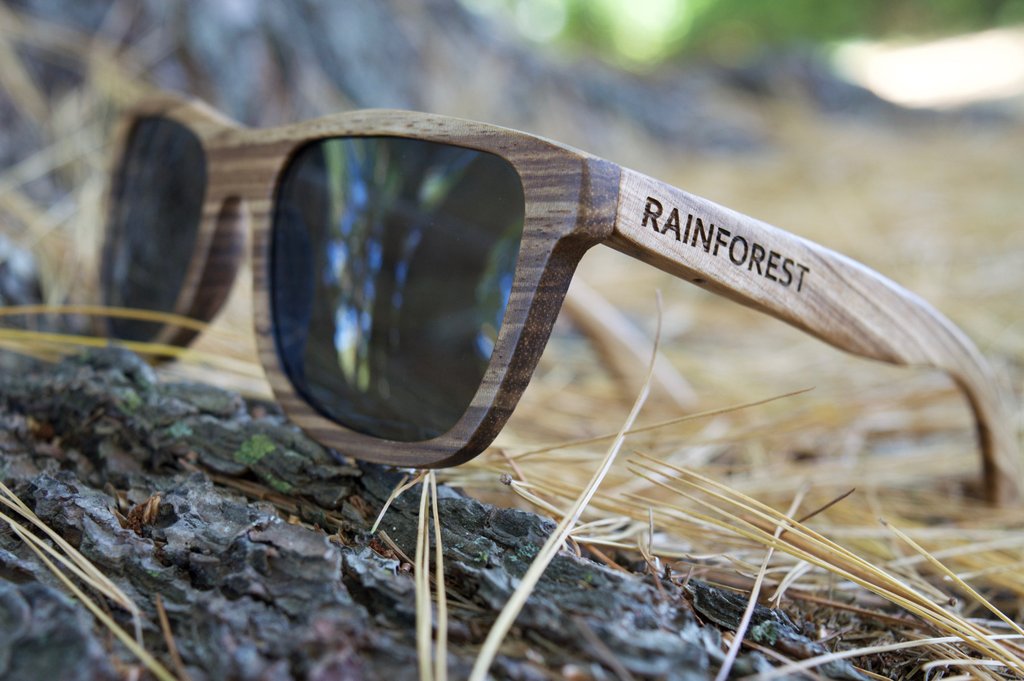 There is a trade off, however. To keep the design lightweight and to have the ability to float, all elements must be light and thin, including the lenses. I look forward to wearing these on a friend's boat this summer or out on a kayaking trip, knowing that my glasses will float if they were to come off of my face.
I would only wear these glasses to casual events or outside activity. They are not the most versatile pair of sunglasses I have owned. For my own personal style, I found they did not pair well when I was "dressing up" and going out to a more formal event.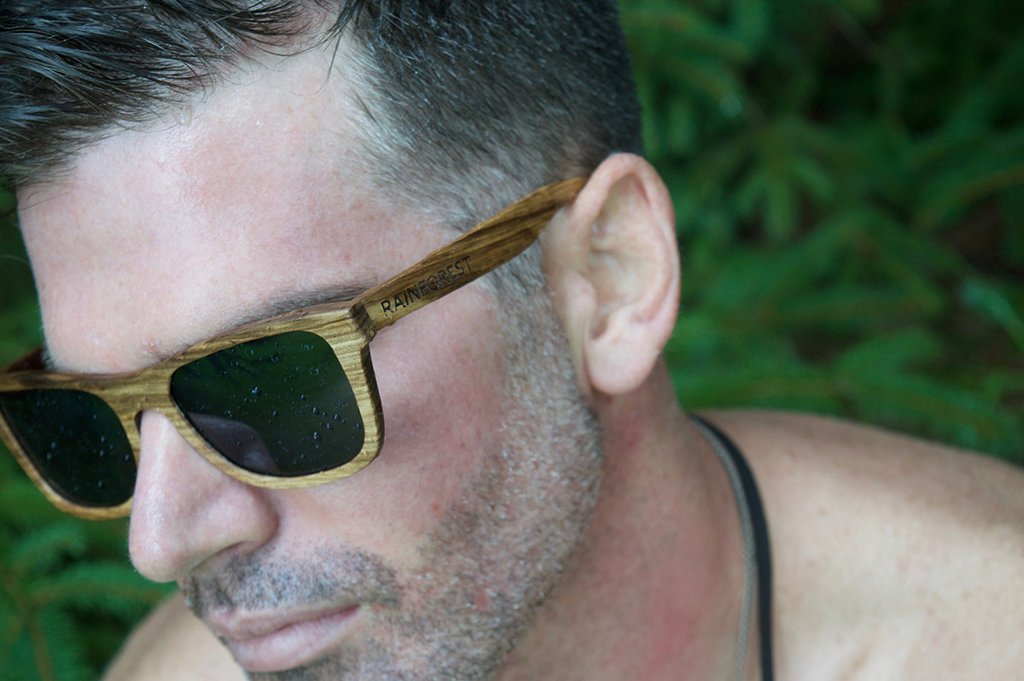 Design:
As previously mention, the sunglasses are lightweight and float well. Floating does not seem like a totally necessary feature, unless you have a pair of sunglasses at the bottom of a lake. That's when you learn to appreciate a pair of floating sunglasses.  The zebra wood is sleek and smooth and beautifully crafted. The lenses are polarized so glare is never an issue when I am wearing these. Totally ideal for driving or a day at the beach. The lenses are easy to clean-especially with the microfiber cloth that comes with the purchase.
These frames may be too large for some faces. They are quite wide and may not look the best on smaller faces. When picking out sunglasses, you have to know what works well with your face shape. The design of the glasses squares the face nicely but may be too large for some people.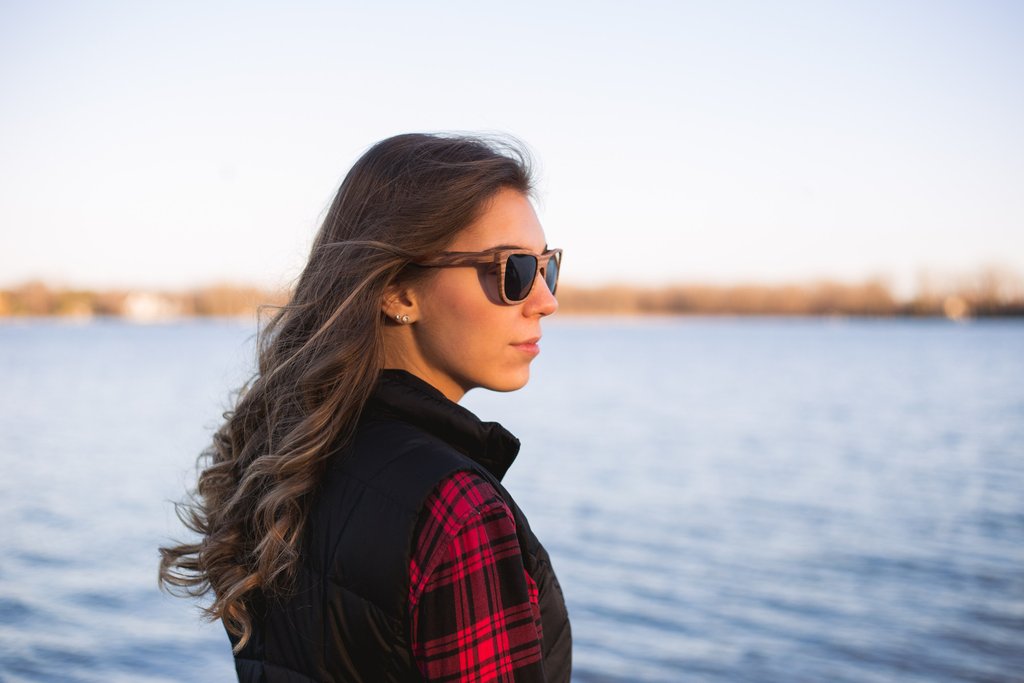 Optics:
The Polarized lenses offers a crisp, clear view to its wearer. The UV400 lenses blocks 99-100% of harmful UVA and UVB light. The scratch resistant lenses make staring out into the water or up to the clouds a safe and enjoyable experience and free from glare. No complaints here. The lenses are clear and the view from behind these glasses is beautiful.
Value:
At $129.99, I got what I expected out of my new Canopy Graphite Wood Sunglasses. Lightweight and durable, I am able to wear them during outdoor activity. The polarized lenses allow me to see my surroundings in a beautiful way. I am excited to see where this new company might go. I look forward to new designs they may bring to the table in the future.
Buy now for $129.99 or visit RainForestSunglasses.com for more designs.
Rainforest Canopy Graphite Wood Sunglasses
The Canopy Graphite Wooden Sunglasses by Rainforest Sunglasses are lightweight and comfortable. These sunglasses are good for any active man or woman.
The Good
Lightweight
They float!
Polarized
The Not So Good
May be too large for some faces
Hard to "dress up"
Lenses may be too thin for long last durability