By converting hydrogen gas into electricity the PowerTrekk fuel-cell charges devices day or night, rain or shine! Unlike solar-powered chargers, the PowerTrekk generates energy instantly with reliability that isn't affected by weather conditions. The PowerTrekk Fuel Cell is capable of producing 2.5 watts at 5 volts, and runs for over two hours.  At the USB standard 5V, PowerTrekk will charge all mobile phones, GPS, and cameras, and can also trickle charge higher wattage devices such as iPad or Kindle Fire. If you're an outdoorsman whos idea of "roughing it" includes live blogging and checking your twitter feed, the PowerTrekk is a must have!
How it works:
Add water to the internal reservoir (aprox 1 tps)
Insert PowerPukk
Close the unit
Turn on & connect the proper USB cord for your device
Begin charging!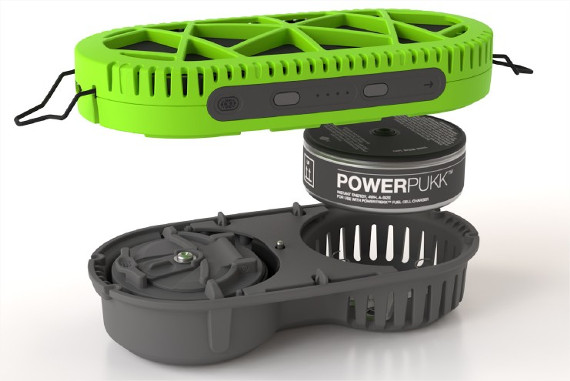 Key Features:
Instant power, anywhere, anytime
Add Puck and water to activate charge
Rechargable Cell holds 5.6 Watt Hrs
Pucks charge 5+ Watt Hours each
Battery Weighs 6.1 oz. (173g)
Total Weight 8.6 oz. (244g)
Color options: yellow, green and orange