With over 40 years of experience crafting quality audio products, Polk is consistently putting out great products. The Polk Hinge Wireless On-ear Headphones combine the quality Polk is known for with vintage-inspired style, seriously comfortable leather ear cushions and 12 hour battery life – a perfect fit for the weary traveler or busy commuter. If you're constantly on-the-go and need headphones that will complement your life and style, we may have found just what you're looking for.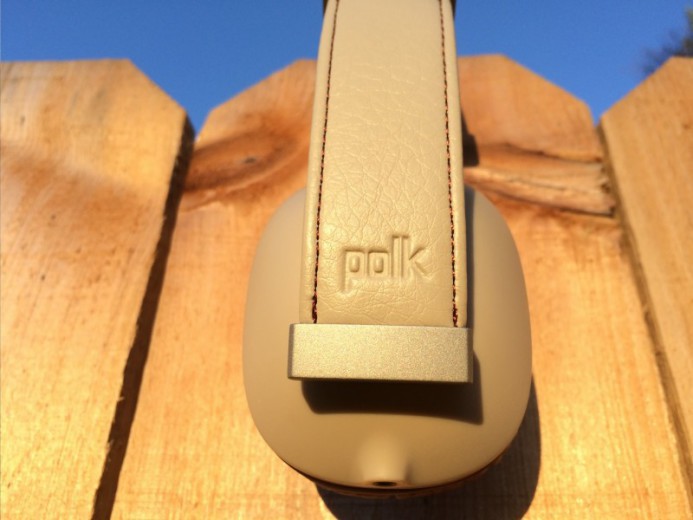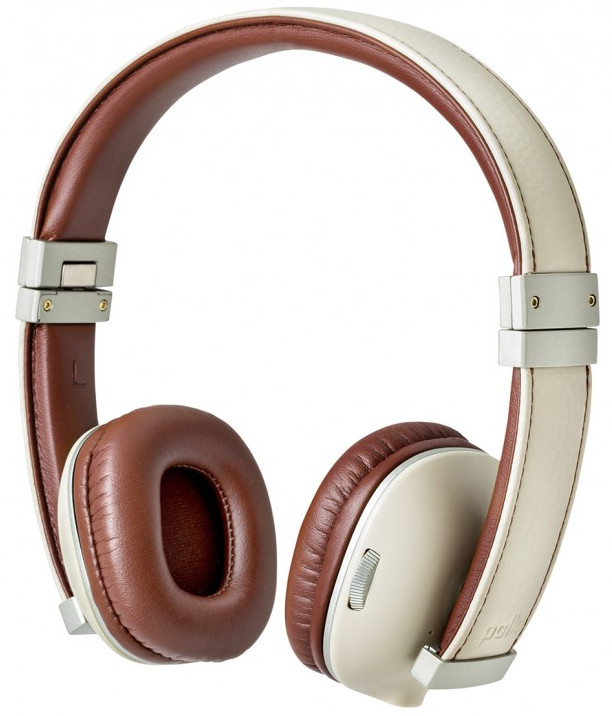 Specs:
Dynamic Balance plus POET system design
12 hour rechargeable Lithium-ion battery
Polk Optimized Electro-acoustic Tuning improves overall performance audio balance, depth and quality
Bluetooth with aptx and Near Field Communication touch to pair
SoundClear® Technology emphasizes voice quality during a phone call whether you're in a quiet room or a noisy vehicle
Detachable 3.5 mm cable for passive mode use with inline mic
Polk Hinge Wireless Headphones Review Breakdown
Design:
Polk's Hinge headphones are wireless which is a fantastic feature.  For me, the problem with wearing ear buds at my desk is that they are constantly getting wrapped around my rolling desk chair and ripped out of my ears.  Not a concern with these headphones!  Plus they're bluetooth, which means you can listen to all your favorite music on your phone or stream music no problem.  They have about 60 feet of wireless range, so you can even make it to the printer or water cooler sans phone.  A fully charged battery lasts 12 hours, which is pretty great considering the quality of the sound (and notably longer than many Bluetooth headphones out there).  We wore them on and off all week and haven't had to charge them again yet.  The headphones come with a 3.5 mm detachable cable that has volume control and an inline microphone, which would be nice if we saw any reason to use that cord.

The first time I wore them, I had them on for 3-4 hours.  I will say that I noticed the weight after a while but like I said, I'm used to wearing ear buds.  I did have to take out my earrings so they didn't stab me in the back of the head, which is probably the only downfall of the on-ear feature.
We also wanted to try the Polk headphones in a non-sitting situation, so we tried them out in the yard while doing some gardening.  The bluetooth feature was great for this, but when bending down and moving around a lot the fit wasn't quite secure enough; more suited for sitting-down activities.
Sound Quality:
Throughout testing we very impressed with the sound quality these headphones produced.  Even listening to songs that we hear every day, we actually noticed more pronounced mids and highs.  And the bass… this was the most noticeable part of the sound.  Personally, I couldn't help but dance a little when Teach Me How to Dougie came on (but who can?)
These are on-hear headphones so they sit on top of your ears, as opposed to over-ear headphones that fit around your ears.  One might assume that the over-ear headphones would offer better sound-cancelling qualities (I know I did), but we were surprised and pleased with the Polk Hinge.  The integrated SoundClear Technology really muffles outside noise – you can crank the volume and not only will the people around you not hear your music, but you won't hear their conversation.
Functionality:
The control system these headphones utilize is pretty impressive.  There's just one button so at first we were skeptical, but apparently that's all you need.  Press and hold the button to connect to via bluetooth and speakers will make a little *ding-ding* sound to let you know they're connected (it is different from the sound they make when you dis-connect, which is a nice touch).  That same button is the volume control dial.  One press of the power/volume dial pauses the music (both on the headphones and your phone), two presses skips the track and three takes you back to the beginning of the song. Another 3 takes you back to the next song.  I mean c'mon, what else do you need to do with your headphones?
Another nice feature is that you can answer phone calls from the headphones.  If you have an incoming call press the only button to answer the phone.  There's a microphone in the headphones AND on the cord (which we yet needed use).  The sound on the other end of the line was good too; better than the normal speaker phone on an iPhone.
We did have to disconnect from the headphones before someone else could connect via bluetooth but that's okay with me because, you know, they're mine.  Word to the wise, these headphones do NOT turn off after any amount of time so make sure you don't leave them on, unless you want a dead battery.
Style:
I'm not a headphone guru, but I like music and I do consider myself somewhat fashionable.  Let me tell you, these head phones are cute er… I mean stylish.  They look good.  They have a vintage-inspired style and come in three different colors; blue, black and camel.  All of the colors have a reddish-brown leather interior and ear pieces, which is a nice contrast; definitely a different look than most headphones out there.  The construction is high-quality, and the ear pieces are plush and comfortable.
Fortunately I don't have a commute to work, but if you do take public transit or regularly have to travel for business, this would be the time for these headphones to shine.  All of the other black-plastic-headphone wearing commuters will surely crown you the headphone fashionista.

Portability:
The headphones come with a nice carrying sack with a leather draw-string, carrying through that leather-vintage motif.  Each side folds up using lightweight aluminum hinges (hence the name) and they fit right inside the pouch for easy portability.  I carried them back and forth to work for a week and they survived the trek, and didn't take up too much real estate in my purse (granted, I have a giant purse but who doesn't).
Value:
At $200 they're not the cheapest headphones out there, but the sound quality and the vintage inspired style make them well worth the 200 bucks, plus you're getting top of the line Polk quality.
Buy Now: $200 or to learn more, go to: PolkAudio.com
Polk Hinge Wireless Headphones - Gear Review
The Polk Hinge Wireless Headphones are great for casual wear; a worthy travel companion. They definitely get style points without sacrificing any of the quality Polk is known for.
The Good:
Vintage-inspired style
Easy to use
All about the bass
The Not-So-Good:
Not suitable for all activities
Pricey