In the past few years almost all major car manufacturers have upgraded their factory stereos to integrate Apple CarPlay and Android Auto. This technology is the best of the best. Using your phone to manipulate your playlists, maps and content is a way of life these days… why shouldn't it extend to your vehicle too? Well, unless you're driving around in a 2015 or newer vehicle you don't have access. Sure you have aux cords, Bluetooth and FM transmitters, but com'on! It is 2016… we want touchscreens and in-dash nav systems.
This is where Pioneer steps in with their AVH-4200NEX receiver. Capable of running both Android Auto and Apple CarPlay, this car stereo is one of Pioneers flagship models. Recently Pioneer hooked us up with one of these 7 inch displays to drive around with. After a month of testing we're ready to spill the beans on how this beautiful piece of tech preforms. Here's what we learned…
Key Features:
7 inch (motorized detachable) touchscreen display
Bluetooth capable (music & phone calls)
SiriusXM ready
Built-in HD Radio
CD / DVD / USB / SD Audio & Video Playback
Compatible with most factory steering wheel audio controls (adapter required)
Included remote
Backup cam ready
Smart Phone Integration:

Android Auto:
Voice controls
Google Maps
Pandora integration
Spotify Streaming
Stitcher Streaming
Google Play
Apple Carplay:
iTunes tagging
Siri Eyes Free
Apple Maps
App Radio
Pandora integration
Spotify Streaming
Pioneer AVH-4200NEX Review Breakdown
Design:
Pioneer's AVH-4200NEX is a beautifully designed receiver. It is sleek, sexy and smooth. Installed in our '05 Jeep Grand Cherokee it gave the interior a face lift and totally modernized the driving experience.
Some key features we really appreciated are the detachable screen. This is great for added security. We also appreciate the integrated buttons along the bottom of the face. The buttons are just under the touchscreen and allow you to mute, skip tracks, up/down volume and toggle between home and other modes. These buttons are quick and easy to access when you're using the screen for other apps.
Overall the design of this receiver is pretty flawless and a huge upgrade from most older factory stereos.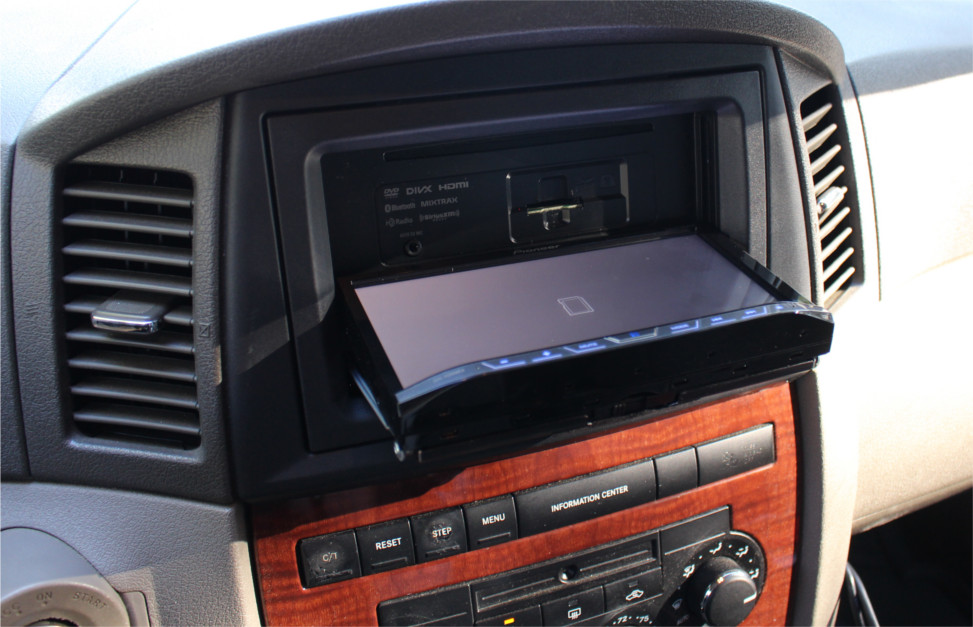 User Interface:
Pioneer hit he nail on the head when designing the user interface for this receiver. It has been years since I've operated anything but the standard factory nav/stereo in my Jeep. After installing the 4200NEX I thought I would be lost, but after about two trips to work and back I was quickly familiar with almost all the controls, settings and buttons. Everything seems to be laid nicely.
One of our favorite things about the user interface is that it is easy to navigate. Fin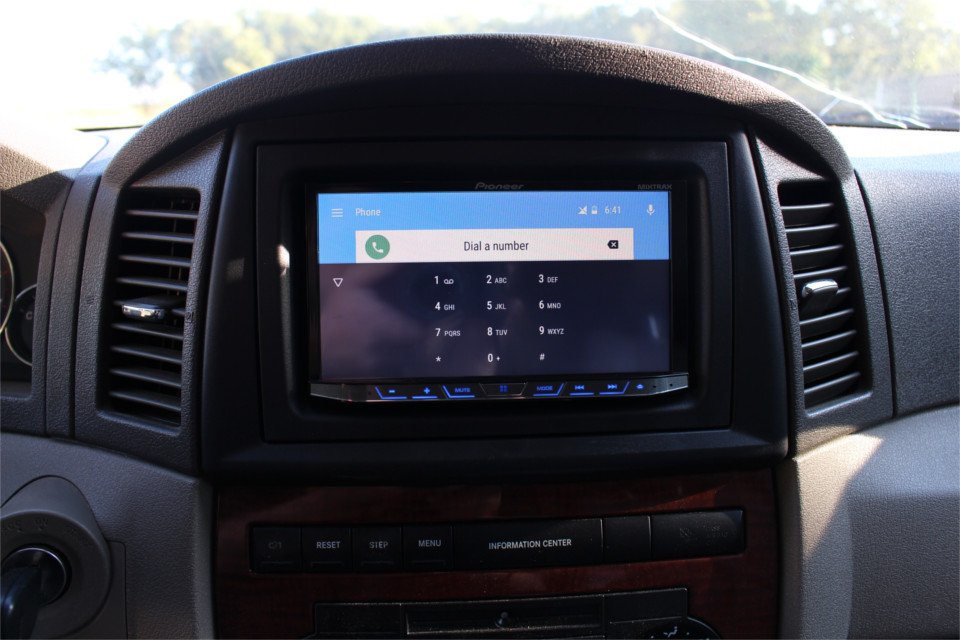 d what you're looking for and touch it. You can also easily go back by pressing the back button at the top right corner of the screen at any point. If you ever get lost and want to go back to the home screen you can press the center ("HOME") button on the control panel below the touchscreen.
The whole experience of using this receiver feels very intuitive. You don't need to read a user manual to get going. We noticed when people were riding with us it was easy for them to control the radio and apps as well. This is a big plus! The AVH-4200NEX has a lot of options, buttons and screens, but isn't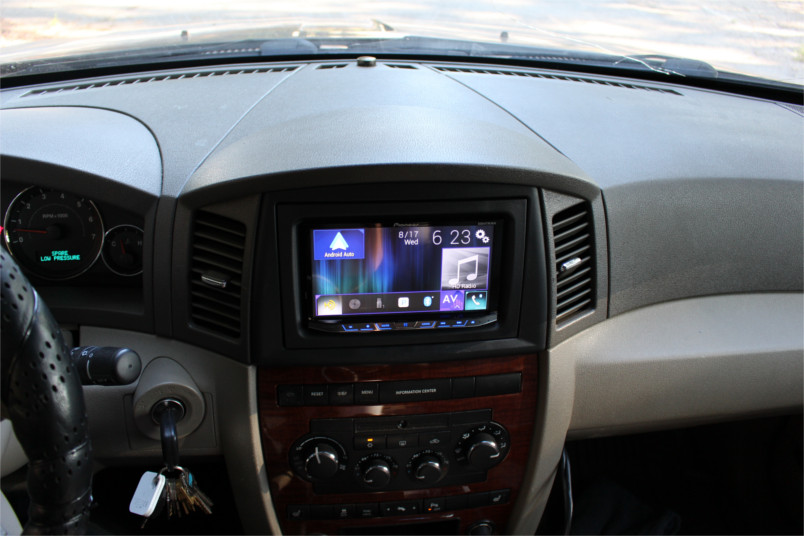 NASA mission control by a long shot. The UI is excellent.
Unfortunately we weren't able to test out the iDatalink Maestro RR feature which allows you to manipulate things like climate control, see diagnostics and other cool features. While we didn't get to test this feature we have heard good things and it looks really rad.
Touchscreen / Display:
It's 2016 and everything has a touchscreen. The AVH-4200NEX is no exception. This touchscreen is fairly sensitive and easy to navigate. We did find when given the option to scroll through playlists or other lists you need to be somewhat deliberate in your swipes to make sure the screen follows your movements.
The display is gorgeous, bright, and vibrant. Watching DVDs on the 7 inch screen is a pretty great experience.  The screen preforms better than most in bright sunlight, but isn't perfect. For this Pioneer allows you to tilt the screen by using the eject button. The motorized screen will tilt to several different angles to give you the best view.
Pioneer also has given you a lot of options when it comes to the display. You can choose brightness level, pick background colors, boot screen, and even LED button colors too. Overall we were truly impressed with this display.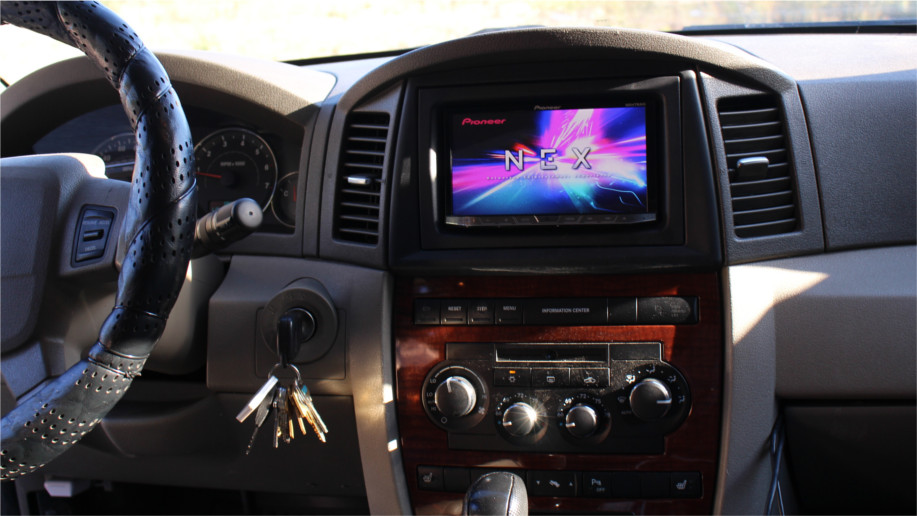 Acoustics:
Depending on what type of speakers you have installed in your vehicle your listening experience may differ so we'll keep this section short. This receiver delivers the goods! Our factory infinity system has never sounded so good. The HD radio is pretty great. When you pick a station you can briefly hear the non-HD signal and then it bumps over to HD and the crystal clear audio is impressive. Streaming, DVD and Bluetooth all sounded excellent too.
When it comes to EQ presets and customization this receiver has everything we were looking for. You can choose from 6 presets or customize your own EQ setting. We prefer the "Powerful" preset for most music. You can also adjust fade, balance and everything else you can think of. If you have a good system of speakers the AVH-4200NEX won't let you down.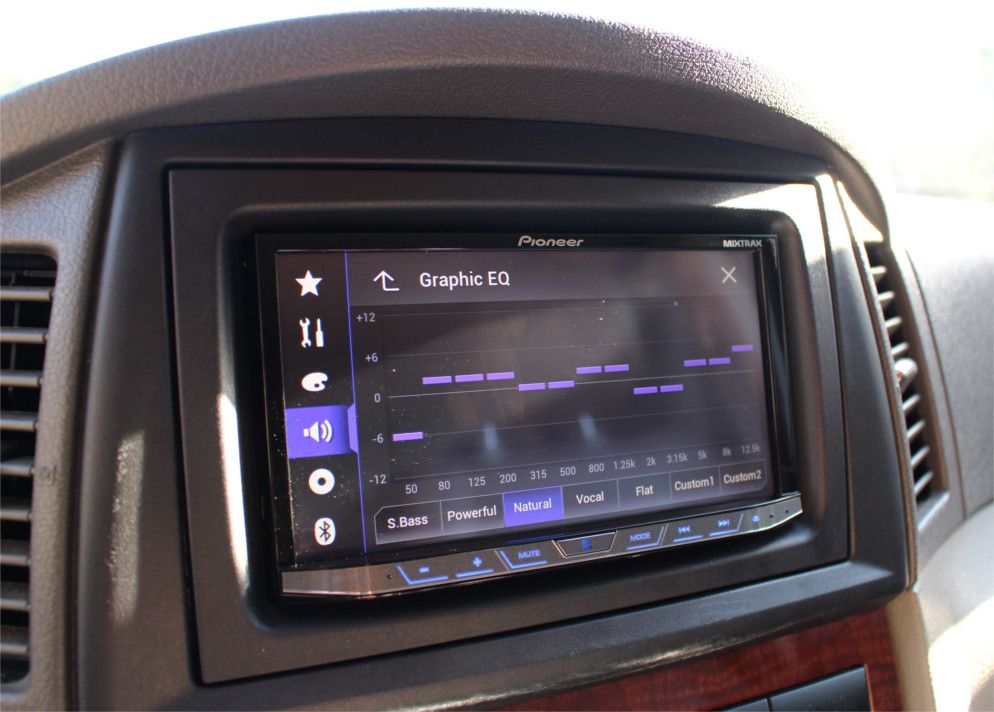 Apps:
Whether you're an Android or Apple user Pioneer has you covered. Both apps work very similarly, but have some features that are specific to each operating system. Connecting via USB is a little annoying, but what the heck… you get to charge your phone while connected so that's nice. We were able to test both systems for the past month. Here's what we discovered…
While not specifically similar to the OS on your phone, Android Auto is really easy to use. Most often we utilize it for streaming music on Spotify, Pandora and Stitcher. Another great feature (that Apple Carplay doesn't have) is Google Maps. We use Google Maps for everything navigation anyways so having it integrated into Android Auto is perfect. Android Auto also allows you to make phone calls, send and receive text messages all hands free. Using the voice control feature you can easily ask for directions to destinations, call someone, search the internet and pull up playlists/songs.
Android Auto is our favorite to use and works flawlessly. It would be nice if they allowed you to access more apps but really we don't have much to complain about.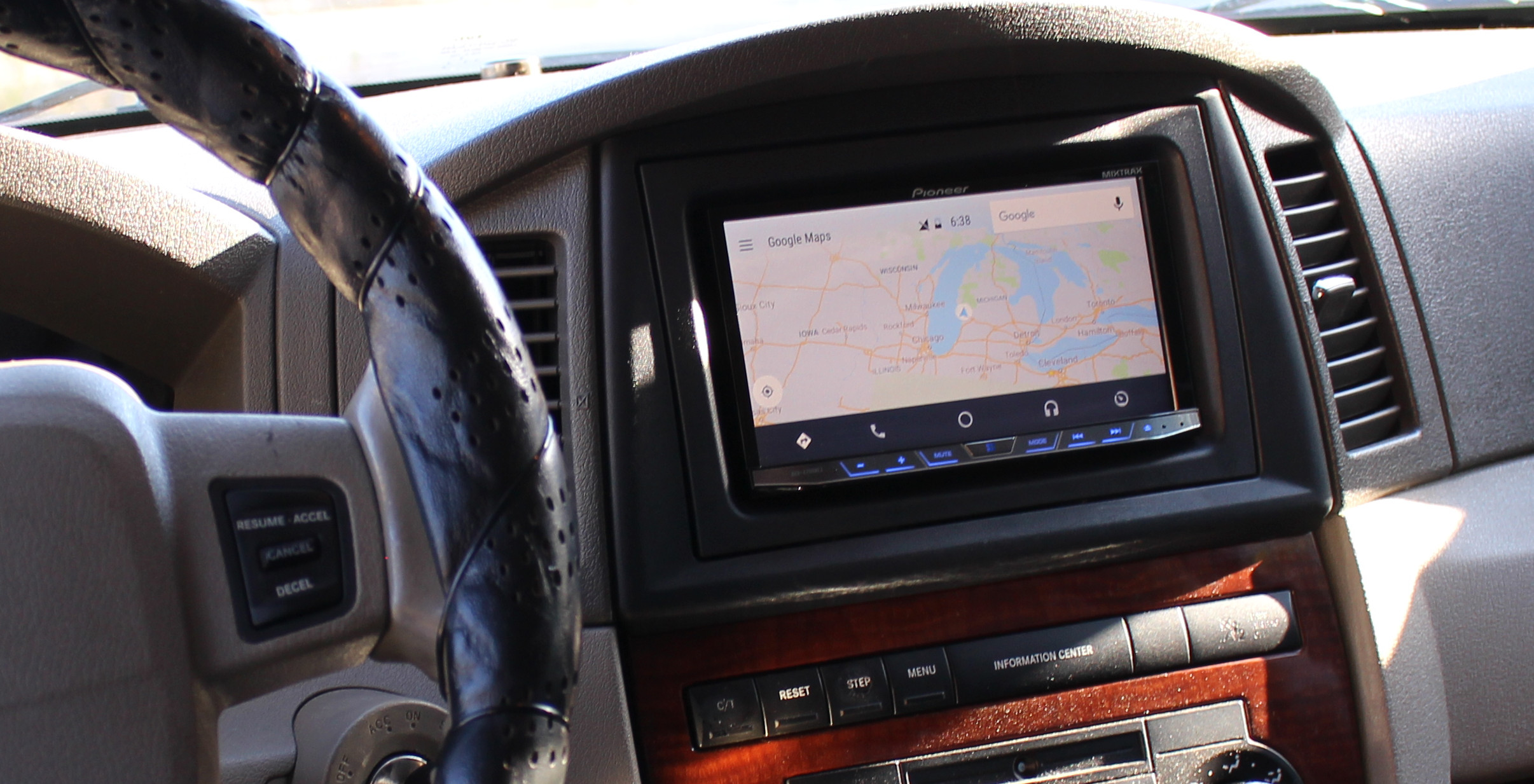 Everything that Android Auto can do Apple CarPlay can do too. Navigation only runs Apple Maps which is a bit annoying, but this is our only real gripe on the system. Siri integration is pretty flawless and easy to use. Siri can be predictably dumb at times but that's to be expected. Just like Android Auto we use Apple CarPlay primarily for streaming, making calls and navigating. One aspect Apple CarPlay does top Android Auto in is the user interface. Apple Carplay is just beautiful. The buttons are just what you'd expect from Apple and looks very similar to the user interface on your iPhone.
Value: 
Hitting the retail shelves at $700 this system isn't your bargain basement car stereo. Nope! It is for car owners with serious taste in style and sound. While the price is on the higher end of the spectrum, and you'll most likely need a professional to install it (costing a little more) we found the Pioneer AVH-4200NEX to be well worth the asking price. It is one of the best looking receivers on the market and for our money it is definitely one of the easiest to use. If you're in the market for a new car stereo that can do both Apple CarPlay and Android Auto this is one we highly recommend checking out. Demo it yourself at your local car audio shop and make the decision for yourself.
Buy Now: $700 or to learn more, go to: PioneerElectronics.com
Pioneer AVH-4200NEX - Tech Review
Installing Pioneer's AVH-4200NEX is like buying a new car, minus the loan payments new car smell. This receiver delivers all the technology (and more) you'd expect in a 2017 new vehicle. We've been testing it for just over a month now and wouldn't want to go back to the factory stereo ever! If you need to upgrade you should seriously consider the AVH-4200NEX. You won't be disappointed.
The Good:
Excellent audio quality
Perfect face lift for any older car
Android Auto & Apple CarPlay are amazing
The Not So Good:
Hard to swipe on the touchscreen
Pricey