The founder and lead designer of Oxx used to work as a product designer for a major home appliance manufacturer.  He noticed that people wanted to bring their home appliances out into the world to places like job sites, tailgating and camping but the appliances just weren't designed to be moved further than from the box to the countertop.  Something had to change, so born was the idea for the Oxx Coffeeboxx.  A crazy rugged single serve coffee maker that is designed to function in any conditions and be ultimately portable.
After a successful Kickstarter campaign to raise $52,032 in initial funds, the small Michigan company was able to put the Coffeeboxx in the market and stores all over the country.  Bringing specialty coffee to the most rugged areas of the world and keeping the workforce well caffeinated!
Key Features:
Brews all K-Cup style beverages
84.5oz spill proof water tank
Replaceable carbon water filter
3 foot retractable power cord
12 lbs empty weight
Crush & rust proof
Water, dust & impact resistant
Oxx Coffeeboxx Review Breakdown
Design:
The Coffeeboxx is a K-Cup style coffee maker that was built to be incredibly rugged and incredibly portable. It all starts by getting it where you need it and sometimes that isn't a gentle process.  Thanks to a design that goes way beyond being rugged, the entire box is made from elements that are more typically found on power tools.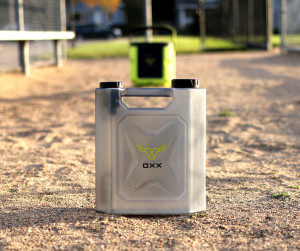 The top of the Coffeeboxx features a sturdy carry handle that is outfitted with a rubberized coating for a solid grip even when wet and is connected to the chassis with heavy duty screws that don't even hint at feeling like they will break.
The top surface underneath the handle features two hatches.  One is where you insert the K-Cup to brew your favorite hot beverage and the other holds the spill proof water container that will hold 84.5oz of water.  That's over 10 cups of coffee loaded and ready to be turned into a hot cup of whatever you want, no matter the conditions.
Between the hatches is the control panel with the dust and water resistant buttons.  Each button features a great looking LED ring that glows to indicate the status of the machine.  Buttons to brew a small (8oz), medium (10oz) or large (12oz) cup pulse when they are ready to choose your level of needed caffeine.
In case you fancy a tea while out in the rugged world, you'll be pleased to know that buttons to dispense hot water only are also available.  You will also find LEDs indicating if a water refill is needed, if the machine is heating, if a descale is required or if there was an error trying to brew.
We did get the error flash once when the water hatch was not closed all the way.  Apparently there is no need to be gentle with the hatches, they seem to prefer a good strong slam to work properly.

Down the sides of the Coffeeboxx are 6 stainless steel tie downs that can be used to anchor the Coffeeboxx during your wild travels.  Strapped into the back of my Jeep while driving down old lumber roads in the Upper Peninsula of Michigan, the tie downs were perfectly placed and sized to run a strap that kept everything secure.
The power cord automatically stows away using a retractable spool that will keep it out of the way but also extend to be as long as you need it to be, up to 3 feet.  When it's not in the use, it stays neatly coiled out of the way to avoid tangling and damage.

Rounding out the design is the business end of the unit where you can find the flip down detachable and cleanable drip tray.  The tray holds a travel mug of the biggest size you've got and securely folds away when not in use.
Durability:
With a motto of "Built For Those Who Bring It™", when it comes to durability the Coffeeboxx seems to be one of those products that should say in the manual "Go ahead, try to break it.  I dare you."   After reading the specs, you forget we are talking about a coffee maker.  Spill proof, Dust proof, Mud Proof…apparently its even (sort of) bomb proof and with a chassis that can support a 1,500 lbs load it's definitely Crush proof.  Does your coffee machine's chassis have a load rating? No.  This one does.  And its more than some pickup trucks can carry.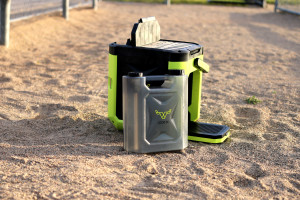 We filled our Coffeeboxx to the top with water and threw it (literally) in the back of the Jeep for some back road driving to a campsite.  When we arrived, the only damage we saw was to the back of the Jeep where the Coffeeboxx had bounced into the walls.  Lucky for us, it was pouring rain and of course our campsite was flooded and muddy so we put the Coffeeboxx on the ground and let it soak up some nature.  Once the weather cleared up, we plugged it in and found that it was ready to brew.  So although we were cold and wet, a round of caramel macchiato's  made nature feel much less harsh.
After packing up camp, it was time to head home but with the Coffeeboxx all muddy we didn't want to put it in the Jeep.  So after using it as a step stool, we threw it (again, literally) into our rooftop cargo carrier for an even bouncier ride home.  A few hours later, we again found scuff marks and mud in the cargo box, but the Coffeeboxx was in perfect shape and ready to brew up a mocha.
Cleaning the mud from the Coffeeboxx involved a hose in the front yard, which of course it survived.  So I just stood back and decided the only thing that might give this a hard time would be freezing temperatures because the storage tank would turn to a block of ice.  Other than that, I was out of ideas to test the durability.
Brew Quality:
A good quality brew starts early in the process where the Coffeeboxx features a built in water filter to ensure that no contaminants ruin the taste of your Joe.  The charcoal filter can remove odors, calcium and chlorine from your water for up to 90 days.  A built in filter change reminder makes it easy to know when it's time for a fresh one.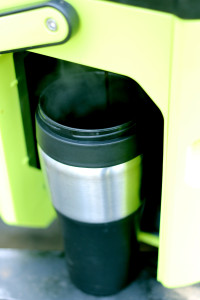 Not only can you get just hot water from the Coffeeboxx, but the hot water also comes from a dedicated dispensing system that will not be contaminated with any coffee remnants by bypassing the K-Cup chamber through a separate nozzle.  This is great for brewing traditional tea for non-coffee drinkers or preparing a cup of ramen or oatmeal.
The Coffeeboxx also features an incredibly fast time to heat and brew.  The heating process is so fast when compared to my regular Keurig at home that I thought for sure our unit was broken at first.  But no, it's just good performance, every time.  That speedy brew time does come at a price though, and that is power consumption.  The Coffeeboxx requires a power hungry electricity rating of 1,450 watts (about 12A @ 120V) to brew so if you were thinking of plugging into a power inverter in your car, you'll want to think again unless you've got at least a 1,600W inverter hardwired to a battery that can crank out 120A. Or, you will need a pretty hefty generator.
Value:
The Oxx Coffeeboxx has a MSRP of $249.99 but can often be found for around and even under the $200 mark after shopping around a little.  At that price, it is right on par with other top of the line single serve coffee brewers, but none will compare when it comes to portability and durability.  While the neon green Coffeeboxx may look a little funny sitting on your countertop at home, I would say this is a must have for anyone who truly enjoys coffee while working on job sites, RV camping, car camping, deer camping or tailgating.
Buy Now: $249.99 from Oxx.com or Amazon.com
Oxx Coffeeboxx - Gear Review
If you are one of the people who likes to bring the comforts of home or even the breakroom to wherever you are, the Oxx Coffeeboxx is built for you.  A design that will stand up to wherever you take it is truly impressive and the quality of the brew is just what you need to get functioning on a chilly morning.  If there is a good power supply nearby, there will be no excuse for not filling up on a fresh cup (or 10) of Joe.
The Good
Insanely durable
Fast heating time
Huge water capacity
The Not So Good
Power hungry
Hope you like neon green