If you spend some time scrolling through the Outdoor Technology website you will no doubt be impressed with their creativity, but also their dedication to their products.  Outdoor Technology has had the same goal from the beginning; which is to address the ever growing issue of blending a modern lifestyle in the age of mobile technology with the drive to be outdoors. Recently, they released their Tuis Wireless headphones which are designed to wirelessly connect with your smartphone, tablet, laptop, or any other Bluetooth-enabled device.  The Tuis (pronounced two: ees) are named after flashiest bird in New Zealand, one with iridescent plumage, two voice boxes and a bit of an attitude.
The Tuis Headphones are designed with this unique bird in mind as Outdoor Technology continues to develop high quality products that are impressively designed and provide superior sound.  Recently we were given the opportunity to go ears-on hands-on with the Tuis Wireless headphones and we encourage you to read on for the full breakdown!
For a quick breakdown of the product and how to use it, take a listen to Frank Harrington – Unofficial Spokesperson for Outdoor Tech.
Outdoor Tech Tuis Wireless Headphone Breakdown
Design:
Quite simply the Tuis are loaded with features and options, but are also built into an incredibly compact and sleek design.  Designed to not tether you to your devices, the Tuis wirelessly connect with your smartphone, tablet, laptop, or any other Bluetooth-enabled device, and operate via the 5-button interface on the right ear. The Tuis are built to stream audio for a range of up to 30 feet for 16 hours on a single battery charge.  The Tuis also feature built-in call functionality that when connected to your phone, the built in microphone allows you to make and receive hands-free calls. The Tuis come equipped with Bluetooth 4.0 technology which wont drain your phone's battery and provides the ability to do voice commands.
The Tuis utilize an on-ear design which means they rest on the ear and will allow you to hear some external noise but Outdoor Technology built in a rich hi-fi audio system which should eliminate most noise from accessing your ear drum. Weighing in at 6.1 oz these headphones are very lightweight and can be on your head/ears all day without causing any discomfort.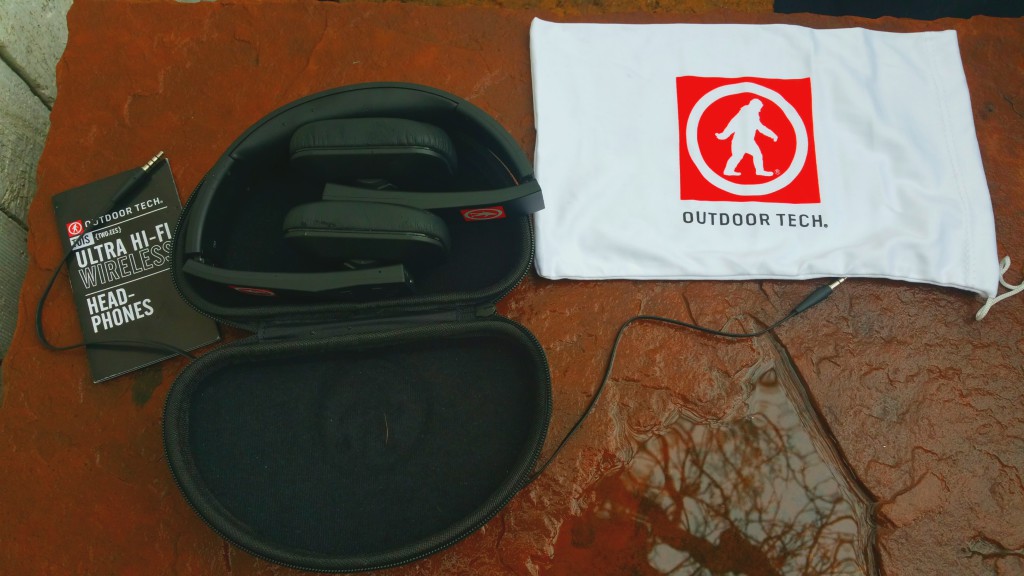 The Tuis also come with a premium travel case, cloth travel bag, USB charging cord and an Line-IN cord for when bluetooth isn't an option.
Audio/Bluetooth Quality:
The Tuis feature some very impressive acoustics for a Bluetooth device.  Delivering deep bass, the audio quality is very rich, especially at the 50% volume.  Audio quality does taper off and get a little distorted when blasted to the max, but just a notch or two below that (80% volume) it remains quite impressive.  Phone call audio quality comes across very well. These headphones are great if you are work from home employee or take a lot of conferences calls given the clear and accurate audio.  The microphone also does a good job of picking up your voice but it does pick up a lot of background noise as well. In fact during our testing sessions people on conference calls noted the noise in the background but overall they could clearly hear us on the other end.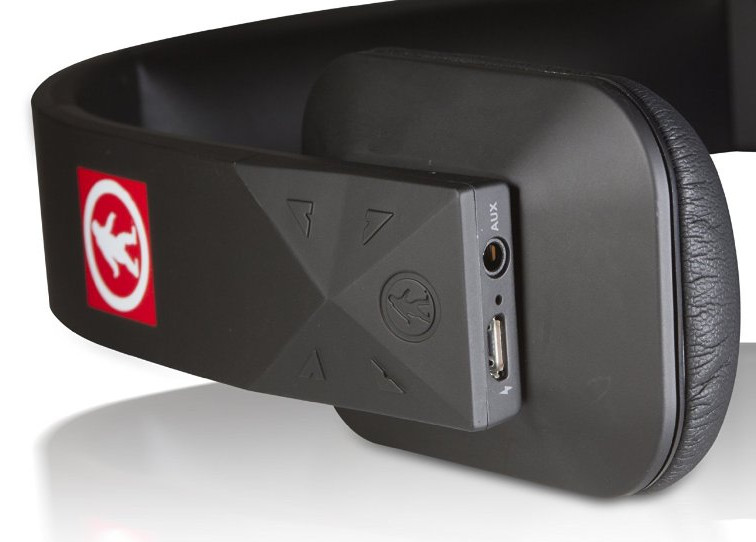 Bluetooth connectivity is very easy to initiate by simply pressing the yeti button on the side of the headphone. Initial setup and paring only took a minute or two.  The Tuis are designed produce 30 feet of wireless range. Unfortunately, throughout testing we could not quite achieve 30 feet.  Every time we got about 25 feet away we started to lose connection or experience interruption in audio. Other factors (walls, glass etc…) can shorten bluetooth range, that's a fact, but overall we were still impressed as we could easily walk into another room and not lose connection.
Comfort & Fit:
The Tuis are definitely unique in terms of their on-ear design and sleek look, which make them polar opposites of the Beats by Dre popular design.  The fear with a lightweight and streamlined design is losing that superior comfort you get with the Beats design.  While we are not quite sure how they did it, the Tuis are incredibly comfortable and rest very nicely on the ear.  You will be able to jump on a long flight and throw on the Tuis and get long lasting comfort all day.
Value:
Priced at $149.95, the Tuis offer a great value for a great design.  You can find similiar headphones in terms of audio quality priced in the $200-$250 range but there are really no competitors in terms of the style and look of the Tuis.  If you want a sleek design that also provides premium sound quality then the Tuis deserve some consideration in your headphone search.
Buy now for $149.95 or to learn more, visit: Outdoor Technology.com
Tuis Headphones - Tech Review
The Tuis feature a great price point at $149.99 and come with a great design and rich audio. Overall, these are great for anyone who loves the freedom of Bluetooth headphones as well as rock-solid audio quality.
Audio/Bluetooth Quality
8.5
The Good
Lightweight and great on-ear comfort
Great quality for the low price
Great audio quality
The Not So Good
Wireless range not as advertised
Background noise picked up on phone calls