Walking a full 18 hole round can definitely lend a value of satisfaction to one's golf game. It's an added challenge rarely attempted by most golfers, and understandably so. But for the purists out there, choosing the right golf bag that will take their gear the distance comfortably and reliably will really make that journey worth the effort. This summer we hit the links with the OGIO Cirrus Golf Stand Bag, the lightest bag this particular brand has to offer, and we went the distance with all of our gear in tow.
Key Features:
9" 7-way Holster Performance top with side putter pit and integrated handle
7 pockets (5 zippered)
Molded hip panel
Weather-resistant fleece lined valuables pocket with cell phone sleeve
Fit Disc four point, equalizing, self adjusting strap system
Walking accessible insulated water bottle holster
Lightweight fabrics–3.2 lbs
Scorecard/Range Finder/GPS Sleeve
Detachable ball pocket panel for embroidery/logo application
Product Specs:
Dimensions:

36″ x 11″ x 9″

Materials:

1680D Poly/420D Dobby Nylon/900D Nylon/600D Poly/PT 1000D Poly/300D Poly
OGIO Cirrus Golf Stand Bag Review Breakdown
Design:
Weighing in at only 3.2 lbs, the Cirrus is one of the best on the market at cutting the weight for a walk made easier. The Fit Disc strap system is well padded and easily adjusted for a secure and comfortable fit. As a bonus, OGIO has provided a molded hip panel that is soft yet sturdy, and any movement of the bag against the body is minimized for the walk. The Cirrus is also remarkably well balanced in weight while strapped in, so discomfort or additional strain on the body are very much reduced in comparison to other walking bags we've used in the past.
No one likes getting caught in the rain, but in the case a lightweight club cover is included in it's own pocket. The cover attaches by way of a standard 2 clip system, and can be applied in seconds. While the cover is on, your clubs are still accessible through a zipper opening.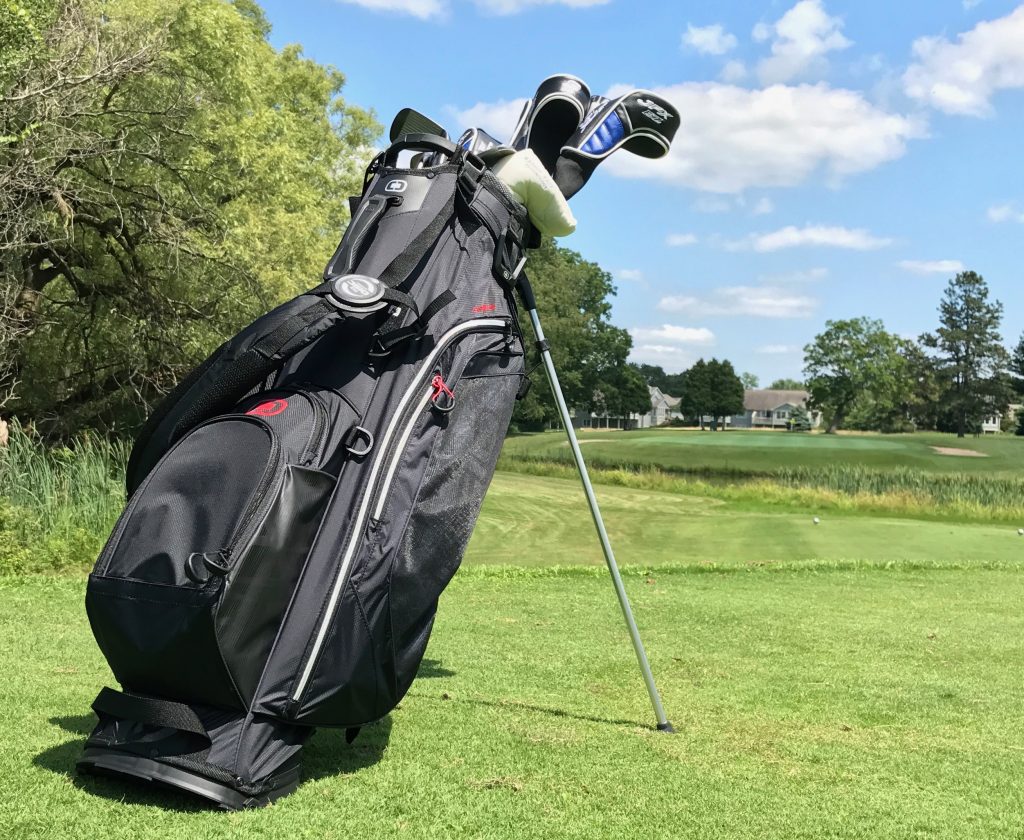 There are always times that the group we golf with would rather travel the course by cart, and in this instance we are pleased to report that the Cirrus converts into a cart bag quite well. We've owned a few stand bags in the past that needed to be turned at precarious angles in order to be well secured in a cart strap, but the design of the Cirrus stand legs are well compact and create no difficulty for use in this alternative situation.
Storage:
With 7 pockets, 5 of which are zippable, finding a placement for all of the useful gear your heart desires should be no issue with the Cirrus. We were mostly impressed with the assortment of storage options in this case.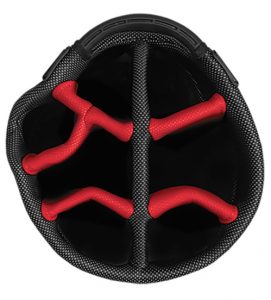 Every golfer, especially the walkers, will more than likely need a bit of liquid refreshment. We've gotten some good use out of the insulated cooler pocket which holds up to 2 bottles. Although we would have appreciated the capability of closing the cooler pocket, it is a nice addition you won't find in most golf bags. In addition, there is a velcro tab that a golf glove can attach to with ease and a fleece lined weather-resistant pocket to keep cellular devices or other electronics safe from the elements. All of these compartments are well accessible while strapped into the bag too, so you won't find yourself taking it off quite as often as you may be used to.
Club management, of course, is of utmost importance in having a good experience on the course. The OGIO Cirrus has a 7 slot configuration, a design choice that may lend a hand at reducing bag weight, but can make the decision of where best to place our clubs difficult for some. One basic design choice we are very please with is the side putter pit. For golfers that prefer to take good care of their clubs, a good putter needs to remain protected. However, thanks to this feature we have no problem removing our putter cover for the duration of the game and remain confident it won't get banged around with our irons throughout the game.
Durability:
After a summer carrying the OGIO Cirrus, things are looking good for more seasons to come. OGIO has a good reputation for a well built product in our experience, and that appears to remain the case here. All stitching and connections between materials have remained well intact on the bag, and there seems to be little to no wear in the materials themselves. The light weight materials used in this construction do have a bit of a flimsy feel to them in a few key areas though, and based on the use we've gotten out of this bag we do see potential damage due to user error such as slamming a car trunk on one of the light plastic buckles or catching the bag on something sharp while walking.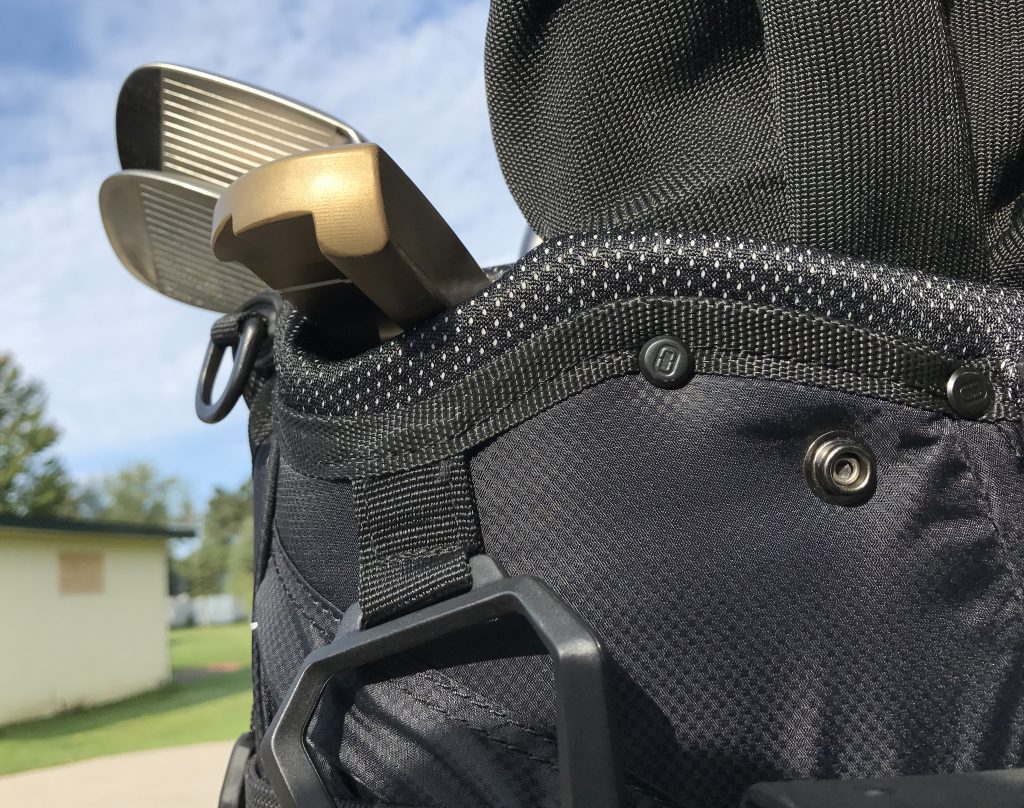 Value:
The asking price here may be a bit on the steep side, but for a brand like OGIO that time and again has built quality products with amazing ease of use there's a good argument to be made that it's well worth it. For any walking golfer, the Cirrus will do the job it's asked to and then some. With solid storage capabilities in one of the lightest packages out there, we'd consider it money well spent for many seasons of golf to come.
Buy Now: $199.99 or to learn more, go to: OGIO.com
OGIO Cirrus Golf Stand Bag - Range Review
For the purist golfer who's looking to get some extra air in their lungs and enjoy the game as it was meant to be played, the OGIO Cirrus Golf Stand Bag will make the challenge all the more worth it! With great accessibility to varying pockets, a comfortable strap system, and remaining just as reliable as a cart bag, the Cirrus has some really of great things going for it!
The Good
Comfortable Double Strap System
Great Pocket Variety
Light Weight
The Not-So-Good
Tricky Club Management
Some Flimsy Materials