Nokia believes that the best health data doesn't come from a lab. It comes from a collection of self-measure data automatically synced in free-living settings of large cohorts over extended time periods. Sounds complicated? Not really, when you look at Nokia Health's lineup of products. They have launched multiple connected products that feed your real-time information into one mobile app. Allowing you to track all of your health data anytime you want. Today, we are going to look at two of the products, the Steel HR smart watch and the Body+ Smart Scale.
We will also take a deep dive into their Health Mate app which brings all of the information together. Nokia is trying to give you access to your complete history of your health data, including activity, sleep, weight, and more, so you can see trends, track progress, and improve over time.
Right around the time of the review, we received word that Nokia is selling it's health division back to Eric Carreel, the former chairman of Withings. Withings was the original founder of the division which sold to Nokia in 2016. Were not sure the future of the product lineup but with the products going back to it's founders, we can only hope they continue to improve their already impressive lineup.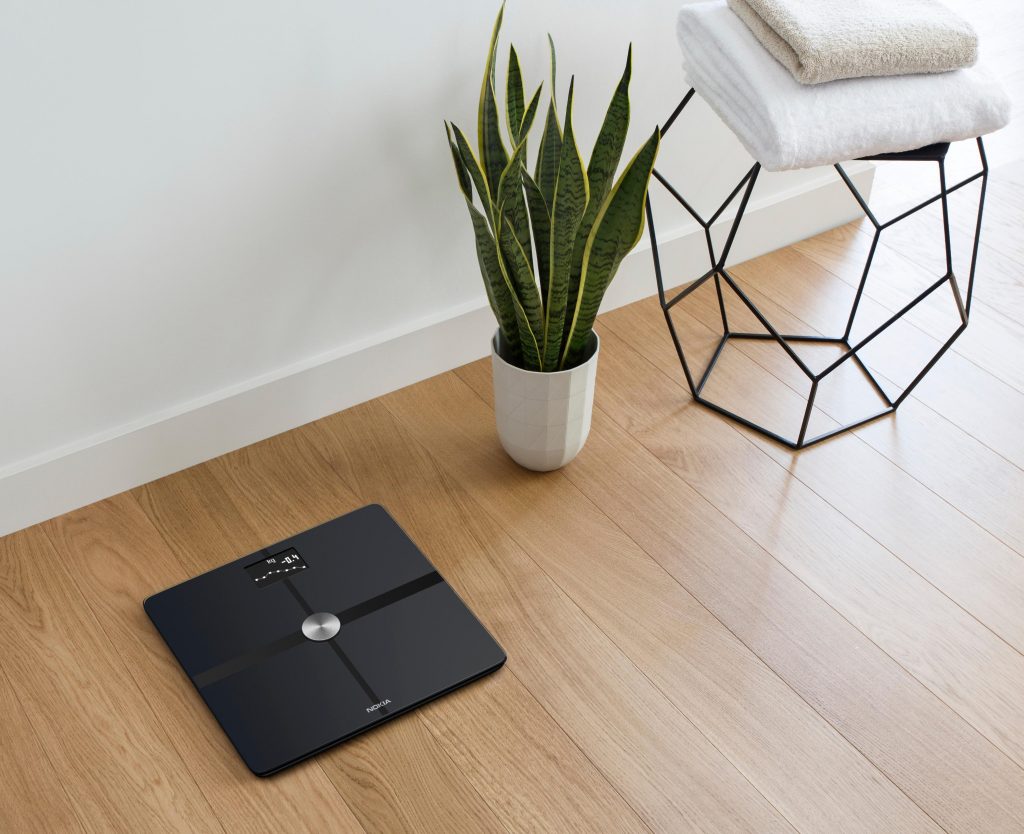 Steel HR Activity Watch – Key Features:
Heart rate tracker with heart rate infrared sensor
Step tracker based on motion
Distance tracker based on user's profile for high precision
Running mode automatically detected
Sleep tracker
Water resistant up to 50m with swim mode
High precision MEMS 3-axis accelerometer
Long battery life
Smart+ Body WiFi Scale – Key Features:
Body composition analysis
Dedicated coaching program
Can add up to 8 users
WiFi synchronization
Baby and Pregnancy modes
Detects weight, fat mass, muscle mass, water mass and bone mass
Nokia Smart Health Product Review Breakdown
Design:
Steel HR Smart Watch- The Nokia Steel HR is designed to move with you, whether that is from the office, to the gym, to the pool, to a big night out.  The Steel HR is supposed to advance your health goals without missing a beat, literally.  The watch features heart rate monitoring and battery life that last up to 25 days. In addition, it is water resistance up to 50m. You can also sync to your smart phone and can get notifications of incoming texts and calls. We wish you could view your text messages versus simply getting a notification. The watch comes in two sizes and a variety of colors and bands so you can customize to your style. This is a nice option so you can have a sportier look or keep it professional at the office.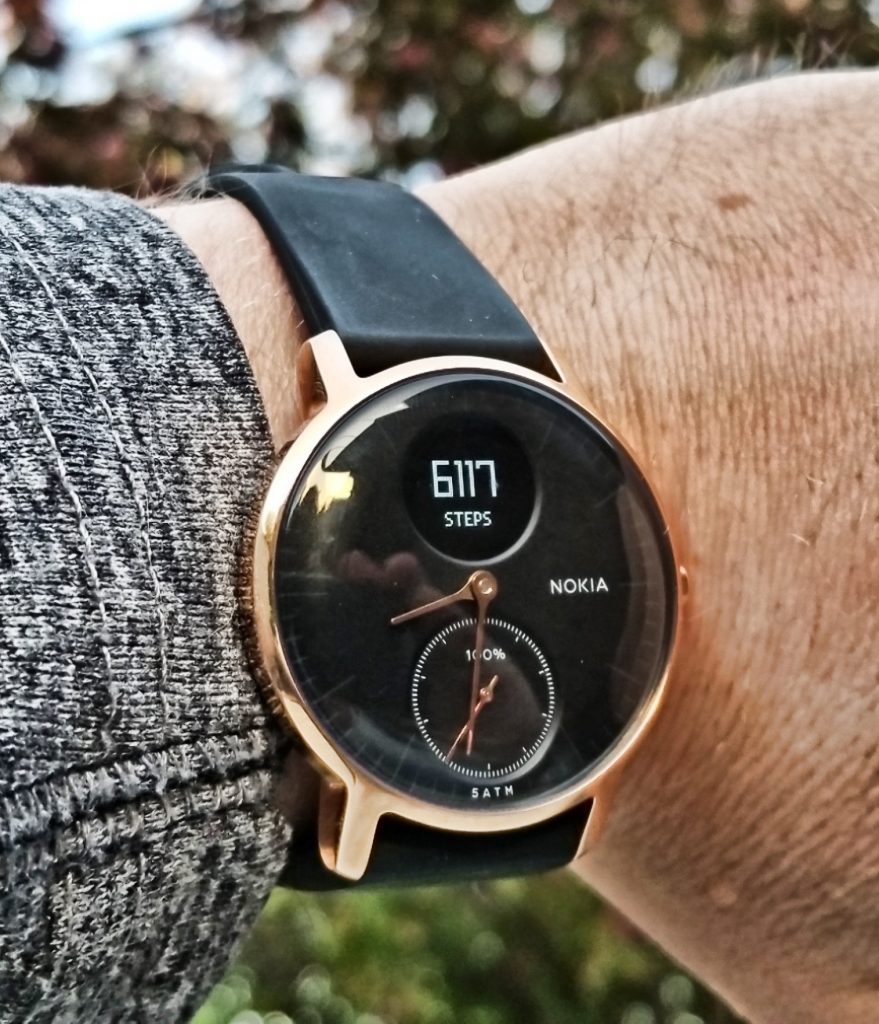 Body+ WiFi Scale – The Body+ WiFi scale is designed to be a high-accuracy weight and full body composition scale. It is built to coach, reward, and records all data automatically. Designed to have you set goals and helps you achieve them by giving you daily updates on your progress. The scale not only gives you your weight but also includes fat mass, muscle mass, water percent, and your bone mass. Getting your full body composition helps you understand your body and your progress along the way.
For example, you may be frustrated with not losing weight on your new diet and workout program. This scale can show you that your while your weight stays the same, your fat mass is decreasing and your muscle mass is increasing. Being able to see daily progress or see if you had a bad day. The body+ scale also features four weight sensors, a patent pending body position detector, and you can up to 8 users. It also includes a pregnancy and baby mode tracking for expectant mothers and new moms.
Accuracy:
Steel HR Smart Watch– I am always skeptical of Smart watches because it is difficult to gauge how accurate they are, especially with steps and sleep. We all know how to juke steps with a trackers or how certain movements can add steps. While testing the smart watch we also wore a pedometer that sticks to your pants for comparison. We found the Steel HR to reflect lower steps than the pedometer, which in my opinion is a good thing. Pedometer's are notoriously sensitive so I want something that is going to reflect less steps to be safe. If you are shooting for 10,000 steps then you want something accurate and you don't want to be given extra steps that you didn't earn.
With the Steel HR, it might be on the low side of steps, but that's good as it will keep you moving. The sleep accuracy was more accurate than I expected but still not perfect. There were many times I was awake in the middle of the night and the watch only detected it as light sleep. However, it is really hard for the watch to know your awake if you don't move around. I felt like the light sleep was when I was actually awake and it was very accurate on timing.

Body+ WiFi Scale– Obviously being a scale first, we need the weight to be accurate. We compared this two other reliable scales and felt like the Body+ was completely dialed in on weight.  The scale features their patent-pending Position Control technology to make sure you are in the right position every time. Being in the right position makes a more accurate reading possible. If you step on a scale from different angles or feet position it can change the reading. The scale will not confirm your weight until you are in the proper position.
As for the other metrics it is hard to know if they are accurate because we can't do full body scan's each day to compare. I can't guarantee accuracy but based on the scales technology it would be hard to argue. What we found interesting is watching your body metrics change. You can definitely see a correlation as you go through your workout routine.
Due to a back injury I have been unable to workout for extended periods of time. Concerned about putting on weight, I stepped on the scale everyday to get a reading. I used my weight to help guide my portion control to stay at the same weight. What I noticed was fat mass was increasing and muscle mass was decreasing. I could feel myself getting a little pudgy and I now had proof. I decided to start working in low impact workouts with the help of my doctor so I could reverse some of these trends. Without the scale, I might have kept my weight the same but not worked on my overall health and continued to lose muscle.
Health Mate App:
There are other products in the Nokia Health lineup in addition to what we cover here. Regardless of what you buy, it all feeds into the Health Mate App. Health Mate allows you to view a complete history of your health data, including activity, sleep, weight, and more, so you can see trends, track progress, and improve over time.
Whether you're looking to lose weight, get more active, monitor blood pressure, or even sleep better, Health Mate is there to coach you every step of the way. All of your information feeds into the app and then works with you to hit your goals. If used correctly, it's almost like having a personal trainer. The app also connects with Amazon Alexa to make it even easier to get real-time information. The Health Mate app is well-designed and functional and the more you use it, the more you will be addicted to tracking yourself.
Value:
Steel HR Smart Watch– As I mentioned earlier, I am a bit down on activity trackers and smart watches. However, with the functionality and accuracy of the Steel HR, I am a fan. Especially since it is priced at $179.95. This is a versatile watch that you can design for any occasion and have it fit in like a regular watch. After 2 months of testing, we have see no durability issues and the watch still looks great. The watch can last for almost 30 days, which is really nice. Not having to constantly charge something makes you wear it all the time which keeps things more accurate. The heart rate tracking is a nice feature that is also accurate. If you are in the market for a activity tracker watch, then take a look at the Steel HR.
Body+ WiFi Scale – Priced at $99.99, we think everyone should get the Body+ Scale immediately! With the scale linking to the Health Mate app, it really brings out the value versus a regular scale. Monitoring your overall body picture in real-time and over-time is tremendously valuable. With its ability to add 8 users and features, the Body+ is a great addition to the home. The only problem we foresee is becoming addicted to tracking your progress, which when it comes to your health, is never a bad thing!
Buy the Steel HR Smart Watch now for $179.95 or visit Nokia Health for more information
Buy the Body+ WiFi Scale now for $99.99 or visit Nokia Health for more information
Nokia Steel HR Watch & Body + Smart Scale
In a crowded smart watch department the Nokia Steel HR really stands apart. Built with impressive technology that is more accurate then most on the market, you won't be disappointed. We recommend pairing the watch with the Body+ Smart Scale so you can track your overall health picture and progress. It's time to take your fitness and body composition knowledge to the next level.
Health Mate App Functionality
9.4
The Good
Steps and heart rate are very accurate
Great price point and value for both products
Health Mate App is very well designed and fun to sue
The Not-So-Good
Can't view text messages on watch
Hard guage accuracy of body composition features on the scale
Future of product lineup is murky with news of a sale