Nike Golf is a brand that needs no introduction and Busted Wallet has been testing their equipment for a long long time.  We were happy to get our hands their recently released Nike Vapor Fly Hybrid. The Vapor Fly Hybrid was completely redesigned for 2016.  Since most of Nike's top names in golf, Rory and Tiger, don't use hybrids, Nike worked with other golfers such as Francesco Molinari to get input on the 2016 model. Their team of engineers created a hybrid with a refined, tour-driven profile to maximize the versatility and shot making.
For our testing sessions, we went with the 3 hybrid. Nike's Vapor Hybrids are designed to have an extremely thin  and light crown that moves the weight down for a higher launch and less spin, resulting in even more yardage. The Vapor Hybrids also feature an athlete authentic tour shape for forgiveness and workability which should allow for the club to be a true long iron replacement. This year's hyrbid features the new hyperflight face which is designed for extreme ball speed spread across the entire face.
Higher launch – spin = more distance? Let's let the pros explain…
"The new Vapor Fly series clubs, designed to provide an overall higher launch angle, is the culmination of years of diligent study.  As we've learned more and more about golf athletes while researching advanced materials and evolving manufacturing technologies, we've verified that if we can launch the ball higher while managing spin, it will ultimately fly farther.  We've found ways to accomplish that in our entire 2016 line, from the drivers to the long irons. We are using innovative designs that consider mass distribution, tuned compliance and stiffness to help the ball consistently fly high and long." -Nate Radcliffe, Nike Golf Director of Engineering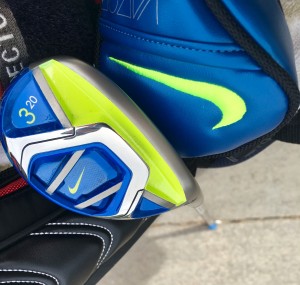 Make sense? We thought so. Now that we understand the technology behind the hybrid it's time to get down to the nitty gritty. So recently we sent our team to the range and the links for several testing sessions and here's what we discovered…
Tech Specs:
Loft: 20 degrees
Lenght: 41/40
Lie Angle: 57 degrees
Swing Weight: D3/C7
Shaft: Mitsubishi Tensei CK Blue 80H; Mitsubishi Diamana S+ Blue Board 80H
Shaft type: Graphite
Flex: Regular, Stiff
Nike Vapor Fly Hybrid Review Breakdown
Design:
As we mentioned, the Nike Vapor Fly Hybrid comes completely redesigned for 2016.  As we work through the design features you will notice a common theme: forgiveness. Nike made some pretty impressive changes and the first is a real page turner.  The new HyperFlight face is thinned out around the perimeter to produce extreme ball speed across the entire face for better performance on off-center hits and should help reduce mis-hits.   The Flightweight Crown was slimmed down to a tune of a 30 percent reduction in crown weight vs. 2015's model, resulting in a lower center of gravity and higher MOI (Moment of Inertia) for higher launch, less spin, and more overall forgiveness.   The compression channel was also re-engineered which enables a springboard effect which again results in better performance on mis-hits.  Nike also changed up the FlyBeam Reinforced Covert Cavity Back which dramatically stiffens the chassis while redistributing weight to the heel and toe for maximum impact efficiency, tuned acoustics and some extra forgiveness. The club is designed to replace those long irons that require precision swings and ball striking to get a great a shot.  The Nike Vapor Fly Hybrid is designed to give you better yardage than those irons but also more forgiveness when you have that less than perfect swing.
Feel:
If you hit the 2015 version and make the switch to the new model you will definitely notice a difference in feel.  Obviously, feel is a personal touch but the feel of the hybrid comes with the redesign of the FlyBeam cavity back as the face strikes the ball, the ball explodes off the face with no resistance. Great feeling on the hands with no ping or rattling and the cavity back really pushes weight to the perimeter for more stability and seems to adhere to Nike's claim that it boosts overall impact efficiency.   The club is lightweight and easy to swing, be careful not to get too excited and try to swing too hard.  Let Nike's technology do the work and just work on putting a good swing on the ball.
Distance:
Since we were testing the #3 Hybrid, we would be looking to replace our 3 iron, depending on far you hit your iron.  When comparing shots to our 3 iron we definitely saw more distance with the Nike Vapor Fly.  If you used the 2015 version you might be concerned about the reduction in size between the two years, but don't be, the Vapor Fly is very efficient and slices through the first cut very easily.  We set up a comparison test directly with 3 iron, we saw a group average of plus 9-16 yards consistently.  We also noticed better ball flight and the extra distance seemed to be easily attained with a good swing.  If you struggle to hit for distance or to get consistent swings with your low irons, the Nike Vapor Fly Hybrid could be a great fit your bag.
Accuracy:
Nike's focus on forgiveness really shines through in this area.  While you will still lose distance on a mis-hit you can still get out there and reduce the left or right spray that you would typically see on an errant low iron shot.  With that thin and light crown design, you will really see the weight moves down for a higher launch point without having to hit the core of the face.  This allows you to maintain control, reduce your errant shot and still maintain a good distance.  It is really nice to put a good swing on the ball (not great) but still achieve great results.  The club won't do all the work for you, but it will definitely help you take some strokes off your game.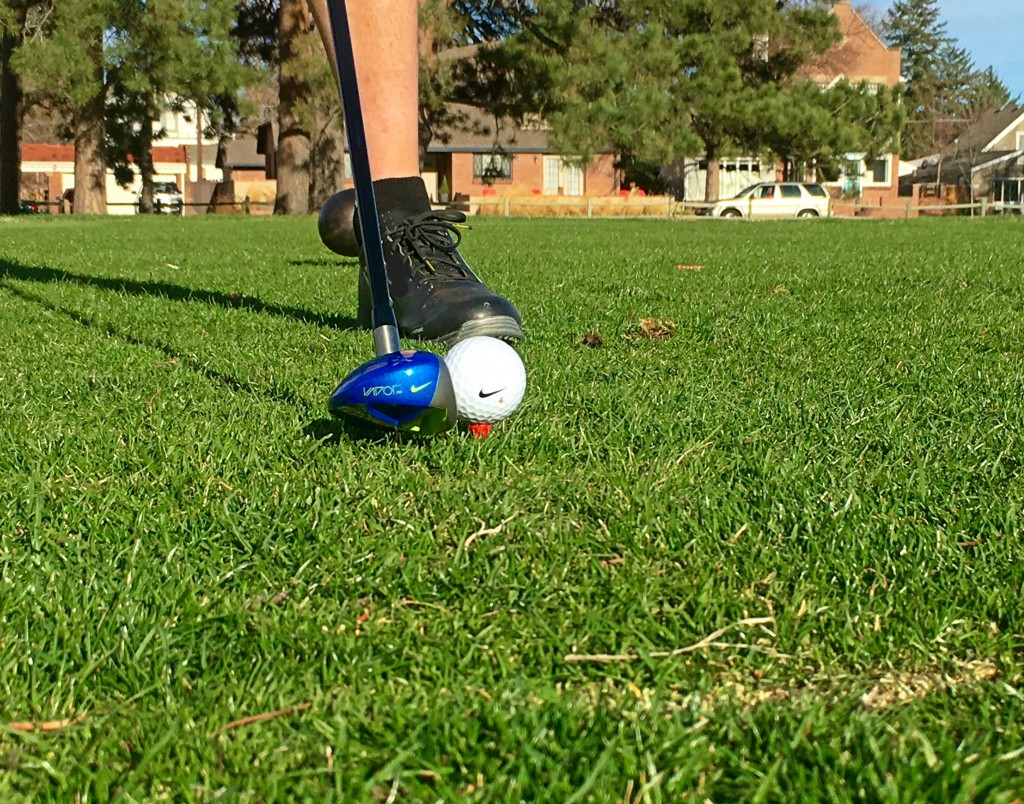 Value:
With a base price of $250, we definitely feel that the Nike Vapor Fly Hybrid has good value.  The club is on the pricier side but it also brings a lot to the table.  The upgrades done from the previous version are really impressive and a Nike has put together a solid club.  If you really are looking for a club to help you in that 200-230 yard range then this club is definitely worth your consideration.  We also suggest this club to anyone who struggles to hit low irons as you will be really impressed with the Vapor Fly Hybrid will do for you game.
Buy Now: $250.00 or visit Nike.com for more information.
Nike Vapor Fly Hybrid - Range Review
Nike continues to hit the mark with a very well designed club that impressed our review panel. Excellent upgrades from the previous year's version gives you a club with great forgiveness and excellent distance.
The Good:
Excellent design and build
Great distance and replacement club for your lower irons
Good forgiveness
The Not-So-Good:
On the higher end of the price spectrum in the hybrid market
Has a unique sound upon impact that takes time getting used to
Dirt accumulates easily in the cavity back and is hard to get clean