At New Balance, they state that their job is to aid athletes in their pursuit of excellence, whether that means helping professional athletes set records and win medals, or propelling everyday athletes to achieve a new personal record, run their first 5K or just to live a more healthy and active lifestyle.  New Balance is committed to a quality design and American made manufacturing process.  A true ambassador of this commitment from the New Balance lineup is 990 shoe.  The 990 continues its 30-year legacy of great performance and iconic style with the new men's 990v4. It's touted by New Balanced to be the perfect combination of cushioning and stability, wrapped up in a look that will last forever.  For over 30 years the New Balance 990′s have been one of the most popular athletic shoes on the market.  As running shoe technology continues to advance and claim status as the next great thing, it's refreshing to see a company stick to what works.
The 990v4 also adheres to the New Balance creed of designing products that are the perfect blend of function and fashion, giving you the performance technology you need and the style that consumers want.  We recently received a pair of the new 990v4's for testing and we hit the gym and the road to find out what over 30 years of work will bring to the feet.  Here's what we discovered…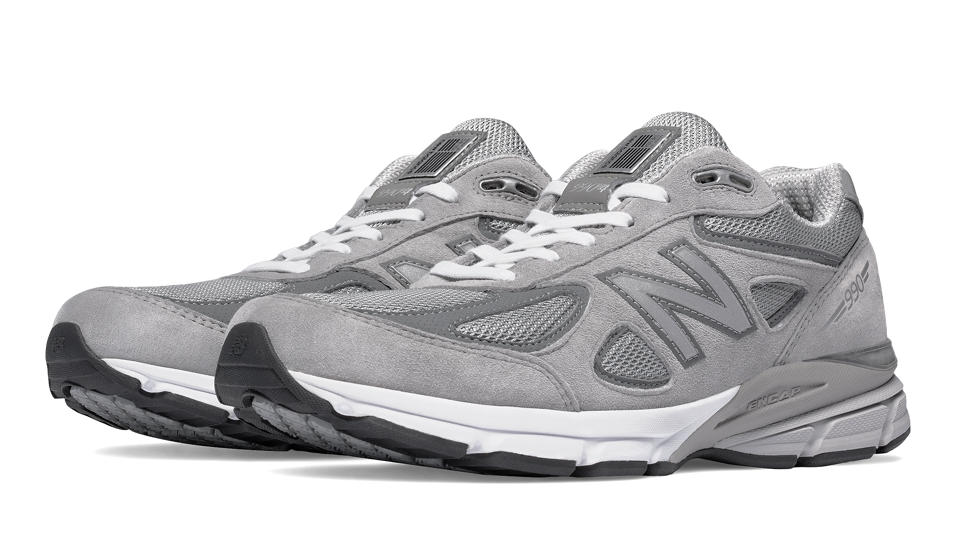 990v4 Key Features:
12 mm drop:
Blown rubber outsole
Dual density collar foam
Encap PU ring with EVA (Ethyl Vinyl Acetate) core
ENCAP® midsole technology provides support and maximum durability
Pigskin/mesh upper
New Balance 990v4 Men's Running Shoe Review Breakdown
Design:
The 990v4 represents the fourth version of the classic 990, first debuting in 1982.  With this version, you are treated to a lightweight pigskin leather upper with mesh which gives this classic men's running shoe its inimitable look.  It also features a combination of premium cushioning and stability that should create a nice comfort and soft landing your foot.  There are subtle updates for this 4th generation: it's more breathable, sports a lace keeper to keep the tongue in place, and a new streamlined "N" logo.  It also features a dual density collar foam and has ENCAP midsole technology that is designed to increase support and durability.  The shoe has a 12 mm midsole drop which means these are not designed for those minimalist runners and has one of the higher drops on the market.
New Balance did not completely reinvent the wheel for the 4th version because they simply didn't need to.  This is a well designed and built shoe and the small updates are nice touches.  It is a great looking workout shoe but they also are great lifestyle shoes that pair nicely with some jeans.
Comfort:
Simply put, wearing the 990v4 is like slipping on a Cadillac for your feet and walking on the clouds.  The ENCAP midsole technology that New Balance offers is definitely noticeable and provides excellent support.  For those runners that land hard on your foot, these will be a good option for you as they insulate your sole from the pavement and provides good bounce.  Keep your foot stable and comfortable while on a run.  In addition to being a good running shoe, it is a great overall gym shoe or just a general walking shoe.  The shoe is versatile, but can be a little bit stiff in some movements as it is a bulkier shoe.  For runners that like the minimalist shoe or an extremely light running shoe, you may not like the feel or weight of the 990v
Durability:
The durability category is where the 990v4's really earn their keep.  While they did add more 30 percent more breathable mesh than the 990v3 it does not take away from the ability of this shoe to hold up in the conditions.  We logged over 50 miles in running, plus gym workouts, and general walking.  We have seen no sign of these shoes slowing down and little to wear on the sole.  The traction is holding up nicely and the shoes perform very well on groomed trails.  When you pull the shoe out of the box you will feel how well crafted they are and that pigskin upper adds some toughness to the shoe.
Value:
Priced at $164.95, the New Balance 990v4's are a bit on the higher side for a running shoe or a workout shoe.  However, these shoes offer substance beyond just the gym as they are stylish and sleek and have become a lifestyle shoe for me since I began testing them a month ago.  If I am going to be on my feet all day at a casual event these shoes pair nicely with jeans and shorts and they provide all-day comfort.  For a shoe that has been around for over 30 years you can count on getting excellent quality and shoe that has stood the test of the time.  We suggest you take the New Balance 990v4's out for a spin as your feet will thank you.
Buy now for $164.95 or visit: NewBalance.com for more information
New Balance 990v4 - Fitness Review
The New Balance 990 series continues to impressive with the latest version, the 990v4. The shoe is built to last and are extremely comfortable. Your feet will not be disappointed when you slide these on.
The Good:
Extremely comfortable
Great safety features for running at night
Very durable
The Not so Good:
Pricey for a running a shoe
Can be bulky if not used to a bigger running shoe