According to Mizuno's latest ad campaign there are two types of runners in this world; those who wave to those passing by, and those who do not. Whichever category you fall into, the Mizuno Wave Catalyst shoe makes its best case to be your go-to shoe in 2016. The shoe boasts Mizuno's patented wave technology, which come in either fan, parallel, or infinity (in the Catalyst it's fan), which places an emphasis on support to stabilize the foot. Already since its release it has gained accolades, named by both Runner's World and Competitor Magazine as Best Debut for Spring 2016. We put the Wave to the road to see how well the support applied in real life conditions with extended use.
Key Features:
Performance Support:

experience provides just the right amount of support without compromising its performance

Pebax Fan Wave:

provides smoother landing and heel strike transition

10mm drop and X10 midfoot landing area:

is ideal for heel and midfoot runners

Sculpted lateral forefoot: gives runners a more stable platform for better feel
Blown rubber forefoot: optimizes pressure distribution, durability and cushioning
Weight: 8 ounces (Womens)
Mizuno Wave Catalyst Review Breakdown
Comfort:
Upon trying on the shoe for the first time what first jumped out at me was what an exact fit the shoe felt. Nice and snug, but not in a uh oh this might be a problem way, more 'this feels about right.' Also compared to my previous pair of running shoes that were NOT designed with 'lightweight' in mind, these felt like as a feather, and when I tried on my old pair for comparison sake, they felt like they were loaded with lead.
Although I already had the shoes, I noticed on the Mizuno website there's a Fit Finder feature that compares the Wave Catalyst with other big brand names shoes. It asks what size you are with that brand, what category shoe it is, and how wide your feet are – narrow, average, or wide – and then give you a recommended Mizuno size, as well as percentage 'fit score.' This was an interesting feature, as some major brands, like Reebok running shoes, compared with Mizuno fit smaller and recommend a half size smaller when you purchase Mizuno shoes. It gave the feel of a virtual well seasoned shoe salesman, which comes in handy if you'd rather purchase them online.
Knowing my feet are prone to 'getting to know you' blisters and even fall asleep during prolonged wear over miles, I was concerned after my first couple of runs would dramatically change my opinion of the shoe. I was pleasantly surprised that with such a close fit I did not develop any blisters while testing out the shoe over a course of a month, runs, walking, running up hills, circuit training, and a little bit of Zumba for good measure. If anything the only damage to my feet were some redness in the toes due to ramming in the front of the foot, but that's about par for the course.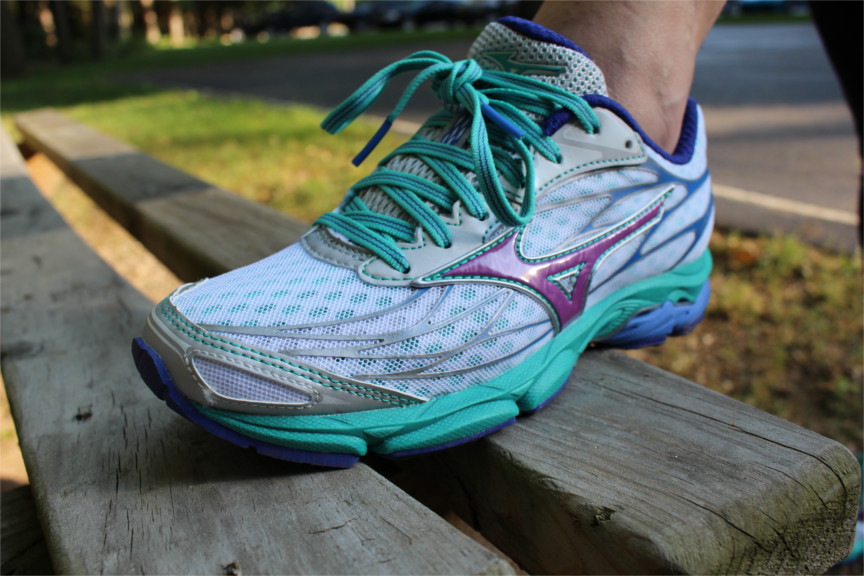 With such breathable design I tested out the shoe sans socks, thinking they might be built in the manner of my beloved Nike Flyknits where socks are not needed for light wear or training, ie. not long distance running. This turned out to be wishful thinking, as the top of the laces immediately scratched the tops of my feet, and lasted all of 5 minutes before I couldn't stand it without socks on.
Design:
The Catalyst comes in three different styles, the colors ranging from neutral, loud, and louder. I opted for the most neutral color option, white-hyacinth violet, which can best be described as step aerobics chic. The colors are actually even more subtle when you have them on, allowing to blend with the rest of your workout gear. The other two options, fuchsia purple silver and atomic blue/white, are much more 'look at me!' in a standout way.
Much has been made of the build of the Catalyst, which consists of blown rubber on the forefoot, describes as allowing to "optimize distribution, durability and cushioning," which, essentially amounts to a nice, cushioned even surface for the balls of your feet to fall on. This is key when it comes to running, especially those, like the author, whose less than stellar form has their feet striking landing on the sides of their feet. The fact that Mizuno was able to make a lightweight shoe but not skimp out on the cushioning makes it a five star shoe.
Traction:
During all testing outside the Catalyst performed while on a variety of surfaces- on concrete the cushioning took over, on grass and hills the lightness of the shoe made it shoe feel incredibly fast and buoyant. The slickest of surfaces the shoe was tested out on was grass, so I can't speak for rain, sleet, snow, damp grass, etc., but the stability of the shoe leaves you feeling confident it will be solid on any surface.
Durability:
With a lightweight shoe always comes the risk that the shoe will wear out fast, and leave you to buy a new pair faster than you know it. While the shoe has only been released since February, and on the feet on the tester for a month, over the tested miles it's given no indication that this will be a short and fast love affair.
Value:
The Wave Catalyst retails for $110, which is one the more affordable end of the spectrum for running shoes, with most quality pairs retailing for $130 and up these days. Since the Wave Catalyst is so well crafted and overall a gem of a shoe, it feels like a steal at this price point.
The Wave Catalyst is a amicable union of lightweight with cushioning in all the right areas. If you're need a shoe with support but not would prefer not to be weighed down, it's worth giving the Wave Catalyst a shot.
Buy Now: $110 or to learn more, go to: Mizuno.com
Mizuno Wave Catalyst - Fitness Review
The Wave Catalyst is in an example of a much hyped shoe that can live up to the accolades. It promises to be a lightweight fast shoe, best used for casual or serious runners, in both short and mid length distances.
The Good:
Great design, variety between style options
Wave 'fan' technology provides A++ support
Combination of lightweight and support created a fast shoe
The Not so Good:
Not ideal for long distances (10+ miles in one use)
Suited better for those with narrow feet
Snug fit, drawback if you prefer a roomier shoe