Golf is a past time that can be hard to explain to anyone who hasn't experienced it. It seems simple enough. You hit a ball with a club towards a final target, and that's basically it, right? Well, as it turns out, there are a lot of technical aspects, tools, and mechanics that make a golf swing work properly. Sadly, not all of us can be pros and if any one piece of the equation is off, you'll more than likely find yourself in the weeds searching for your ball, or worse, digging in your bag for a new one because the last one was lost forever in the drink. Few games have given us more joy and relaxation, but are capable of pushing our patience and frustrating us worse than anything else in our lives. To get the most out of our game, the right set of clubs can make an enormous difference, so this Spring we took to the links with the Mizuno JPX-EZ Club Series.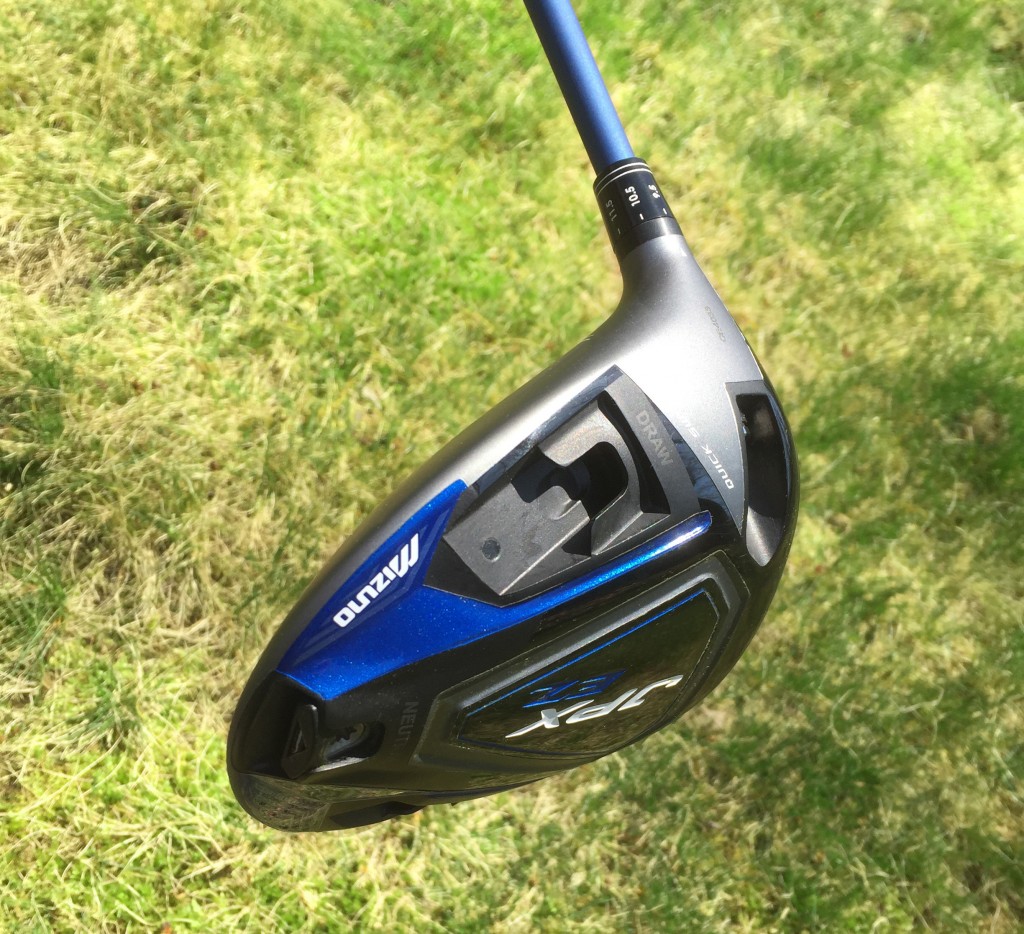 We've had some experience with Mizuno's products over the years, and we can vouch for this brand as purpose driven, and one that can be counted on to perform by way of well thought out design and the best materials. With the JPX-EZ Driver, we could tell almost immediately that Mizuno's reputation would proceed itself. Upon the initial inspection of it's basic build, the most obvious characteristic of this Driver is it's functionality and customization. The head has three separate way ports that can be adjusted with an accompanying: Toe for Fade, Heal for Draw, and Back for Neutral. The Driver comes with an adjustment tool, and if ball trajectory needs to be dialed in it only takes a few seconds to make the adjustment. In addition, there a 8 different loft settings that can be changed just as easily.
With the JPX-EZ Driver, it's all about forgiveness, so even when you have your settings tuned in, there's room for a bit of error in your swing. The head has a wider face than what we would consider average in a driver, and it is also sloped back to add some bonus aerodynamics for the follow through. With all of these components combined, the JPX-EZ Driver will add more spin and loft to the average golfer's drive, and carry the ball that little extra distance. If you're a heavy hitter and you like to smash it out there, you may find yourself sacrificing a little distance for accuracy at times, but if you prefer to hit them smooth and steady you'll almost always find yourself hitting with improved range. After hitting quite a few balls with the JPX-EZ Driver, we would define the swing as comfortable and stable on contact with a smooth follow through.
Buy Now: $399.99  or to learn more, check out: Mizuno.com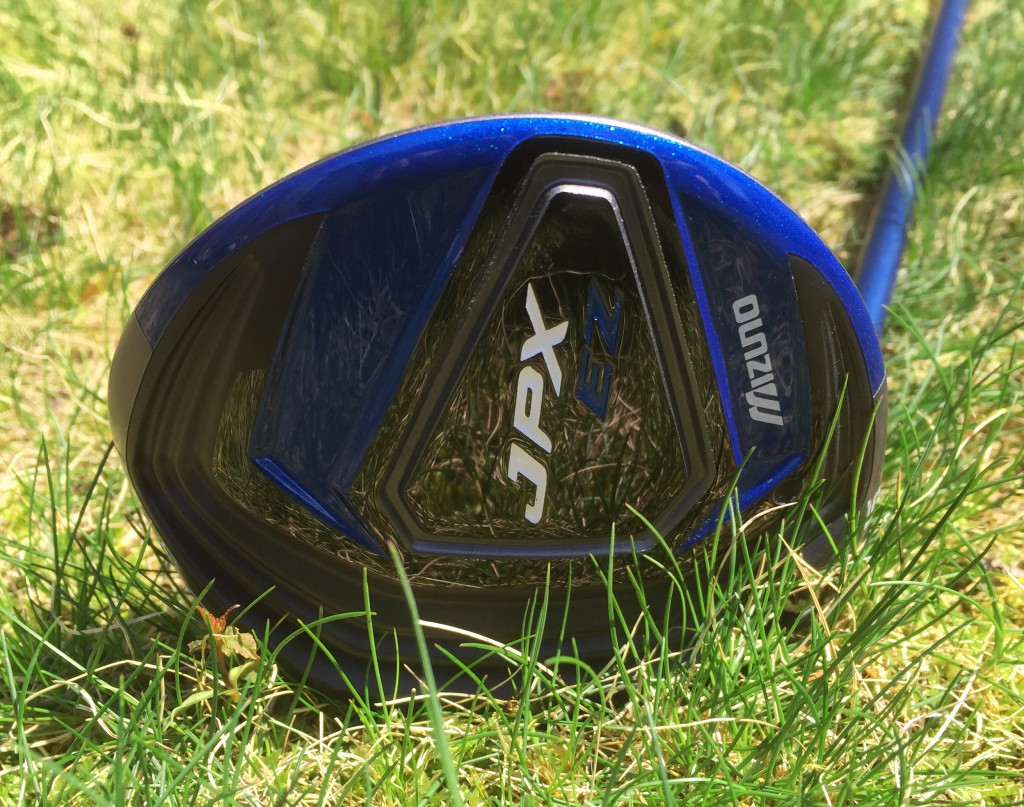 The JPX-EZ Fairway Woods, as with most club sets, have a remarkably similar design and build to the driver. Head way ports are not necessary here, but the loft adjustment is available at the end of the shaft for that extra bit of customization when needed. The head has a shallow build with a lower center of gravity than your more traditional wood, which we have found to be a helpful in adding the delivery of the swing. This contributes to a longer ball flight, even when you catch a bit more earth on the follow through than intended. The Shockwave sole is remarkably balanced in weight between the toe and the heal of the club, which aids in power and forgiveness on some of those rougher lies, so keeping it steady and straight on the par 5 fairways has been made much easier.
Buy Now: $249.99  or to learn more, check out: Mizuno.com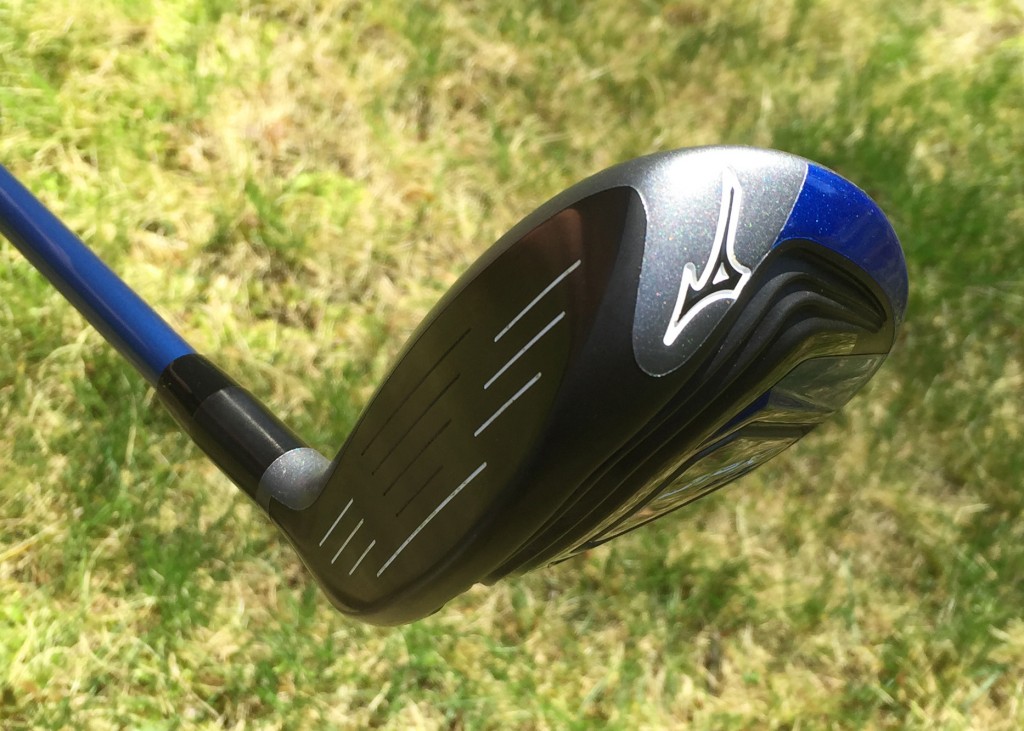 Continuing on in the wood series, the JPX-EZ Hybrid uses a lot of the same design tools as the aforementioned woods to maximize forgiveness and deliver more accurate hits down the fairway. Compared to other hybrids we've tested, diameter has been added to the toe to provide more surface area in the contact zone and enhance follow through speed. As with the Fairway woods, accentuated back ridges help to reduce top spin while hitting out of rough terrain, so if you find yourself off the fairway, the JPX-EZ Hybrid will be the perfect tool in your arsenal to get back where you want to be.
The swing on the JPX-EZ Hybrid is exceptionally comfortable. The club weight is well balanced and we've found the follow through to be minimal of struggle, even in those deep ugly lies off the fairway. Because of its balance and sturdy construction, golfers that tend to swing with less than powerful swings will be impressed by its ability to move the ball forward in comparison to most other hybrids.
Buy Now: $199.99  or to learn more, check out: Mizuno.com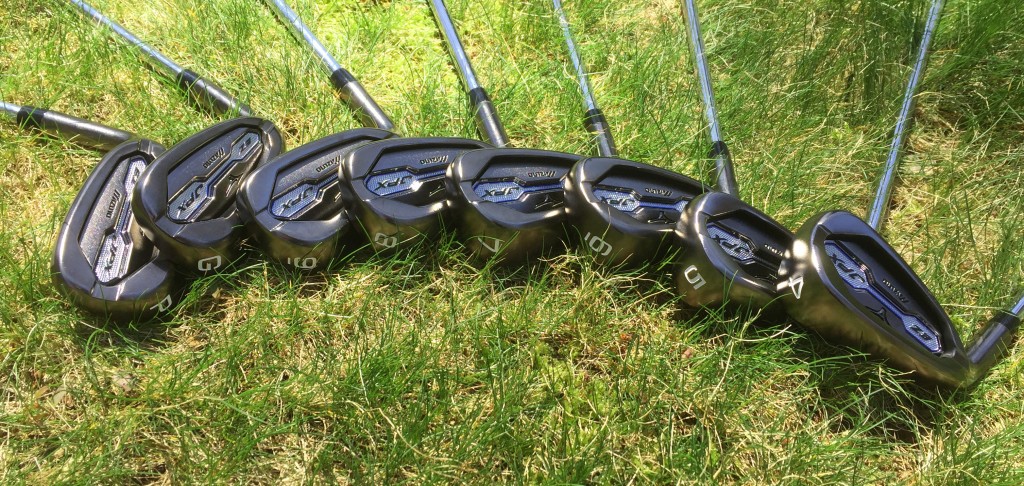 Structurally, the first thing we noticed about the JPX-EZ Irons is the dual pocket cavity in the back of the head. These club heads are carved out remarkably deep, moving the majority of the weight to the toe and heal for optimal weight dispersal upon impact with the ball. In addition, the face is slightly larger than the garden variety iron on the market. This is an obvious design move to contribute to main focus of forgiveness in the JPX-EZ Club Series. With greater surface area combined with near perfect weight dispersal, the likelihood of delivering maximum efficiency is raised dramatically.
Upon each well delivered swing, the connection with the ball has been exceptionally soft and easy, and the ball has consistently traveled a longer distance than we are acquainted with. It's safe to say, you'll want to get some practice in at the driving range to become better acquainted with the capabilities the JPX-EZ Irons have to offer.
Buy Now: $799.99  or to learn more, check out: Mizuno.com
Not only is the JPX-EZ Club Series designed to provide optimal forgiveness, but they look fantastic! The head on the Driver and Woods have a smooth silver finish with minimalist blue accents. We appreciate the simplicity of this design choice, and distractions in our line of sight during our back swing are of little concern. The use of the Mizuno trademark running bird logo as the central registration mark is also a nice touch.
The JPX-EZ Irons are also great to look at, but in an entirely different way. They look great alongside the JPX-EZ Woods, but conversely have great design appeal due to high end appearance in premium craftsmanship. The cavity back club heads, while serving a functional purpose, have an incredibly well polished build with striking detail. In all, we find the visual appearance of the JPX-EZ Club Series to be something that the folks at Mizuno should be proud of.

Value:
The key word to describe the JPX-EZ Club Series, as we're guessing you've observed from this article, is "forgiveness". The right set of clubs for any golfer is all about their needs to improve their game. For the golfer who's never quite been able to dial in that consistently perfect swing, the forgiveness that the JPX-EZ Club Series provides across the board will make a huge difference. The asking price here may be on the higher end, but if funds are available we do recommend this club series for any medium to high handicapped golfer who's interested in improving their game dramatically. It is impressive when the perfect swing is accommodated by a well developed club, but taking the not-so-perfect swing and enhancing it's performance in a manner that remains consistent is a greater feet in our opinion. For this reason, we can see justification in the price point for the JPX-EZ Club Series.
Mizuno JPX-EZ Club Series - Range Review
Not all of us leave the golf course carrying giant checks made out for tens of thousands of dollars...a that's alright! For the common golfer with a medium to high handicap, the Mizuno JPX-EZ Club Series will provide the forgiveness necessary to bring huge improvements to their game. Across the board, these clubs are well balanced, customizable, and really slick to look at as an extra added bonus.
The Good
Incredibly Forgiving
Customizable
Detailed and Well Polished Design