Grain Flow Forged utilizing BORON, an element commonly found in the Earth's crust and throughout the Solar System. The 2015 Mizuno JPX-850 Forged Irons are said to deliver 30% more strength than that of traditional 1025E steel billets. In the past we've seen the golf industry use BORON as a decorative element to create an effective "finished" look, but not until now has anyone incorporated this element in to the actual forging process. Just when we thought we'd seen it all, new innovations like this keep us totally excited about the future of golf technology!
On the other hand, if you're a skeptic and are wise to the golf industry's marketing tactics, you might see the use of BORON as a PR ploy to grab attention and boost sales. And would you blame them? Well, Mizuno would like you to know that the design and implementation of 1025 BORON wasn't a fly-by-night project. In fact it was quite the opposite. After 6 years of development Mizuno has perfected their process, becoming the only manufacturer to do so. Touting maximum strength and the thinnest face of any irons they've ever produced, the JPX-850's are the pinnacle of Mizuno's line-up.
For a more in-depth look at the JPX-850 Forged Irons make sure to check out the embedded video below, in which Mizuno Golf's top brass discuss the importance of BORON in the evolution of Mizuno irons.
KEY FEATURES:
Grain Flow Forged 1025 BORON: 30% stronger material for thinner face.

Longer distance while delivering soft, solid, consistent feel.
Power Frame: Enables entire face to flex for increased ball speeds and distance.

Delivering increased forgiveness.
Ultra CNC Milled Pocket: Higher launch angle and increased ball speeds in 4 through 7 irons.

Deeper CG for ease of launch.
JPX-850 Forged Irons Review Breakdown
Design:
The forged + cavity back design of the JPX-850 is easy on the eyes. At address the club head actually look less like a cavity back than you might expect, which we really appreciated. Overall, there's really not a lot going on visually with these irons. They have a subdued design and finish that suits our eye very well. If you're looking for a splash of color in your irons, Mizuno's JPX-850 (non-forged) cavity back irons are another option to check out.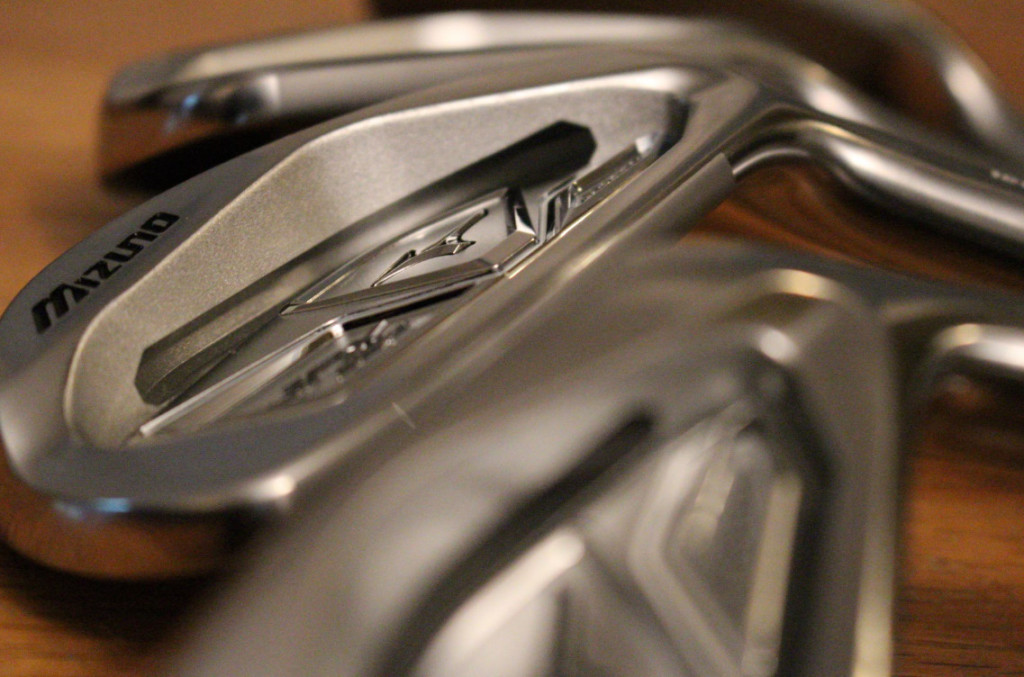 The power frame cavity back is pretty shallow overall and gives the club face the ability to flex on impact and launch the ball with incredible force. With the incorporation of BORON, Mizuno has developed one of the thinnest iron faces ever – meaning it is an extremely hot face.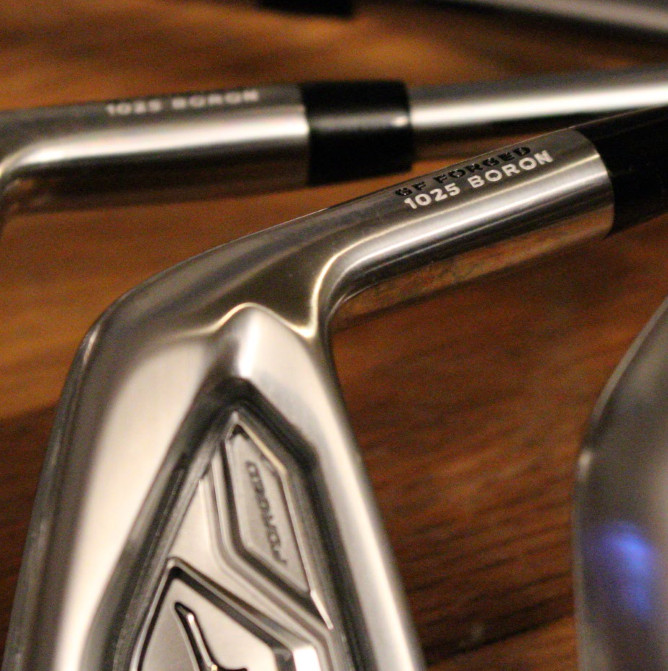 Feel:
In this category everyone is going to have their own opinions. The best thing you can do as a consumer is get out to your local pro shop or sporting goods store and get these clubs into your hands. The weight and balance of irons might be great for you and totally off for the next guy.
In our testing sessions with the JPX-850 Forged Irons we found that they delivered a very pleasing experience for nearly everyone on our testing crew. The Mizuno grips are fantastic and the overall weight is very nice. While swinging these irons they feel very well balanced. At impact the shaft produce minimal vibration and the club face produces a crisp *thwak* that sounds beautiful. You won't want to put the irons down!
Forgiveness:
Throughout testing we were impressed with the forgiveness these irons produced. Even on off-center strikes our ball flight and distance remained rather consistent. I'm not going to say we didn't end up in a few bunkers or play from the rough, but overall these irons have a generous sweet-spot.
Distance: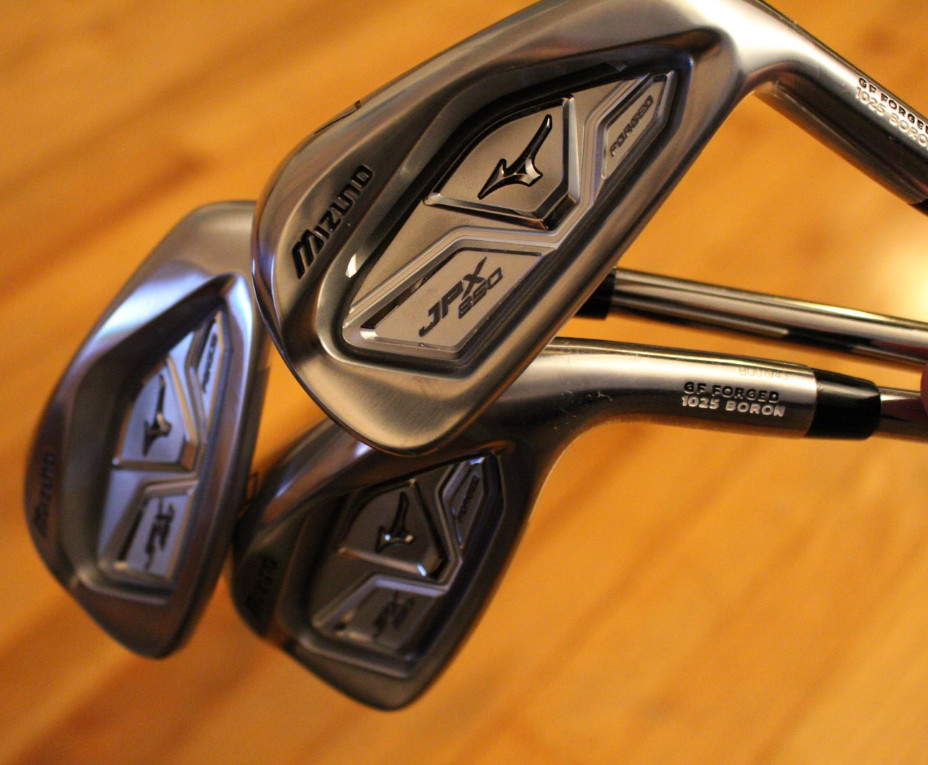 This might be hard to understand, especially if you've seen any of the golf commercials on TV lately, but distance isn't everything. Especially when you're talking about iron-play. With irons, you are looking for a level of consistency and feel that will allow you to stay on the short grass and give you a putt for birdie or par every hole.
While I did preface this category by saying "distance isn't everything," I must say these irons do deliver some impressive numbers. I've been playing Mizuno's JPX-825 Irons for about 3 years now and have had great success. After testing the JPX-850 Forged Irons I think I will be switching up my sticks for the first time in a while.
You see, I'm not getting younger and my distance across the board is trailing off. When testing the 850's I experienced a 5 to 7 yard increase across 4, 5, 6, and 7 irons (the clubs with a cavity back). When it came to 8 through PW we didn't see as much increase in distance, but as a whole, we were impressed with the distance we got out of these irons.
I have to say we weren't big believers in the BORON forging process when they first announced it, but after having the time to test these irons on the course and in the simulator we have to give it to the engineers and designers at Mizuno. They've produced an extremely HOT club face!
Click to Enlarge:
Value:
Tipping the scales at nearly $1,000.00 these irons are aren't a drop in the bucket. Though if you are in the market for a set of forged irons that deliver on distance and forgiveness – while presenting a less than flashy appearance. We'd recommend the JPX-850 Forged Irons as a solid investment in your game. Plus, who else can say they are playing irons forged with BORON?
Buy Now: $999.99 or, to learn more, go to: MizunoUSA.com
Mizuno JPX-850 Forged Irons - Range Review
Ideal for golfers with a handicaps in the low to mid-teens, Mizuno's JPX-850 Forged Irons are impressively forgiving and explosive. If you're in the market for a set of forged irons that will add some distance and help keep you in-line with the hole, we highly recommend checking out these irons for yourself.
The Good
Impressively HOT face
Well balanced
Ball impact sounds crisp
The Not so Good:
Somewhat bland design
Cavity back is difficult to clean and collects dirt and grass over time.