Being aware of the weather is important for anyone looking to get out and enjoy the outdoors. For outdoor enthusiasts, such as backpackers or mountaineers, knowing about severe storms can be critical to survival. The Midland ER200 Compact Emergency Crank Weather Alert Radio is designed to be the ultimate tool for keeping track of weather, and offers a variety of features that should ensure you get the latest weather information.
Key Features:
Ability to pick up NOAA weather alert radio frequencies, which give detail reports about the weather.
A rechargeable 2000mAh Li-Ion battery that is claimed to give up to 25 hours of normal use.
Multiple methods of backup power, including: Six optional AA backup batteries, a built-in solar panel on the top of the radio, and a dynamo hand crank.
A USB out port that allows you to charge mobile devices, such as smartphones, tablets, or any other USB powered device.
A very bright 1400 lux (~130 lumen) flashlight, with an SOS flashlight beacon mode, which activates the SOS signal.
Tech Specs:
Weight: 10.6 oz
Dimensions: 6.5" x 2.8" x 1.9"
Battery: rechargeable 2000mAH Li-Ion
Midland ER200 Emergency Radio Review Breakdown
Design:
It is clear that the ER200 was designed to have you covered in terms of power. With a 2000mAh battery, we were able to use this radio throughout the week to check weather reports while we camped on an island, canoed in the lake, and hiked in the mountains.
As nice as it is to have AM/FM radio frequencies, the most important feature to me was having the NOAA Weather Radio Frequencies (WX). You can toggle between AM, FM, and WX by pressing the "Band" button on the device. Although I was able to pick up some AM/FM channels.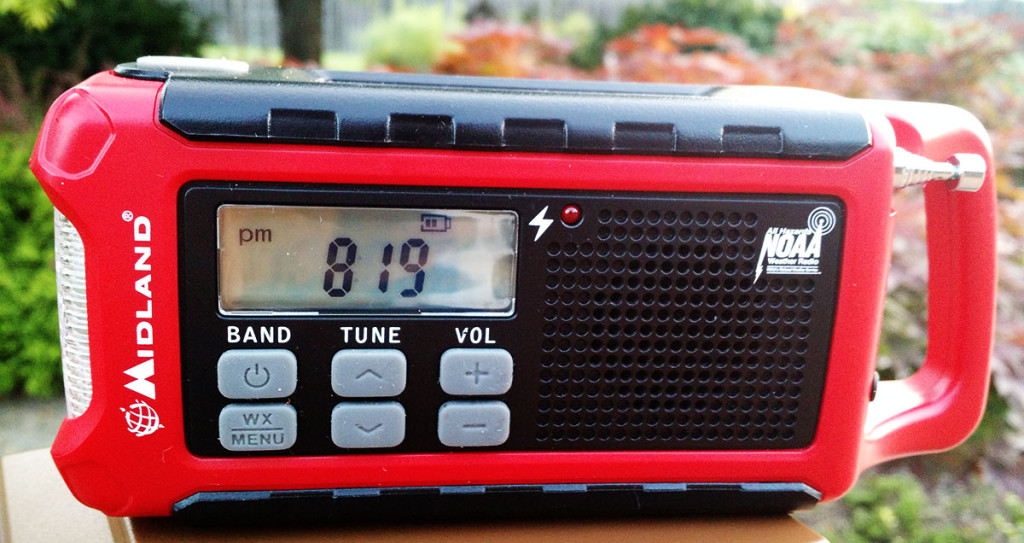 The flashlight is bright, and comes in handy around the campsite. More importantly, if you were in an emergency situation, tapping the flashlight button 3 times turns on the SOS beacon mode, which signals the SOS code automatically for you.
Last but not least, if you needed to charge a mobile device, or any USB device, the ER200 provides a USB out port.
Battery:
On sunny days, I left the radio out in the sun to utilize the solar panel to charge the battery. Battery life is measured in bars, so it is tough to get an exact percentage of how well the solar charging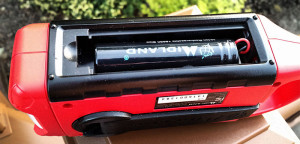 worked, but after a week's worth of use, with only minimal exposure to the sun, I still had 2 out of 3 bars of power left.
The hand crank had subpar performance, but it will allow you to get enough of a charge if you need to quickly get the weather information. It really should be used as a last resort, so don't expect to crank away for 5-10 minutes and get enough of a charge to leave the radio on for an extended period of time, or to charge your phone.
Reception:
I was able to pick up a few AM/FM radio stations at our camp, but I am choosing not to rate this section on AM/FM performance. Although having the AM/FM option might be nice for some, the ability to check the weather forecast was what I was interested in the most. If I am in a situation where weather information is critical, will I be able to get it? That was what I wanted to know.
I didn't have a single problem picking up the WX signal anywhere I tested this radio. I checked on the island we camped on (in the middle of a lake), on shore, while I was out canoeing, at the top of a mountain, at our basecamp in the backcountry. I was able to get a signal. You can choose between 7 WX frequencies: 162.400, 162.425, 162.450, 162.475, 162.500, 162.525, and 162.550. Regardless of where I was, I was able to pick up at least 1 of those signals. In some cases, the signal was not perfect, but it was decent enough to hear the weather information.
Packability:
The device itself is relatively small, and coming in at under 1 lb, this radio is a great tool to have in your emergency toolkit when outdoors. When I took it backpacking in the mountains, I was able to store it in one of the zippered areas on the outside of my back, which made it easy to get to and kept it out of the way of all of my other gear.
Value:
The Midland ER200 has an MSRP of $59.99. Compared to other emergency radios that offer many of the features that are offered by the ER200, this is a great value for everything you get.
Buy Now: $59.99 or to learn more, go to: MidlandUSA.com
Midland ER200 Emergency Radio - Gear Review
If you are looking for an emergency radio to have on you when adventuring outdoors, the Midland ER200 is a great radio to have. It is compact, lightweight, and offers several options to make sure you have power and are able to get emergency weather information.
Pros
WX Bands provide NOAA weather reports
Lightweight
Flashlight is bright if needed for emergency distress signals
Cons
Dynamo crank could be more efficient