If you've read our previous review on the Magma Marine Kettle 2 Grill, then you are aware of the high quality build and stylish look that Magma brings to the table.  They have kept that same attention to detail in their Connoisseur series.  Over the past few weeks, we've had the pleasure of grilling some tasty grub on their ChefsMate Gas Grill.  Since this is my first year owning a boat, it is only right to christen the vessel with a bottle of champagne and Magma's ChefsMate Gas Grill and I'm happy to report it didn't let us down.
Magma ChefsMate Key Features:
Fold-Away Legs
Inner Safety Shell
100% 18-9 Mirror Polished Stainless Steel
Convenient Snap-out Radiant Plate
Oversized perfectly balanced lockable lid
Full-length Handle
Front access, lock-in-place grease tray
Swiveling Valve
Magma ChefsMate Gas Grill Review
Setup:
Setup is a breeze since the grill comes completely assembled.  The only "assembling" you'll need to do is toss the 3 piece grill grates on and screw in the control valve.  Similar to the Marine Kettle 2, the ChefsMate control valve also had a loose fitting and was easy to rotate, but rest assured that this is normal and meant to be "Swiveling Valve" that allows for quick and safe gas bottle exchange.  The Snap-out radiant plate is convenient and easy to snap in and out for quick clean-up.  The front access, lock-in-place grease tray does the job and cleans easy.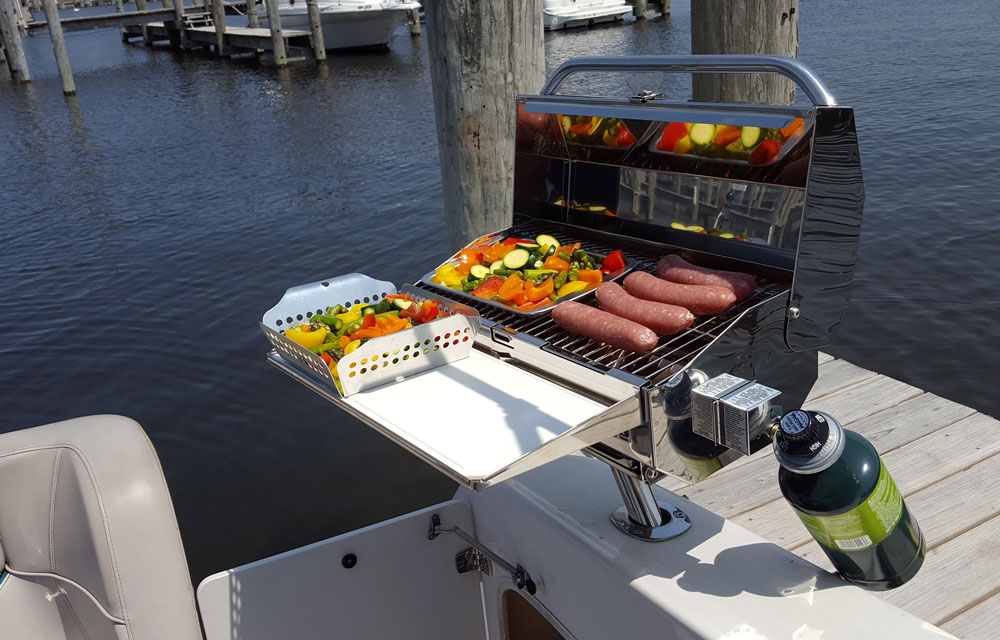 Mounting:
Since the legs are built right into the bottom of the grill, all you'll need to do is unfold them to do some onshore grilling.  If you plan to do some offshore grilling on the boat, you'll need the proper mount.  We went with the LevelLock All-Angle adjustable fish rod holder mount, which wasn't too bad to screw into the bottom of the grill and easy to slide right in the fish rod holder and lock it into place once we leveled it out properly.  Having a built in level somewhere on the grill would have been nice, but we were able to level it good enough so our grub didn't roll off into the drink.
  Design:
Magma is known for their beautifully designed Mirror Polished Stainless Steel and for good reason.  Just look at it…  It's gorgeous!  Obviously, with this type of finish, you'll need to keep it clean to continue that super shiny and glamorous look, so definitely make sure you clean it well after each grilling. The Inner Safety Shell funnels the grease right into the front access grease tray to help reduce any flare-up.  The Oversized lockable lid is balanced really well and has a full-length handle, which makes mounting, grilling, and transport that much easier.  The ChefsMate is one of the sharpest grills we've seen and the simple look and strong build makes this a grill worth mounting on our boat.  The only downside I noticed was the heat distribution.  Although everything grilled as it should have, it was definitely a bit warmer near the back right, so we had to make sure to rotate when needed.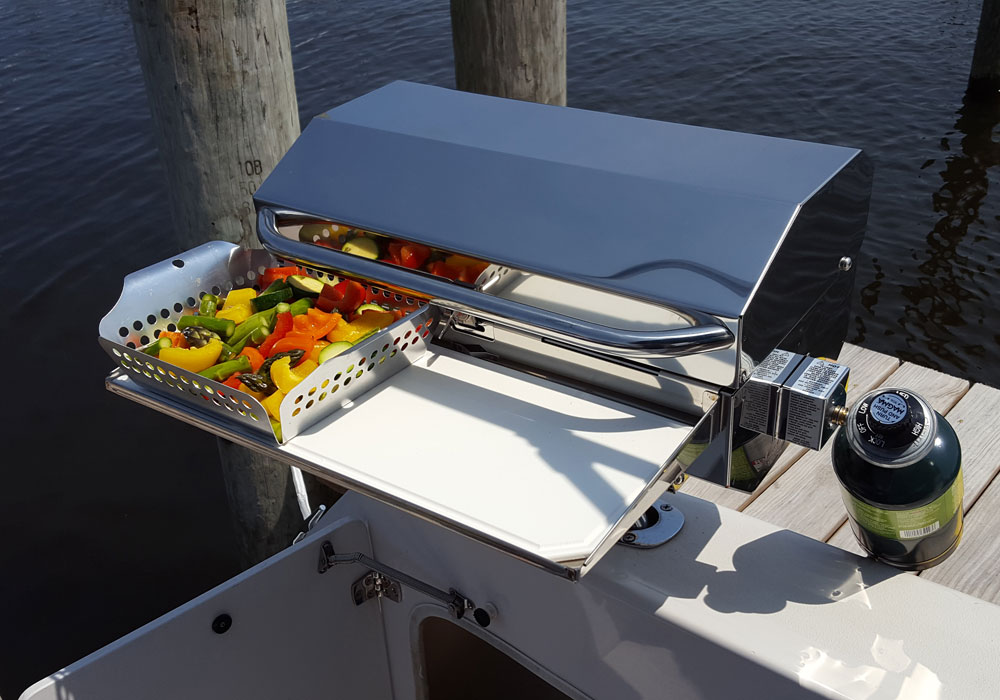 Accessories:
Although not included with the ChefsMate Gas Grill, we also reviewed several handy accessories that you'll definitely want to consider if you are going to purchase a Magma Grill.  These included the LevelLock All-Angle adjustable fish rod holder mount for mounting on your boat (other mounts also available depending on your boat's setup), Serving Shelf with removable Cutting Board, Grill light, and Padded Grill & Accessory Carrying / Storage Case.  The Serving Shelf is great for added room and is super easy to take on and off.  The only thing that would have made it better would have been a couple of little knobs to hang my grilling utensils on while the grill was doing its job.  The Grill light was super bright and mounts just right so you get a good range of grilling visibly in the dark, because having tasty treats at night is even better.  Having all these great accessories is awesome, but having one bag to put it all in is even better.  The Padded Grill & Accessory Carrying Case holds everything and then some.  There was still plenty of room for my grilling utensils, propane canisters, towels, and more.
Value:
Coming in at $314.98, the ChefsMate is a solid gas grill for the portability it offers and easy mounting on your boat.  It is a little pricey, but these grills are made to last so you shouldn't be needing to buy a replacement anytime soon.  The accessories are well worth the extra money and make grilling that much better, especially while you're soaking up the sun on the boat.  So why not treat yourself to dinner on the water with the ChefsMate Gas Grill?  We sure are and plan to do so all summer long.
ChefsMate Gas Grill – Buy Now: $314.98 
Grill Light – Buy Now: $27.98
Serving Shelf with removable Cutting Board – Buy Now: $54.98
Padded Grill & Accessory Carrying / Storage Case – Buy Now: $74.98
LevelLock All-Angle Adjustable Fish Rod Holder Mount – Buy Now: $82.98
Or to learn more, check out: MagmaProducts.com
Magma ChefsMate - Grill Review
Grilling never looked so good with the Magma ChefsMate Gas Grill. Go ahead... Grill like a Chef, eat like a Boss, Party like a Rockstar, and save room for seconds.
The Good:
Portable
Great Design
Easily Mountable
The Not So Good:
Not quite "Perfect" heat distribution
Pricey for the size
No Push Button Igniter