The folks at Lull Mattress said they created the company for one simple reason – They wanted people to sleep better so they can live better. Lull strives to offer their customers a premium sleeping solution at a fraction of the cost of a traditional mattresses. They also aim to provide a world-class customer experience that is hassle and stress free. Let's face it, we all hate shopping for mattresses and it's stressful because if we make the wrong decision it is not an easy process to get your money back or return the product. CEO of Lull, Sven Klein, shares our hatred of the mattress buying process and during a trip to buy a new mattress he had his "aha moment" after a terrible experience. Sven walked away with an idea for a new company that would build a better mattress but it would also revolutionize the buying experience.
There is a lot of competition in the online mattress business and it is important to know the ins and outs of all companies, ordering processes, and expected comfort before you make your purchase. Recently, Lull sent us over a King mattress for us to test out for a 100 nights. Any review that requires us to sleep on the job, is a good one! After a few months of testing here's what we discovered about the Lull Mattress…
Key Features:
Free Shipping
100 Night trial period
1.5″ Comfort top layer
1.5″ Therapeutic mid-layer
7″ Core support base layer
Ultra-Premium cover
CertiPUR-US® Certified
Lull Mattres Review Breakdown
Ordering/Setup:
Lull makes a pledge that they are devoted to exceeding every single customer's expectations through three things: 1. An exceptional product. 2. An enjoyable purchasing experience and 3. Outstanding customer support. With Lull Mattress you can order online or give them a call if you prefer to do it over the phone.  If you prefer, you can also text them.  Either way, you will find no pushy sales people and the website is very easy to navigate. After placing your order, your mattress will arrive in 2-7 business days.
When you come home and see your mattress at your front door, you can't help but excited. Getting the mattress into your house can be difficult depending on how you strong you are.  The mattresses weighs between 48 lbs and 96 lbs, depending on the size. We recommend having someone help you if you get the king so you don't throw your back out.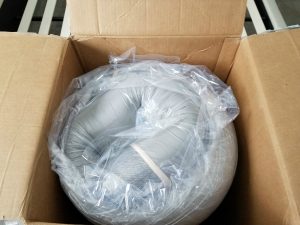 Once you get the Lull Mattress in your bedroom, simply rip open the box and position the mattress on your box spring or slatted surface. Then take some scissors and gently cut the outer and inner plastic with scissors.  Be careful to not puncture or cut your mattress.  Your mattress with begin to expand immediately and after 2-5 hours it will be mostly expanded. You can sleep on it right away but do note the mattress takes about 24-48 hours to fully expand. Sleeping on it before the 48 hours is finished will not hurt the expansion process.
From ordering to set up, the entire process is incredibly easy. The best part is no pushy sales person!
Technology/Design:
Lull's three-layer premium memory foam mattress is designed to be a perfect combination of comfort, support, and therapeutic pressure relief. The top of the mattress features a 1.5″ layer memory foam that is designed to distribute weight evenly and contour to your body's curves. This process is supposed to provide relieve on your body's pressure points. The top layer is also injected with a gel polymer that is designed to transfer heat away from your body when it is warm by dispersing your heat throughout the mattress. There are breathable top-tick fibers and open cell foam structure that are supposed to enhance airflow to facilitate heat flow away from your body.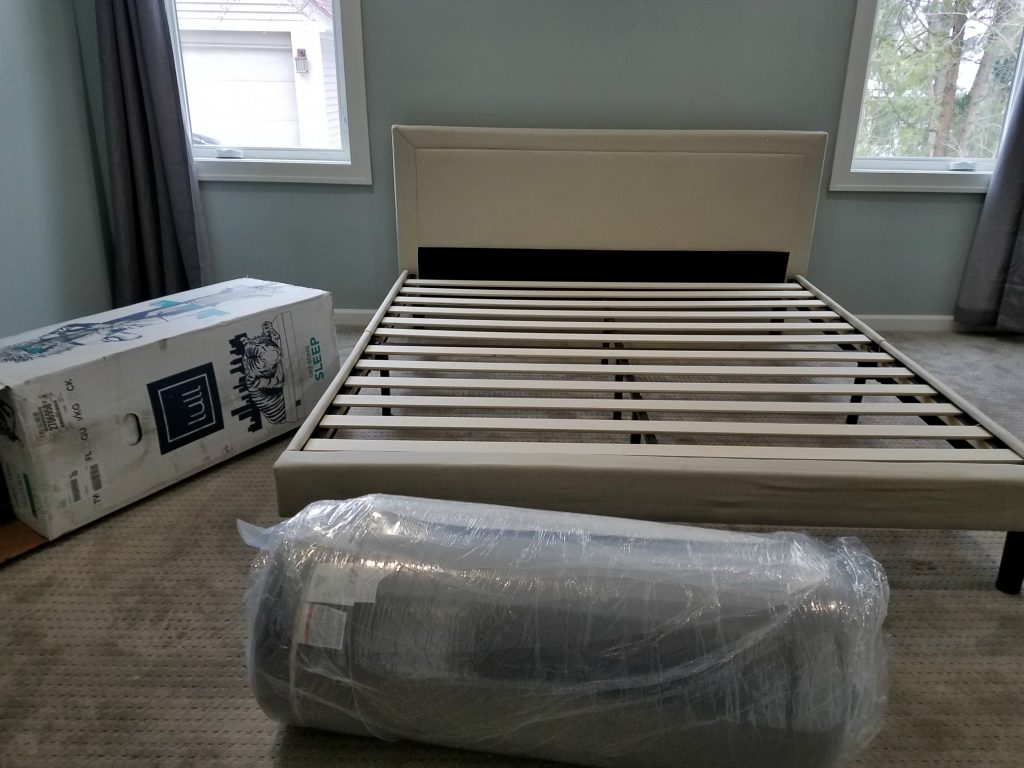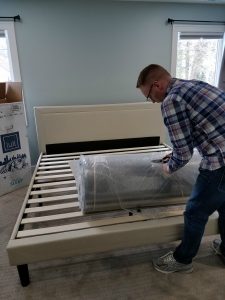 Below the top layer is the 1.5″ transition layer. This layer is made up of Lull's blend of  premium combine that is designed to ensure proper body alignment while you are sleeping.  This layer is  also designed with just the right amount of bounce-back in mind. The 1.5″ transition layer responds and supports your body so you don't get that sinking feeling or a trampoline-like experience.
The bottom layer is a 7″ core support layer that is made of polyurethane foam. This layer is for strength, durability and structure in mind. This layer is built so that the mattress won't sag and to help absorb body movement. We all have been on those mattresses that when your spouse moves, the whole mattress moves. This layer is designed so that movement is transferred throughout the bed and you can be undisturbed with your bed mate shifts around.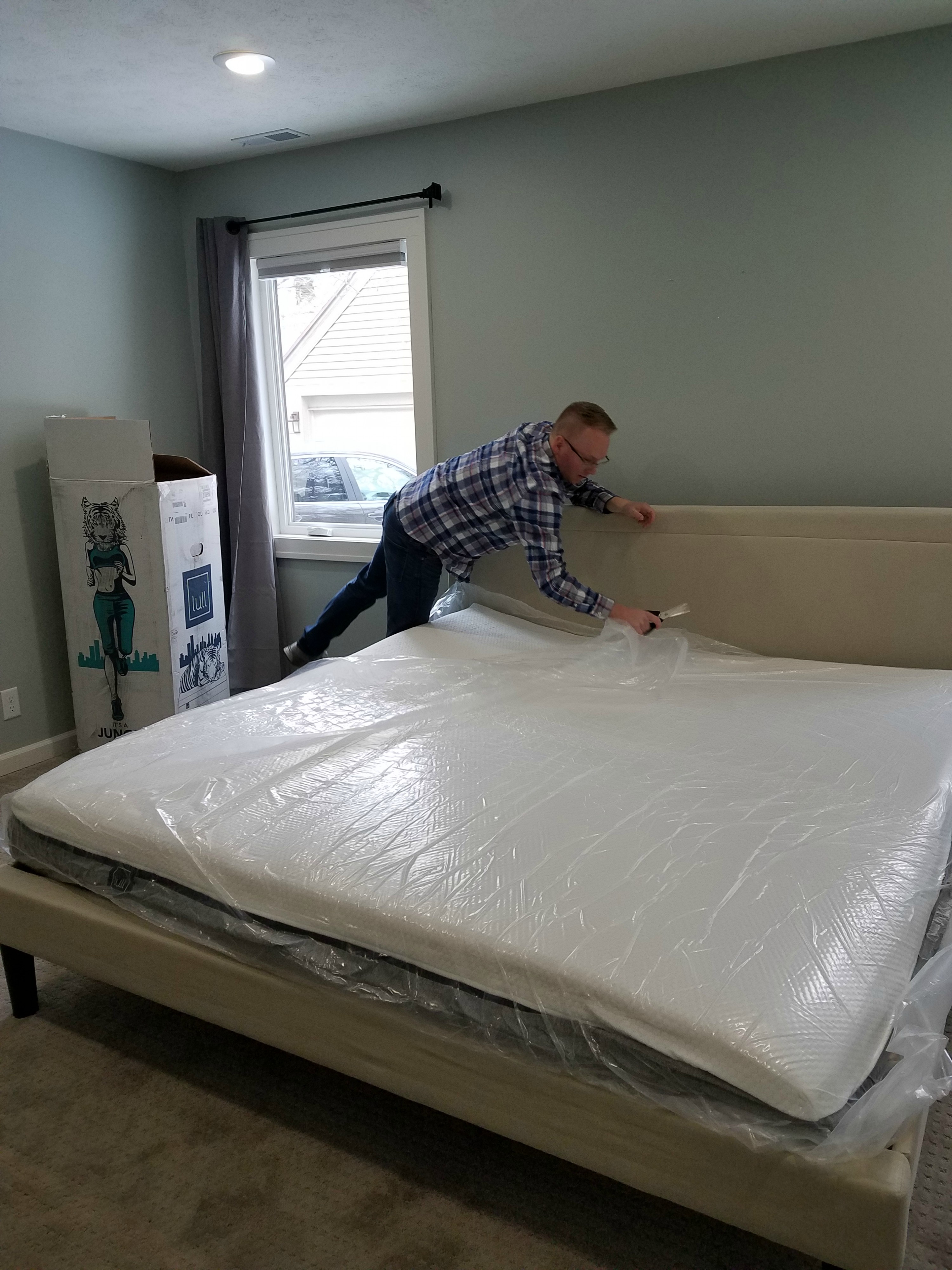 Comfort:
Lull Mattress is full of technology designed to give you an excellent night's sleep. The question for our reviewers was does that technology actually work? Our response is an overwhelming yes! Mattress companies often talk about the break-in period that you must have for a few nights on the mattress to get used to it. With the Lull we felt there was really no break-in period. The part that takes adjusting is if you have never slept on a memory foam mattress before. If you are used to a spring mattress then your first night on the Lull may be unique. However, comfort is comfort and the Lull is really impressive in this area.
The most impressive area with the mattress was the motion transfer. Often times the other person would get out of bed and we wouldn't even know about it. The mattress does an excellent job of absorbing that energy and not transferring it to the other person. This allows for a nice, uninterrupted sleep. Lull also touts the bed can transfer heat away from your body to help you find your ideal sleeping temperature. This was one area where we did not notice any significant improvement from our old mattress. We often times felt too hot in the bed and had to remove blankets versus feeling any cool down from the material. No different from any other mattress but it did not seem as the Lull Mattress performed as advertised in this area.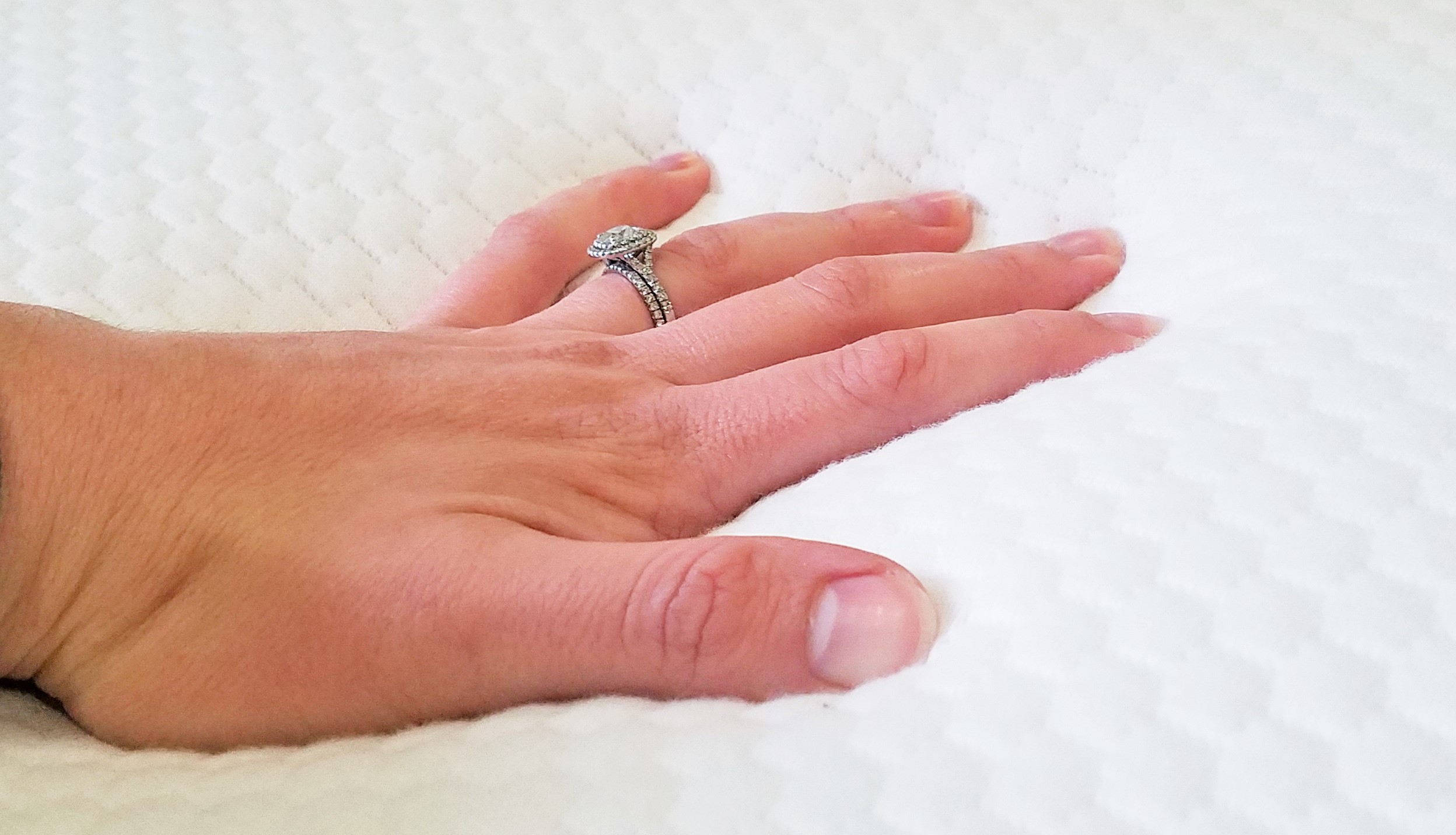 Lull gives you a 100 night guarantee and if you don't like it they will arrange for free pick up and removal of the mattress. Lull will then make attempts to donate the mattress to charities or organization in need of beds. On Lull's website 94% of purchasers have given the mattress a 4 or a 5 star.  Lull let's you see all the good and bad reviews, which is a nice feature. It is important to look at the bad ones to see their complaints. They may have similar issues with sleep positions or pain points as you so it is good to make sure that the mattress contours correctly to your body.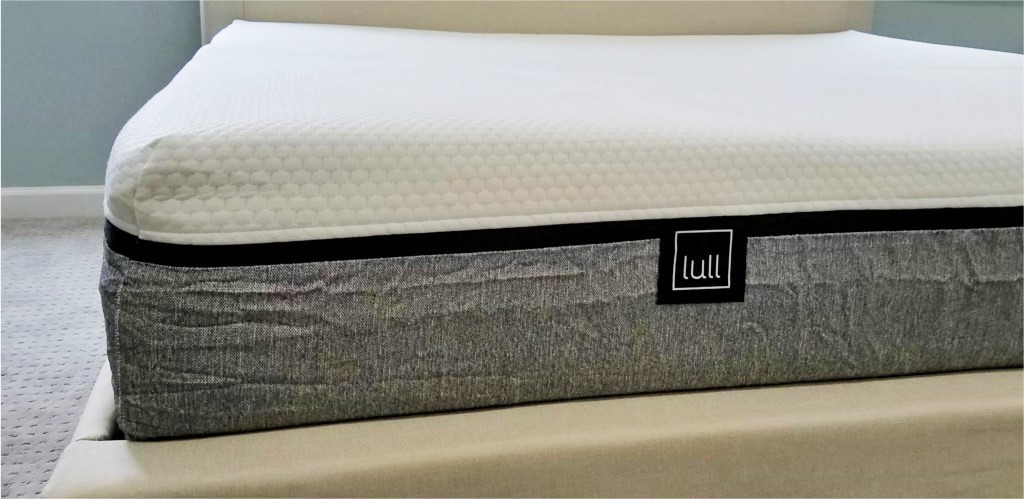 Value:
The king mattress sells for $950, which is the highest priced mattress. The lowest price would be the Twin at $550 and prices slowly increase as you go up  in size. We felt that the Lull Mattress has tremendous value. The bed is comfortable right out of the box. As a comparison we went into a local mattress store to find something comparable and without going through a discount program or financing promotion we could not find anything with the same comfort in the same price range. The Lull is easy to order, easy to put together, and most importantly it is real easy to get a good night's sleep, which is all that matters in the end.
Buy now for $550-$950 or visit Lull.com for more information.
Lull Mattress - Sleep Review
Lull offers a premium built mattress for a fraction of the cost as a store bought mattress. You are getting a high-quality memory foam mattress that will give you a great night's sleep from the 1st time you lay down. If you are in the market for a new mattress, we highly recommend the Lull
The Good:
easy setup process
comfort from night one
Cost effective
The Not So Good:
Heat technology did not work as advertised
Memory foam mattress is not a fit for everyone