When you go on a hiking trip without knowing what to expect for terrain, you can only hope you have the right gear.  Some people like hammocks and some prefer the tent.  On occasion, when it's time to set up camp, and you just can't find the right ground spot or tree's to hang in, it can become very frustrating.  You either have to make due or try and move on until you find what is suitable.  Until now!  Lawson Hammock developed a hammock that can also be used as a ground bivy.  Small enough to carry on hikes, it becomes the topic of discussion wherever you go.  We had the opportunity to test it out and discovered a whole new world of camping.
Key Features:
Total Weight: 4.25 lbs.
Length: 90 in.
Width: 42″ in.
Packing Width: Packs to: 22 x 6 in.
Weight Limit: 275 lbs.
Styles: Forest Green
Large no-see-um net canopy
Hammock body made of ripstop nylon pack cloth
Waterproof nylon rain tarp
Waterproof nylon border on the canopy protects against water blowing up under tarp
Strong aluminum-alloy poles and shock corded aluminum arch poles for the canopy
Double coil nylon zipper
Two interior storage pockets inside hammock
Nylon rope
O-ring in ceiling for hanging light
Brass-plated grommets reinforced with nylon webbing
Stuff sack
Blue Ridge Hammock Review Breakdown
Design:
The Blue Ridge Camping Hammock, while is fun and eye catching, serves an incredibly useful purpose. It was designed to be able to use in any terrain. When conditions and location leave you with no ground options, you can simply hang the Blue Ridge like a hammock using two straps or Lawson Hammocks own Tree Hugger straps. There is one major difference though. This hammock has spreader bars that open up the hammock so it doesn't fold in on you and confine you to a cocoon. This design allows you to stretch out and even roll over.
It comes with lightweight arch poles that keep the net canopy off your face and give it more of a tent feel. The arch poles go into designated sleeves that give a small gap about an inch above the net. This helps to keep the included rain fly from touching the netting which then causes condensation and possible leaking. If you don't want to hang the hammock, or can't for that matter, then the Blue Ridge can also be used on the ground as a bivy. The only added gear you may need is two stakes to anchor it to the ground. This hammock/tent is only 4.25lbs and suitable for three seasons. It basically has a double function and would easily be the top choice for adventure seekers who wander into unknown territory.
Durability: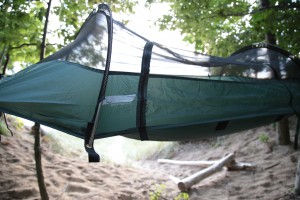 The body of the hammock is made from rip-stop nylon pack cloth and a no-see-um netting. We haven't had any issues with the bed part, but we didn't notice a small snag already in the netting. We aren't sure if it came like that or if it happened on one of our adventures but we are keeping an eye on it to see if it spreads. So far it has gone without change since first discovering it. The lines that work with the spreader bars have nylon inserts the keep them from fraying. The Tree Hugger straps made by Lawson are a great addition for the hammock, but other brand straps will work too.
Comfort:
Getting in and out was difficult at first. Fear of flipping was a constant battle. Once we tied a rope to a couple of the corners and anchored them, we had no more flipping fears. We were able to comfortably sleep on our backs.  Sleeping on our side took a bit more effort but it was doable.  It got a little stuffy with no air circulation when we had the rain fly on.  That is the only major issue with comfort we had.
Ease of Use:
Setting up was a breeze. If you can find two trees near each other you can hang it like a hammock. It is important to make sure the tree straps are secured properly before climbing into the hammock. If there are no trees then you can just stake it to the ground like a bivy. The poles go easily together and slide into the sleeves of the net. The rain fly really confines you, so we liked to just leave it half on half off. Unless there is actual rain forecasted, then we fully cover up, obviously. But it is fun to just stare up at the night sky until you fall asleep.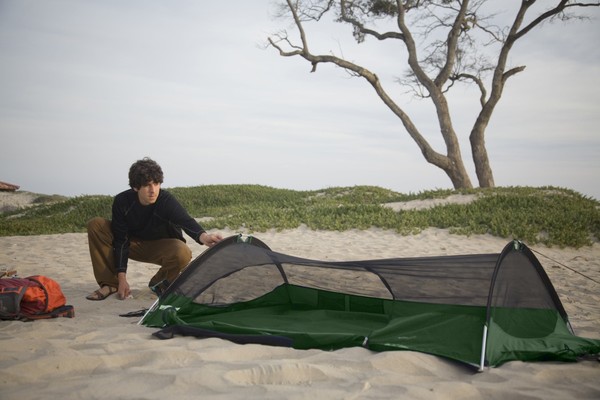 Value:
A hammock that doubles as a bivy.  Since this hammock is so versatile, the price is justifiable.  It will cost about the same price as a good tent, but this hammock can be used when suitable ground can't be found or vise versa when two anchor points can't be found.  It is a fun hammock to take on all your camping trips.
Buy Now: $169.99 or to learn more go to: LawsonHammock.com
Lawson Blue Ridge Hammock - Gear Review
When you like to explore unknown territory, this hammock can save the day. The ability to hang like a hammock or pitch like a bivy on the ground makes it the most functional shelter to take on any trip.
The Good:
It's a tent AND a hammock.
Comes with a rain fly.
Easy set up.
The Not so Good:
Can flip easily if you don't anchor down a couple of the corners.
Gets stuffy with the rain fly on due to lack of air flow.