Sunglasses are everywhere these days.  The mall, online, gas stations, pharmacies, clothing stores.  Options are endless, but they all seem sort of the same.  Enter LAVI Optic Riptide sunglasses.  A new pair of sunglasses built to actually protect your eyes and look great.
LAVI Optic is pretty new on the sunglasses scene but as a company founded by an optometrist looking to help protect the eyes of surfers, you already know that these glasses are not just all about great looks!
Key Features:
100% UV protection
Polycarbonate polarized lenses
Contrast increasing mirrored lens
Handcrafted bamboo frames
Bamboo case & cleaning cloth
LAVI Optic Riptide Review Breakdown
Comfort:
The LAVI Optic Riptide has an authentic woodgrain look because it is made of real, actual bamboo.  Bamboo has been growing in popularity recently for having many benefits as a wood-like substitute of plastic.  But when you think of wood (although bamboo is actually a grass), you don't typically think "Gosh, that's comfortable."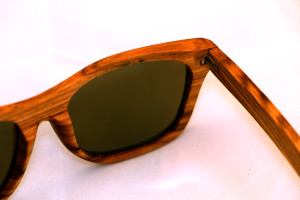 That's where LAVI will prove you wrong, because bamboo is a lightweight material that makes for a lightweight pair of sunglasses that feel great to wear.  The finish of the handcrafted bamboo has a very nice shine and they did a great job of making sure all the rough edges are sanded down, nice and smooth.
The final touch is a good amount of spring in the metal hinged limbs to comfortably accommodate varying head sizes and stay in place.  When it's all put together, the LAVI Optic Riptide becomes a pair of sunglasses you can comfortably wear all day long.
Design/Style:
Style is the game changer that LAVI has brought to the table for the Riptide.  They have taken the classic wayfarer sunglass shape and given it new life.  With today's modern plastic manufacturing techniques, you can get a cheap pair of wayfarer style shades from the $5 rack in any color of the rainbow and every pattern you can dream up.  But to get a real woodgrain look, there is no substitute for the real thing and I personally love the natural bamboo look to stand out and be a little different when you show up at the beach or hit the town.
Another modern twist is in the lenses.   Classic wayfarer style would traditionally dictate black lenses, but the Riptides feature an ultra-mirrored blue coating on the lenses that make them pop and take me back to the days when the Oakley Frogskin was the must-have for any 1980's beach bum.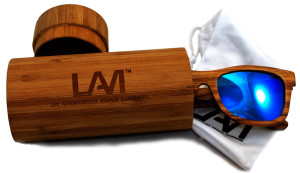 To round out the bamboo theme, the cleverly designed bamboo carry case is a great holder to protect your shades when not wearing them and keep the included cleaning cloth out of the sand.
Now for a bit of a style disclaimer, the Riptide is a wayfarer style meant for more laid-back wearing.  It should be expected that you do not get 100% field of view coverage or any major wind protection.  So if you are looking for something for eye protection from wind or debris while doing things like motorcycling or mountain biking, you'll still want something with a bit more of a "wrapped" design.
Optics:
LAVI was founded by an optometrist in Southern California who was fed up with seeing his patients suffer eye damage from the sun.  So the LAVI Riptide set out to deliver a solution.  In his own words:
By speaking with patients, I have come to realize that designer polarized sunglasses are just too expensive for most people. They settle for cheap imitations that may be stylish but do absolutely nothing to protect their eyes.
So the Riptide comes in a variety of polarized lens types to really cut down the glare, eliminate 100% of the UV rays and performs wonderfully with very minimal distortion.
I tested out the Ocean Blue lens which not only looks great but also acts like a filter to help even further reduce the glare of the water and add a little contrast to help bring the colors back to life after all the bad rays were filtered out.
When I first put them on, I was amazed.  I've owned a few of those "designer polarized sunglasses" that are "just too expensive" but the way the Ocean Blue lens filtered the light and the way the polarization cut down the glare, these instantly became my favorite for wearing around the water.
Only downfall I can see is that if you are one who requires your sunglasses to have a built in prescription, well, you'll unfortunately have to look elsewhere because LAVI only offers standard lenses.
Value:
LAVI is a new company and for a limited time is offering the Riptide for $89 with free shipping which is $41 less than the normal $130 .  That makes these glasses a great value.
In addition to your purchase of the glasses, LAVI has promised to also make a donation from each sale to Operation Amped, a charity that shares the joy of surf stoke by providing surf clinics to wounded and disabled veterans.
Buy Now: $89 (Kick-off pricing!) directly from LAVI Optic.
LAVI Optic Riptide - Style Review
The LAVI Riptide quickly jumped to the top of my sunglasses quiver thanks to its comfortable fit, great looks, amazing performance and great value.  You'll find there are other similar pairs of sunglasses out there that will sell for a much lower price, but do not have the same optic performance or they will sell for a much higher price and in my opinion you just don't get the same style. So as a top performer with great styling at a great price point AND supporting a great cause, it's hard to ask for much more.
The Good
Frames are made of real bamboo.
Polarized lenses reduce glare.
Blue mirrored lens coating increases contrast.
The Not So Good
Style doesn't provide much protection from debris or wind.
No prescription lenses available.