When you think of an audio brand that doesn't cut corners and proudly expresses the slogan "Bullsh*t!", you should think of Klipsch.  This is the company that became famous for sending out their "Ho Hum Another Major Breakthrough" pamphlet after becoming fed up with other audio companies so-called breakthroughs. Whether it be in their creative advertising or the products they produce, Klipsch is always looking to be straight-forward and honest with its customers just like Paul W. Klipsch.  "None of the fluff.  All of the sound".
Just last fall Klipsch announced the release of the newest addition to its Reference Line of audio products. The new R-4B is an entry level soundbar with price that won't break the bank. Recently we were given the opportunity to test the R-4B, and we tested it out in just about every way possible. Here's what we discovered…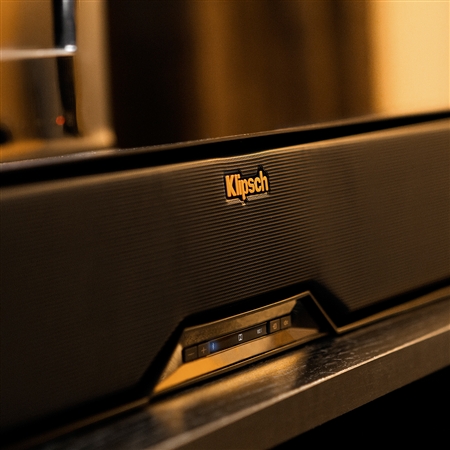 Key Features:
Easy plug and play set up with Dolby Digital Decoding
True 2-way bi-amplified soundbar
Wireless subwoofer
Compatible with most bluetooth wireless technology enabled devices
Virtual surround mode
Voice enhance mode
Night mode
Subwoofer and bar connection with bluetooth technology
Specifications:
Speaker System:  2-Way Soundbar with Wireless 6.5" Subwoofer
Max Output:  106 dB
High Frequency Driver:  2 x .75″ Soft dome tweeters mated to 90 x 90 Tractrix horns
Midrange:  2 X 2.5″ Fiber composite cone woofers
Subwoofer:  6.5″ Down firing Fiber composite cone
Inputs:  Optical, Stereo Analog, Bluetooth, USB Type A
Bar Dimensions:  40″ (1016mm) W x 3.375″ (85.7mm) D x 3.5″ (88.9mm) H
Bar Weight:  5.8 lbs (2.6kg)
Sub Dimensions:  6.3″ (160mm) W x 14.17″ (360mm) D x 10.4″(255mm) H
(including feet)
Included Accessories:

(1) Wall Mounting Template
(1) Remote Control
(1) Optical Cable (1.8m)
(1) Owner's Manual
Klipsch R-4B Review Breakdown
Setup:
As expected we, plug and play simplicity is what you get with this soundbar. To get started we only had to plug in the included digital optical cable into the output on the back of the TV and then into the soundbar. The only other thing to do was to plug in the standard power cord into the outlet. The subwoofer is wireless so it doesn't need to be plugged into the soundbar. Which means that you can put that little box of bass anywhere in the room. Easy peasy!
Want to listen to music on your phone's playlist? Just switch the soundbar to Bluetooth, make sure your phone's Bluetooth is on and choose 'Klipsch' from the available list of devices to connect. You can even stream audio from your computer. The Klipsch R-4B gives you digital, analog, or bluetooth for connection options. We've used them all with ease.
Audio Quality:
Equipped with all the detailed technical features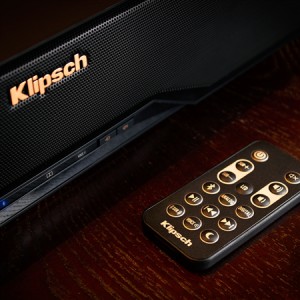 listed above, the simple design of the R-4B produces a good quality sound that can fill a room.  The built-in Dolby Digital Decoder takes over and allows the Klipsch R-4B to automatically reproduce detailed, high-output sound in almost any size room no matter what format of sound is coming from the TV's output.  You have the option to change modes to give you the best audio for whatever you are listening to. The virtual surround mode has optimized surround sound. Using the voice enhance mode will increase dialogue volume for enhanced vocal clarity without increasing ambient sounds. Night mode adjusts dynamic range for quieter listening environments.  Overall, this soundbar works great in place of your tv's factory speakers, but clarity in dialog wasn't as pitch perfect as we'd like. We found the best listening experience to be streaming music.
Design:
This sound system is light as a feather, but don't let the lightweight design fool you on build or audio quality though. The soundbar sits only 3.5" tall, but it is 40" long. The only issue we noticed is that the sound bar stands tall enough to partially block the remote sensor on many televisions. This can be easily avoided if your tv is mounted to the wall, lifted slightly, or you place the soundbar below your tv on a suitable entertainment stand. The subwoofer is a wood cabinet box with a slot-port design.  It is not overly large and can easily be tucked out of the way of foot traffic.
Value:
If you're looking for a sound system requiring minimal setup and high quality acoustics Klipsch has got you covered with the R-4B. For the simplicity, lightweight design and the great sound, the price tag of $400 can't be beat.
Buy now: $400 or to learn more, visit: Klipsch.com
Klipsch R-4B Soundbar - Tech Review
The Klipsch R-4B soundbar is best for those wanting to add better quality sound to their living room without having to invest in a huge audio system.
The Good:
Easy plug & play setup.
Simple lightweight sleek design.
Multiple mode settings.
The Not so Good:
Not quite the best quality for tv audio (great for music listening). But still better than the built in tv speakers!