Designed to keep you off the ground and comfortable throughout the night, the Kamp-Rite Tent Cot is (as you probably guessed) half tent – half cot. This ingenious piece of camping gear has been around for quite a few years now and we've always wanted to test and review it. Well, as luck would have it earlier this summer we were given a chance to put their double tent cot through the paces.
If you don't already know about Kamp-Rite, let me bring you up to speed. Known as the World Leader in Off-the-Ground Camping Gear, Kamp-Rite was founded in 1998 in California. They were the first outdoor company produce and sell a tent/cot hybrid known as the "Original Tent Cot." Since then they've gone on to produce more than 35 new products, with more to follow.
Now after several trips in to the woods and many restful nights sleeping in Kamp-Rite's tent cot we're happy to share our thoughts on this unique shelter. Here's what we discovered…
Key Features:
Heavy duty 190T Nylon
No-See-Um Mesh on all windows and doors
Elevated cot base for off-the-ground comfort
Heavy duty powder-coated fiberglass frame
Easy use, corrosion-resistant zippers
Unique, multi-function hinge design
Converts to a lounge chair or cot
Superior quality clips and buckles
Interior storage pouches
Quick, easy set up
Weight rating recommendation of 500 lbs.
Dimensions:
Bed Size: 53"W x 84"L
Tent Size: 53"W x 84"L x 40"H
Folded size is 56"W x 34"L x 8"H
Weight: 51 lbs.
Ship Weight: 56 lbs.
Kamp-Rite Tent Cot Review Breakdown
Setup:
This tent cot is truly easy to set up. It took us about 5 minutes on the first try. Knowing the exact setup process is key, but once you're familiar with all the moving parts it is a breeze to get the tent cot set up.
Here's a quick video demo of how simple setup is…
https://www.youtube.com/watch?v=09kwpYCucR8
Comfort:
Sleeping or lounging in the tent cot is pretty great. We tested the double tent cot and the only issue we had was the support bar running down the middle of the length of the tent. This bar is obviously needed to support the weight of two campers, but was a little annoying at times. Sleeping either side of the support bar proved to be very comfy. If you've ever slept on the hard ground you know it can be miserable. With the tent cot we got some of the best sleep ever on a camping trip. That's no exaggeration either!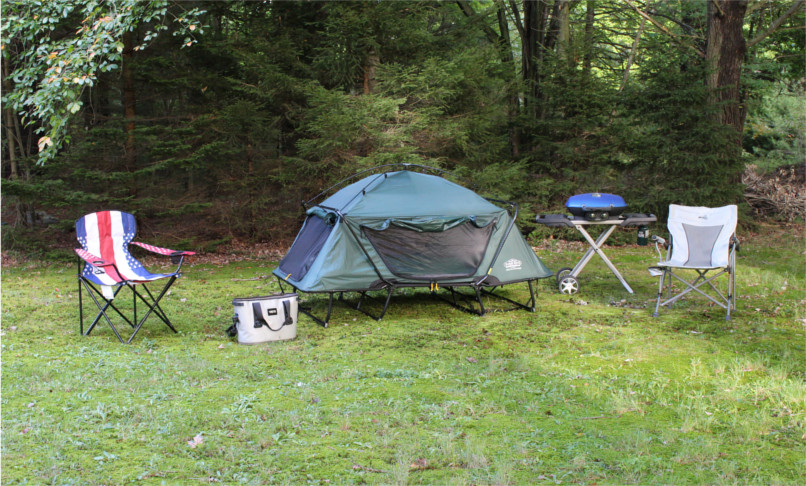 The tent cot also allows you to adjust right wing of the tent into a inclined lounging position. This is great when you're not using it for sleeping and want to relax and maybe read a book.
The tent cot also delivers excellent ventilation. With four mesh windows on each side it kept the bugs out and a nice breeze rolling through. When it rains the included rain-fly is a must, but does dramatically cut down on ventilation. As with most tents the rain-fly is a necessary evil. Whenever possible we choose not to use it.
If you want to up your comfort level to the max we suggest forking over a little more cash and buying Kamp-Rite's self-inflating mattress. They make a proper size for each of their models. We were lucky enough to test one of these as well and OMG… it is wonderful. It isn't quite the same as sleeping in your own bed, but it's pretty darn close.
The design of the self-inflating mattress is wonderful. Simply un-roll the mattress and un-screw the air valves and in a few minutes the mattress inflates. It has a cushy foam material inside as well that gives added support. When you're ready to pack up and leave camp, simply un-screw the air valves and roll it back up.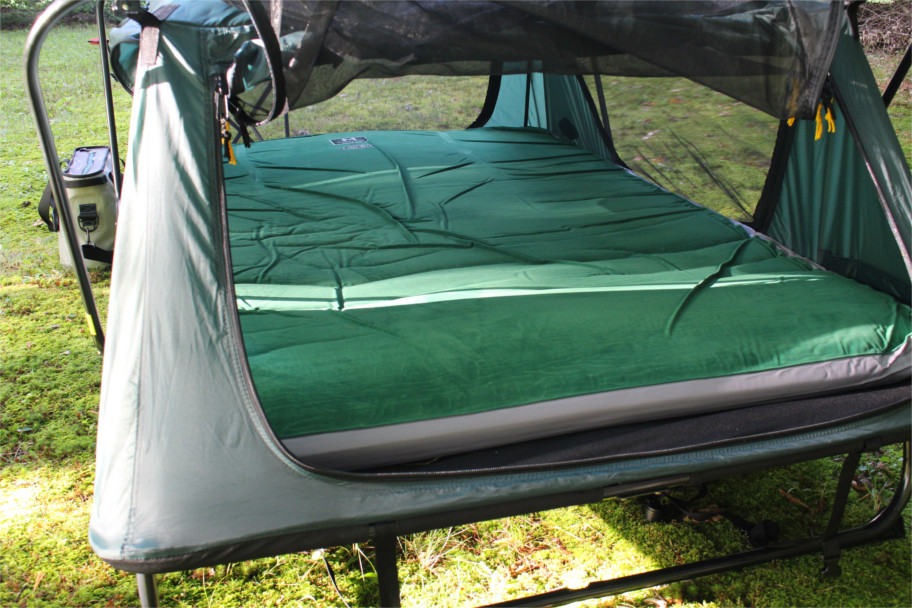 We were really impressed with the comfort of the tent cot. With the self-inflating mattress it became the most comfortable "tent" camping experience we've ever had.
Durability: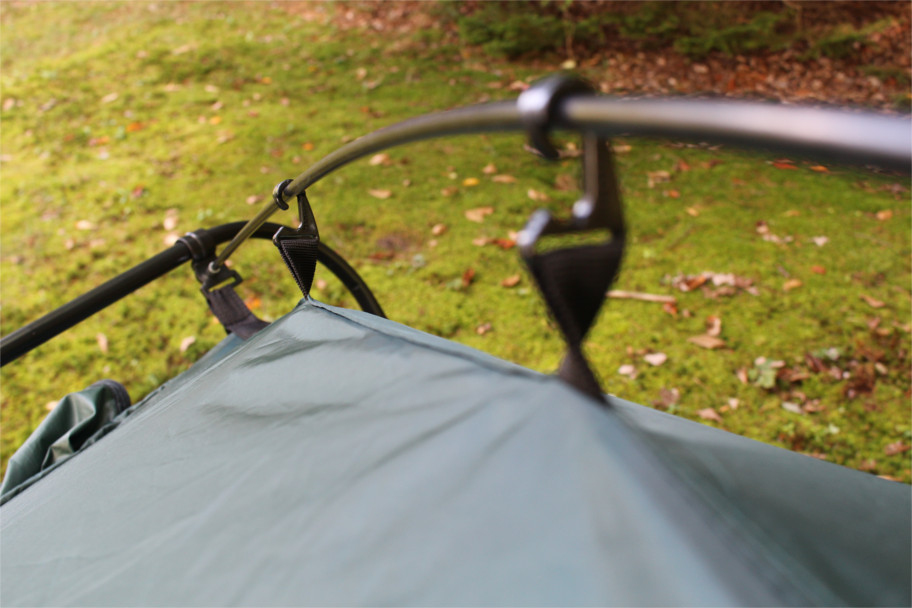 Constructed from Heavy duty 190T Nylon, No-See-Um Mesh on all windows and doors and a heavy duty powder-coated fiberglass frame this beast is rugged. After a summer of camping it has shown no wear to speak of. The mesh doors were our biggest worry when it came to durability, but they are holding up well. All the zippers, stitching and plastic clasps are like new too. All-in-all we were very impressed with the build quality. The only down side to this tent being built like a tank is the fact that it is rather hefty at 51lbs. So you won't be taking on any backpacking trips.
Value:
Ringing up at $299, the tent cot is worth every last penny. We've tested a lot of tents in the past few years and none of them offer the instant comfort that Kamp-Rite does. Being off the ground is amazing in the woods. Usually if we're sleeping off the ground it's in a hammock, but hammocks can be claustrophobic and hard to stay comfy in. The tent cot allows you to move, sleep on your side, front or back and be up/away from all the critters on the forest floor. For the money, this is one of the best tents we've tested.
Buy Now: $299 or to learn more, go to: KampRite.com
Kamp-Rite Tent Cot - Gear Review
If you're in the market for a camping shelter that will keep you off the ground, dry, sleeping through the night and make your friends jealous... this is the one. It is totally unique and perfect for car camping. I only wish we would have had a chance to test one sooner!
The Good:
Quick and easy setup
Seriously comfortable sleeping setup
Great ventilation
The Not so Good:
Large footprint. Takes up a lot of cargo space
Heavy
Support bar in the middle of the Double tent cot is annoying at times