Designed for adventurous treks (and epic tailgating) with friends and family, the Jetboil Helios Guide cooking system is a far cry from that old Coleman dual burner grill your dad dragged around camping for all those years. These days camping (specifically backpacking) is all about keeping it lightweight, convenient and pack-able. While the Helios Guide is in-fact the largest cooking system in the Jetboil line, it's still rather diminutive when you consider all the meals it's capable of producing with its two pot configuration boasting 5 liters of capacity in all.

Recently with some help from our pals at Jetboil we went hands-on with a demo model of the Helios Guide system ourselves. They encouraged us to have fun with it and experiment… so that's exactly what we did!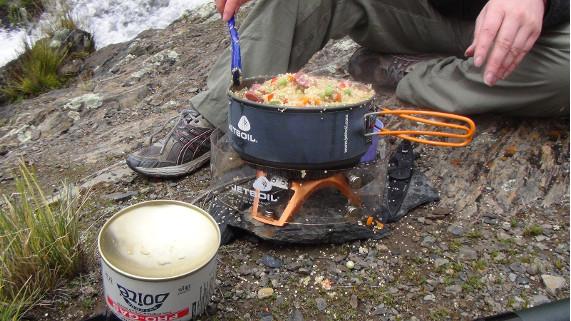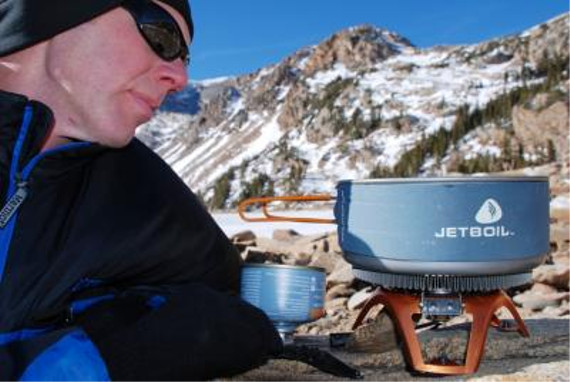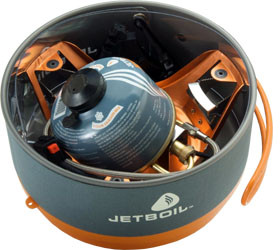 Key Features:
3L FluxRing Pot with neoprene cozy
2L FluxRing Pot with neoprene cozy
Pot-supporting burner base
Push-button igniter assembly
Fuel can stabilizer
Snap-on windscreen
Lid and bottom cover that double as plates
Specs:
Boil Time: 3min (1 liter)
Weight: 48 oz.
Volume: 2 liter and 3 liter pots included
– Jetboil Helios Guide Review – 
Design: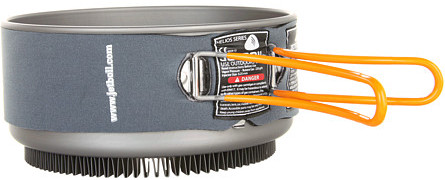 (9 out of 10) For the amount of food preparation this system is capable of (cooks up to 4 heaping servings w/ease) it's surprisingly compact (5.1″ x 9.5″ diameter, packed) and lightweight (48 oz). The Helios Guide features two (2) neoprene insulated cooking pots that stack into each other like back-country Russian dolls for impressive portability without too much bulk or wasted space. On top of that everything else the system requires to operate (burner, wind screen, fuel stabilizer, fuel canister) also fits snugly within the inner pot for storage while on-the-go. The design of the Jetboil Helios Guide was very well thought out for group camping in regards to space saving and keeping weight down. Features any backpacker can appreciate!   Beyond its truly pack-able design, we also came to appreciate several other features including, the fold-out pot handles which are coated with heat resistant rubber, the push-button igniter that worked flawlessly every time to spark the burner and the patented Jetboil FluxRing located at the bottom of the pots. Which we'll discuss more in-depth later in this review.  
Setup: 
(10 out of 10) The setup of the Helios Guide is intuitive and smart. With very little practice we had everything hooked up and burning in less than a minute on our first attempt. On windy days you'll want to take advantage of the included windscreen which snaps into the burner base very easily and actually does a heck of a job combating the elements and helping to produce a steady burn. Honestly, there's really not much to it when it comes to setup for the Helios. If you have any troubles directions are included, but we had no issues setting up or taking it down. TIP: always remember to let the burner cool down before packing it back up. Give it a few minutes to chill and keep your gear from melting in your pack!  
Efficiency: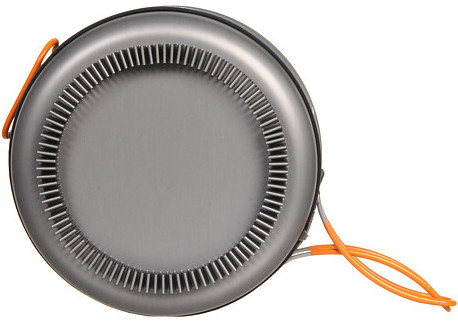 (10 out of 10) We were shocked by how quickly this stove is able to boil water and get up to cooking temps. We tested 1 liter boiling times in several different scenarios, including with room temperature water (3:13 mins), ice water (4:20 mins) and from snow (5:12 mins). In each case we had water boiling quite quickly.   What makes this system so fast and efficient? Well, it's the patented FluxRing that lines the outer edge of the bottom of all Jetboil products. The FluxRing is designed to focus the stove's heat toward the middle of the cooking surface without loosing heat out the sides. This design reduces cooking time dramatically and saves on fuel consumption. In fact, Jetboil claims the Helios can deliver up to 24 one liter boils per 8 oz butane canister.    PRO TIP: when boiling water always keep the lid on the top of the pot. This will help heat food and boil water much quicker. Plus the Helios lids have a steam relief hole so that excess pressure won't build up.  
Value: 
(8 out of 10) At $199 the Helios Guide system is a fair asking price in our opinion. Over time it's efficiency will save you money on fuel and it's just down right fantastic to cook with. Anything you can cook in a pan or pot at home you can cook in the Helios Guide. It's cooking surface isn't 100% non-stick, but we were impressed with how easily it cleaned up as well as its overall durability.   
The Bottom Line

:
The Jetboil Helios Guide cooking system is ideal for active outdoors enthusiast who are passionate about camping, backpacking and kayaking (and tailgating if you're like me), but don't like to travel on an empty stomach. The Helios Guide can cook almost anything to perfection (food always tastes better when prepared in the sticks) and does it fast! If you're looking for a cooking system built to feed a small army while remaining highly pack-able and totally functional we suggest you get your hands on a Helios Guide cooking system before your next excursion.    

Buy Now: $199 or go to: JetBoil.com