If you've always wanted to shred the guitar like a rockstar, but never had the extra time, proper motivation, or pocket change for private lessons… then we might have the solution you've been looking for.  I've rocked the drums for most my life, but never really picked up a guitar long enough to figure it out.  There's no shortage of youtube videos out there that help show you the basics.  I think what it really came down to for me, was the proper motivation and having the right tool.  Obviously the right tool is an actual guitar, but for those just starting off and need to learn the cords by seeing a live interactive response to what you are doing, I found the Jamstik+ to be the right tool to kickstart my journey to conquering the guitar.

Key Features:
Real Strings & Frets

Wireless & Portable

Play any sound

No previous music experience needed

Virtual Teacher

Additional compatible Apps

Made in the USA

30 Day Guarantee

Great Customer Service
Jamstik+ Review Breakdown
Design
: 
Technology is a big part of our everyday lives.  We respond to it as an extension to ourselves.  A day without my smartphone and I feel like I'm missing a piece of myself.  As sad and scary as that sounds, it has it's benefits – in the form of knowledge.  The Jamstik+ is a smart piece of technology that becomes even smarter when paired with your iphone, android, ipad, or mac.  The makers of Jamstik+ created an interactive platform that makes it more like a game (think Guitar Hero) to help you learn at your own pace with some really fun and impactful elements.  I love direct feedback, and seeing what chords I am playing and the position of my fingers in correlation with the lit up interface is pretty amazing.  
One of the great features about the Jamstik+ is it's portability.  It's small enough to take just about anywhere and light enough to play with for hours at a time.  This also comes with the price of not actually feeling like a real guitar when holding it.  It's closer to a Ukulele than a full size guitar. But I don't think the Jamstik+ is meant to be an actual guitar, but rather a tool (MIDI Controller) to help you learn the chords that would then transfer to the real deal.  The only drawback I found with the size, was not getting a proper feel for the longer neck that guitars have.  However, the size and portability are great to have and getting the feeling of the strings proved to be very useful.  The strings and frets are the real deal and having to never actually tune them is a huge plus.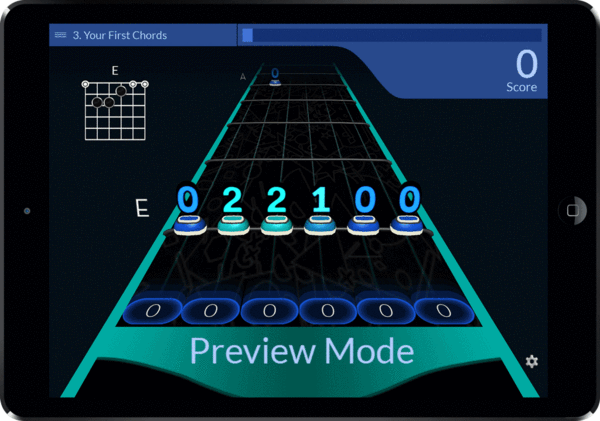 Set Up & Ease of Use:
Setup wasn't bad at all.  You'll start by downloading the JS+ App on your device (available in the App store or Play Store), turn on your Bluetooth and Jamstik+, then open the JS+ App and select your Jamstik+ from the menu.  Connectivity worked well with most of the devices we tested.  I had no issues with the iphone, ipad, or android phone however, I did have issues trying to connect my MacBook Pro.  Since it is pre 2013 the bluetooth didn't work.  I tried the whole Zfi route as suggested, but was unsuccessful.  Finally I just plugged it directly to the MacBook via the usb cable provided and it worked just fine with no latency.  I was able to connect it to my newer iMac with no issues and the bluetooth actually had some good range from over 25 feet away.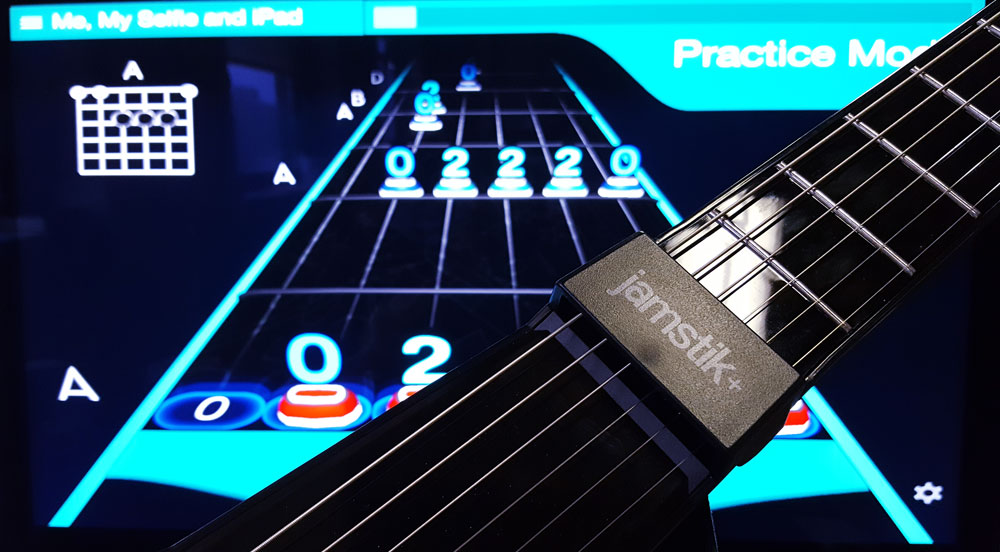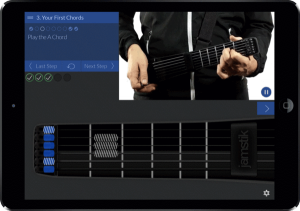 Following along with the video (or rather Virtual Teacher) and seeing the proper finger positioning is great, but the direct interactivity that occurs as you are strumming along is even better.  It is incredibly useful to see the frets light up on the app and have the app wait for you to strum the right chords before proceeding to the next steps.  
Apps:
There are four native apps that are provided by Jamstik+ that will get you connected and learning in no time for free.  Best part is, they all work on both iOS and Android. 
jamstik+
iOS Price: Free
MAC OS Price: Free Beta Download
Google Play Store: Free Download
jamMix
iOS Price: Free
MAC OS Price: Free Beta Download
jamMix, the companion app for the jamstik, provides instant music making fun for the iPad, iPhone and the iPod.
jamTutor1
iOS Price: Free
MAC OS Price: Free Beta Download
Google Play Store: Free Download
Learn guitar in the most interactive and engaging way with jamTutor, the companion app for the award winning jamstik and jamstik+ SmartGuitar.
More info about jamTutor: jamstik.com/jamtutor
jamTutor2
iOS Price: Free
MAC OS Price: Free Beta Download
There are also several other apps that work with the jamstik+ to further your learning or to create some really slick tunes of your own. I won't go in to detail about all of them but you can check them out here.  They only work with iOS and range from free to $19.99.  I do like how you an tie in Garage band and other Apps to create some unique music of your own in just about any instrument you can think of.
Value:
So will the Jamstik+ make you a Rockstar overnight?  No, but it will help teach you as fast as you want to learn.  It really comes down to how much you put into it.  The technology is there, the platform is intuitive, and the price is right, but are you willing to put in the effort?  From my experience so far, I say it's worth the investment in both money and time.  
Buy Now: $299.99 or to learn more, go to: Jamstik.com
Jamstik+ Smart Guitar - Tech Review
The Jamstik has some great tech built in to help you learn the guitar and get you jamming in no time.
The Good
Real Strings & Frets
Wireless & Portable
iOS and Android Virtual Teacher