In roughly 12 years of doing business and interactions with nearly every type of conference / handset / headset/ speakerphone combination possible we've seen one consistency on these audio interactions. A reliable, capable speakerphone product doesn't exist for mobile devices …. until now.
We recently got our hands on a Jabra Speak 810 speakerphone and were absolutely floored by the quality of the product and the sheer amount of options that it accommodates. This is a speakerphone that is made to simply work. Whether connecting via Bluetooth/Aux Cable/NFC or USB this thing makes no excuses. It finds a way and it delivers.
The goal of the Jabra Speak 810 is to bring the traditional wired conference phone experience to mobile and VoIP devices. Unlike other conference solutions, the Jabra is equipped with ZoomTalk microphones to focus on the speaking party for crystal clear vocals regardless of the location.
Key Features:
Zoom Talk Microphone – Intelligent directional microphones that focus on human voice and not noise
Seamless integration and call control with leading UC systems/PC softphones, such as Microsoft Skype for Business, IBM Sametime, Cisco, Avaya, and Skype.
Digital Signal Processing
3.5mm Connection Jack
USB Charge Port
Bluetooth Class 1
Jabra 810 Review Breakdown
Sound:
When previously taking calls outside of the office my go-to has been a wired headset that works fine and frees up my hands to type. While the idea behind the Speak 810 is for conference calls, it works so well that I tossed the headphones and use it for all solo calls. The sound coming through is flawless – both for the speaker and the recipient. The sound is similar, if not better than, our wired office conference phones that carry a 4 digital pricetag. The technology here is truly amazing.
Compatibility:
We can get this over with quick. If your device has a port, the Jabra Speak 810 should work – no problem. From NFC to Bluetooth to 3.5m Aux Cables (and even a Microsoft Skype for business model) the Jabra Speak won't have an issue.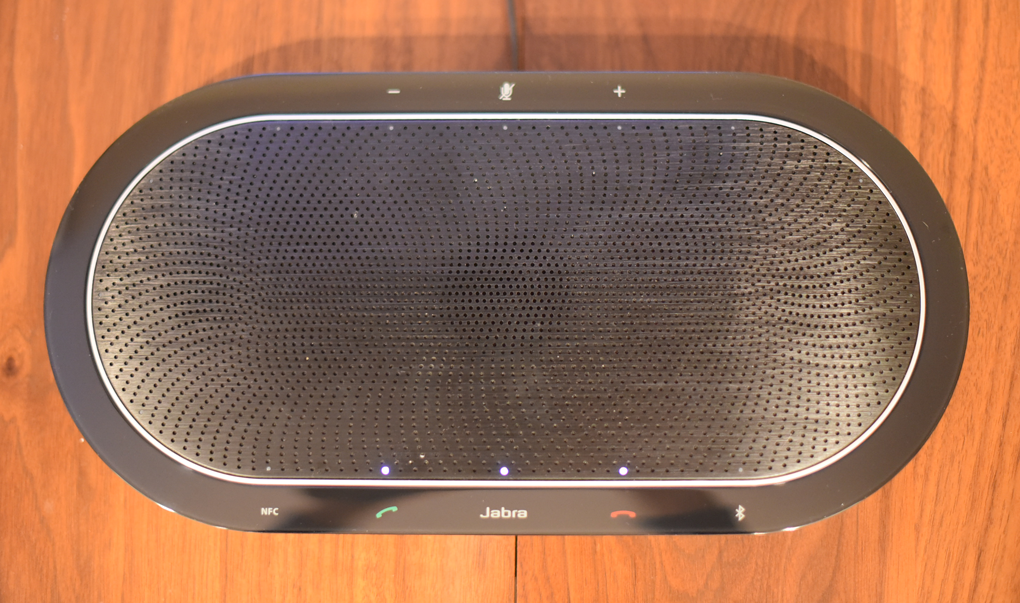 Bluetooth:
In a world of goofy Bluetooth connections, the Jabra Speak 810 is a breeze. With a few taps you can connect with your device while the 810's friendly voice follows up with simple instructions. With Bluetooth Class 1 (usually used for industrial purposes) you can go up to 300 feet away with no issue. We tested this with multiple floors and rooms and never lost connection. If someone accidentally leaves the conference with their phone in their pocket, it may take a while for them to get far enough to disconnect.

Design:
The Jabra Speak 810 is a sleek combination of glossy & matte black that features visual cues for sound, mute functions and call information. The 810 is labeled as having a slim compact design but with specs of 14.5" x 11" x 2", it isn't a small device.
The in-call physical attributes are very effective also. A ring of white lights shows the volume an bright red lights appear when the phone is muted. Cords can be easily tucked into the bottom and Jabra includes extra adapters for use overseas.
NFC:
If there is one beef with the 810 – it is some specific issues with the design for NFC use. As a person that has upwards of 5 Bluetooth devices hooked to his phone, sometimes it is nice to not rely on another Bluetooth device and have the option of just placing the phone on the 810 for a quick connect. The execution on the 810 leaves much to be desired however.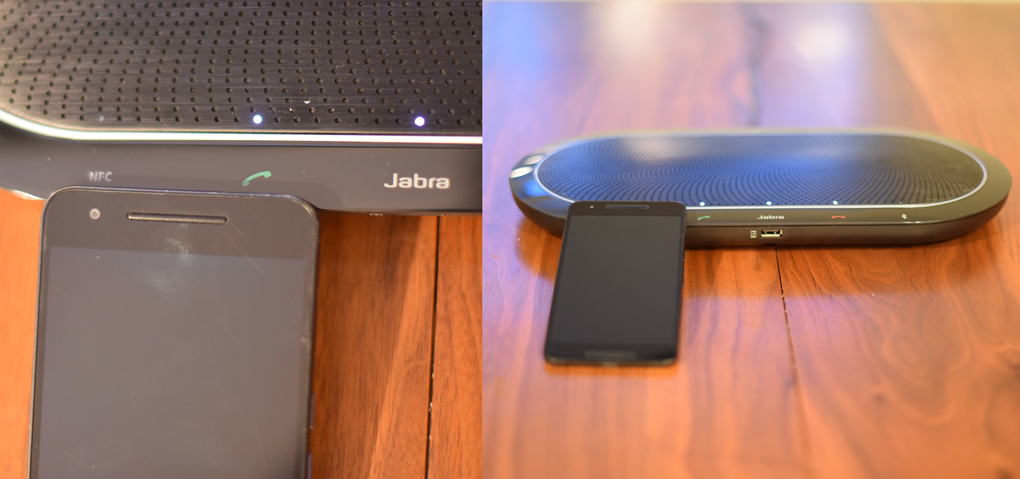 With NFC, the device has to be right up on the receiver and the placement in the 810 is within the shiny glossy bevel. This makes it quite hard to connect as you have to balance the phone diagonally on the slick bevel so it can rest up against the receiver. I simply can't figure out why this was set up this way, it seems like a small flat portion of the ring would help users keep the phone supported. If you are looking for NFC that connects quick, you'll likely be disappointed.
Value:
It's no secret. Premium products traditionally come at a premium price. There is no exception with the 810.
With a pricetag of $599, this is geared towards the professional. This is priced well, but would never be confused for a budget speakerphone. Most folks looking for speakerphones are looking for the best and value is subjective. In this case, the $600 is worth it as you'll be buying a $600 solution that you never have to think about again.
Buy Now: $599 or to learn more, head over to: Jabra.com
Jabra SPEAK 810 - Tech Review
Simply put, you won't do better than the Jabra Speak 810. The sound is crisp, clear and better than talking directly into a phone. It can connect to anything. A power outlet isn't required. The biggest downfall, is the price. At the $599 price point, the Jabra Speak 810 is on point, but isn't what could be considered a deal. Jabra does offer more affordable models with smaller dimensions but equally high reviews. However, if looking at the 810, you likely aren't looking for the best value, but rather the best device. And this is it.
The Good
Connects with everything!
Unparalleled sound.
Simple set up.
The Not so Good:
NFC is tricky to set up.
This is a premium product with a premium price.