If you look at any home thermostat throughout the years, it likely had a Honeywell logo on the unit. They are no strangers to controlling your home temperature but they have faced some stiff competition with the advent of smart thermometers in recent years. However, the company hasn't thrown in the towel. Now as a stand-alone company, Resideo has elevated its game. Recently they launched their all new T9 Smart Thermostat system which is designed to re-invent how you monitor and control your home temperature system.
Featuring innovative wireless smart room sensors, the new T-Series Smart Thermostats is designed to effortlessly deliver a desired temperature when and where it's needed. Resideo designed the T9 around your day, knowing homeowners want comfort when they are home, and energy savings when they are away. The T9 features simple scheduling, geofencing and compatibility with Alexa and Google Assistant. We recently got our hands on the new T9 smart thermostat. After a quick install, and a few months of testing, we are ready to give the insider's guide to the new system!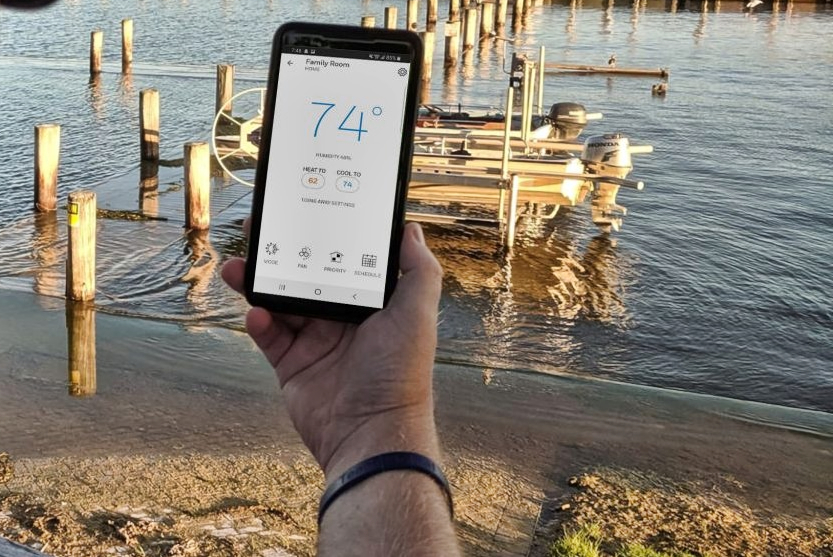 Tech Specs:
Color Graphical LCD touchscreen display
Location-based temperature control
7-day scheduling
Auto change from heat to cool
Indoor humidity sensing
200-foot sensor range
Occupancy detection on sensors
Works with Amazon Alexa, Google Assistant, and more
ENERGY STAR® Certified
Supports Wi-Fi 802.11 B/G/N 2.4 and 5 GHz
Multi-room display
Honeywell Home T9 Smart Thermostat Review Breakdown
Installation:
One of the more daunting tasks of upgrading your thermostat is the setup and installation. Smart thermostats often require the Common wire which is mostly in newer furnaces and hit or miss with older units. Luckily, Honeywell Home has one of the better bypass adapters installations we have seen with smart thermostats in order to make most furnaces work. The instructions for the Honeywell Home T9 were incredibly simple and easy to follow. The first thing you want to do is cut the power to your furnace at your breaker. If you do not do this, you will likely blow a fuse in your furnace. If you missed this step and finished your install, it would cause a lot of troubleshooting if you were not a furnace expert. So, trust us, cut the power!
The toughest part of the install is just removing the old box from the wall and taking the time to properly label your wires. Make sure you take a picture before removal as a backup later. Once you have everything setup it is a simple install of three screws and securing the wall plate. I found getting the wires connected to the Honeywell Home T9 system incredibly easy and painless. They are not looking for a lot of wire to be inserted, so it saved me from having to strip out the wires to create more room. After connecting the wires and installing the face, you are ready to power up.
Once powered up, you will complete your setup of your thermostat. This is where you can setup your sensors and prioritize rooms. At this point, I would recommend getting the mobile app downloaded as it is a bit easier to navigate than working from thermostat- more on the app later in the review. Overall, setup was very easy, and Resideo (or the company) provided great step by step guides and had video resources available as well. Doesn't get much easier with smart thermostats!
App:
I have really enjoyed the ease of use from the Honeywell Home app so far. At your home screen they have a nice touch of fetching your local weather forecast so you know what is going on at home. From there you can easily jump in to setting your schedule. The app will allow you to setup a geofence for when your home and when you are away. This allows the system to automatically adjust the temperature control based on your location. When your away, you can let the temperature rise in the summer or let the house cool in the winter to save you on your utility bill.
The next thing you will want to do is prioritize your rooms. We installed four sensors in addition to the thermostat, so we had five rooms providing readings. You can prioritize rooms at any given time to make sure that room is at your desired temperature. This was very helpful during the day when the living room was getting more use and was the priority. At night, you change your mind have the system focus on your master bedroom, so you get a comfortable night of sleep.
The app is very easy to use but recently we have encountered an issue with it not connecting to the unit. You will get an alert on your phone that the app is having trouble to communicate. When I go into the app, it usually connects but the alert will persist. We tried deleting and re-downloading but has been a regular issue. So far, performance hasn't been affected but we are keeping an eye it to see if does. We will keep you posted.
Usage:
What really shines with the Honeywell Home T9 Smart Thermostat is the addition of the smart room sensors. It is one thing to have sensors in a room reading temperature, these sensors detect people and movement. In addition to temperature readings, they also measured humidity and help balance hot and cold spots in a home. Whether, sleeping, cooking or relaxing, comfort follows the family as they move throughout the home. The smart thermostat knows which rooms are occupied and can automatically adjust that room to the desired temperature, especially if it is a priority room. The sensors have a 200-foot range to help you map out your whole home with coverage, while not having to purchase extra sensors.
What was very interesting is how well the T9 can get the rooms close in temperature. We have a room above the garage that can get hot or cold quickly. It is also our guest bedroom, so it's important we provide a comfortable environment when people are staying. We struggled with temperature stabilization before the T9, but now we have been able to keep it more consistent. The temperature of the room can sway from time to time but if we prioritize it, we can get it in line with set the temperature for the whole house. Very impressive!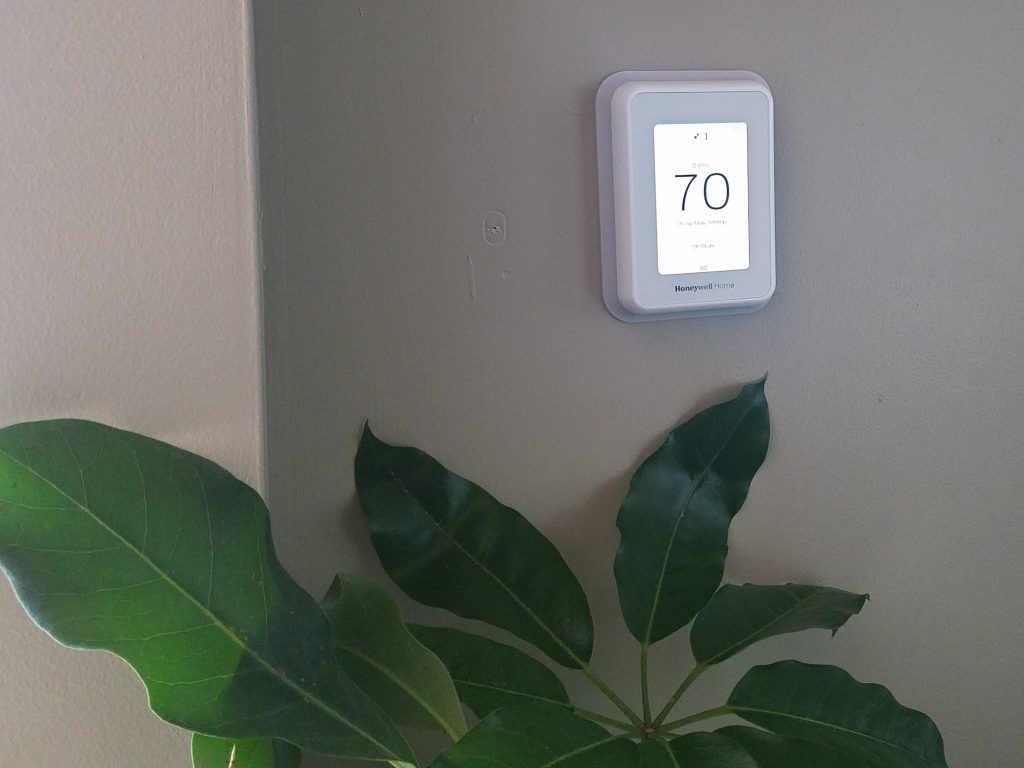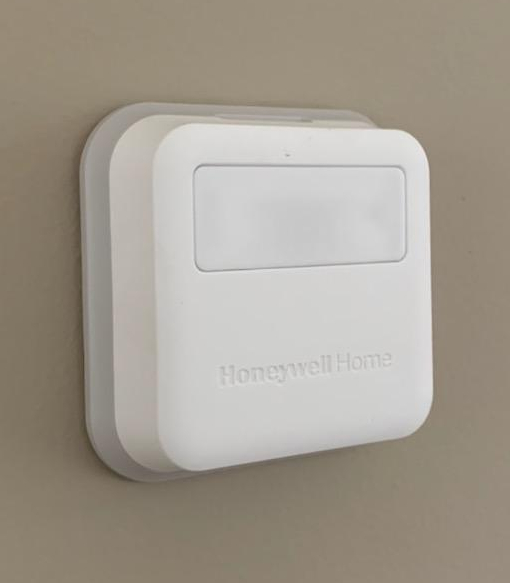 Value:
The Honeywell Home T9 unit is currently on sale for $179.99. The base unit comes with the thermostat and one smart sensor. You can buy additional sensors for $33.99 each if you want to cover your whole house. I recommend adding more sensors. The value for me was really in the smart room sensors. Being able to prioritize rooms based on motion and occupancy is extremely helpful. We have an upstairs home office that was getting hot during the day. Once we added the smart room sensor to it, we were able to prioritize the room and make it very comfortable when we work from home. Adding more sensors will increase your spend but if you are investing in a smart thermostat you want to take advantage of all the features. This means you will want more sensors.
We have seen changes to our utility bill but The weather has also noticeably changed to more fall temperatures, so it is hard to tell if the savings are from the thermostat or the weather. With the geofencing and motion sensors, we expect to see some savings this winter. Overall, I like the value of the Honeywell Home T9 system, it may be an initial hit to your bank account but with the functionality and technology, you will get your money's worth!
Buy Now: $179.99 or to learn more, go to: HoneywellHome.com
Honeywell Home T9 Thermostat - Tech Review
The Honeywell Home T9 Smart Thermostat is stepping up to new levels to make your house as efficient, comfortable, and inexpensive as possible. Featuring new smart room sensors, the T9 system is constantly monitoring your house to ensure the right rooms are getting the right attention. The system automatically detects when you are gone and enters in to energy saving mode, which should be called money saving mode! If you are looking to get into the smart thermostat world or upgrade your existing unit, we recommend you take a look at the Honeyewell Home T9 series!
The Good
Stabilizes temperature in difficult rooms
Easy install
Smart sensors work great
The Not-So-Good
Gets expensive when adding extra sensors
App issues with maintaining connectivity