One of the great outdoor brands when it comes to skiing & snowboarding apparel is no doubt, Helly Hansen. The name is trusted more than any other by professionals in the industry. So when it comes to the resort visitor, like most of us, it's easy to trust they know what we'll need. The Helly Hansen Alpha LIFALOFT Jacket is a prime example of knowing what works on other jackets and putting it all together into the ultimate jacket for a day on the slopes.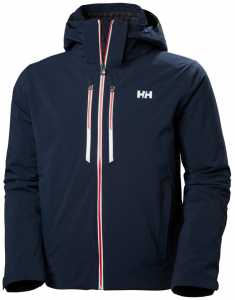 Key Features
Helly Tech® Performance
LIFALOFT™ insulation
4-way full stretch fabric
DWR Waterproofing
H2Flow™ System mechanical venting
Life pocket+™ with Aerogel insulation
Foldaway hi-vis brim on a removable hood
Helmet Compatible
Water-Resistant Zippers
Recco Rescue system
Integrated Wrist Cuffs
Integrated Pass Pocket
Goggle Wipe
11% Elastane
Helly Hansen Alpha LIFALOFT Review Breakdown
Design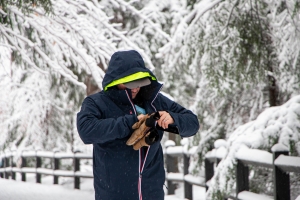 The Helly Hansen Alpha LIFALOFT is a design based off the legendary Alpha line of jackets. In particular, Alpha 3.0. This means that the cut and shape have been fine-tuned for years to be a proven winner. The biggest difference is the addition of the LIFALOFT insulation that keeps the jacket lightweight, but extremely warm even without a base layer jacket.
On the outside of that great LIFALOFT insulation, the jacket is made of the well tested Helly Tech Performance fabric. This amazing material is made in layers to be waterproof, windproof, and highly breathable. All the things you'll need to stay comfortable while going all out on the slopes.
To help boost this combination of insulation and shell is the H2Flow mechanical vent. This is a system that holds warm air close to your body but also lets cold air in to let heat escape. This is a high tech way of saying the jacket is designed to regulate temperature automatically and does it well!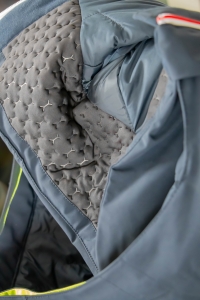 Starting at the top is the helmet-compatible and removable hood. Here you'll also find what's become somewhat of a  signature of Helly Hansen. The high visibility accent on the brim. Knowing that design might not be for everyone, the design allows the hi-vis part to be folded away. I'm one of those that are a fan of the hi-vis accent so with a quick flip, I wear it proudly.
Furthering the safety beyond just a hi-vis hood is the RECCO rescue system. While this is typically reserved for backcountry users, and this is an in-bound jacket, there can never be too much safety when it comes to being in the mountains. Even if it's a groomed one. This system will help ski patrol find you even if it wasn't due to an avalanche.
A little further down you'll find water-resistant zippers. Not only functional, but these zippers also look great. With a nice color accent, the flexible rubberized zippers work well without wanting to jam.
Lots of little details round out the design of the Helly Hansen Alpha LIFALOFT.  A ski pass pocket, soft pockets to warm your hands, an attached goggle wipe, a big internal mesh pocket, mesh pit zips, and plenty of easily accessible pockets all around show this was a well thought out layout.
The final design consideration is the level of insulation added. This is not a shell jacket and its not a puffy jacket. There is just the right amount of insulation that the Alpha LIFALOFT packs very nicely if you are planning a trip and need to pack a suitcase. Without being bulky in a bag this is a perfect choice for a week-long trip where you don't want to bring a quiver of jackets but you do want to save space in your suitcase.
Performance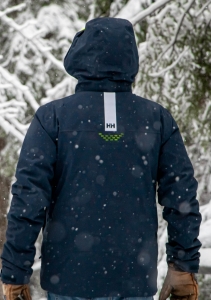 This jacket is all about the combination of great things. When Helly Hansen decided to put together LIFALOFT with Helly Tech Performance, they really hit on something great. This is a jacket that is all about balance in a Goldilocks kind of way.
When I first picked up the jacket, I thought there is no way this is waterproof. Usually, a fully waterproof material would be rigid. Definitely not soft or stretchy. But that's exactly what this is. Lightweight, soft, warm, waterproof, windproof & breathable.
So I tested it. In the shower. What more extreme conditions can test waterproofing than several pressurized streams of water. After a few minutes, nothing. Perfectly dry inside. After a good shake to get the drops off, the fabric went back to feeling like a non-waterproof jacket.
After wearing it out on a cold day, it was one of the only times I've ever been truly comfortable during winter activity! If you're like me and spend a lot of time in the cold, you know that most of the time you're either warm or cold.  Depending on how hard you work decides where you are in the middle. But the Alpha LIFALOFT jacket was just right. At first, I didn't even notice and just thought it was warmer out than I thought. But after taking it off, I was freezing. The jacket was keeping me just right! I tried again on a warmer day and the same feeling. The way the Alpha LIFALOFT regulates temperature is amazing.
Another thing I noticed as a first impression when I put it on was that it was a bit of a snug fit. I tend to like my jackets a little large so I can easily move. But the fabric once again surprised me. There is a great amount of stretch to the jacket and never once did I feel restricted.
A great benefit of the stretch & the snug fit is that it keeps drafts of cold air from coming in. This is likely why it is able to regulate temperature so consistently. It doesn't work by letting you overheat and then puff it all out. The fabric actually breathes like it's supposed to while not giving the elements much room to find their way in.
Like mentioned before, the Alpha Lifaloft is designed for days spent in-bounds on the slopes. This means when you're wearing it, you'll appreciate a few high-performance additions that make your day better. This includes the Life Pocket+. A high tech addition designed specifically to hold your phone. It's no secret that cold weather will destroy the battery on your phone. Getting to the end of the day on the slopes with a working phone can be an art form. But this specially designed pocket using some space tested thermal materials including Aerogel insulation that will actually keep your phone pocket three times as warm as the other pockets on the jacket. This gives you the ultimate chance of cell phone survival while still letting you have easy access to queue up your jams or snap a selfie.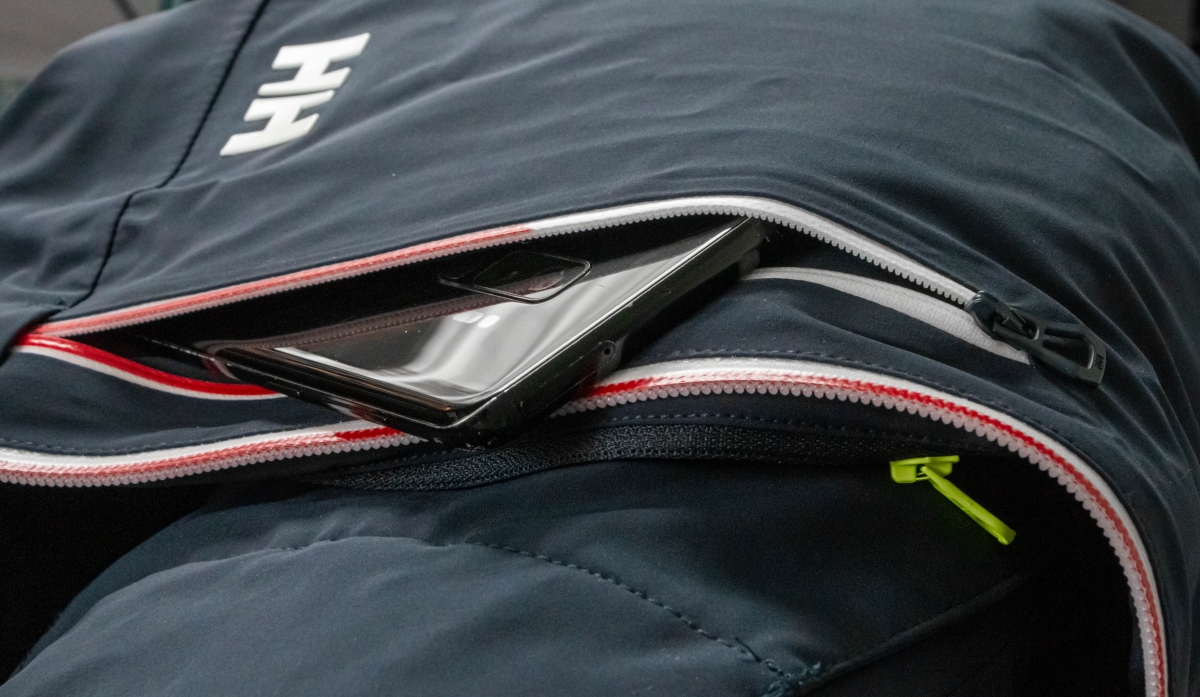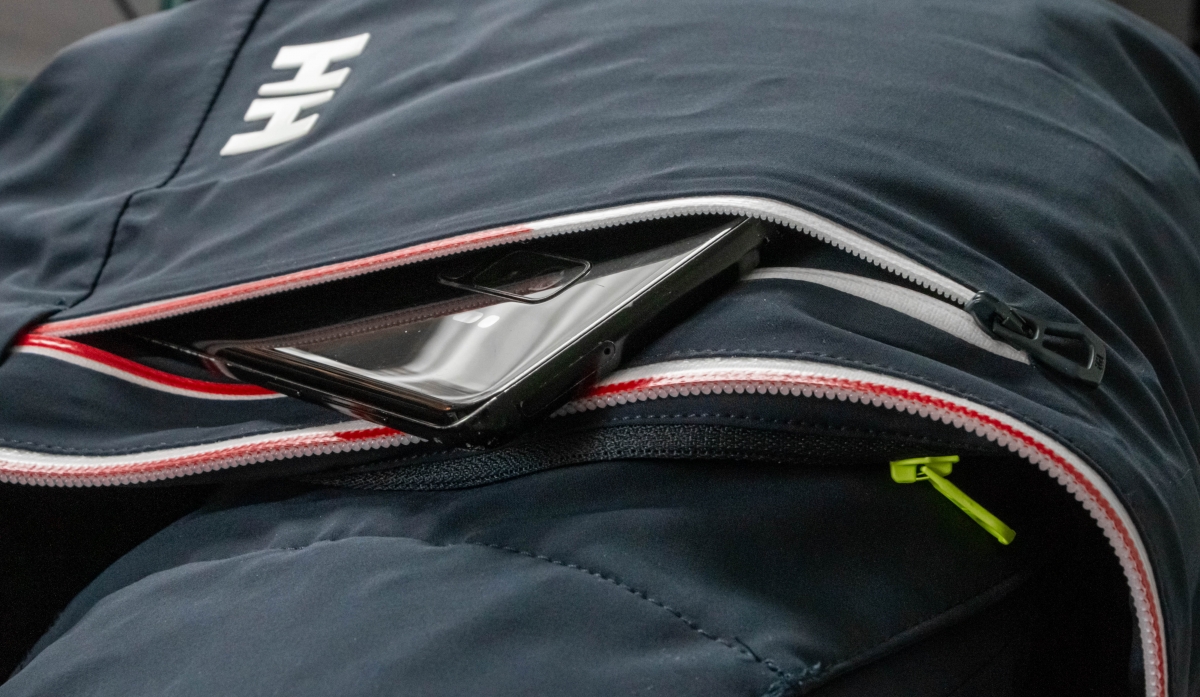 Comfort
Hopefully by now you've picked up that temperature-wise this jacket is ultra-comfortable. But how does it feel? The fast answer is, well, ultra-comfortable! Just ask the Swedish Alpine Ski Team, this is their jacket of choice.
All the places where you come in contact with the jacket are extra soft. The collar is a nice soft material that won't chafe your face and the zipper stays well concealed on the inside.
At the ends of the sleeves are very well designed cuffs with a very stretchy material with a thumb hole that goes almost to your knuckles. This really helps keep the warmth in and the wind and snow out. What I love about these cuffs is that they are extremely low profile and layer very well while wearing gloves. This gives you a layered protection system to keep all the snow out.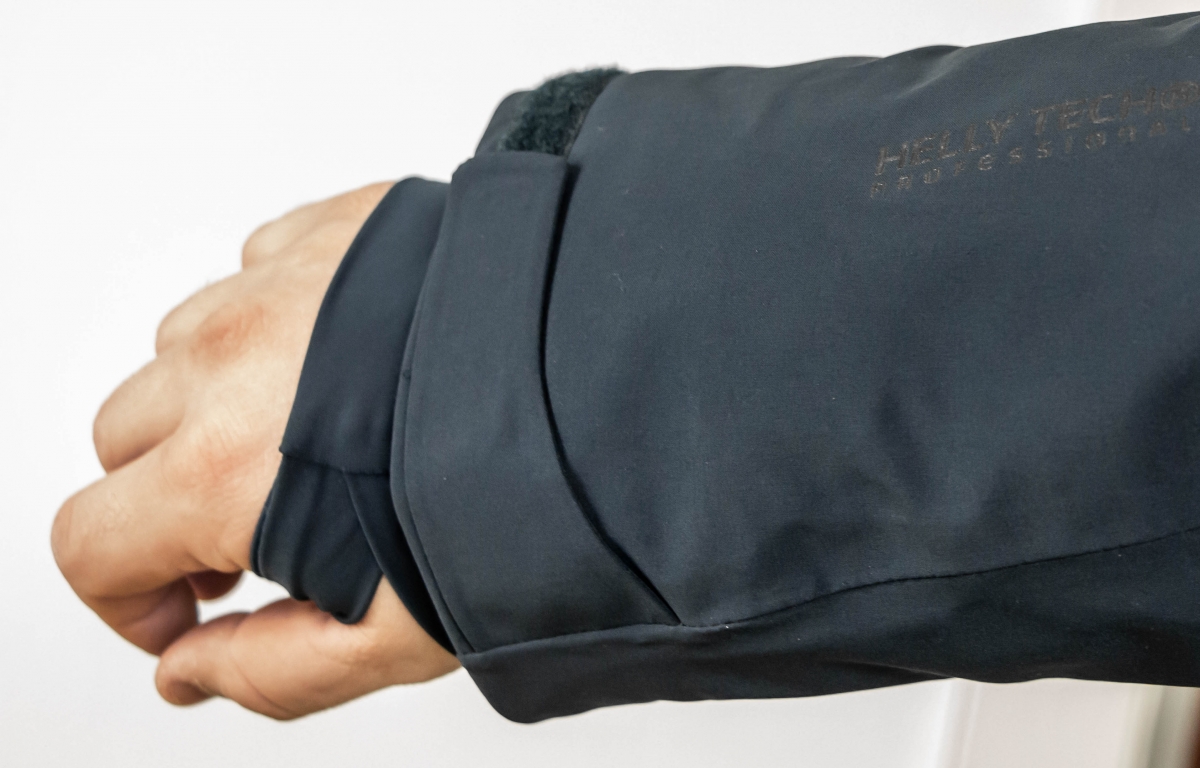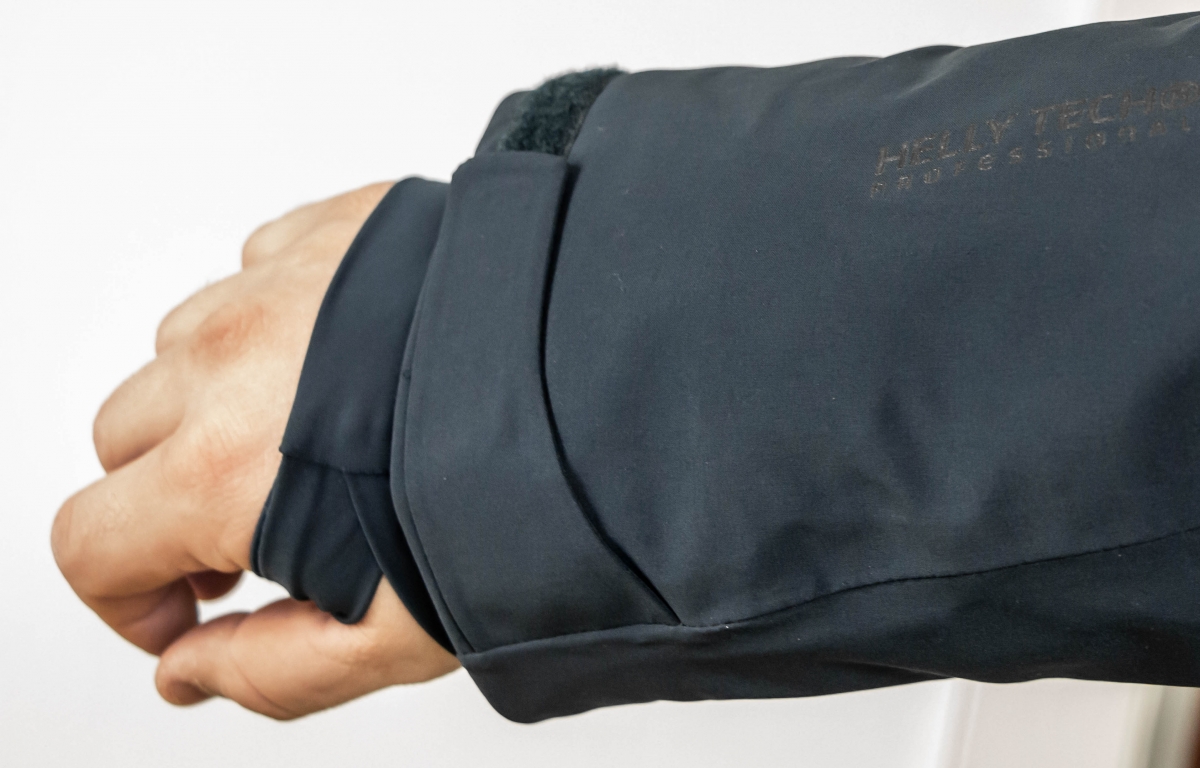 The other possible entrance is the bottom, but the powder skirt makes short business of keeping even the deepest powder out.
Overall, the 4-way stretch material has a way of moving with you that makes it fit like a glove. The addition of the insulation and liner material doesn't hamper movement or add extra bulk. If I was to make one criticism it would be that the cut of the jacket is traditionally shaped. This means a slightly shorter waist than sleeve length and a very subtle tail. When bending down, I did notice that along the back the jacket & snow skirt just barely came above my pants. If there was an ever so slightly longer tail, particularly on the skirt, it could help out if you were a snowboarder that did more toe touching through the day.
Style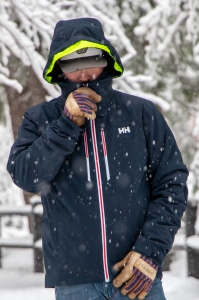 Helly Hansen is also known for bold design choices. Large logos, bright colors, hi-vis. But the Alpha LIFALOFT is relatively tame. Likely a welcome change for the typical in-bounds skier.  Available in several colors from bright orange to all black, there is a little bit of flash if you want it but overall it's a pretty conservative look.
I had the Navy color and I really liked the 2 tone zipper. The red and white add a little pop of color without standing out. The ability to tuck away the bright yellow hi-vis also lets me further tone the style down to where this jacket could easily be worn for an apres-ski dinner or just wearing around as a daily driver.
Even though its fully insulated, the cut being slim means you won't look like you are venturing out with an arctic expedition parka on. Again, much more conservative and refined.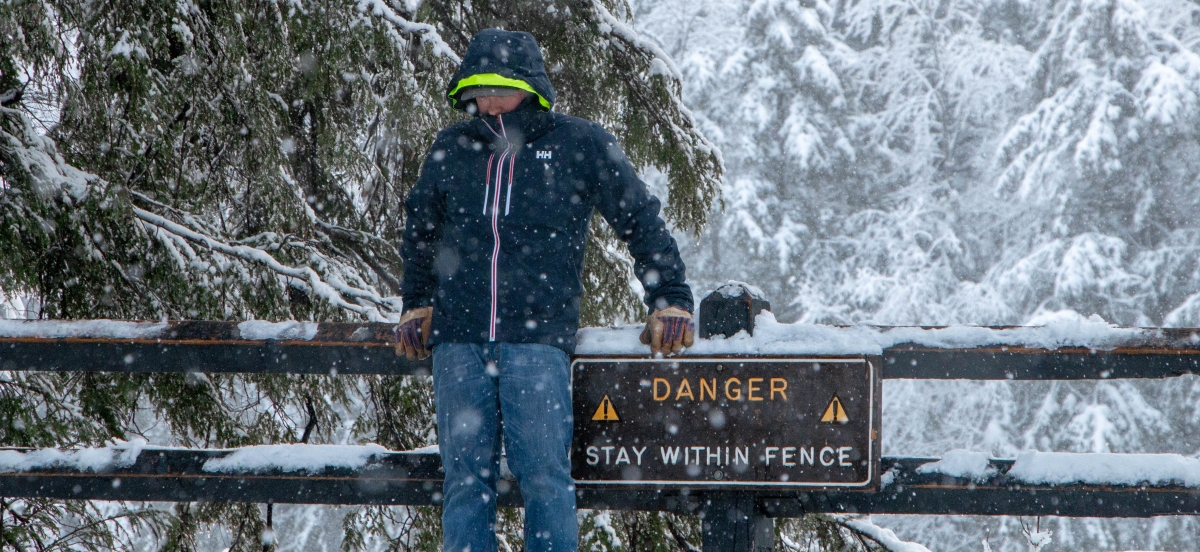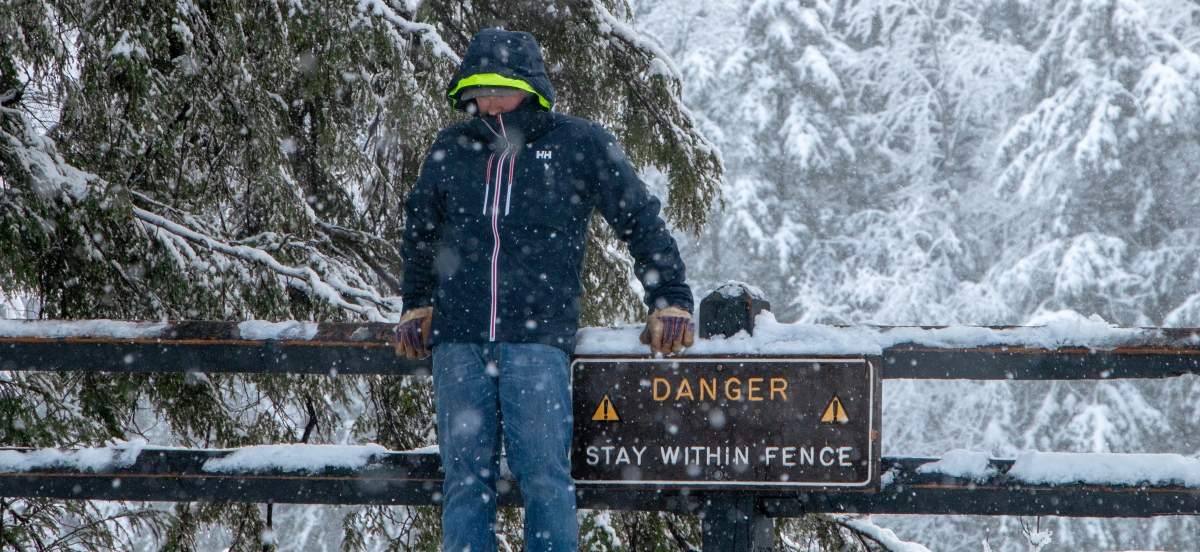 Value
There are so many jackets out there for so many activities that it can be hard to find the right one. Features with cool buzzwords and promises of warmth down to negative 5 billion degrees (about) make it hard to choose what you really need. But all of that aside, this really is one of the most comfortable and best-performing jackets I've ever put on.
It's rare that a jacket can make a day on the slopes better, but it most definitely can make it worse. This jacket won't break the bank, for sure won't make your day worse, and with features like the Life pocket+ will help to make it even better. All great marks in our book and why the Helly Hansen Alpha LIFALOFT will likely stay my favorite jacket for a long time.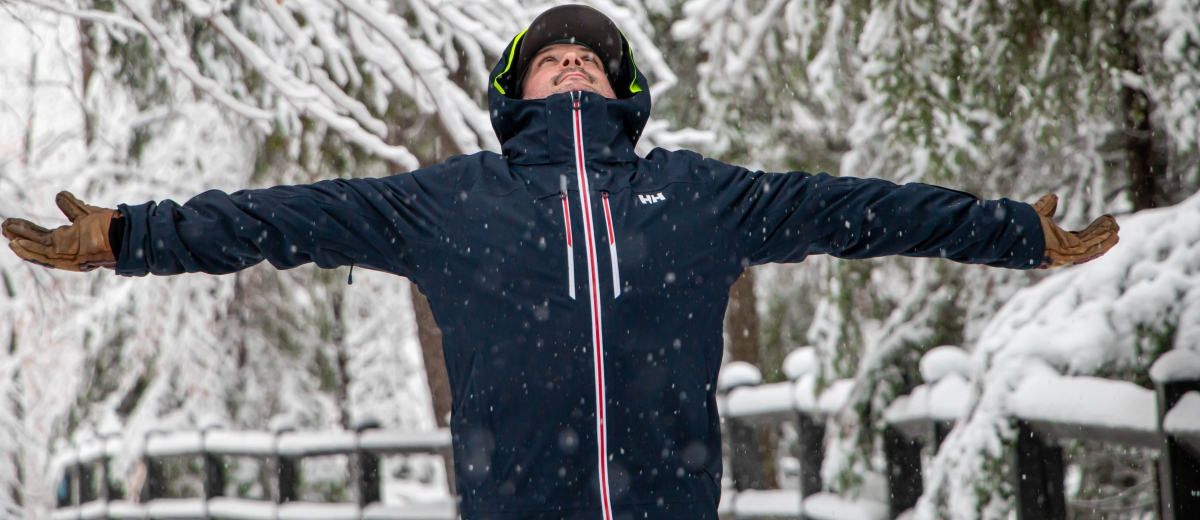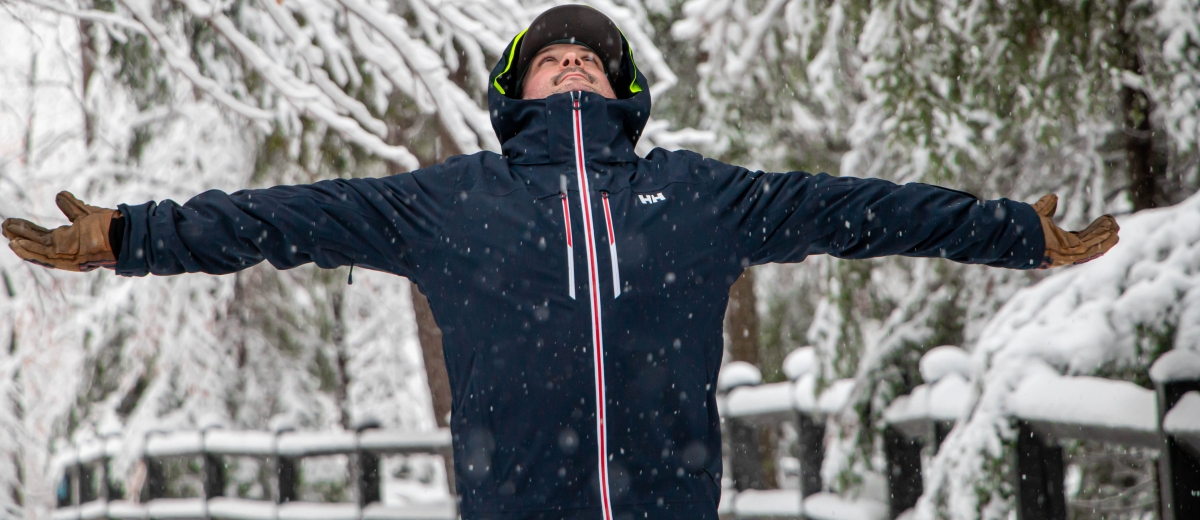 Buy Now: $500 Amazon.com or a Helly Hansen dealer near you
Helly Hansen Alpha LIFALOFT - Gear Review
If you are an in-bound skiier or snowboarder and looking for the Goldilocks of jackets that balances every feature out there with perfect temperature regulation and high tech design considerations, the Alpha LIFALOFT is the jacket you've been waiting for.
The Good
Amazing fabric & insulation
Very comfortable stretch
Super well designed cuffs
The Not So Good
Little short at the waist
Will feel snug(er) at first