Jabra, a company known for their bluetooth and headset devices launched the Revo line of headphones this past month to do combat in the ever-growing premium headphone space. The Jabra Revos are available in bluetooth and corded options as well as their sibling, "vox" that is an ear-bud format. The key feature? These headphones are rugged and "built for life."

Having been a previous owner of a pair of Jabra Noise Cancelling C820S headphones, I was intrigued to see what advances had been made on the new Revo line of headphones. One of the issues that I had with my previous pair of Jabras was that they didn't quite stand up over an extended period of travel. After a year plus of heavy use one of the rotating plastic ear pieces finally gave out rendering the 'phones useless. Well, that issue will NEVER happen with the new Revo models as these headphones are built to last.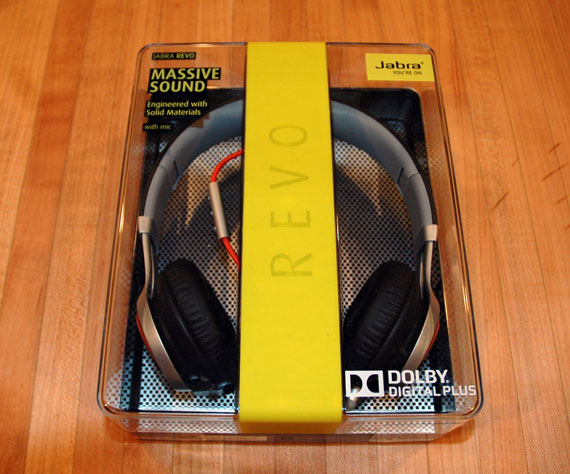 From cord to chassis, the Jabra Revo headset is solid as Sears from a build standpoint.  
Jabra Revo Key Features:
Dolby Digital Plus
Memory Foam Earpieces
Omni Directional Mic w/noise filter
Ultimate Durability
Jabra Sound App (iOS & Android)
Phone controls
  We tested the device across a variety of devices and music types to ensure an accurate review.         
– JABRA REVO CORDED HEADPHONE REVIEW –
STYLE: 
(7.5 out of 10) I'm a bit of a traditionalist when it comes to headphones. I like sound and quality over the look. Not being one for the attention grabbing loud headphones, these Revos have a nice look that use small portions of the headphones to style the look. The cord is a dark orange, the top is a matte black/aluminum and the interior is a light grey – a suitable combo. I'd have liked to see the padding on top to be black so that it wouldn't stain or age.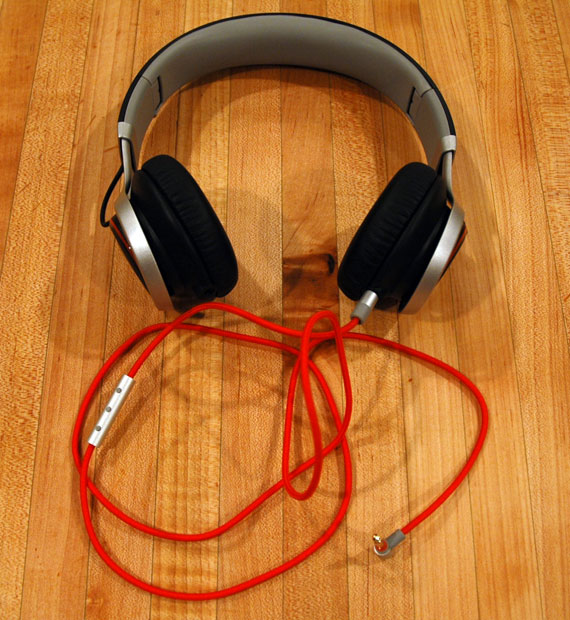 SOUND: 
(8.5 out of 10)
 Seeing that the hype on these headphones was the durability, I wasn't expecting much when it came to the sound. I was pleasantly surprised to find that the sound wasn't overlooked. The bass was enhanced (but not too much) and the highs were crisp and clear. The only element that was lacking in the sound with the Jabra Revo were the mid-range tones. The sound (and fit) was actually so strong that they blocked out more background sound than my old noise-cancelling headphones.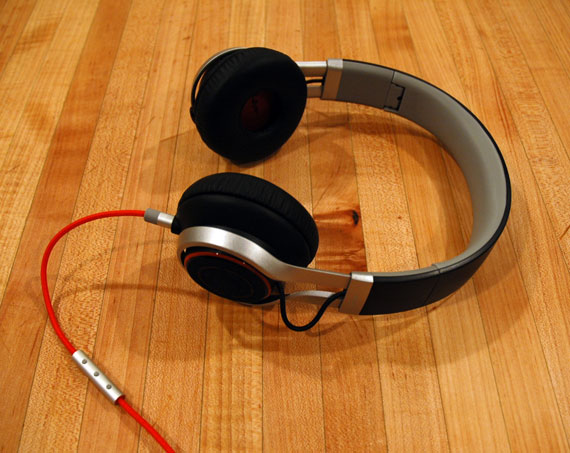 COMFORT/FIT: 
(5 out of 10)
 Heading into this review, I was a bit apprehensive as I'm not a fan of on-ear-headphones. I'd take over the ear 10 out of 10 times everyday of the week. Until I tried the Revos. The memory foam ear-pads are excellent on the ear and make listening for hours a breeze on the 'ol lobes. These headphones changed my whole outlook on "on-ear" listening.   However the headphones leave a good amount to be desired in other areas. The top padding looks comfy, but actually caught on my hair non-stop and felt quite hard on the head. The top padding on the headphones is noticeably bad when wearing them for awhile. Additionally, the mic/controls are brutal to operate. While the aluminum remote looks cool, it is located very high on the cord. It makes for good audio, but very tough operation as you have to reach up beside your cheek and tap sharp buttons the size of a small nail in order to operate.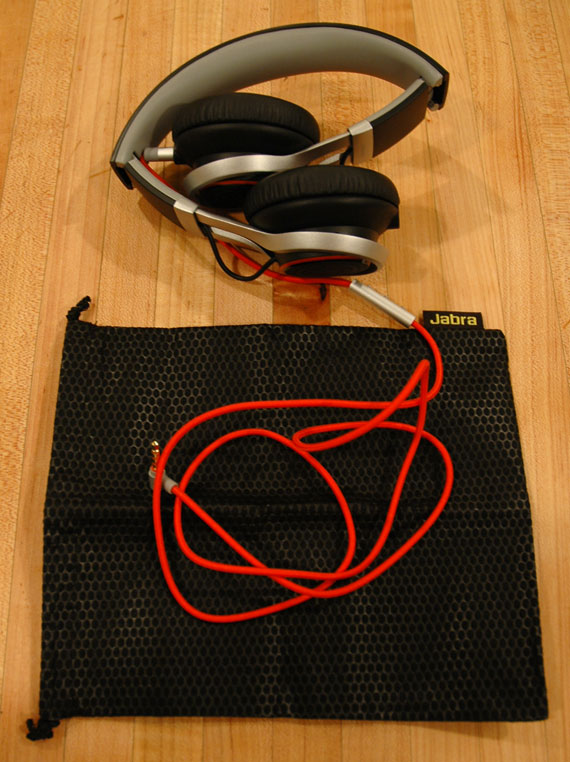 The Jabra Revo also "folds" up for storage. In reality the folding doesn't do much. One ear folds in and the other awkwardly sits on top of the other in a way that isn't lined up. This is likely good for durability (less moving parts) but not great for saving space.  
DOLBY DIGITAL: 
(0 out of 10)
 The fact that these headphones had Dolby Digital integration above competitors would likely be a big plus for many consumers, myself included. After listening to album after album on the Revos over a few days I wanted to test out the enhanced Dolby functionality. In order to leverage the Dolby Digital enhancements, a sound app is required — so it's for smartphones and smart players only – no shuffles, nanos or old technology.   I downloaded the app and fired it up. To my dismay an activation code was required. Horrified, I dug through my garbage looking for the Revo box and the code inside. No luck. Having a sticker on the headphones with the activation code could have fixed this from the start, but I wasn't worried. I quickly reached out to the Jabra Contact form to get a new code to test it out (like any customer would.) To my surprise, I received the following response from the Jabra Staff:  
Dear Greg, Unfortunately, the activation code for the Jabra App is unique, I recommend you to contact the point of purchase.   Thanks,
[name removed]
Jabra  
Bummer. Recommending that customer go back and hit up Best Buy for an activation code for a app is poor form. I'm giving this a big fat zero, but apparently it works like this:      
DURABILITY: 
(10 out of 10)
 These headphones are the sturdiest headphones that I've ever seen. Perfect for snowboarders and those involved in action sports or the everyday public commuter the Jabra Revo is a beastly headphone. They can be bent, twisted as much as you'd like. These headphones not only sound good, but will be sounding good for a long time.
THE BOTTOM LINE

:
These headphones have two major selling points – sound and durability. If you are looking for a durable headphone – look no further. These headphones will last a long time. The downfalls are the tough to use remote, the top padding and extremely poor customer support.   
Buy Now: $159
or go to: 
Jabra.com