If you spend countless hours in front of a computer, tv, smartphone, tablet, or some type of digital device then chances are your eye's are working pretty hard.  The amount of high-energy visible (HEV) artificial Blue light that hit your retinas can not only disrupt your eye's, but also your neck, back, circadian rhythms, and even serotonin levels.  If only there were some magical eyewear technology that could shield you from such chaos… oh wait, that's where Gunnar Optiks comes in.  For the past 30 days I've tested the Vinyl computer eyeglasses and although I was a skeptic, I definitely have noticed a change in the way I feel while I am wearing these glasses.
KEY FEATURES
Soft thermoplastic rubber tipped temples

Aluminum-magnesium frame

Hidden spring hinges

Lightweight construction

Adjustable floating nose pads

Wide format lenses

Micro-engineered lens locks
Gunnar Computer Eyewear Review
Design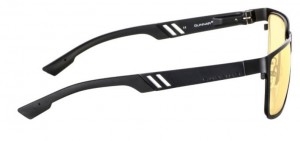 The frames are what make these glasses look good.  The sleek and modern digital lines made of Aluminum-magnesium forged temples and thermoplastic rubber sockets not only look great, but they are ergonomical and built to last.  The frames come equipped with spring hinges and adjustable nose pads that are fairly easy to tune to your liking.  The lenses are a great size (not too small or too big) and increase your perspective range for high resolution viewing.  However, the optics are what make this eyewear so unique.  Since our eyes weren't designed to naturally absorb artificial blue light, Gunnar Optiks has created this unique lens with corrective color, tints, anti-reflective coating, and focusing power to lessen the strain on your eye's and keep you feeling good.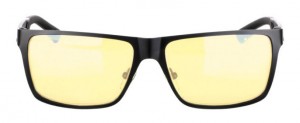 So how do they do it? "The Amber lenses add additional contrast to define shapes and sharpen detail for easier viewing."  I did find the Amber color to help with focusing, however, because some of my work entails color correcting video footage and photographs, I had to take the glasses off each time since it would disrupt my perspective of true and balanced colors. Gunnar also has incorporated lens tints that block high frequency blue light and help boost focusing power so you can minimize eye muscle fatigue.  I did notice a difference as soon as I put them on for the first time.  There is a slight magnification to them, which also helped my posture since it prevented me from slouching inward to read smaller text on my computer screen.  The wrap-around patented lens design did help to block out some airflow that prevented my eyes to dry and become irritated.  The anti-reflective coating on the front and back of the lenses are hard to notice but it does make a difference and is more noticeable over time.
Comfort
Although the highly wrapped lens design helps to limit the air current and increase humidity levels to keep the eyes comfortable, I did notice some pressure on the bridge of my nose after wearing these for longer periods of time.  The Vinyl glasses are lightweight compared to most other eyewear out there.  Since I don't normally wear corrective glasses, I'm hesitant on claiming they aren't made for all day use.  If you are used to wearing glasses then they might feel different for you, however, I did notice a great deal of pressure after wearing these for more than 3 hours at a time.  The adjustable nose pads did help to alleviate some of the constant pressure in certain areas of my nose once adjusted.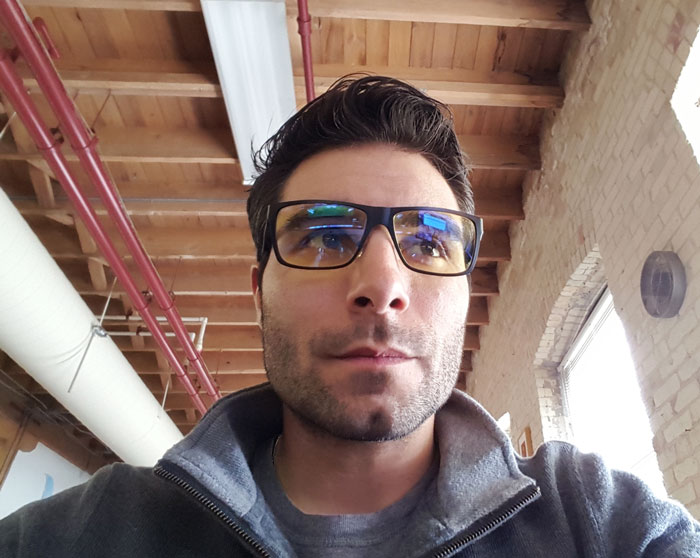 Style
The tech spin on this classic style is what drew me to this Vinyl design.  I love the clean and simple look that compliment the wide format lenses.  I have to say… I feel a little like Clark Kent at times when I catch myself in the mirror with these on.  The Onyx frame color has a slight sheen that blends seemlessly into the thermoplastic rubber sockets.  The two parrellel cuts in the side of the frames add just a touch of contrast and style to help make the Vinyl design unique.  You can also choose from Amber or Crystalline tint for the lens.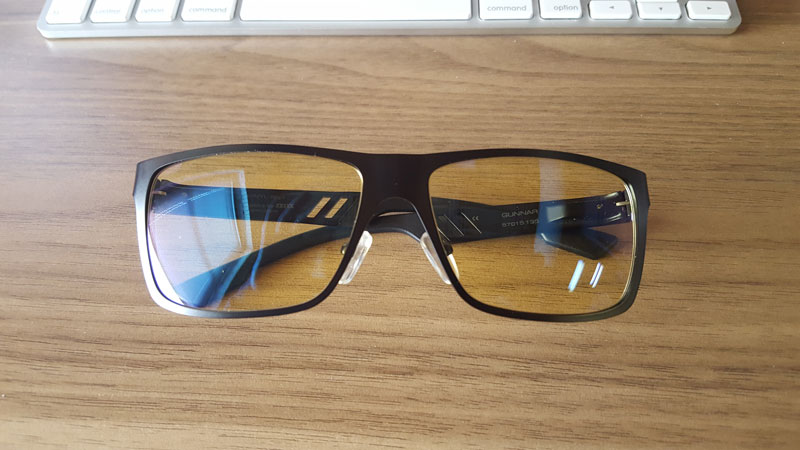 Value
Coming in at $99 (for the non prescription version), I find these Vinyl specialized computer glasses to be a good investment for your eye's and health.  If you have a prescription, you can choose from Standard Rx or Premium Rx for an additional cost.  So if you find yourself with irritated eye's, soar neck from leaning forward, or a random headache from staring at the screen too long, the Gunnar Vinyl computer glasses might just do the trick and have you feeling better in no time.
Buy Now: $99 or to learn more, check out:  Gunnar.com
Gunnar Optiks Computer Eyewear Review
Gunnar Optiks is a solid solution to help protect your eyes in an ever growing digital world.
The Good
Proven tech with a Stylish look
Ergonomical and Durable
Anti-Reflective Coating
The Not So Good
Comfort level could have been better