Since George A. Dickel bottled his first batch of whisky in 1870 using the pure water from Cascade Springs, adult consumers have been drawn to this Tennessee whisky. 'Handmade the Hard Way', all whiskies produced at the Cascade Hollow distillery in Tullahoma, Tennessee are hand crafted with an actual human being present at every step of the process. This personal touch continues to be the backbone of the brand and every bit as important as the rye, corn and barley that make up its Tennessee whiskies.
With a history like this you can bet that we didn't hesitate for a second when the fine folks down in Tullahoma invited us for a tour of the George Dickel distillery recently.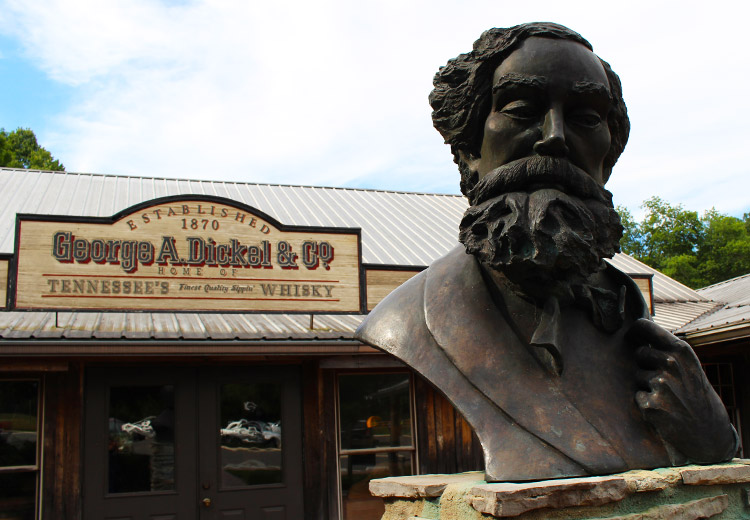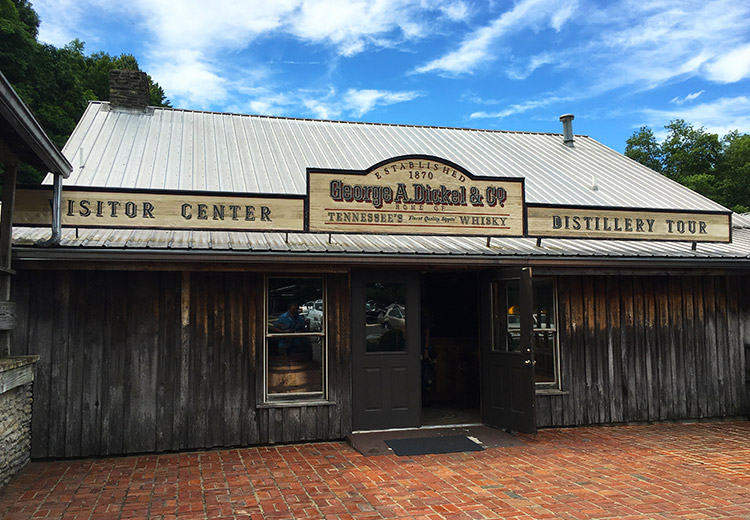 The George Dickel Distillery is located approximately an hour outside of Nashville. After exiting the highway, you take the back country roads through farm lands, woods, and past Normandy Lake until you roll into Cascade Hollow. Our driver actually missed the turn onto the road into the distillery because you would have no idea it was there unless you know what you were looking for.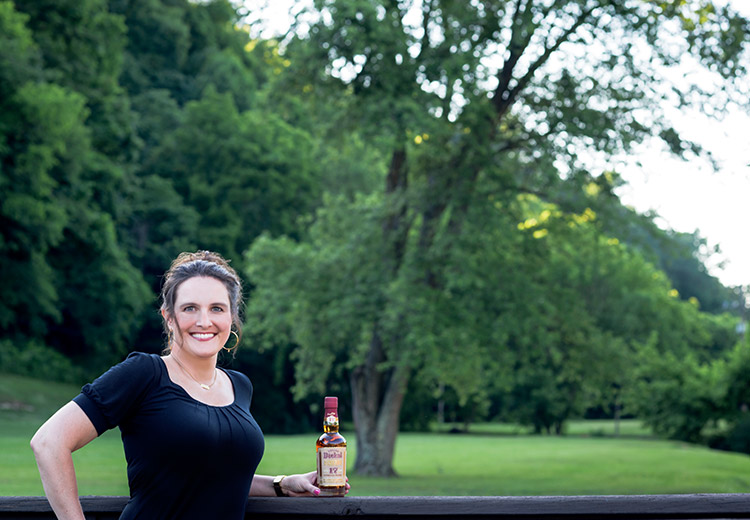 We were warmly welcomed at the distillery's visitor center by George Dickel's Distiller herself, Alissa Henley. Alissa is one of the few women distillers in the game and has been with George Dickel for over a decade. Not to mention, she's a hometown girl from Tullahoma.
Our tour began with a walk past the running water of the Cascade Springs in front of the distillery. This is the same water source that they have used from the very beginning to create their iconic whiskies.
Walking into the distillery, we immediately thought it was much smaller than one would think it would be. It was a Monday afternoon too so it was business as usual with employees going about their normal work day duties.
Alissa brought us through it all – past the mash tubs, the fermenters, beer wells, and charcoal mellowers. We saw and smelled it all.
Charcoal mellowing is the process makes a Tennessee whisky and not a bourbon. What makes George Dickel Tennessee Whisky different from other Tennessee whiskies is that it is chilled to 40 degrees to increase the viscosity before it is poured through the charcoal filtration process. This is a preference set by George Dickel himself because he always thought the whisky tasted better in the wintertime. Thinking back to the late 1800s, ice and refrigeration wasn't the norm like it is today.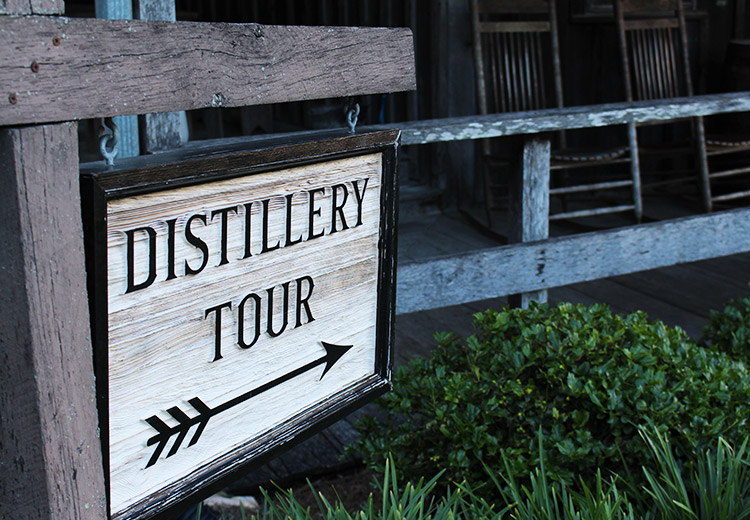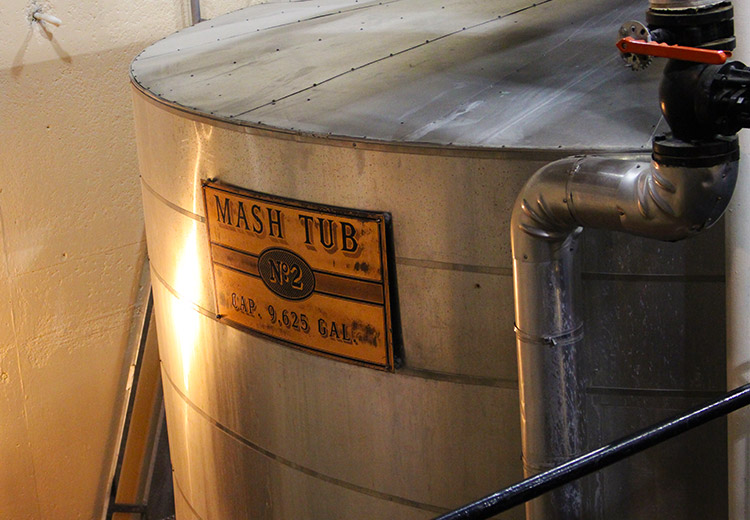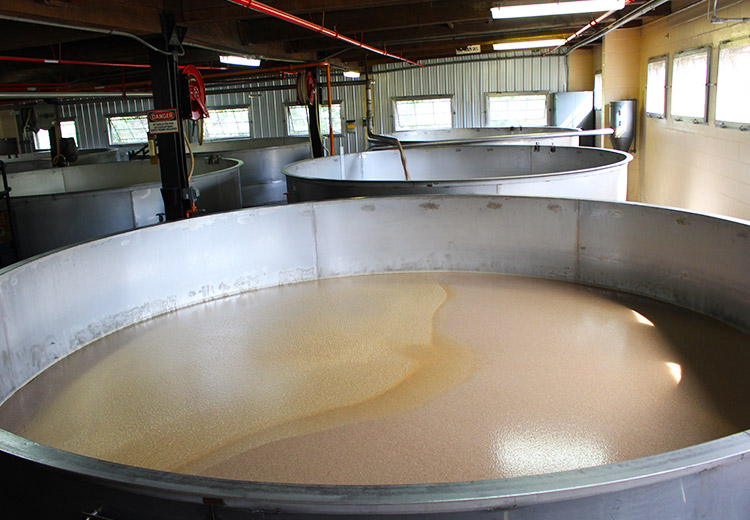 After making our way through the distillery, we were invited to see a couple of the barrel warehouses by way of a hayride up the hill. The distillery currently has a dozen warehouses that hold around 200,000 barrels. Welp. Never mind our original thoughts of this place being small. We hopped off the hayride and walked into a warehouse where there were barrels as far as they eye could see.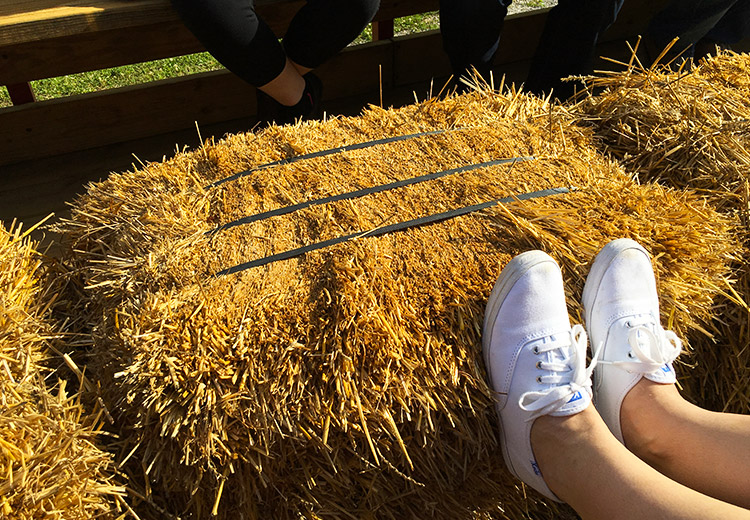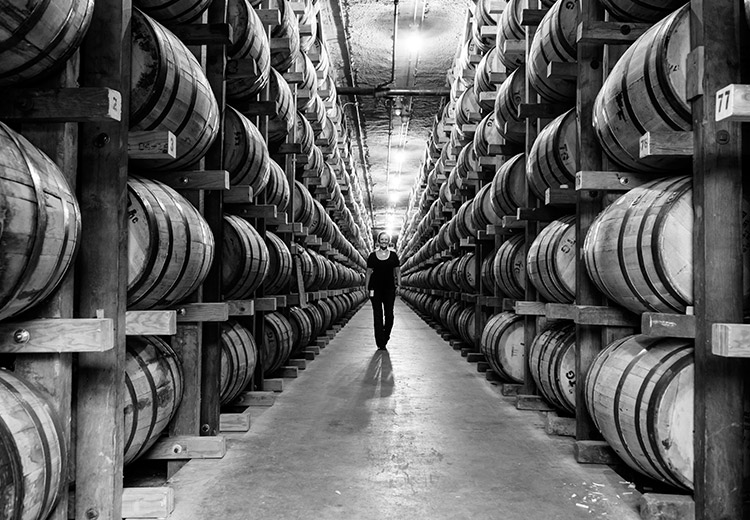 Talk about 'Handmade the Hard Way', check out this handmade sign the distillery folks use to keep track of which barrels are where. Each of these beauties clock in at about 500lbs when filled and then carefully stocked to sit and ripen with age.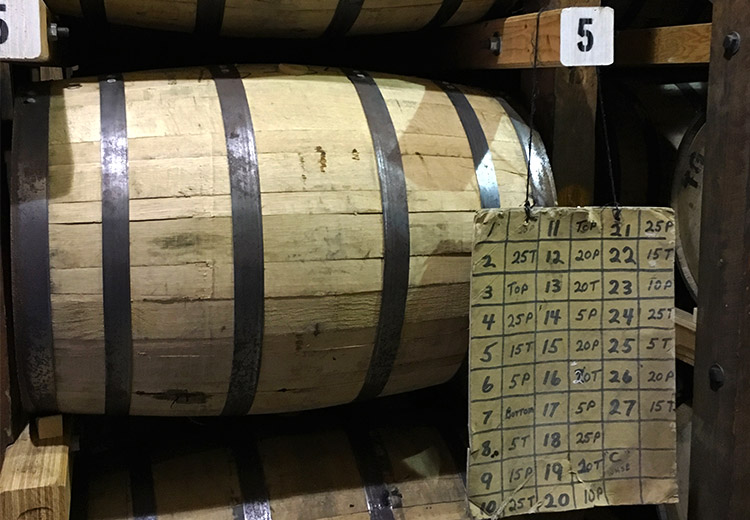 George Dickel was also about consistency so their barrel warehouses are only one story tall. They believe this helps keep the aging process between barrels more consistent since Tennessee experiences the four seasons of the year and barrels expand and contract with the temperatures.
Following the tour, we were treated to a tasting of the newly released 17 year-old whisky. Yep. That's a ONE and a SEVEN. This all came about when Alissa was searching George Dickel's single story barrel warehouses for 9-Year Old whisky to use in the Hand Selected Barrel Program she had launched in 2014.After doing a double take on the date on the barrels, they opened them up for a taste and it was amazing enough to share with the rest of the world. It is some mighty fine sipping whisky. If you can get your hands on a bottle from the super limited release, we highly recommend take advantage of the opportunity.
If you aren't as lucky as we were to be able to taste the 17 Year, no worries. George Dickel's trusted and tasty line of whiskies are there to keep your comfy until Alissa stumbles across another set of hidden gems in the barrel warehouses.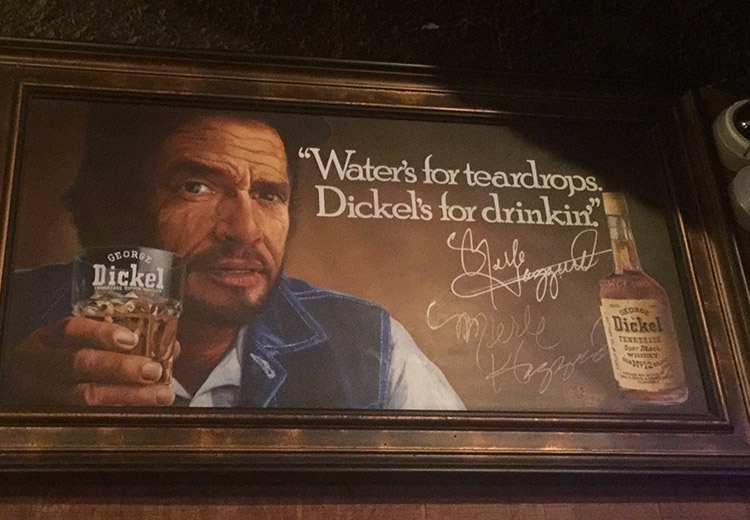 Want to take a trip to see the George Dickel Distillery yourself? Learn more here.
In the meantime, here are few delicious George Dickel drink recipes perfect for summer to try out. Even your non-whisk(e)y-drinking friends will love them!
1 oz. George Dickel No. 12
.5 oz. Passion fruit/vanilla syrup
.25 oz. Grenadine
.75 oz. Lemon juice
.125 oz. Pernod
1 dash Old Fashioned bitters
Directions: Shake, serve on the rocks with mint garnish
.75 oz. George Dickel Rye
.25 oz. Salers Apertif
.25 oz. Genepy des Alpes
.5 oz. Lavender tonic syrup
Directions: Stir, serve on the rocks, garnish with baby's breath
1.3 oz. George Dickel No. 12
.75 oz. Honey syrup
.5 oz. Lime juice
.75 oz. Whole grapefruit juice
2 dashes Cardamom bitters
Directions: Put three sage leaves in tin and shake, serve up in a coupe glass and garnish with one floating sage leaf.
Learn more about George Dickel Tennessee Whisky at: GeorgeDickel.com