As ECCO continues their evolution of the golf shoe, they are consistently putting out great products. The new ECCO Cage Pro Boa is no exception. ECCO touts that the Cage Pro Boa is designed for those who are passionate about their game. ECCO also says that these golf shoes incorporate cutting-edge sports technology with innovative styling and flawless comfort features. ECCO started making golf shoes in 2010 and have continued a positive trend in their development. Each year new designs and styles are introduced to the lineup.
ECCO used to cater to specific tastes but if you check out their 2017 golf shoe section you will find the right style for you. We were lucky to get our hands on their new Cage Pro Boa's this spring. We hit the range and the course to see how well the shoes held up, and here's what we discovered…
Key Features:
Unparalleled Grip: New Spydr-Grip® spike-less outsole ensures stability on the course, unparalleled grip and is easy on the green, with no clogging of dirt in the sole.
Ultra Lightweight: The unique Direct-Injected Process (DIP) fuses the midsole and heel cage as one, making the Cage Pro incredibly light, durable and flexible.
Textile Upper: Constructed of water-resistant HYDROMAX® treated textile, bonded with webbing made from customized PU for breathability & durability.
ECCO MENS CAGE PRO BOA Golf Shoes Review Breakdown
Design:
The design focus for the Cage Pro Boa's seems to be stability, which is what every golfer is looking for in their shoes. ECCO has enhanced the stability with the cage heel design, and the inclusion of the their new ECCO SPYDR-GRIP outsole. The SPYDR-GRIP features organically-positioned pivot points designed to optimize your balance and grip. This should provide premium support and stability from the start of your swing through the finish. The shoes also feature internal inlay soles that are removable in case you need extra room for a wider foot.
Every golfer knows that the proper fit with their golf shoes is absolutely key to finding great stability. That is why ECCO included the advanced BOA closure system that will tailor the fit for every foot type so that you get your perfect, secure fit. For more on the Boa system, visit the comfort section. The Pro Boa's are constructed of water-resistant HYDROMAX treated textile, bonded with webbing made from customized polyurethane which make the shoe have breath-ability and durability. Overall, the BOA's are well designed and continue the phenomenal maturation of the ECCO golf shoe lineup.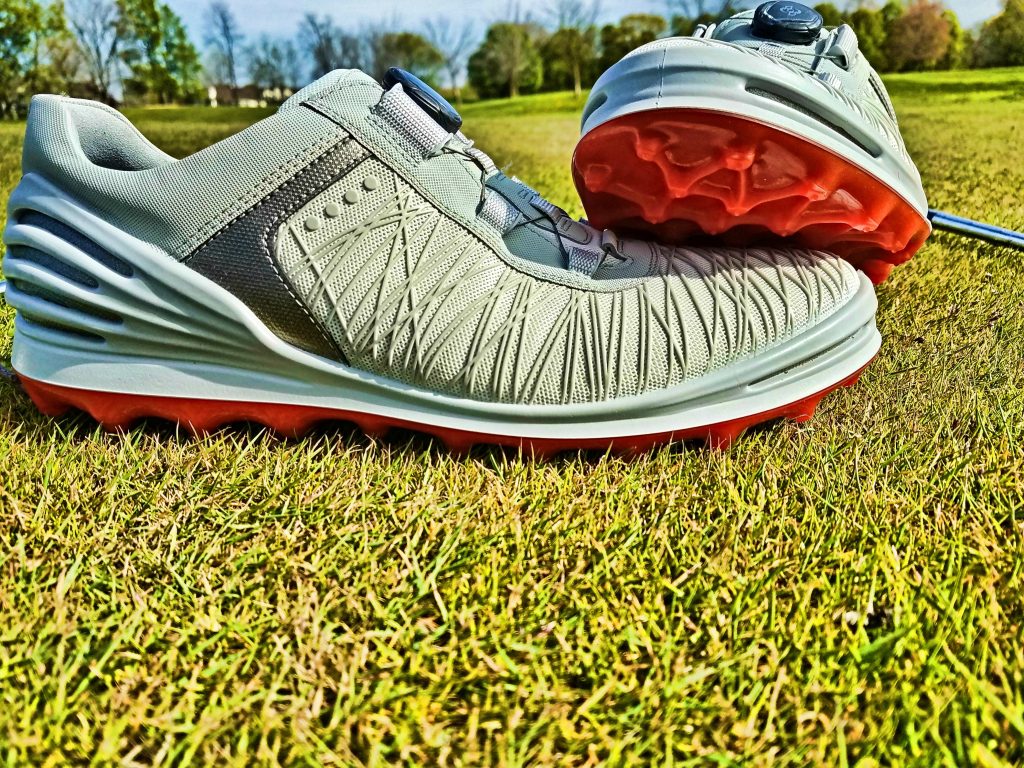 Comfort:
Weather you walk or ride for your rounds, you are on your feet for a long time. It is important to have a comfortable pair golf shoes as there are bigger things to worry about on the course instead of the comfort of your feet. You want your mind focused on foot placement, figuring out landing spots, and reading the greens for that birdie putt. With the ECCO Cage Pro Boa's they wanted to ensure that your feet are properly cared for. The shoes feature ECCO's unique Direct-Injected Process (DIP) which fuses the midsole and heel cage as one, making the Cage Pro incredibly light, durable and flexible. The shoes are very lightweight on your feet so they are not bogging you down while walking on the course. You can walk multiple rounds in day and your feet still feel great at the end of the day.
We talked about the Boa system and getting that unique, secure fit for your feet. Boa systems have increased in popularity over the years because of how simple, easy, and how much stability they provide. No more having to tie your shoes multiple times, just turn, click, and get the right fit. Traditionalists still want to lace up their shoes, which we understand, but for us getting that secure fit is the most important thing. Very rarely will you have to readjust your settings so you get the same fit and feel throughout the round. With the Boa system can feel your feet getting locked in and secured. Also, if you need to readjust it is a simple process. Will it end laces? No, but we think it is a solid system and love the integration with this golf shoe.
Traction:
ECCO unveils their new Spydr-Grip spike-less outsole that is touted to provide stability on the course, unparalleled grip and is easy on the green, with no clogging of dirt in the sole. What we appreciate about ECCO is their ability to think outside the box with their shoes. Again, traditionalist golfers may want their screw-in spikes because they think that is the best way to get traction. We have worked with ECCO several times now and they continue to design different ways to provide traction instead of conforming to the norm – and we like that!
The Spydr-Grip system really does a great job of giving you great traction and feel in your feet. In damp conditions your spikes will collect a lot of dirt and grass as you pivot through your golf shoes with torque. This collects through the round and causes you to lose traction as it sticks in the spikes. The grips on this particular system are a little bit bigger than other ECCO shoes so they do dig in a little better than previous models. Also, with the Spydr-Grip system that muck doesn't ever collect so this problem is no longer your problem. Also, at the end of the round when you are taking off your shoes you don't want to spend 10 minutes banging the grass and dirt off them, you want to get in the clubhouse and grab a cold one!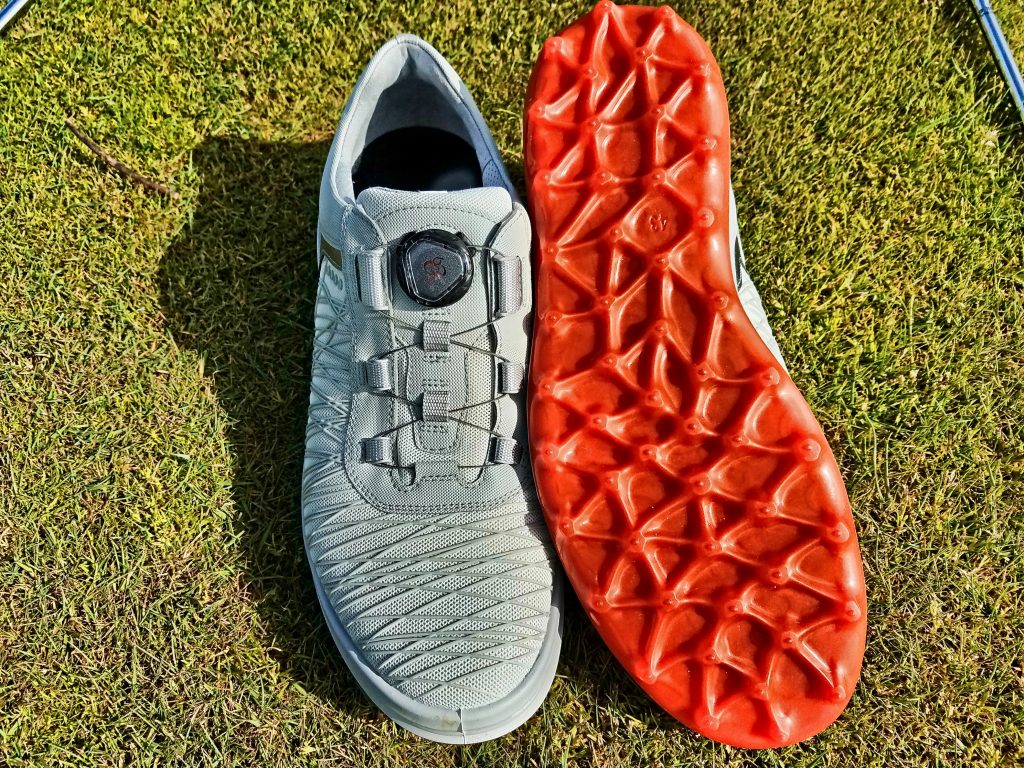 Value:
The ECCO Cage Pro Boa's retail for $230. You can get the lace-up version for $210, if you prefer that style. Regardless of which system you prefer, we are loving the Cage Pro. The shoes are lightweight, comfortable, provide great traction and hold up well for multiple rounds in a day. With Spring here and Summer on its way you are ready to hit the links and are probably ready to upgrade your golf shoes, if so, then take a hard look at the ECCO Cage Pro Boa's. Your feet will thank you.
Buy now for $230 or visit ECCO.com for more information
ECCO Cage Pro Boa - Range Review
The ECCO Cage Pro Boa golf shoes are a great blend of comfort, lightweight design, and good traction. These golf shoes are designed to give your feet the secure and fit feel for your feet that you have been looking for.
The Good
Boa system provides great secure fit
No collection of grass or dirt in the spike-less system
All day traction and fit through every shot
The Not-So-Good
Price point will scare some off