Eventually there comes a day when the bargain-brand suitcase you took to high school spring break is no longer acceptable.  Just because it still zips doesn't mean it's the best suited for the job.
Having good, reliable luggage is a rite of passage into adult-hood.  Whether you're traveling for work or embarking on a real, adult-like European vacation, your luggage represents you.  Lucky for us, Eagle Creek has stepped up with the dependable, lightweight Gear Warrior 29 and gave us the opportunity to take it for a spin.  We quickly discovered that a suitcase can be a lot more than just a box that zips (and smells faintly of tequila).
Eagle Creek is not just a luggage company, they are a self-proclaimed "tribe of travelers".  For the past 40 years they've been perfecting not just their suitcases, but the entire travel experience.  They are the go-to travel outfitter for a reason.  Take a few minutes to check out their Outfit Me tool and Travel Hub, and you'll see exactly what we mean.
Key Features:
Exo-Skeleton seamless composite fabrication strategically strengthens wear points, with reinforced hypalon material blocking and bumper protection, and water-repellent Geo Ripstop and ballistic fabrics, with bartack reinforcement, for maximum durability
Lightweight anodized aluminum dual-tube handle
Multiple grab handles and Harness Handle™ for easy grab-and-go
Wings with front compression straps, compress contents, lash gear to bag, and help protect zippers
Top pocket for quick grab items with large internal organizational pockets
#10 lockable zippers with finger-friendly pulls
Interior compression straps keep contents from shifting
Attached piggyback clip offers add-a-bag versatility
ID Tag pocket and contrast accents
Reflective accents for dusk and nighttime visibility
Pack with Pack-It™ System organizers, suggestions included
Eagle Creek Gear Warrior 29 Review Breakdown
Storage:
Arguably the most important aspect of any suitcase – it has to be able to hold your stuff.  The Gear Warrior 29 is the perfect size for a week vacation (longer if you pack light, which I don't).  It's taller than many suitcases, which allows for tons of space in the main storage compartment, while the interior compression straps keep your gear from sloshing around.  Eagle Creek has also mastered packing cubes with their line of Pack-It™ System organizers.  The organizers make packing and re-packing a breeze and keep everything organized, which is one less thing for you to stress about while traveling.  Since the main compartment is such a big space, these organizers really make the most of it.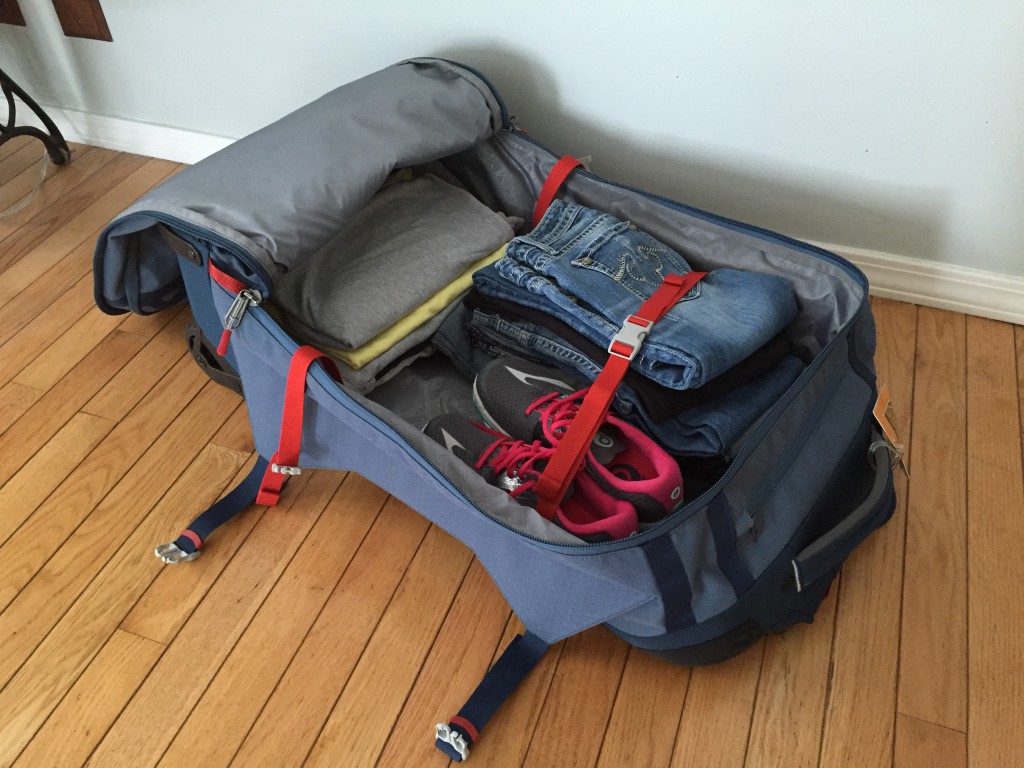 Aside from the roomy main storage space, the Gear Warrior 29 boasts tons of super functional zippered areas.  There is a secondary compartment to separate gear from your clothing (or in some cases, dirty laundry from clean), and a smaller top compartment for easy access to all the traveling necessities, like phone charger and snacks.  The extendable, lightweight, aluminum handle even gets its own zippered pouch so that you can hide it away and protect it when you check the bag.
Design:
The great design doesn't stop with the well placed pockets.  There were some design features that we immediately noticed, like all of the well place handles so it's easy to toss into the car.  Then there were the secret gems, like the Stowable Equipment Keeper™ which we didn't even know about until we watched the demo video on the Eagle Creek website.  It's basically a strap that comes out of the top of the suitcase to secure items to the top of the bag.  Don't want to haul your carry-on through the airport?  Eagle Creek solved that.
Then there's all the little things that you would never even consider, like reinforced corners, and a reinforced kick plate at the bottom.  You know, the place where you kick your suitcase every single time you want to get it rolling.  Eagle Creek thought of that, too.
Durability:
The Gear Warrior 29 is super light, but not at the expense of durability.  It is built with an Exo-Skeleton that strengthens all the wear points (read: corners) and "water-repellent Geo Ripstop and ballistic fabrics, with bartack reinforcement, for maximum durability".  In laymen's terms: the outside fabric is water repellent, and the outside compression straps have tough "wings" that wrap around the suitcase to protect the zippers and keep the luggage from spewing all over the carousel in baggage claim.
We were especially impressed with the maneuverability of this suitcase.  The new, cool thing with luggage is to have the 360 degree pivoting wheels, so we were a little disappointed to see that our new Gear Warrior had standard rolling wheels, but once we used it we understood.  The Gear Warrior's wheels are oversized, sturdy and have tread.  You could literally pull this suitcase for miles.  Curbs are a non-issue.  In true Eagle Creek form, they err on the side of "built to last" and these wheels are no exception.
Environmental Impact:
Eagle Creek builds their luggage to LAST, and not just for the reasons you might expect.  Sure, they want to make their customers happy but they are also (and I quote) "keenly aware of the environmental impact of everything [they] produce."  Eagle Creek is cognizant of how their manufacturing processes impact the environment and they are doing their part to make sure all the places we love to travel to will be preserved for generations to come.  They minimalize all material waste and build their luggage to last; not just because it makes us happy, but because it reduces the amount of waste in landfills.  Win, win.
Value:
Ringing in at $279, the Gear Warrior 29 is not the cheapest suitcase you will ever buy.  Let us put that in perspective for you though; this suitcase will last forever.  Their product return rate?  Less than 1%.  Don't take our word for it though, Eagle Creek offers a pretty great "No Matter What" warranty.   They will cover the repair or replacement of your suitcase, regardless of cause, for the LIFE of the suitcase.  Mic drop.
Buy Now: $279 or to learn more, go to EagleCreek.com
Eagle Creek Gear Warrior 29 – Gear Review
A sturdy, durable travel companion that will be with you for decades to come.
The Good
Well-built with quality materials
Convenient handles and straps
Environmentally friendly