For more than two decades Duluth Trading Company has been pumping out gear and apparel designed for America's working men and women. Apparel engineered to last the test of time. With signature products, like the Longtail T Shirt (the cure for "plumber's butt"), Ballroom Jeans (with a crouch gusset for crouching without the ouch), and legendary Fire Hose Workwear. Along the way Duluth has made a name for themselves, developed some pretty ingenious products and some very amusing TV commercials!
That's why this Spring we reached out to our pals over in Belleville, Wisconsin with an opportunity to put a collection of their Spring apparel to the test. By now you've either seen the commercials or heard from a friend about Duluth Trading's reputation for rugged work wear, but what you might not know is that some of their products are actually ideal on and off the job site. For this particular collections review we choose to take a look at one of their stylish button up shirts, some fire hose shorts, socks, buck naked underwear and Duluth's famous "ballroom" jeans. Our testing experience began one month ago today and we put each article of apparel through the ringer as only Busted Wallet's staff knows how! How did they fair? Let's find out…
DuluthFlex Sidewinder Shirt
Like a sidewinder snake this button-up is designed to be flexible. Crafted with DuluthFlex technology, the sidewinder is built for maneuverability so you can work and move effortlessly all day, thanks to 86% nylon/14% spandex blend plus F.O.M. (Freedom of Movement) Armpit Gussets. Like its namesake, this shirt is built for warm climates: super-light, 3.4-oz. wicking performance fabric has UPF 30 protection, wicks sweat, keeps you cool. There's even breathable mesh to circulate air under the back cape.
Key Features:
Super flexible 86% nylon/14% spandex blend plus Armpit Gussets for unrestricted movement
Super-light 3.4-oz. performance fabric handles the heat and wicks away sweat
UPF 30 protection keeps you from getting sizzled
Breathable mesh under the back cape circulates air, keeps you cool
Button-through tabs for rolling up sleeves
Front napoleon-style pockets zip closed
Cut slightly smaller than our Tradesman Fit for improved wicking performance
Back locker loop
Review Breakdown:
Comfort………….…..8.5
Design…………….….9.5
Durability……………8
Value……..………….8.5
Overall:  (34.5 out of 40) We absolutely love this shirt! It's lightweight and surprisingly stretchy without looking stretchy. At first glance it's nothing more than your average button up, but once you get your hands on it you realize very quickly it's so much more. This shirt is ideal for Spring due to it's versatility, lightweight construction, vented back and roll-up sleeves. If you're looking for a new button up this Spring the sidewinder should be at the top of your list – it won't let you down.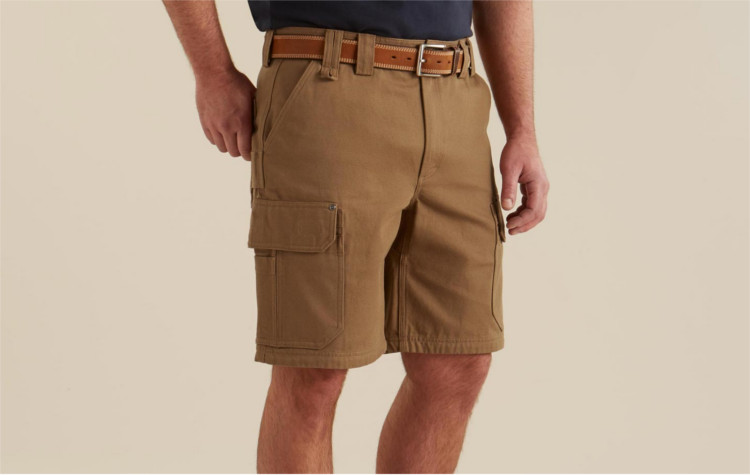 Constructed from rugged canvas, these aren't your average cargo shorts, no no no – not by a long shot. Reasonably stylish on or off the job, Duluth Trading's Fire Hose shorts are classic, rugged and ready to throw-down whatever you can dish up!
Key Features:
Tough 11.5-oz. Fire Hose 100% cotton canvas
FendOff stain- and water-repellent finish means spills roll right off
Redesigned to pack all the same pockets and features as original Fire Hose Work Pants
Largest pockets on the market
Puncture-resistant inner pockets made of Fire Hose
In-or-out tuckable pocket flaps secure with hook-and-loop closure
Hidden Crouch Gusset prevents binding when you crouch or climb
Generous working-man's cut
Extra large zipper pull for big hands
10″ inseam (Also available in 12″ inseam)
Review Breakdown:
Comfort………………7
Design……………….8
Durability…………..10
Value…………………7.5
Overall:  (32.5 out of 40) If science class ever taught me anything it's that cockroaches and Twinkies are the only two things equipped to survive nuclear devastation… well, until now! Duluth's Fire Hose shorts are quite possibly the most durable piece of clothing we've ever tested. They may not be the most comfortable (fire hose material is somewhat stiff) but they can take a lickin' – that's for sure. Not only are they nearly bulletproof, but they're also built with a slew of pockets for easy access to tools. If cargo shorts are your thing, these could be your last pair ever – seriously!
Lightweight Fast Dry No Show Socks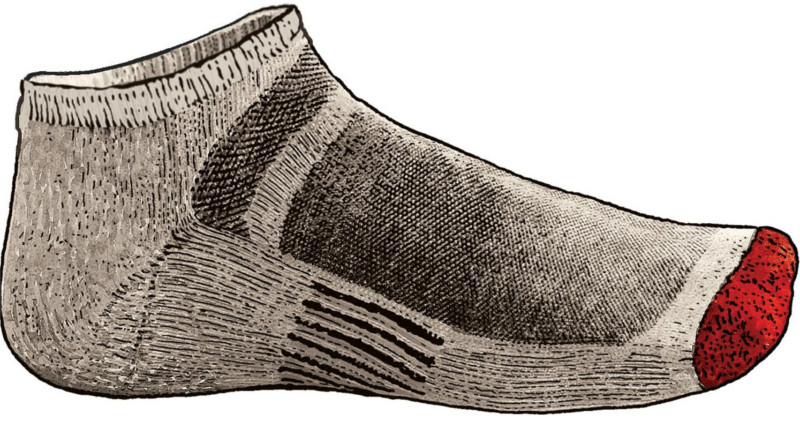 Crafted from natures finest moisture-wicking insulator (wool!), these socks might be your clodhoppers new best friend. With an official make up of  42% nylon/28% Merino wool/28% acrylic/2% spandex blend, these Fast Dry socks are able to (like the name suggests) dry quickly, but also breath, insulate and hug your toes.
Key Features:
Designed for work – with unique Blueprint Fit performance and comfort features
42% nylon/28% Merino wool/28% acrylic/2% spandex
50% lighter than our heavyweight merino socks
Merino wool is soft, smooth, itch-free, naturally breathable, wicking
Wool blend dries faster, wears harder than traditional wool socks
Mesh panels help vent moisture
Foot-hugging fit with less bulk in key flex points
Fully cushioned sole and toe absorbs shock, insulates and adds comfort
"No show" height hides under shoes
Made in USA
Review Breakdown:

Comfort………………9.5
Design……………….8.5
Durability…………..8
Value…………………9
Overall:  (35 out of 40) Throughout testing we were very impressed with these socks. They fit snug, breath well and have the quality construction you'd expect. In our opinion it would be hard to ask for more out of a pair of socks. Now if only Duluth could engineer them to eliminate foot stank!
Utilizing the classic 5-pocket design we've all grown to know and love, Duluth found a way to one-up their "Ballroom" jeans with the addition of new "Flex Ballroom" jeans that have the same hidden Crouch Gusset you'd expect, but this time around with an 1% addition of spandex throughout. Spandex? Yeah, spandex!
Key Features:
1% spandex woven into the denim for all way stretch
Hidden Crouch Gusset prevents binding when you crouch
Midweight 12-oz. cotton denim, prewashed for softness
Classic 5-pocket styling
12″ deep Fire Hose pockets
Fire Hose lining in waistband, bottom hems
Zip fly with shank button closure
Triple-stitched main seams
Also available in Original Denim material
Imported
Review Breakdown:
Comfort………………8
Design……………….9.5
Durability…………..9
Value…………………9.5
Overall:  (36 out of 40) If you're like us jeans are a go-to piece of apparel. They're great for just about any activity. The Flex Ballroom jeans from Duluth are no exception, in fact they are some of the most durable and comfy jeans that we've ever tried on. The deep pockets are very much appreciated as well as the crotch gusset – which should be standard issue on all men's jeans these days! Trendy nut-huggers these jeans are not…  durable, comfy, and handsome – they are!
Buck Naked Performance Boxer Briefs
Engineered to fight odor, keep you dry and comfortable, Duluth's Buck Naked boxer briefs are designed for function over fashion.
Key Features:
Performance 93% nylon/7% spandex knit wicking boxer briefs
Drier than cotton boxer briefs
Antimicrobial to fight body odor
Stretch for comfort in action
Quick to dry – just rinse out and hang overnight when you travel
Crouch Gusset and 3-panel back construction for ease
Bulk-free waistband is brushed on both sides for comfort
Overlapping fly helps you contain yourself
Review Breakdown:
Comfort………………10
Design……………….9
Durability…………..7
Value…………………9
Overall: (35 out of 40) Flexible where you need it, breathable when you need it and comfortable all day long. Without getting too graphic, these boxer briefs give your "boys" a place to kick back and relax with a fit that's supportive – but not constrictive. I'm finding it hard to describe how nice these boxers actually feel, so I'll just tell you that when you slip them on they give you that "aaahhhhhhhh" feeling.
For more info on Duluth Trading Company and their impressive catalog of apparel and gear head on over to their website and tell em' the crew at Busted Wallet sent you!