Summer is finally here and it is time to dust off the summer clothes, grab our shades, and hope the beach bod is ready. We know whatever adventure awaits us, we can handle. This is one of the reasons why we here at Busted Wallet dig Dragon Alliance.  They live the same lifestyle we all wish we could. From surfing to dirt biking they do it all. We might not quite be the level of their team but we like to dream. From the stylish to the practical Dragon has something for everyone.  They put "an emphasis on creating functional, high-quality merchandise that appealed to the youth market and pushed the status quo"and being in business since 1993 you know they have learned a few things along the way.  Here is our breakdown for the Dragon Alliance Monarch Sunglasses for 2017.
Key Features:
6 Base Polycarbonate Lens
Injection Molded Grilamid Frame
5 Barrel Stainless Steel Hinge
100% UV Protection
Medium Fit
Italian Design
Keyhole Nose-Bridge
Dragon Monarch Review Breakdown
Comfort:
Typically I wear prescription glasses, with that being said the Monarch are nothing like any pair I own.  Normally after a couple hours glasses start to pinch around the bridge of your nose. The Keyhole Bridge on the Monarchs keep this from happening. The light weight frame plays along perfectly with any of the sports Dragon sponsors. They hugged me better than my Grandmother saying good bye after Christmas Dinner. Even during my golf back swing the glasses firmly clasped my head. I also was able to wear these all day doing yard work without any sort of pinch or discomfort.  At one point I actually forgot that I was wearing them. I could easily see myself searching through my house in attempt to locate them only to realize I had them on the whole time.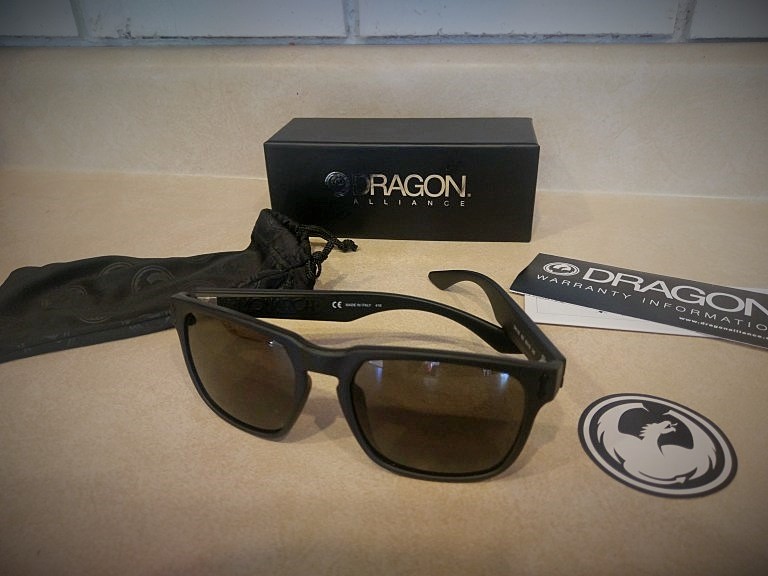 Design:
Super light weight and stylish, what else could you want in a pair of sunglasses?  I love the overall design and style of these shades. For testing I opted for the Matte Black with the black lenses. The look is classic. Nothing curvy or flashy, just a straight forward pair of sunglasses with great lines.  The way they were meant to look, a James Dean kind of cool. Of course the Monarch has a multitude of choices depending on your taste so you can customize them to fit your lifestyle. The one "bad" thing I find with all sunglasses is tan lines. Yes I am that vain. I realize the sole purpose of wearing sunglasses is to block the sun from doing harm to your eyes but I am not a fan of raccoon face.  It is an impossible task but still worth noting.
Optics:
100% UV protection… Blocking the sun stops you from squinting, not squinting reduces "Crow's Feet". "Crow's feet" make you look old.  What can we learn from this, wearing sunglasses keeps your youth. Again I realize my vanity shows but I would like to hold on to my baby face as long as possible. These lenses are also slightly mirrored, offering a great way to hide those wondering eyes. With that however I do not recommend wearing the Monarch during a poker game. You might find that everyone seems to know exactly what you have.
Durability:
The injection molded frame feels extremely durable even despite having a ultra light weight. Overall the feel is very solid but lacks flexibility.  I did not want to sit on them to test the durability but did put them through a good amount of abuse. Even the lenses seem to have some sort of scratch resistance to them.  Using other materials than a microfiber cloth did not scratch or damage the lens in any way.
Value:
Yes, these sunglasses are going to run you a little more than stopping at the local dollar store, but spending the extra is completely worth it. Having been a cheap skate in the past when it comes to sunglasses, now am completely sold on never buying a pair from the bargain bin again.  Spend the money to get a nice pair.  For $120 these are actually very well priced and even offer a discount for fire, police, and military personnel (To order, contact [email protected]) which always gets a lot of respect from me.
Buy Now: $120 or to learn more, go to: DragonAlliance.com
Dragon Alliance Monarch - Style Review
I can not stress this enough, I love these sunglasses. Never will I go back to dollar store sunglasses. I am completely sold on these for the summer of 2017. The light weight build allowed me to wear them all day without any sort of discomfort. Well done Dragon, I applaud your craftsmanship.
The Good:
Stylish for you or your dog
Ultra light weight design
Destroys cheap glasses
The Not So Good:
Sunglass-lines
Not much in flexibility