The world is more mobile than ever – with the remote work revolution, the rise in #VanLife and Overlanding setups, and, of course, the road warriors that make our supply chain go-round, Dometic's Outdoor division has capitalized on this consumer preference shift. 
While I am a remote employee, I am not any of the above. Though I do head up to USFS and BLM lands on a regular basis for the sweet, unrestricted dispersed camping opportunities available here in and around Utah. 
Recently, Dometic launched a new, portable, quick-to-setup program of camp furniture called Dometic GO. I had the opportunity to give it a test run and share my thoughts on the new GO Compact Camp Table, GO Compact Camp Chair, and GO Camp Blanket. 
Let's GO get to it!
Dometic GO Camp Table Review Breakdown
The GO Compact Camp Table is a handsome and modern variant of the classic fold-up camp table. With a beautiful, solid bamboo tabletop and aluminum legs, this table functions as nicely as it looks at camp. 
Key Features:
Adjusts to three different heights (coffee table, kids' table, dining/prep)

Seats four adults

Legs attach at table corners for optimized comfort

Folds down to easily fit in half the width of your vehicle's trunk

Constructed from solid bamboo (surface) and aluminum (legs), with an integrated carrying handle

20 lbs
Design & Benefits:
With a built-in, easy-carry handle, this sturdy, 20-pound table is easy to move around camp, load in the car, or haul down to its storage spot in the garage or basement. 
At about 2 feet deep by 3 feet wide, this table feels roomy enough to comfortably seat 4 adults for dinner but folds down to half that width for transport.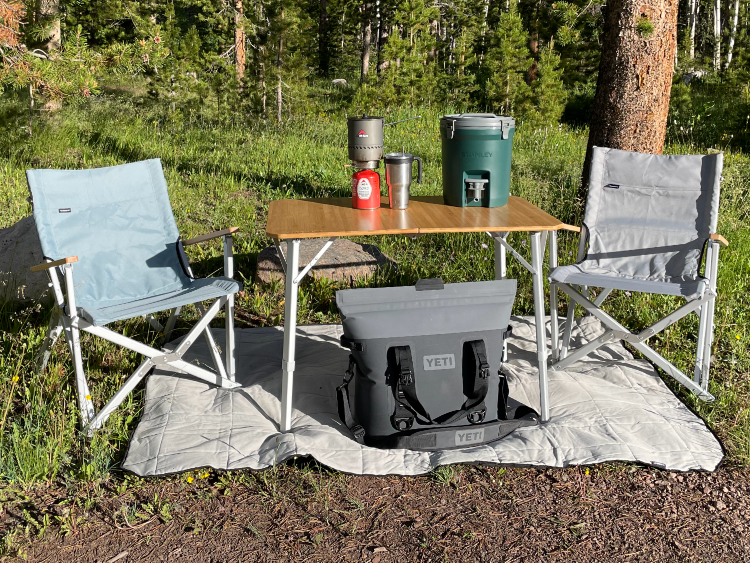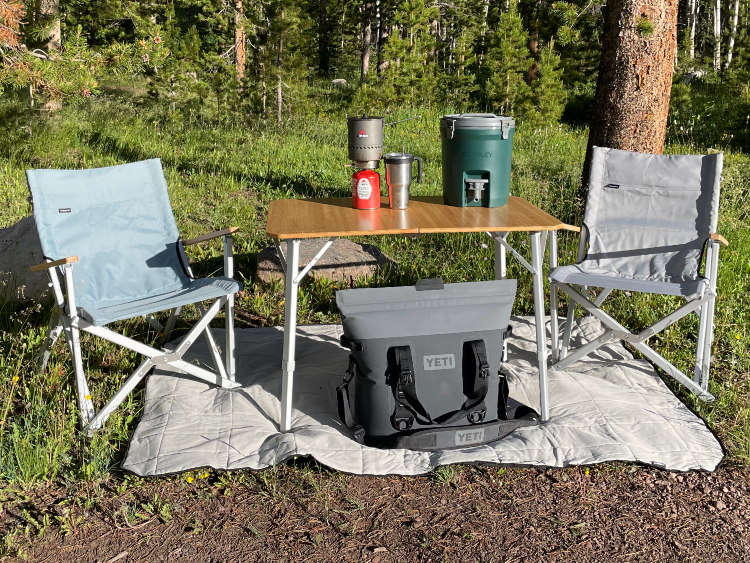 The solid bamboo tabletop has an easy-to-clean coating, which is especially important for my use case. I almost never have accessible running water, so knowing a food-safe cleaning wipe is all I need to clean up the post-dinner cooking mess is a relief.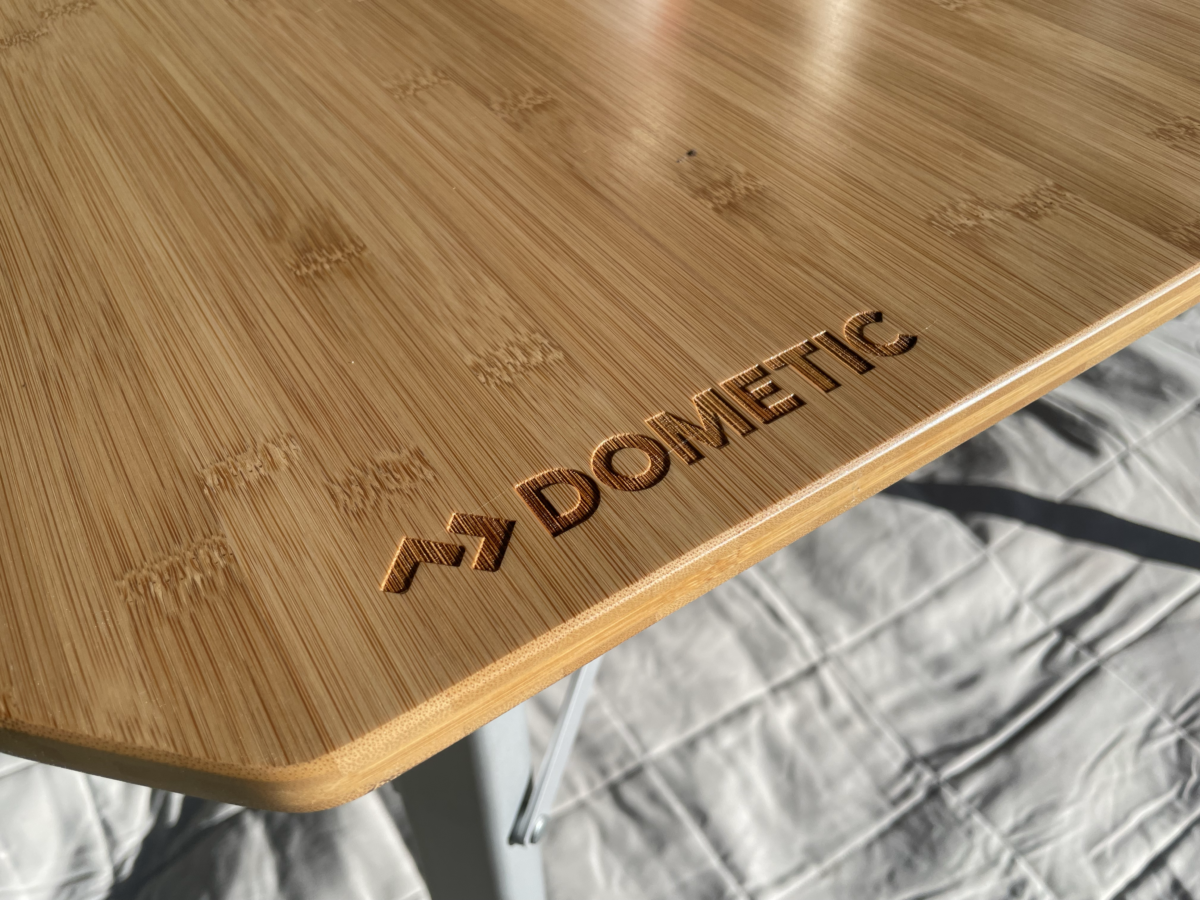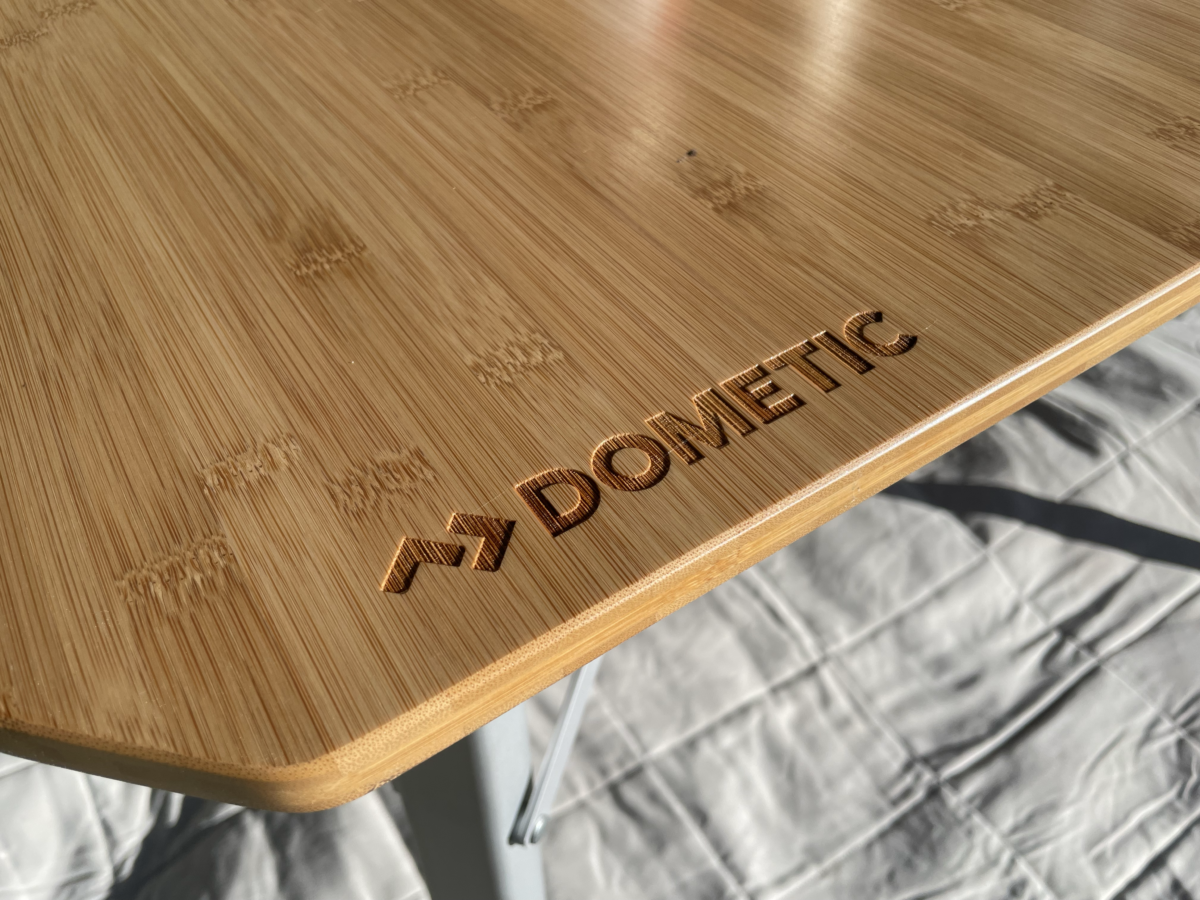 The tabletop also has 3 height settings – coffee table, kids' table, and dining/prep. Though I have no need for the kids' table setting, the coffee table setting is perfect for both quick setup (no need to deal with the push beads, more on that below) and enjoying unobstructed sunrise/sunset views with your beverage of choice.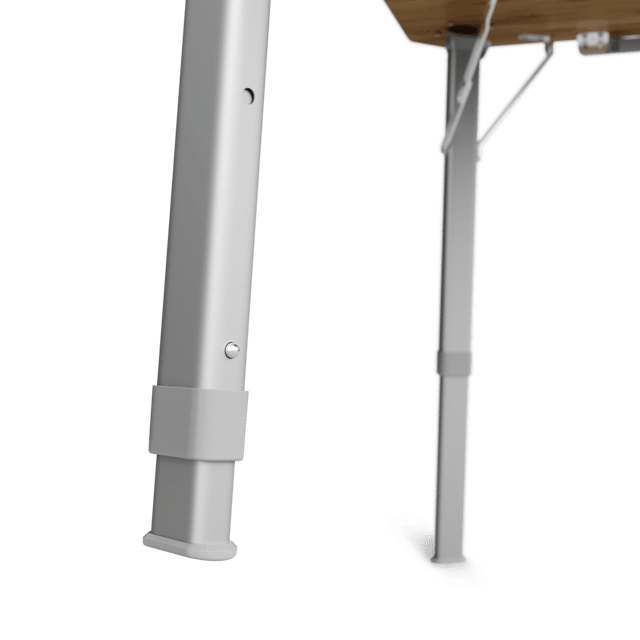 Setup & Tear Down: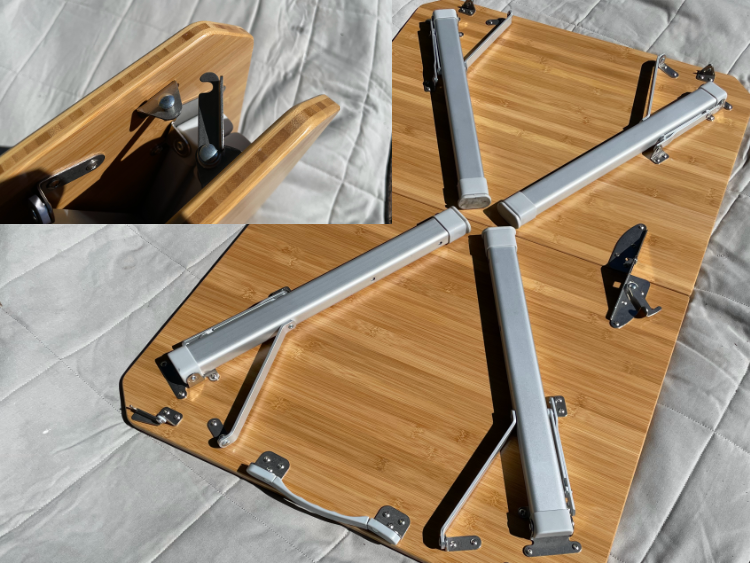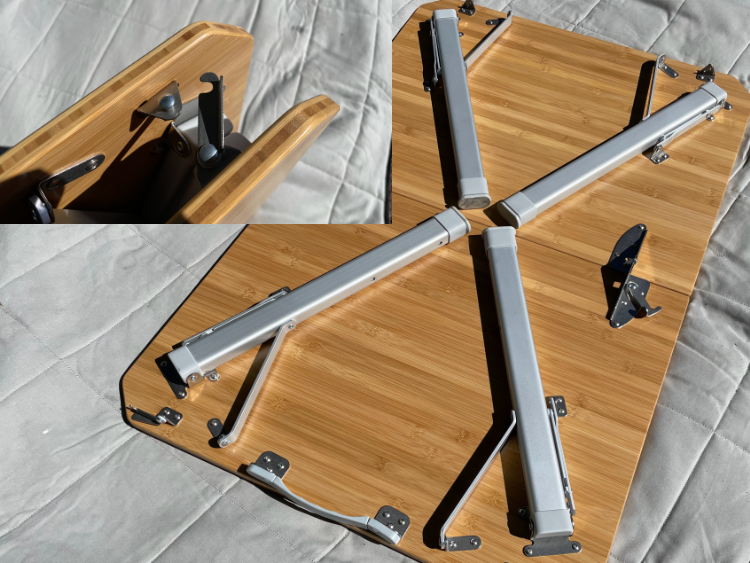 Dometic really took the time to consider the fine details of setup & tear down with the GO Camp Table. From its protective storage bag, here are the steps from start to finish:
Unzip storage bag (if purchased)

Use the built-in handle to pull out of the storage bag

Lay non-handle size on GO Camp Blanket or another soft surface

Rotate end clips to the unlocked position

Rotate center clips to the locked position 

Unfold all four legs & lock the center of the V

Set to your preferred height; no adjustment needed for coffee table, one tug on each leg for kids' table, and one push bead & tug on each leg for fully extended table
While this looks like a number of steps, in reality, the table can be set up in 2-3 minutes. The slowest part is dealing with the push beads. I do wish there was a slightly better solution, perhaps a locking clip like you see on trekking poles or camera tripods, but I am sure Dometic went this route for total security, as those clip solutions can slide. 
The table could have also utilized adjustable feet, as campgrounds are never level, to increase stability. But, that would add to the weight of the table and moving parts, so no major points lost here. 
Tear down is essentially a direct reverse of the above steps. 
Dometic GO Camp Chair Review Breakdown
The Dometic GO Camp Chair fits an interesting niche in the camp chair market. Aesthetically, it is really pleasing and designed to complement the GO Camp Table, however, without sitting the GO Camp Chair in front of the GO Camp Table, there are a few misses. More on that below.
Key Features:
Comfortable seating that supports up to 280 lbs

Folds to fit easily in your vehicle's trunk for packing

Made from heavy-duty 600D fabric, lightweight aluminum, and beechwood armrests

Includes rear seat pocket and carrying sack
Design & Benefits:
As mentioned above, the premium materials nicely complement the GO Camp Table. With a 600D canvas used for the chair seat and backing and gorgeous beechwood armrests, the GO Camp Chair looks good at camp and is a comfy, long-term seat. Additionally, Dometic was able to deliver the comfort of a typical fold-in-half chair with the compact storage size of a typical unsupportive soccer chair.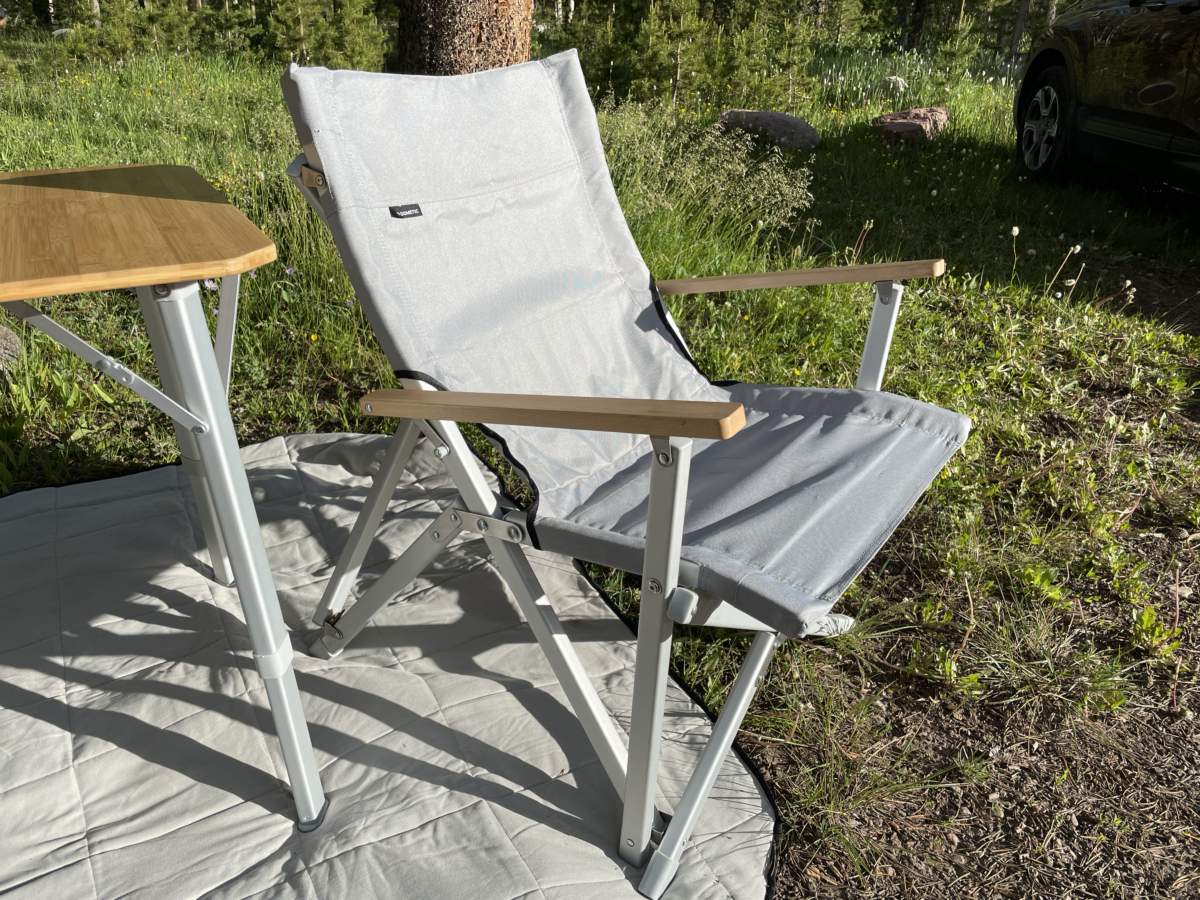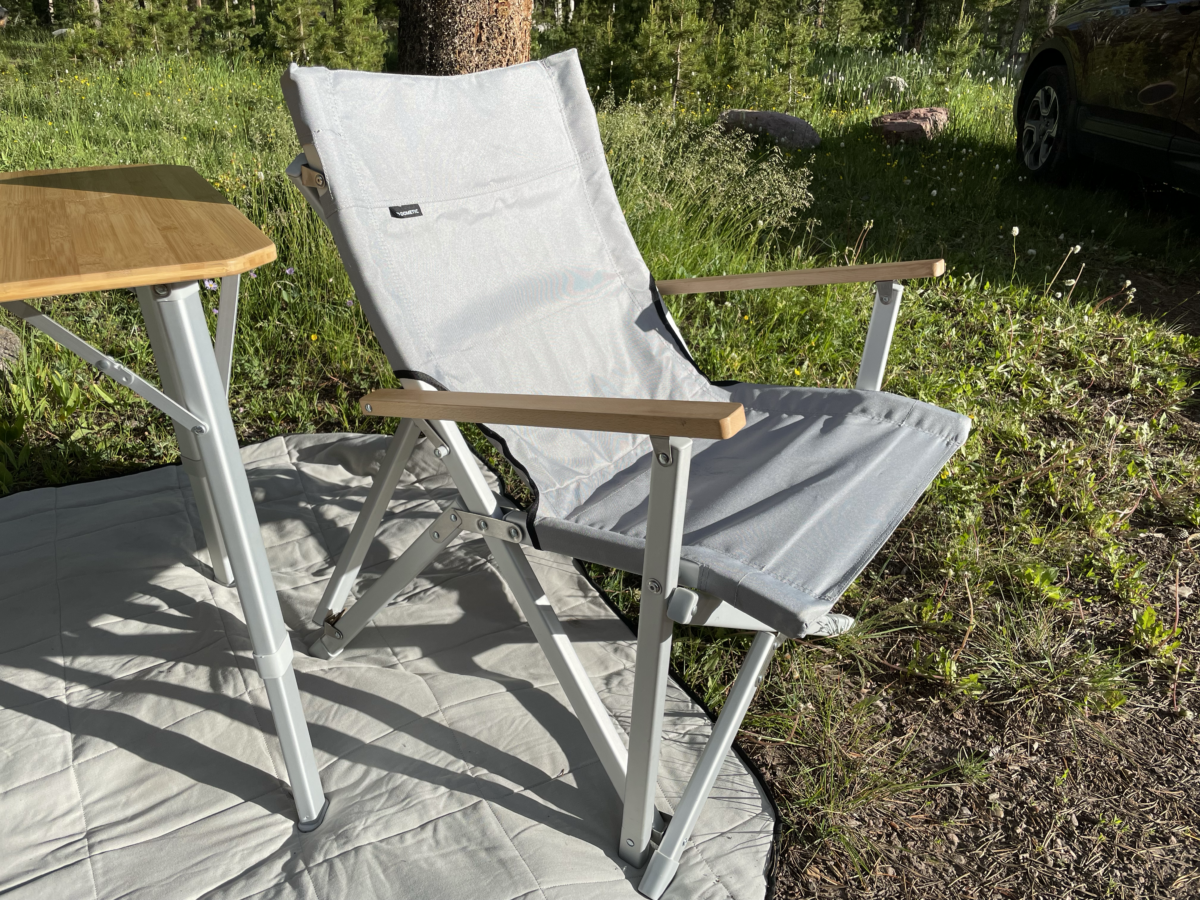 However, the chairs almost require the use of the GO Camp Table. There are no creature comforts of a standard camp chair, like cup holders, phone pockets, etc. There is one large rear pocket on the back of the chair, but not only is a phone impossible to reach if placed in the pocket, but it also digs into your back. That said, I have mostly used them in settings with the table when dispersed camping, and in times where the table didn't come along, I've used my cooler as a side table to make up for the lack of pockets. 
Overall, they are clean, modern, and sturdy. Dometic did a fantastic job with the aesthetics, but I personally would have liked to see them be a tad more functional as a standalone chair. Not every stop or use warrants the GO Camp Table, but luckily, setup is quick and easy for the coffee table height. 
Setup & Tear Down:
Dometic did a great job with the folding design here. A chair of this comfort and design usually only folds in half, which is bulky and takes up precious space in your trunk, especially for bigger trips than a beach day trip. 
The chairs fold down to a rectangular shape, which is a much easier format to both pack and store in your basement or garage. The bags also have a handy carrying case with a loop for hanging.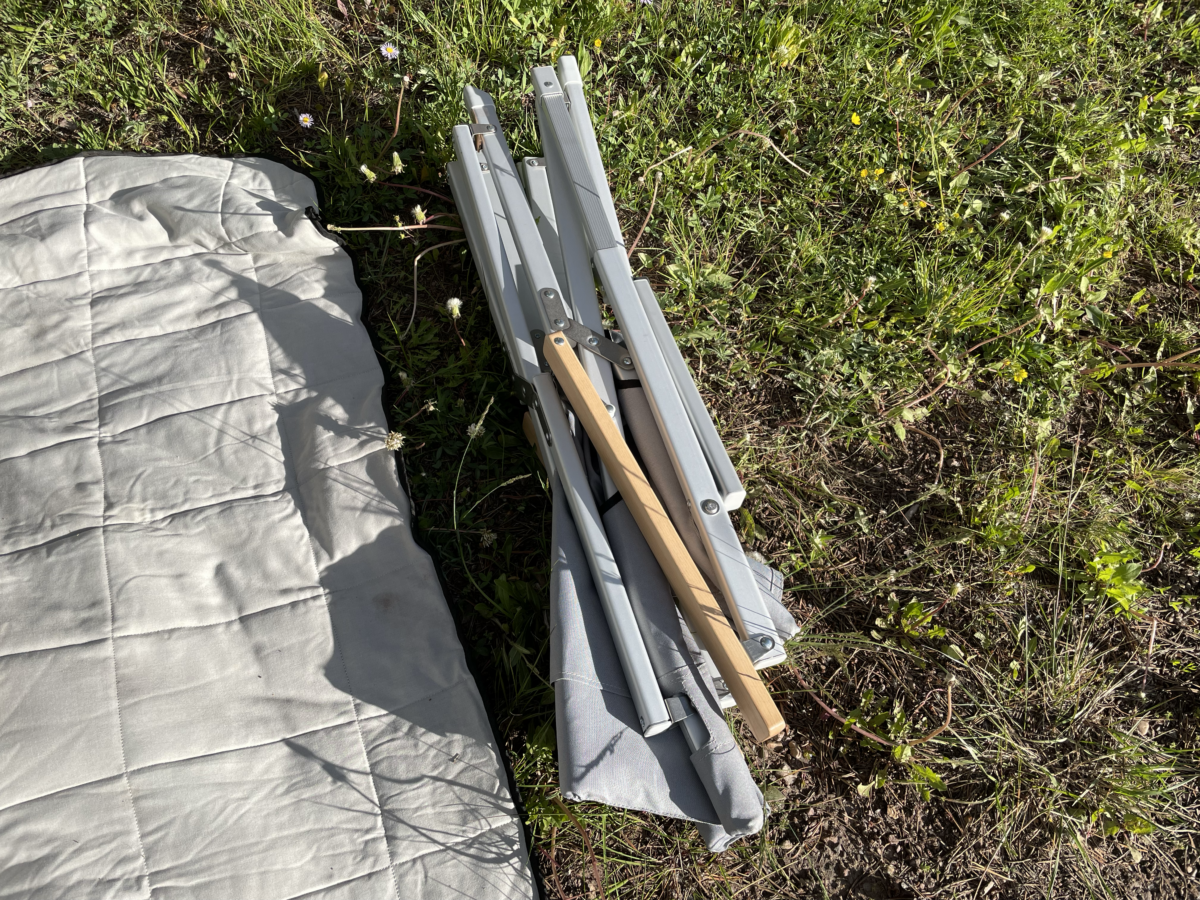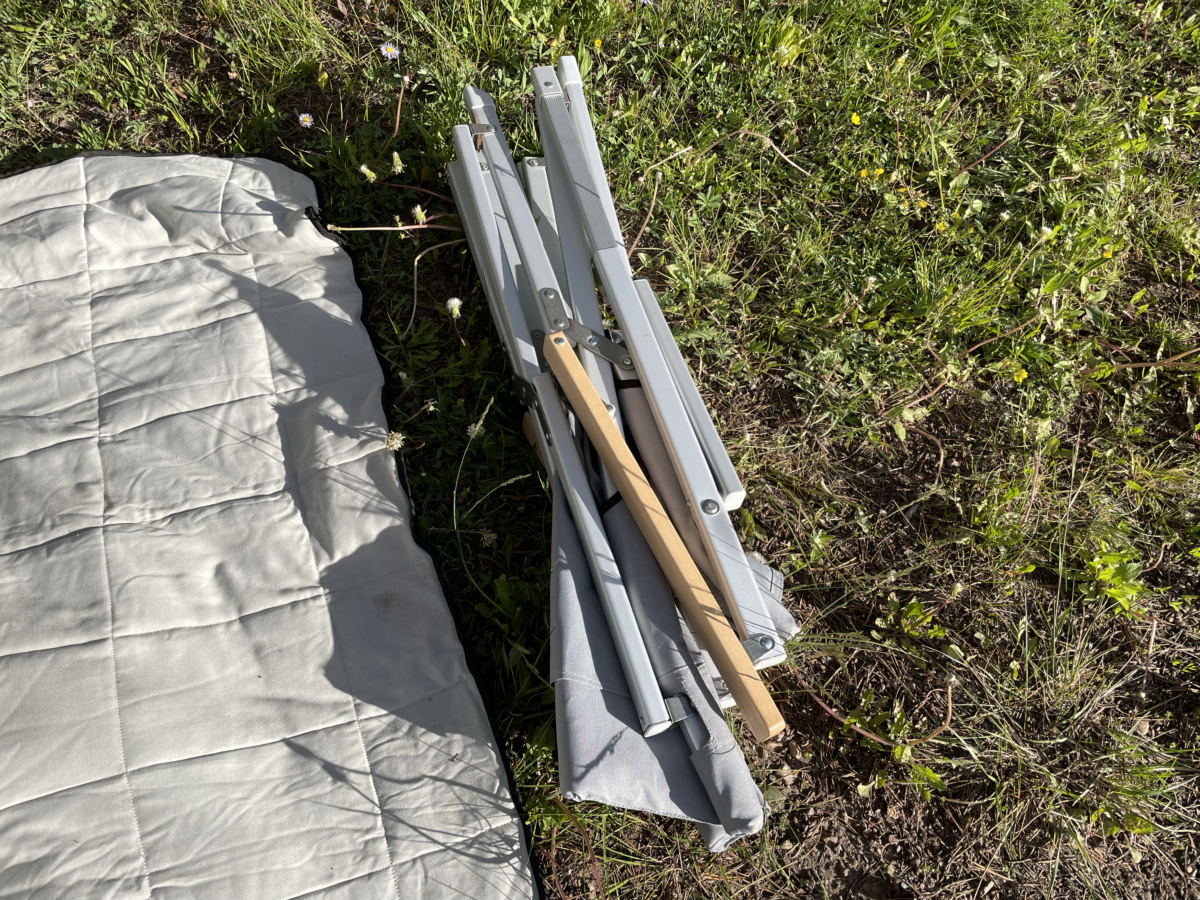 Setup is self-explanatory – remove from storage/carrying bag and open up from two corners. 
Dometic GO Camp Blanket Review Breakdown
Whether you're sitting on the beach, cuddling close to the fire, or setting up a place to put down your GO Camp Chairs & GO Camp Table, the GO Camp Blanket has you covered. With a tough, high-denier waterproof backing and a soft, padded upper, the Go Camp Blanket is easy to deploy and machine washes when you inevitably get it dirty. 
Key Features:
Dual surface has a soft, padded top and rugged, waterproof bottom

Durable, water-resistant fabric that is machine wash/dry

One-Person sized blanket

Packs into a carry case for easy storage and travel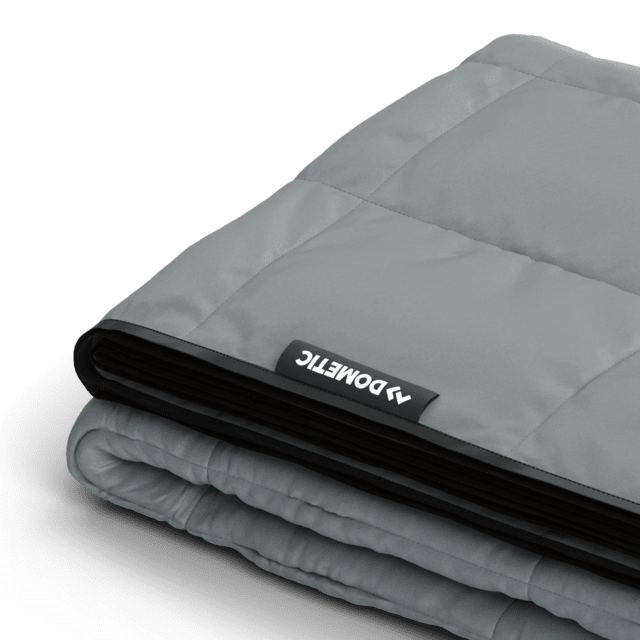 Design & Benefits:
With a dual-surfaced design, this blanket is extremely versatile. It can be used for just about everything you can think of. It is soft and cuddly enough to curl up in when sitting on a chair or on a bench (black side out), but durable enough to drop in any dirt, sand, or rocks (black side down). 
As you've noticed in the other sections, the common theme here is dispersed camping. There are no picnic tables, no concrete pads, or stone gardens to set up the GO Camp Chairs and Table. In Utah, it could be a number of things from red sand, to dry dirt, to grassy pasture. I have mainly used the GO Camp Blanket mainly as a "rug" below the camp set so that we can control nature's mess to the blanket and not track it home on the feet/legs of all the other components. I've also wrapped up in it at a fire when temps dropped below expected up in the high Uinta mountains. When you use it as a wrap-up blanket, it feels similar to a weighted blanket, which is a comforting feeling.
The only issue is the Silt color shows a lot of dirt and needs to be washed frequently. Not the end of the world as it is intended for these use cases vs. Grandma's quilt, but I would have preferred a dark navy or a deep forest green.
Packability:
Despite the rough and tough bottom, the blanket packs up to a respectable package relatively easily. The high-denier fabric isn't too stiff to fold easily. I usually take more of a "stuff" route rather than a neatly folded route, and it packs up just fine. 
That said, this isn't your ultralight-down blanket for hammock camping, so size and weight aren't exactly a component to judge against. It has a nice storage sack, just like the table and chairs, that allows you to hang it up alongside your chairs in the basement or garage. 
Dometic GO Camp Collection | Gear Review
A modern, minimalist, and handsome camp furniture set that is sure to make your buddies jealous.
THE GOOD:
Table's adjustable height & small fold down
Chair's square fold down
Blanket's versatility
THE NOT SO GOOD:
Table's push bead height adjusters
Chair's lack of pockets/cup holders
Blanket's easy dirt-show