The lightweight Go Lite Pro Stand Bag from Datrek was engineered for the walking or riding golfer in mind. This full-feature bag allows you to organize your clubs like a pro with its 14-way mesh padded top and individual full-length dividers.  With 5 total pockets and ergonomic padded dual shoulder straps, it'll keep your items secure and the pressure off your shoulders so you can focus on your game.
Features:
14-way mesh padded organizer top with full-length individual dividers
Ergonomic padded double shoulder straps for walking comfort
5 total pockets including a large garment pocket and an oversized ball pocket
Ergonomic handle integrated into the bag top
Insulated beverage sleeve
Large fleece lined valuables pocket
Riding and push cart compatible base
Durable nylon material
Towel ring and Velcro® glove holder
Matching rainhood for club protection during inclement weather
Weight: 5 lbs.
DATREK Go Lite Pro Stand Bag Review
Design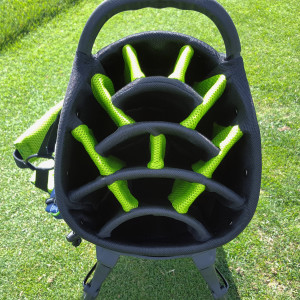 The design is meant to keep this bag light weight (only 5 pounds) but with all the versatility you would expect in a Stand Bag.  Starting at the base, Datrek made it so you can easily fit the bag into a push cart or a riding cart for the days you just want to enjoy the ride.  Working our way up the bag there are 5 pockets for all your goods.  Among these pockets are 1 large apparel pocket, 1 fleece lined valuables pocket (perfect for your phone, keys, or wallet), 1 oversized ball pocket (you know… for your oversized balls or several dozen normal balls), 2 accessory pockets, and an insulated beverage sleeve (fits about 2-3 beers).  Along the rest of the bag are several little features that make golf life easier such as the umbrella holder, towel ring, external tee holders, and a velcro glove holder for quick and easy access.  The shoulder straps are ergonomic and padded for easier carrying and can be adjusted for a perfect fit.  Rising towards the top, the full length 14-way mesh padded dividers help keep your clubs organized and easily accessible.  The retractable stand works as it should and doesn't wobble too much with a full bag.  Finally, grab onto the molded rubber grip handle located on the top cuff and easily toss the bag into a cart and get to work.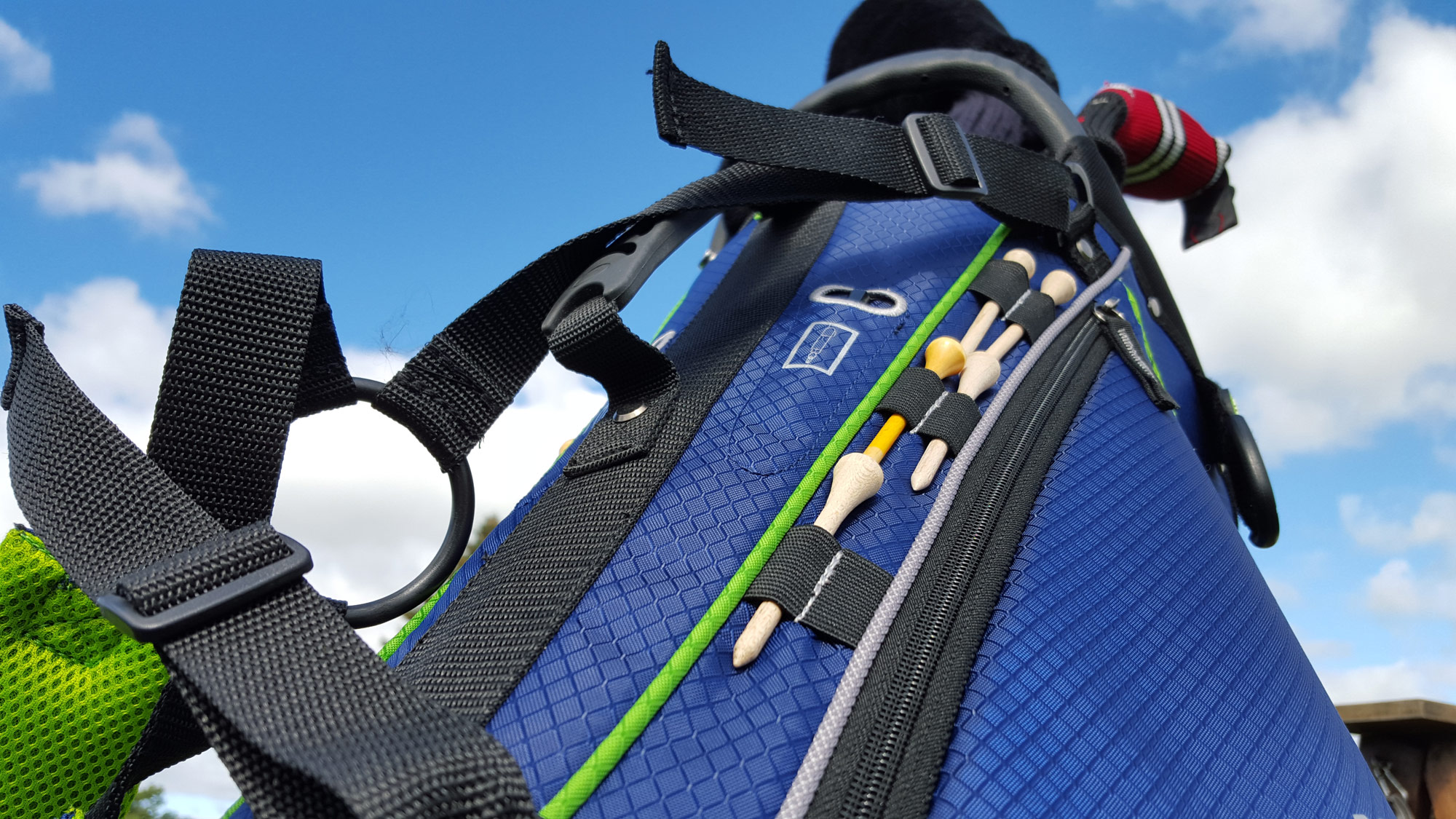 Storage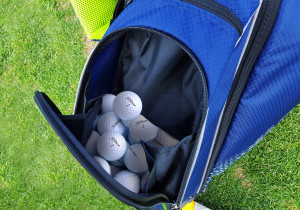 As far as club storage goes, the full length 14-way mesh padded dividers are set up very well for organization.  There is a snug fit near the bottom of the divider to help keep the clubs in place while still being easily accessible.  Now, since this is a "Lite" Pro Stand Bag, there are only 5 pockets, which compared to most other stand bags on the market that have 12-15, it may seem rather "light".  However, Datrek made some good use out of only 5 pockets.  Let's dive in a little deeper to see just how much storage we get out of those 5 pockets.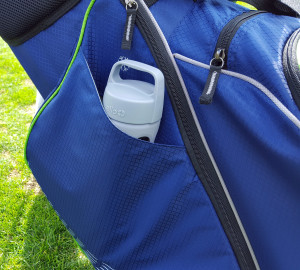 The oversized ball pocket is a good size and really does keep an abundance of balls easily accessible. The large apparel pocket is the full length of the bag and keeps the rain cover and a few layers of clothing or a lighter jacket.  The fleece lined valuables pocket is a nice feature for items like your smart phone, wallet, or any item you want to keep protected and within reach.  The only pocket I wish was bigger, is the insulated beverage sleeve.  I was able to fit 3 cans or 2 bottles in there, but the other accessory pocket can hold the extra if needed.  The remaining accessory pocket is great for keeping extra tee's or other smaller items.
Durability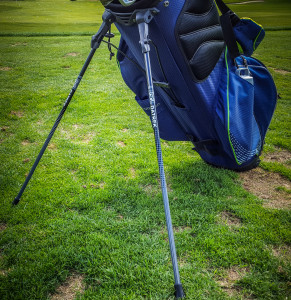 I try to be careful with my equipment but life happens, and well… sometimes I have a temper (especially when I double bogey).  So whether the bag falls on its own or I toss it into the water, I feel comforted knowing that it can take a beating.  **Discalimer** we never actually tossed this bag into the water nor do we condone any such behavior while on the course.  I mean, seriously… it's golf!  So back to the business at hand.  I've had this bag now for about a month and besides the durable frame, there are some noticeable issues on the exterior. The zippers are the main issue, more specifically, the stitching on the tabs (or lack thereof).  Unfortunately, the first time I took the bag out on the course I already noticed some thread hanging from a couple zipper tabs.  I tried pulling it thinking it was just a stray thread, but it all came unraveled from there.  I noticed a few more threads like this on the other zippers, but waited till I got home to heat seal the edges with a lighter.  The rest of the material seems to be stitched rather well, just not sure why they skimped on the zippers which tend to have more direct contact.  The retractable legs are also stable (even in some extreme wind).  Overall, I wish the build was a little stronger for being such a "Lite" bag, but it was still able to get the job done.
Value
If you are looking for a really light stand bag with simple and handy features, the Go Lite Pro Stand Bag from Datrek might just be for you.  Priced at $159.95, it falls somewhere in the middle for a pro line stand bag.
Buy Now: $159.95 or to learn more, check out: datrek.com
DATREK Go Lite Pro Stand Bag - Gear Review
The Datrek Go Lite Pro Stand Bag is lightweight and carries easily so you can concentrate on your game.
The Good
Lightweight
Cart Compatible
Comfortable Padded Shoulder Straps
The Not So Good
Lack of stitching in some areas