Cold River Vodka - Drink of the Week
Many distilleries pride themselves on calling their product "hand-crafted" or say, "We built this product from the ground up."  At Maine Distilleries these words couldn't ring more true.  As Maine's only potato distillery the folks at Cold River take their main ingredient, the pototato, right from the ground. Cold River believes in doing things the right way versus the popular way, so instead of taking a chance on some other farmer's potatoes, they buy theirs from Donnie Thibodeou, owner of Green Thumb Farms.  Donnie also happens to be a founding partner in Cold River.
Recently Maine Distilleries invited us to sample their flagship spirit Cold River Vodka.  While we will get to the specifics of our tasting session later, we were impressed by the attention to detail and carefully crafted distilling process.  Starting with their Maine grown potatoes that then go trough a triple distillation process that takes place in copper pots with fresh water from the Cold River in Maine.  The vodka is then bottled on site and individually numbered for re-assurance that you are drinking a hand-crafted, one of a kind spirit.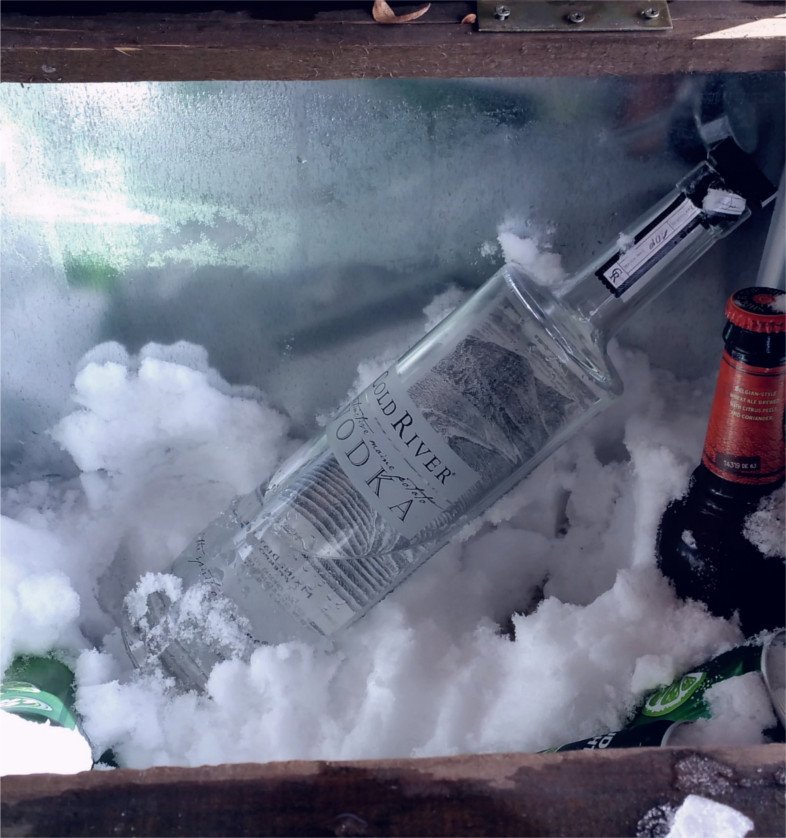 A hand-crafted potato vodka that is produced locally and 100% gluten-free… sounds like a no-brainer right? So why isn't every distiller jumping on the healthy cocktail bandwagon? Well, it's really not that simple of a process when you get down to it. The folks at Cold River have been perfecting their techniques since 2005 and even they will tell you that this isn't simple science.
"There is no book on distilling vodka and gin from potatoes, so every day is an adventure, the learning curve has been steep, but the upside has been that we're in control of our own destiny with this venture. If we succeed, it will be because we made good decisions." -Bob Harkins, Managing Partner of Marketing and Sales
Using the Cold River website for drink recipes and suggestions, we sipped, mixed, and sampled this unique potato vodka. Here's what we discovered…
Cold River Vodka Review Breakdown
Proof: 80 (40% ABV)
Appearance: Clear
Nose: Honey, Lavender, Vanila
Flavors: Berry, Ginger, Honey
Price: $35.99 USD (750ml)
When you take your first whiff you may not detect anything is different about Cold River Vodka but upon your first taste you will quickly realize this is not a typical vodka. This Vodka is extremely smooth with little to no burn. We also detected some suble sweetness of berry and honey notes. A couple members of our tasting panel even noted a sublte hint of vanilla on the finish. If your typical vodka is Smirnoff or Absolut, it will take some time having your pallete adjust to the subtle nuances of the Cold River Vodka flavor. While we found that this vodka works great as a base in a variety of mixed drinks, the flavor pushes you to become a more creative bartender – discovering cocktails that really accentuate the unique flavor and sweetness.
This vodka has been piling up the awards since its launch and it easy to see why. Unlike most vodkas there is true character to the spirit that gives you an enjoyable tasting session. This is one of the few vodkas that we actually enjoy poured over ice and casually sipped on. As an added bonus this is a great gift option for any loved ones who have gluten allergies and have trouble finding quality alcohol. As always, enjoy and drink responsibly!
MIX IT UP….."Flying Squirrel"
Ingredients: 2 oz. Cold River Vodka, 3/4oz amaretto, 3/4oz  lemon juice.
Directions: Combine ingredients, shake on ice, strain into a cocktail glass, garnish with grated nutmeg.
Buy Now: $35.99 or, to learn more, go to: ColdRiverVodka.com