Cobra's new driver offering for 2017 paired up with Arccos technology to create the new King F7. The highly adjustable King F7 driver is made to conform to your swing and golf game while providing maximum distance and consistency. Golf Digest likes it! They gave the King F7 a 2017 hot list Gold Medal. We've been testing this guy out for about a month now with several range sessions and rounds in the bag. We feel we have hit the King F7 enough to tell you our thoughts on it now. So is this the cure all driver for you? Let's grip it and rip it to find out!
Key Features:
Cobra Connect
My Fly 8 with Smart pad
Titanium E9 face
Textreme Crown
Testing Specs:
9-12 degree adjustable loft settings
460cc head size
Fujikura Pro 60 (stiff flex) shaft
Cobra King F7 Driver Breakdown
Design:
The King F7 comes in 4 color combinations. Black on Black with Orange accents combo (the Rickie Fowler look), Bright Blue on Black with White and Red accents combo (the Bryson DeChambeux look), a Silver on Black with Gold accents combo (neutral), and now a wood grain finish. We were sent the Black on Black which looks sweet. I am also quite fond of the Blue on Black combo.
The King F7 is very adjustable. You can adjust the loft and lie with 8 different combinations anywhere from 9 degrees to 12 with or without a draw bias. Cobra's Textreme carbon fiber makes the crown 20% lighter which Cobra redistributes lower and deeper to make for a lower center of gravity giving the club more forgiveness. The forged Titanium E9 face has a variable thickness aimed to make a larger sweet spot across the face making those off center hits still have plenty of distance. There is a 12 gram center of gravity weight that allows you to get the ball down, up, or promote a draw. Playing around with this feature I was curious if moving this weight around would really make a difference. I didn't notice a huge difference in the low or high ball flight setting but in the draw position I really noticed a big draw. A little too much for me so I settled in at the low ball flight setting. Making all these adjustments was an easy process. Just use the provided star-bit screwdriver and you're all set. Not something I'd want to be messing with on the course but it wasn't bad. The engineering that Cobra has put into this Driver is extremely impressive.
Cobra Connect:
Cobra Connect powered by Arccos gives Cobra Golf it's first connected club ever. Cobra Connect allows you to track each drive and be able to review it post round. Does it work well? I think so. I will say you have to remember you are using it though. You can't obviously track your drive on a par 3 so you have to manually swipe past those holes on the app. On my first round with it I missed tracking a couple drives because I forgot to do that. It is really cool having an unbiased source tell you exactly how far you hit that monster drive…or how bad you shanked it. The distances the Cobra Connect were telling me seemed to be pretty accurate. Linking your phone to the club's chip in the grip via bluetooth was an easy process on my iPhone. After that, just download the course you are headed for and you are set to go! Somehow by keeping the phone in your pocket it knows when you hit the ball and marks where your drive landed when you hit your second via GPS. I wouldn't really agree with the projected ball flights. Overall though, Cobra Connect gets a thumbs up from us!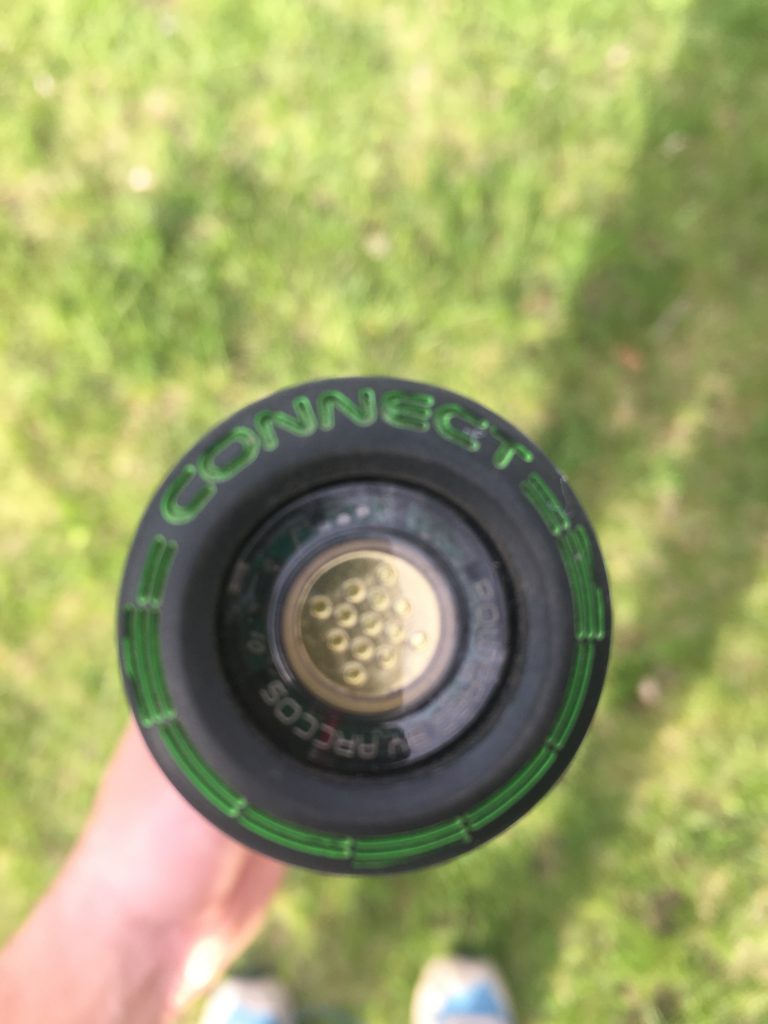 Feel:
This category is strictly my opinion as this is very subjective. The club felt very well balanced through the swing. Looking down on the giant club head instills confidence to swing for glory. I like how the Cobra logo makes a straight line in the middle of the head to help line you up a bit. I might choose to go for an upgraded grip but that is a minor issue really. I just like a medium sized grip is all.
Distance:
The measuring stick for all drivers right? So how long is it? First off, I do not consider myself a "big hitter" but I have had some pretty impressive drives with the King F7. I would say I have been averaging 260 yards. This is probably up 10 yards from my driver last year. On one 320 yard hole (with a steady 15-20 mph wind right at my back) I drove the ball pin high. Of course it was not on the green as I missed right. But still I was pretty pleased. Using Cobra Connect I tracked one of my poorly hit balls at 205 yards which I smacked off the heel of the club and probably didn't get it more than 20 feet in the air. That's a check in the forgiveness department. At a water driving range I measured the distance to clear the pond with my rangefinder at 240 yards. I would say 7 out of 10 balls would clear the water. So yes, the King F7 is long in my opinion.
Accuracy:
So can you thread the needle through those trees with the King F7 and will you hit every fairway or your money back? No, this is not the latest Ron Popeil super invention. I hit my fair share of balls into the woods on the left when the right was wide open and of course vice versa with the King F7. You tell yourself, "anywhere but left and you're fine." Of course you are then destined for the woods. Overall, I would say my balls went in the general vicinity of where I wanted them to. Which was great.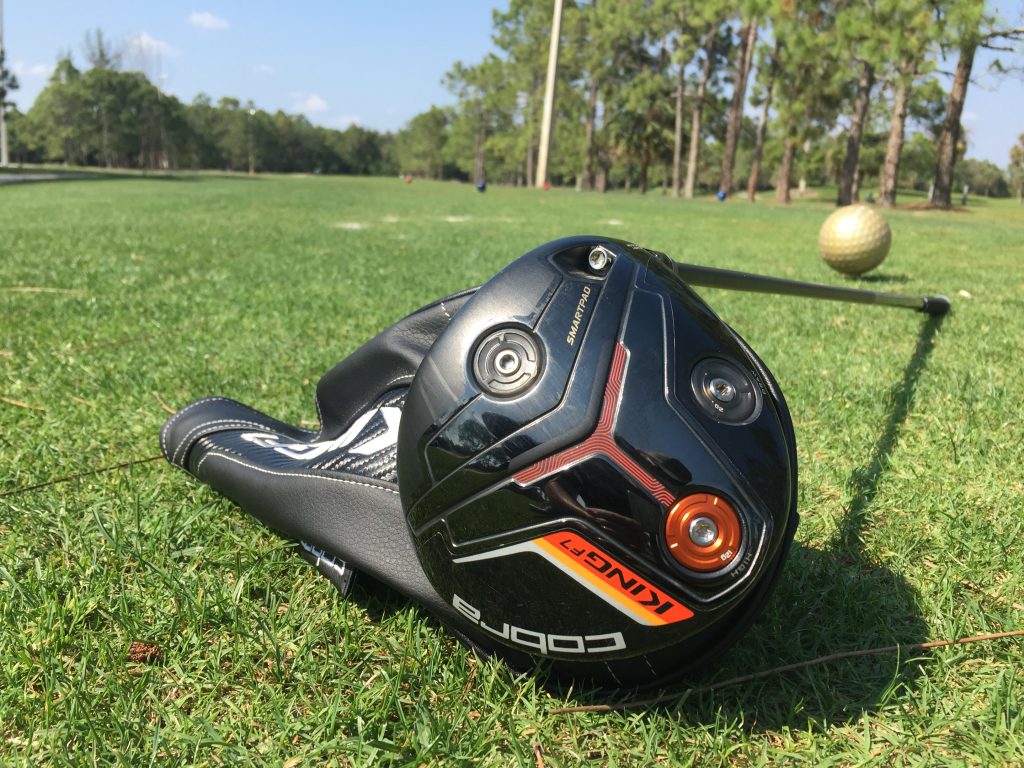 Value:
You get what you pay for. And what you are paying for here is a Golf Digest 2017 hot list gold medal winning driver. Putting this club on that level this club starts to look like a deal. Ringing in at $349.99 the King F7 doesn't sound cheap but it's fellow Golf digest gold medal winners are all in the $400-500 range. If you are in the market for a driver on this level I would highly suggest this club to improve your game.
Buy Now: $349.99 or to learn more, go to: CobraGolf.com
Cobra King F7 Driver - Range Review
The Cobra King F7 is Cobra's first ever connected club with Arccos' Cobra Connect system. A really forgiving driver that still offers great distance at a good price
The Good
Adjustability
Distance
Forgiveness
The Not So Good
Stock grip not my personal fav