Cobra electronics is known for producing quality electronics made for automotive use.  So when it comes to a dash cam, they are a natural leader of knowing exactly what you need.  They offer a full line of dash cams, but the CDR 900 is their flagship model that comes packed with so many features that it can even perform when not used as a dash cam!  From Super HD to Wi-Fi connectivity and a built in battery, the CDR 900 is sure to have everything you are looking for in a dash cam.
Key Features:
1296p Super HD
160° Viewing Angle
Built in Wi-Fi
Free iOS & Android Application
2.0″ LCD Screen
Ambarella™ A7LA Chipset
Dash Cam Mode & Action Cam Mode
8GB microSD Memory Card
Cobra CDR 900 Dash Cam Review Breakdown
Usage
If you are anything like me, when it comes to something like a dash cam, the one with the most features wins the purchase decision.  However, after a few days, a good dash cam becomes the one that records reliably and just works when you turn the car on with no fuss.  The CDR 900 seems to cover both of those tasks quite well.
The day-to-day operation of the CDR 900 is most easily achieved by simply mounting the camera to the windshield with the provided mounting kit and running the included 12′ USB power cord with cigarette lighter USB adapter to a switched power outlet that comes on with the car ignition.  With this configuration, it is very easy to have your camera automatically turn on and start recording when your car turns on and then a few seconds after the car turns off, the recording stops and the camera turns off automatically.  No worrying about turning the camera on or starting recording, it just happens automatically so you can focus on driving.
While recording, you can check the aim of the cam using the easy to view 2.0″ LCD screen that is plenty bright for daytime use and ensure you capture what you need.  If you prefer for the camera to be less of a distraction while driving, there is also an option to have the screen turn off after a few seconds of inactivity, which I found to be a very nice feature.  A quick press of any button and the screen instantly turns back on.
The CDR 900 comes with a 8GB microSD card good for about 2 hours of recording but can hold up to a 64GB card that will hold about 16 hours.  When the camera records, it automatically begins saving into 3 minute HD video chunks.  When the card is full, the oldest video file is automatically deleted which means you will never run out of space and the CDR 900 will never stop recording.
If a particularly important event happens, you can quickly hit a button on the camera that will begin recording a protected clip that will not be deleted automatically.  However, this is not the only way to protect a clip.  Built in accelerometers will also detect an event like a collision and automatically protect the clip for you to review later.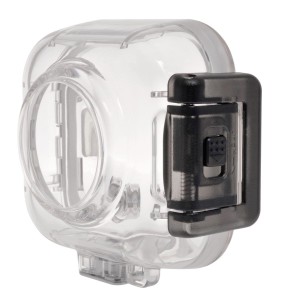 With the small form factor of the CDR 900, it also does a good job of fitting out of the way in the windshield to not limit visibility while driving.  This small form factor seems to have inspired the software engineers at Cobra to realize that a small HD camera with an integrated battery has all the ingredients of an action sports camera.  So as an added bonus, you can quickly disconnect the cam from your window and switch the operating mode to "Action Cam" where you have a handy little camera that you can bring with you on your adventure.
While recording in Action Cam mode, the 3-minute chunk feature turns off and the cam will record as long as you tell it to.  Also, video files saved during Action Cam mode will not be overwritten during the file looping mode when you return it to your dash to record your ride home.  This is because when the SD card is formatted, 50% is allocated to Action Cam storage and 50% to Dash Cam storage.  But that mix can be easily changed while connected through WiFi.
To further the performance of Action Cam mode, Cobra also makes a separately available waterproof case.  The case looks a lot like that of a GoPro and will keep your camera functioning in dust, dirt, mud and even under water to depths of nearly 200ft (60m)!
Image Quality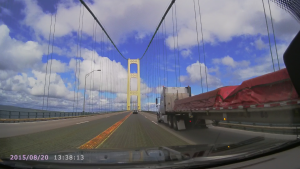 The CDR 900 features an ultra-wide angle lens that can clearly capture all the action within its amazing 160-degree view.  That's enough to cover from the curb side of your windshield to a car driving right next to you on the driver's side.  Considering the ultra-wide angle, the image was surprisingly clear.
That clear image is thanks to the Ambarella™ A7LA chipset that captures fantastic video in 1080p HD mode or a 1296p Super HD mode.  While the 1080p mode is crystal clear enough to grab a license plate or even zoom in using your favorite video editor, the 1296p mode gives you 20% more pixels to maintain that clarity when you really need to look close.  The tradeoff of course is the extra file sizes but if you opted to bring your own 64GB microSD card, and I recommend you do, space shouldn't be an issue.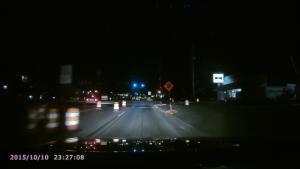 When it came to night driving, I was curious how it would do.  A night road is a tough environment for a camera to work in.  There are very dark areas and very bright areas so it can be hard for a camera to really produce a picture that would be as usable at night as it was during the day.  But the CDR 900 really surprised me with how clear the image was.  The area in the headlights never seemed too washed out and the area outside of the headlights was about as bright as it was with my eyes. Overall, I was very satisfied with the quality of the image from such a small camera.
App
The biggest feature of the CDR 900 that really makes it stand out is the built in Wi-Fi paired with the Cobra Dash mobile application.  The application is available on both Android and iOS and is easily found for free in both app store markets.
The more fun but probably less used application of the app/Wi-Fi is the ability to connect the camera to an existing Wi-Fi hotspot.  From there, you can control and even view live video from anywhere in the world using the app.  Essentially turning the dash cam into a security cam complete with 2 way audio.
For example if your parking garage has Wi-Fi, you can easily check on your car while you are away or just sitting on the couch.   A pretty useful feature in specific scenarios, but for my car sitting in the driveway outside my kitchen window, I didn't really use the feature as much as I had imagined I would when I first plugged it in.  The camera also has to stay on all the time for this to work which means you will definitely need a steady power supply to the USB port because running in this power hungry mode only lasts a few minutes while using the built-in battery.
There is a 2nd option when it comes to Wi-Fi though.  The camera can turn into a hotspot and your phone can connect directly to the camera wherever you are.  I sometimes do have a few issues making an initial connection to the camera in Wi-Fi mode, but once it got a connection, it seemed to hold it quite well.  This feature gets used all the time for me.  Through the app, you can change settings on the camera and it is a fantastic way to quickly review and download videos off the camera.  If you find yourself in an accident, you can now have a video of the crash sent to the inbox of your insurance adjustor before your car even leaves the scene.  I also found it to be a much more convenient way of changing camera settings than trying to work through the on-screen menus using series of button presses.
Value
The CDR 900 is the flagship Cobra dash cam that is packed with features so it does demand a premium price.  The MSRP of $299.95 is high but fair when you consider that you get a reliable HD dash cam, a security camera and a GoPro style action cam.  However, buying directly from Cobra, you can save $100 and buy for $199.95.  This definitely makes the sticker shock less.  But I always prefer to just be free of sticker shock so a quick check on Amazon.com shows the CDR 900 readily available for $87.95 with free Prime shipping!
At that price, this is a fantastic value.  A camera that is top of its class on features and at a price point that competes with the "budget cam" category.
Buy Now: $199.95 at cobra.com or $87.95 at Amazon.com
Cobra CDR 900 Dash Cam - Tech Review
For a high quality Wi-Fi enabled HD dash cam that doubles as an action cam and triples as a security camera, the Cobra CDR 900 provides an excellent bang for your buck and a feature list that you will not outgrow.
The Good
Works as a security camera, action camera & dash camera
Built in Wi-Fi for cloud or direct connections
Configurable using phone app
The Not So Good
8GB microSD card fills up fast
Power hunger when Wi-Fi is on
App is not very "polished"