Fresh off the heels of the well received Clicgear 3.5+ golf cart comes a new and improved version, the Model 8. Building off the previous design, the new Model 8 version adds an additional wheel as well as a slew of refinements which improve on the overall quality of the cart.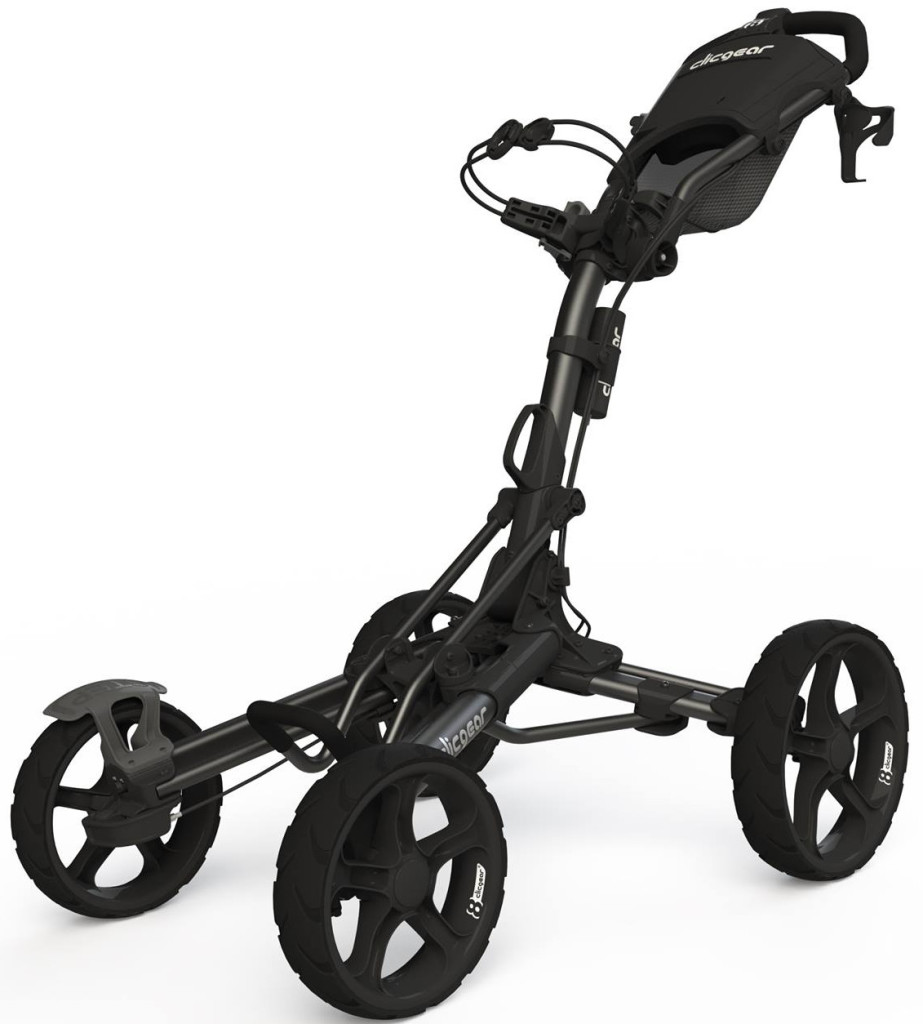 Push carts are a great way to make golf a little more leisurely without going full on lazy with a golf cart. Personally, I enjoy walking the course. It's relaxing and allows you a better perspective of each shot along with more time to consider the next play. Lugging your bag on your back can take its toll after the front nine. For me this results in greater arm and back fatigue followed by decreased performance and increased score. Slap your bag on a push cart however and you get the best of both worlds, and when it comes to push carts they don't get much better than the ClicGear Model 8.
Some folks think push carts should be reserved for the elderly and that carts make younger golfers look lame. Rest assured this isn't your gran daddy's push cart. The aggressive styling is more Batman Tumbler than it is walker. The features and design make it a piece of golfing technology, and you know how we love technology around Busted Wallet HQ.
Clicgear Model 8 Review Breakdown
Portability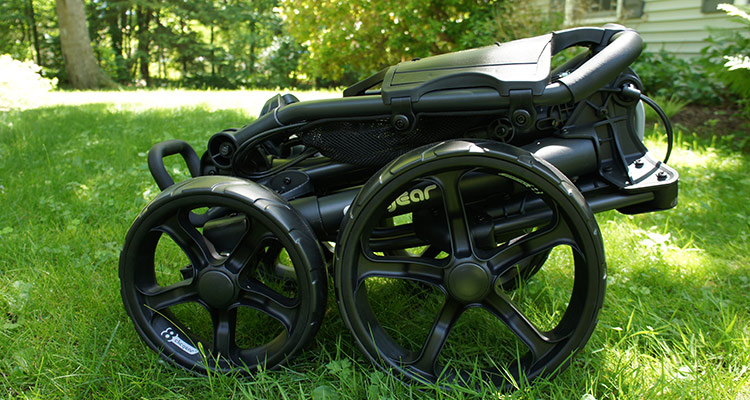 The big draw to this cart is its portability and ease of use. It's surprisingly light weight and folds down flat into a bad ass looking briefcase. Utility was at the forefront of the design process here and it shows when you put the cart to use. Starting out with it closed, handles are perfectly placed where you'd naturally grab the thing and they're extremely sturdy. It rolls around easily even when folded (provided the brake is off) making routine shuffling of equipment a breeze. Throw it in your trunk in the morning, pull it out at the course, and get ready for a nice day out.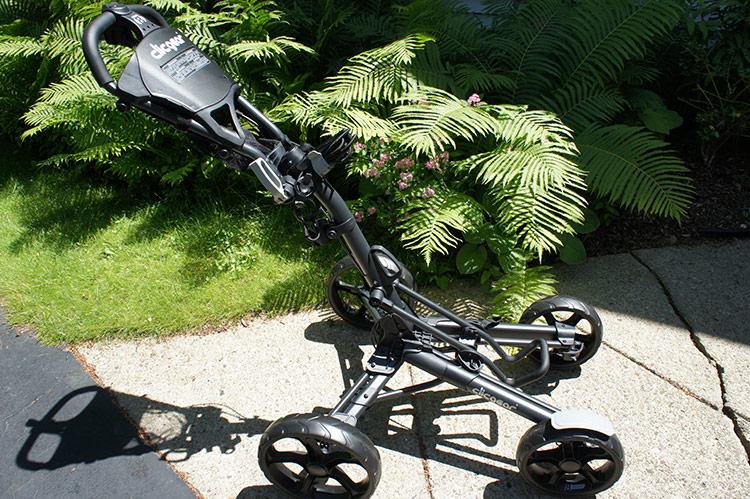 Opening and closing the cart is remarkable. It can look complicated at first so you'll be shocked when it springs to life without you doing much of anything. Unlock the main handlebar with a pull of the lever, then step on the wheel guard (which says 'step here' on it) and lift up on the handle. Like magic the device pops open in a silent and silky smooth transition thanks to their patented frame design and v-slide technology. Lock the handlebar again and you're done. It literally takes 3 seconds. Closing it up is just the reverse of that process, again taking just seconds to perform. You won't find a more fluid process in a portable golf cart anywhere.
Function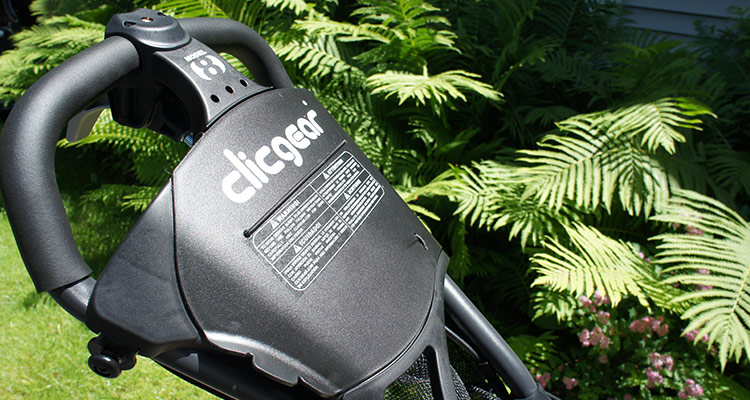 Any push cart is going to haul your bag around for you, so it's the little things that make all the difference. The magnetically latched console is over sized to fit everything you need to keep safe. It's got a ball holder to store 3 balls, a bungee to hold your score card and pencil, and enough room to keep your phone, wallet, cash and whatever else secured. The door closes tight and has no problem keeping everything inside dry, even in heavy rain.
Below the console is an even larger mesh storage net than the previous generation. This one is a courser grained mesh material which will allow more air to get through (dry stuff out) and allow water to drain quickly. The pouch is very big. You can throw several bottles of water, a range finder or gps, heck, I even fit an extra pair of shoes in it. It's an everything pouch.
There is a locking hand brake at the top which secures both front wheels in place when you park, especially useful on an incline. It's a high quality, cable based system that's truly unique in the fact that it uses pins to secure the brake – meaning no tension or stretching of the cables over time.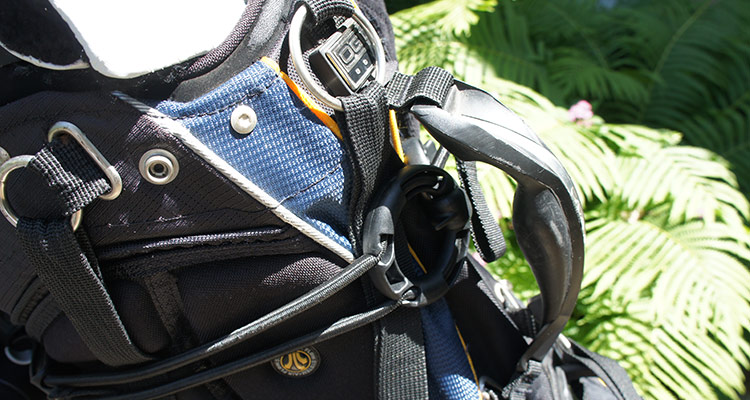 The bag attachment system is great. A high strength, double wide, nylon bungee connects in the center via a quick hooking latch around your bag. Taking feedback from the previous model, this bungee system is adjustable to tighten or loosen the bungee in case your bag is too wide or too skinny for the standard setting. Mine fit just right.
The wheels on the Model 8 are airless and maintenance free. They are made from a durable foam and rubber compound which should hold up for years. Being airless, the can be a little slick on wet grass on an incline, but generally they perform very well. The 4 x 4 design makes this one of the sturdiest carts you can get. There won't be any tipping over for this baby just because you parked it sideways on a hill.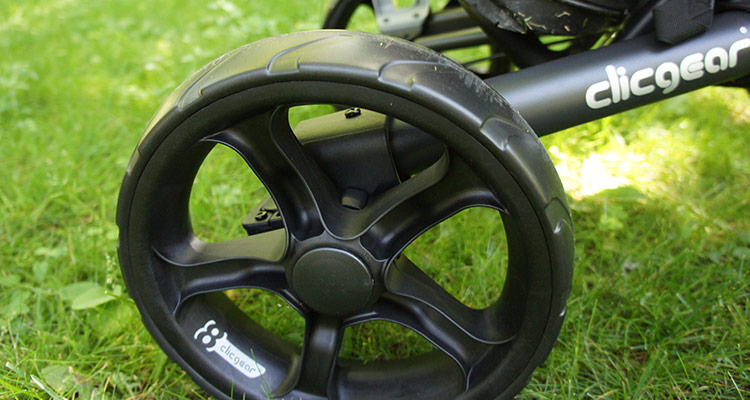 Bottom Line
At a price of around $269, this is at the upper end of the push cart price spectrum. It's also a case of 'you get what you pay for'. For the right buyer, it's worth every penny. It's like a comparison between a Kia vs. a Bmw. Some folks value price above all, others appreciate quality and refinement and are willing to pay for it. Clicgear has learned a lot over the years and has built a finely tuned piece of golfing equipment with the Model 8. It's convenient, it's lightweight and portable, it glides like a dream, and it will not disappoint you. We loved the Clicgear 3.5+ and the Model 8 is even better than that. For something that will last for years, the value is apparent. Like they say, buy it nice or buy it twice.
Clicgear Model 8 Golf Push Cart: Range Review
The best gets even better
PROS
Folds flat
4 wheel stability
Great mobility
CONS
Slightly Heavy
Removable Cupholders can be awkward
Slippery wheels