This isn't the first time we've reviewed gear from Chrome Industries, and it definitely won't be the last.  This is a company that keeps pumping out fresh footwear, clothing, bags, and accessories.  One of their latest is the BLCKCHRM Combat Boot. Which they believe are "Constructed to be the last pair of boots you'll ever need with unmatched out of the box comfort."  With a very confident statement like that you would expect unrivaled durability and comfort, so did they live up to our expectations?  Let's lace them up and see.    
Key Features:
Stitch out construction for maximum strength and durability.

Comfort PU footbed delivers out of box comfort without break-in period.

Speed laces and reflective heel to keep stay visible.

High end, full-grain pull up leather.

1000 denier military-grade nylon quarter panel.

12oz. fire hose canvas uppers.

Rubber lug stitch out sole.
BLCKCHRM™ COMBAT BOOT REVIEW
Design
: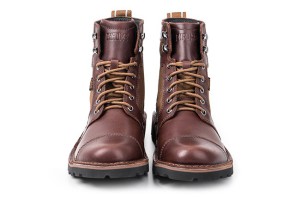 The BLCKCHRM Combat Boot is definitely the most stylish footwear we've reviewed from Chrome. They have a unique look that is a mix of rugged-combat with the 1000 denier military-grade nylon quarter panel combined with high end, full-grain pull up leather for a more clean and modern feel.  As with most of their footwear, these boots have a level of reflectivity (in this case – the heel) that offers mobility and high visibility on the streets.  The speed laces have rope look and are wax coated.  The stitched out construction is complimented by the high-quality leather upper and has a bold heel to help you stand tall and feel confident or bust down doors (whatever your fancy). 
Comfort
: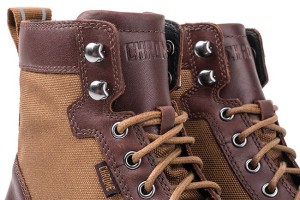 These are the third pair of shoes from Chrome that we've tested and we would have to place them 2nd in comfort when compared to the others (Ishak – 3rd, and Peshka – 1st, most comfortable).  The size is true and has a snug fit with room to wiggle the toes.  For being "Combat" boots they have a surprisingly short break in period.  They felt comfy pretty much right away, however we did notice added comfort after wearing them 3-5 days.  The tough CORDURA fabric helps to enhance breathability and adds a level of weather protection so your feet stay dry. 
Durability: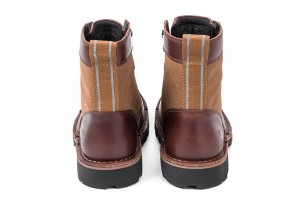 After wearing these bad boys for about a month now, we've noticed some minimal wear and tear.  They seem like they can hold up for everyday use.  These probably aren't the best down and dirty work boots, nor would I run around in the back woods chopping down trees with these under toe, but they could probably hold up if need be.  I would classify these as more of a street combat boot than any actual "military" combat boot.  With that said, these are great for everyday use and are sure to keep your feet stylish and happy.
Value:
Coming in at $160, the BLCKCHRM Combat Boot is one of the more expensive options from Chrome Industries, which really isn't that pricey.  With the amount of craftsmanship and style these boots have, we would say you get a lot for your money.  
Buy Now: $160 or to learn more, check out: ChromeIndustries.com
CHROME Combat Boot - Style Review
In three short words, We would describe these boots as "badass with class".
The Good:
Clean and strong look
Very well stitched and constructed