Adventure found me this summer and I am happy to report that I was ready with the best that Carhartt has to offer! A sampling of Carhartt's best spring and summer women's clothing took me from exploring the Fjords of Norway, to the streets of Paris, to camping and hiking in Northern Michigan, and brunching with friends. Once again, Carhartt proved that its gear can handle anything that Mother Nature throws at it, with style! Here is the lowdown on my favorite pieces.
Crawford Double Front Bib Overall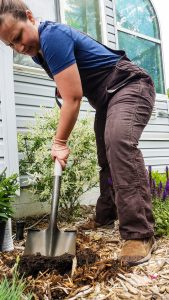 Key Features:
8-ounce, 98% cotton/2% spandex canvas
Rugged Flex® technology so you can bend, move, and shake any way you please
Adjustable suspenders (obviously)
Front and side pockets to store all your goods
Classic hammer loop
Carhartt strong, triple-stitched main seams for durability
Overalls. Yes, that's right, overalls. If you are getting flashbacks to the early 90's (ala Kris-Kross or TLC) do not despair! These are not a blast from the past, I promise. Imagine the best fitting pants you have ever worn: Soft, pliable, fitted, flattering. Now imagine that you can do ANYTHING in those pants – construction, gardening, painting, wine drinking, cheese eating, brunching, lounging on the couch… That, my friends, is Carhartt's Crawford Double Front Bib Overall. The do-anything, go anywhere, most comfortable, cutest pair of pants you will ever own. Seriously.
I ordered the overalls in a petite size, and was pleasantly surprised that they fell just at the soles of my shoes even without adjusting the suspenders.  The fit was quite flattering. Contouring through the back-side and waist eliminates the usual bagginess of bibs. The fabric is a stretch canvass that is unbelievably soft. Carhartt's incorporated its proprietary Rugged Flex Technology into the bibs, meaning that these babies are comfortable no matter how you twist, turn, or move (try Yoga in them, I did!). The bibs are also super functional with pockets galore! The front zipper pocket is my favorite, and the side pockets are extra deep.
After multiple wears and washes I can attest that these bibs will stand the test of time. So, next time you see someone out and about in their Carhartt overalls looking super-fly, don't judge, buy a pair and join the overall revolution. Trust me, they are making a comeback.
Buy Now: $69.99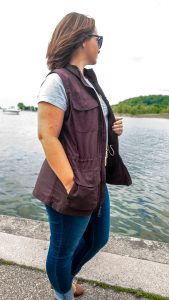 Key Features:
5.75-ounce, 100% cotton ripstop for a lightweight feel
Interior drawcord at waist for an adjustable fit
Two-way zipper
ELEVEN pockets!
I don't like to play favorites, but Carhartt's El Paso Utility Vest is by far the best addition to my spring / summer wardrobe. I should start by saying that I wear the El Paso Utility Vest all the time and get more compliments on the color, style, and fit than any other piece of clothing that I own. The deep wine color is almost a chocolate brown, which means that you can use it like a neutral. I love to pair it with light blues (see the Force Rigdgefield Shirt, below) and grays; the contrast elevates the style.
Unlike most utility vests, the El Paso is figure flattering. I have an hourglass shape that can appear boxy if I dress it wrong. The El Paso Utility Vest has a slightly flared contour with an ingenious elastic draw string that can be adjusted to emphasize the smallest part of the waste. A two-way zipper means that curvy ladies like me can rejoice that we can choose whether or not to zip the El Paso Utility Vest all the way for a more fitted look, or half-way down for a relaxed fit.
The cotton ripstop material is perfectly lightweight with contrasting pink mesh inner-pockets that fit an entire bottle of Champagne (seriously, I fit one bottle in each side). Double front-flap pockets on each side lend to a utilitarian style and supreme functionality. I usually do not carry a purse when I wear the El Paso Utility Vest because the pockets are so convenient and secure. If you don't believe that the contents of an entire purse can fit in this vest, just count the pockets (spoiler alert: there are ELEVEN).
Perhaps my favorite part thing about the El Paso Utility Vest is that it will easily transition from summer nights to cool fall days. I know that my style game will be on-point come September!
Buy Now: $44.99
Force Ridgefield Shirt & Force Ferndale T-Shirt
Key Features – Force Ridgefield Shirt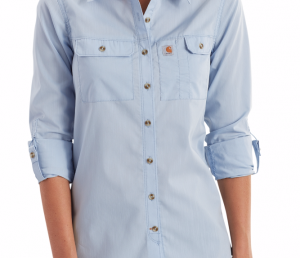 3-ounce 60% polyester/40% cotton
FastDry® technology wicks away sweat
Stain Breaker® allows stains to wash out easily
Loose, comfy fit
Mesh vents for air-flow
Cute chest pockets with button details
Long sleeves roll to three-quarter length with button-secured tabs
Drop-tail hem for added coverage
Key Features – Force Ferndale T-Shirt
5-ounce, 81% polyester/14% cotton/5% spandex
FastDry® technology wicks away sweat for all-day comfort
Stain Breaker® allows stains to wash out easily & releases odors in the wash
Slightly fitted (order a size up!)
V-neck with a drop-tail hem for extra posterior coverage
Tagless neck label for comfort
I was lucky enough to go on a whirlwind tour of Europe this summer. With four countries to visit in less than two weeks, I knew that I had to be judicious with packing. Each piece had to be wrinkle-resistant, easy to hand-wash, and quick drying. Moreover, each piece had to work on the streets of Paris and perform in the Fjords of Norway. Carhartt's Force Ridgefield Shit and Force Ferndale T-Shirt fit the the bill! Both pieces stood up to multiple hand washing, dried like a dream, and kept me looking fresh from the beginning of our adventure to the very end.
Let's start with the Force Ridgefield Shirt. A long-sleeve, collared, button down shirt, the Force Ridgefield Shirt is great to wear alone or as a layering piece. The polyester / cotton blend and Carhartt's proprietary FastDry technology kept me dry and warm during hikes and cool in the warm Parisian sun. Front chest pockets and long sleeves that easily roll to three-quarter length with button tabs lend a sensible style. The Ridgefield fits a bit loose, which is great for outdoors activities, or airport sitting.
My favorite way to wear the Ridgefield was to layer it with Carhartt's Force Ferndale T-Shirt. Also packed with FastDry technology, the Ferndale T-Shirt is perfectly breathable and stretchy. With a more contoured profile than the Ridgefield, the Ferndale T-Shirt is great for strenuous activity like yard work or hiking. Like the Ridgefiled, the Ferndale has a drop-tail for full coverage. For me this meant that I could focus on my hike, rather than pulling-on or adjusting my clothing. A word of warning to my curvy ladies out there – the snug fit means that you should select a size up. I tested the Ferndale T-Shirt in a size medium; I wish I had ordered a size large. Carhartt does have a handy sizing guide, my suggestion is to take advantage of the guide before placing your order!
Both the Ridgefield and Ferndale are made with Carhartt's Stain Breaker technology. Travelling through Europe, we did not always have access to a washing machine. This meant a whole lot of hand-washing and air drying. Not only did stains easily release from the Ridgefield and Ferndale, but both items dried quickly. Both shirts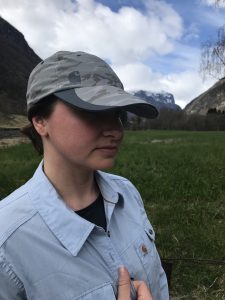 also had minimal wrinkling from being stowed in my pack.
I topped the Ridgefield and Ferndale off with Carhartt's Force Extremes Lovington Printed Cap. This classic baseball style hat has a ridiculous amount of Carhartt technology built in! With FastDry and 37.5 Technology, the Lovington sucks sweat from your brow keeping you cool and dry. The Carhartt Force Sweatband is anti-microbial; I never had to worry about packing a stinky sweaty hat in my pack. An all-over subtle reflective camo pattern and reflective brim not only looks neat, but it kept me visible while hiking through the pea-soup bogs of Ireland. Micro hook-and-loop back closure is fully adjustable and guarantees no nasty ponytail snags.
I heartily recommend Carhartt's Force Ridgefield Shirt and Force Ferndale T-Shirt to fellow travelers.  Top it off with the Carhartt Force Extremes Lovington Printed Cap and you have yourself the perfect adventure outfit! These items will always have a place in my pack.
Buy the Force Ridgefield Shirt Now: $49.99
Buy the Force Ferndale T-Shirt Now: $24.99
Buy the Force Extremes Lovington Printed Cap Now: $18.74
Force Extremes Graphic Hoodie
Key Features:
Midweight, 6.5-ounce poly blend with Cocona® 37.5®
FastDry® with 37.5™ Technology makes this our fastest-drying gear
Fights odors: traps and releases them in the wash
Attached, contrasting jersey-lined three-piece hood with drawcord closure
Front handwarmer pocket
Summer nights are not complete without the perfect sweatshirt. Not all sweatshirts are created equally, though. In my book, the perfect sweatshirt is soft, stretchy, stain resistant, and (above all) stylish. A tall order, no doubt, but Carhartt's Force Extremes Graphic Hoodie comes pretty darn close to fitting the bill!
With a slightly contoured silhouette the Force Extremes Graphic Hoodie has a feminine sensibility about it. The hoodie falls right below the waist line and is cut through the torso for a fitted, but not too snug, style. The poly blend with Cocona 37.5 makes the Force Extremes Graphic Hoodie perfectly stretchy and breathable. Carhartt's excellent choice of fabric also means that the Force Extremes Graphic Hoodie will hold its shape through multiple washes and will not pill.  The style is super cute with contrasting colors for Carhartt's logo as well as the jersey-lined hood. A classic drawstring in a contrasting color and front hand-pocket makes the Force Extremes Graphic Hoodie the only sweatshirt you need for cool summer nights and cold fall days!
Buy Now: $59.99
Carhartt Women's Spring / Summer '17 Collection
Timeless style and durability are the hallmarks of Carhartt's 2017 women's Spring / Summer collection. Easy wear pieces that resist stains and wrinkles will ready you for whatever adventure comes your way!
Crawford Double Front Bib Overall
9.2
Force Ridgefield Shirt
9.6
Force Ferndale T-Shirt
9.4
Force Extremes Lovington Printed Cap
9.7
Force Extremes Graphic Hoodie
9.7
The Good
Durability to the max! Carhartt lives up to its reputation of making clothes that just don't quit.
Carhartt's force line is stain resistant, wick stains, and dry fast.
Classic style lines transition clothing from season to season.
The Not So Good
All my curvy ladies out there (like me) check the fit! Some items are snug.
That's all I got! Carhartt put together a stellar Spring/Summer collection!